If you're looking for an HTML or PSD template for your next website, checkout the selection of templates at WrapPixel made for web developers, designers, and agencies. You can save 15% on any template at WrapPixel by using our exclusive WrapPixel coupon.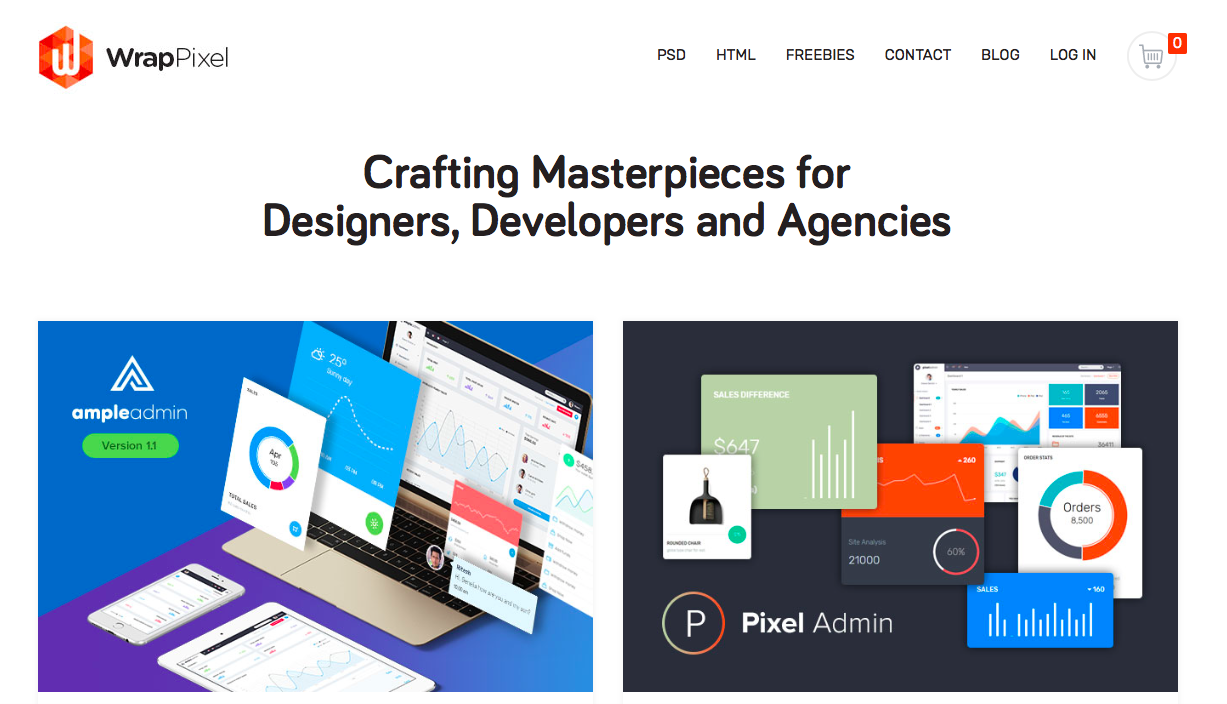 What is WrapPixel?
WrapPixel offers premium website templates to speed up website creation and makes it easy to develop professional looking websites without the need to hire a web designer.
WrapPixel currently has a small selection of templates but new downloads are added on a weekly basis and this is definitely a resource to keep an eye on.
Templates are available as PSD or Bootstrap HTML format and are priced $18 per template. There are also some free templates available for download
WrapPixel Admin Dashboard Templates
WrapPixel's most impressive templates are its selection of admin dashboard themes that make it easy to create a beautiful and functional backend to any website.
Ample Admin Template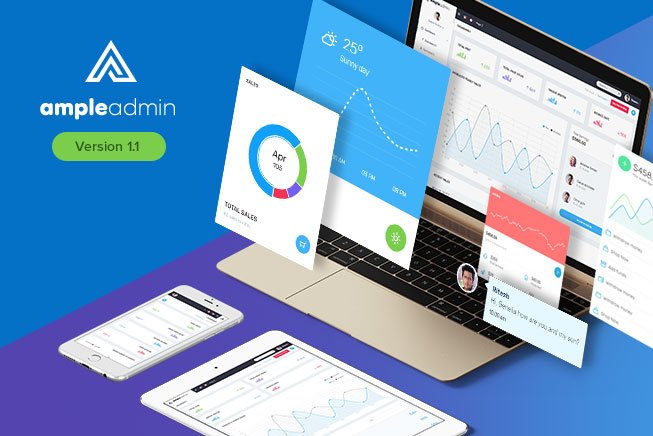 Ample Admin is WrapPixel's "ultimate dashboard" theme and is a fully responsive template with a clean and minimal design that works in any device or browser.
Ample Admin is priced at $18 but you can get 15% off by using our exclusive coupon code: OXP15
The template comes with 7 ready-to-use dashboard demos demonstrating different combinations of features, layouts, and designs, or you can customize your own admin dashboard completely from scratch using the wide selection of UI elements, applications, and widgets.
With this template you get the following included features:
3 dashboards
3,000+ icons
6 color skins
500+ UI elements
Clean and simple landing page
Data table export to CSV, Excel, PDF
Megamenu
Lightbox
Summernote
Range Slider
600+ pages
Multiple chart options
Multi file upload
Multiple table options
Form builder
Included applications are:
Chat
Fully functional email system
Contacts widget
UI Elements:
Panels and Wells
Panel with blockUI
Buttons
Sweat alert
Typography
Grid
Tabs
User cards
Modals
Progress bars
Notifications
Carousel
List & Media object
Timeline
Range slider
Tooltip
There is a full visual form-builder included with the following features and options:
Floating input
File upload
Form mask
Form validation
File dropzone
Form pickers
Image cropping
Chart and graphs can be used to display a multitude of data and display options include:
Pie chart
Donut chart
Line chart
Bar Chart
Area chart
Charts are created with code libraries including: Flot Charts, Morris Chart, Chart-js, Peity Charts, Sparkline Charts, Knob Chart.
Pixel Admin Template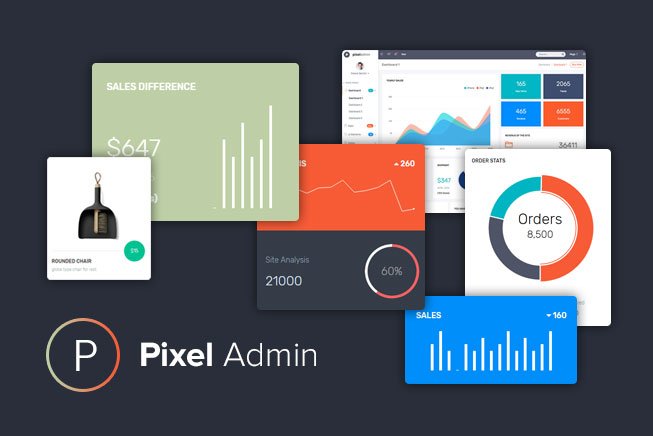 Pixel Admin is another powerful dashboard theme that is fully responsive and works on all devices with a modern flat design.
Pixel Admin is priced at $18 including 6 months free support and lifetime free updates. You can get a 15% discount on this price by using our code: OXP15
Pixel Admin is suitable for web and mobile applications including custom admin panels, mobile admin, app backend, CMS, or CRM.
13 fully functioning dashboard demos are included, each with their own unique variation of layout, elements, and color scheme. Some of the included demos are WordPress menu, Modern, Boxed, Iconbar, Dark, and e Commerce.
Features include
6 color skins
Light/dark sidebar theme
1200+ pages
500+ UI components
Lots of widgets
3000+ fonts and icons
Fully responsive
Easily customizable
Many chart options
Multi-file upload
Lots of table examples
Form validation
eCommerce pages
3-level dropdown
Calendar design
Gallery option
Lightbox
Image uploader
Search
Tabs
Tooltips
Carousel
Timeline
Chat app
Form wizard
Login and registration page
Mailbox application
Contacts application
Sample pages included:
Starter page
Blank page
Lightbox popup
Email template
Treeview
Search result
Utility classes
Custom scroll
Login page
Animatons
Profile
Invoice
FAQ
Gallery
Pricing
Registration
Recover password
Lock screen
Error pages
My Admin Template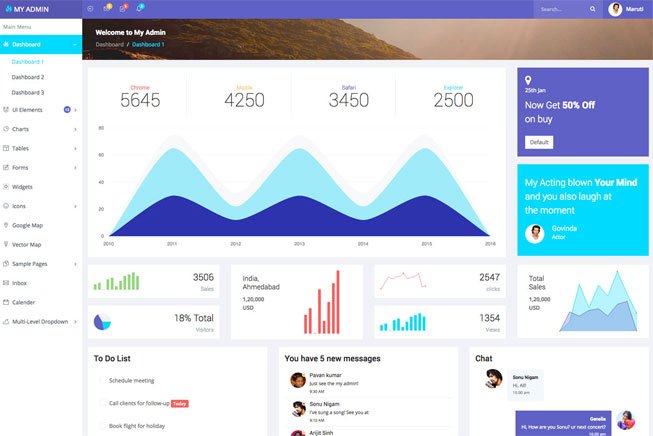 My Admin is the cheapest admin dashboard template and is priced at only $18 including 6 months free support and lifetime free updates. You can get a 15% discount by using the code: OXP15.
My admin is fully responsive and built on the Bootstrap 3.3.6 Framework. It can be used for any administration or backend for web or mobile apps.
Features include:
3 dashboard variations
Lots of chart and graph options (using Morris & Charts-js code libraries)
1000+ fonts and icons
Inbox application
Calendar application
50+ page templates
Easily customizable template
Easy form creation
Easy table creation
Website and Blog Templates
As well as the admin dashboard templates, WrapPixel also has a number of professional front-end website templates that can be used to speed up site creation.
Medical Care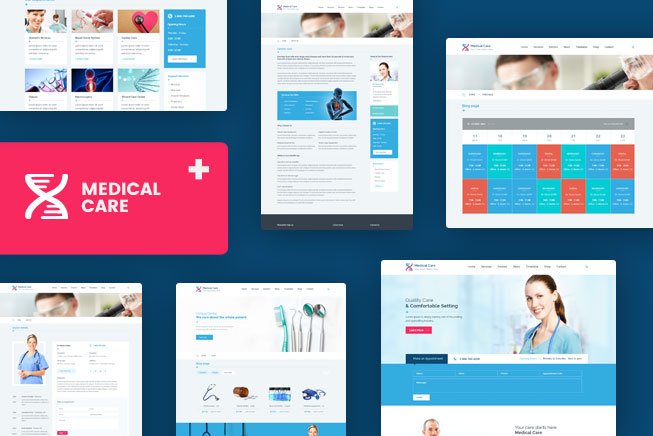 This PSD template is suitable for any medical practice including doctors, dentists, and hospitals etc.
12 full layered PSD templates are included that are suitable to create different pages on a website:
Homepage
About Us
Service listing / Departments
Service details
Doctor listing
Doctor details
Shop
Timetable
Blog version 1
Blog version 2
Blog details
Contact us
BlogMag Press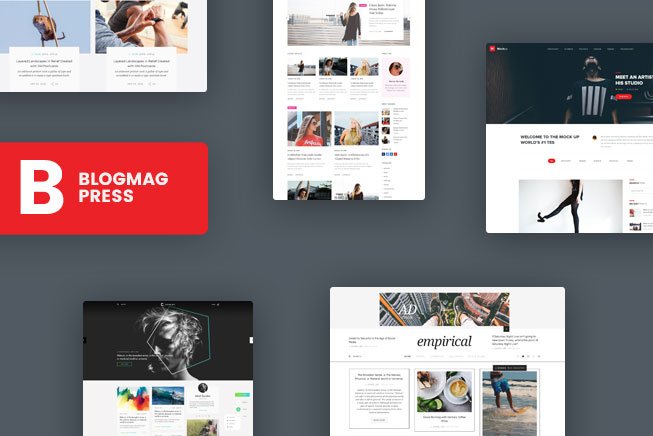 This bundle of 6 PSD templates is designed for news and magazine sites or blogs.
Designs included are:
Masonry blog & magazine
Viral Buzz viral blog
Personal blog
Fashion magazine
Personal & news agency
Digital news & magazine agency
There are 12 homepage variations and 7 single post or blog post variations included as well as 3 About us pages and 3 Contact Us pages.
This template bundle can be purchased for $18 but you can get a 15% discount by using the code OXP15.
Chivalric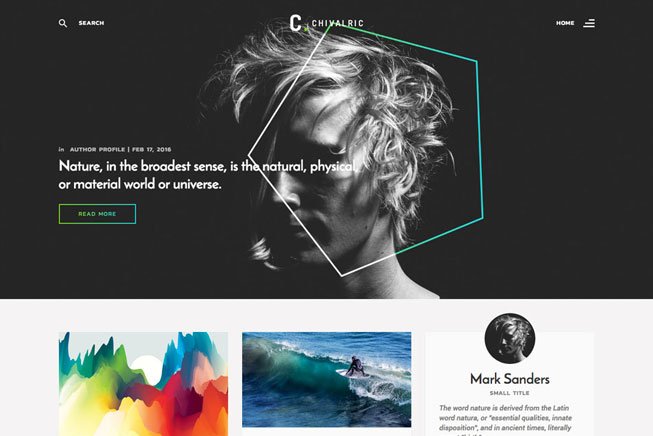 Chivalric is a responsive modern HTML template designed for bloggers, freelancers, and creative agencies.
It's priced at $18 and you can get a 15% discount by using the code OXP15.
The template features include:
6 homepage variations
3 single post variations
W3C validated
HTML5 and CSS3
Cross browser compatible
SEO ready
Google web fonts
Font Awesome icons
Animations
Masonry blog layout
Audio, video, quote, image, gallery, or text posts
Live Instagram feed
WrapPixel Summary
While the collection of templates at WrapPixel is small right now, they are very professionally designed and developed and have a wide range of uses. They are also very reasonably priced, particularly the admin templates, which offer a huge array of features for a tiny price tag. You can get all this for an even cheaper price by using our exclusive code: OXP15
Keep checking back on the WrapPixel page for new templates and additions in the future.