Considered by many to be the best managed hosting for WordPress out there, WP Engine offers superior technology and customer support in order to keep your WordPress sites secure and running smoothly.
You can now get 33% off the price of any WP Engine hosting plan as a Oneextrapixel user by using our WP Engine coupon and entering the code wpeng50 on checkout.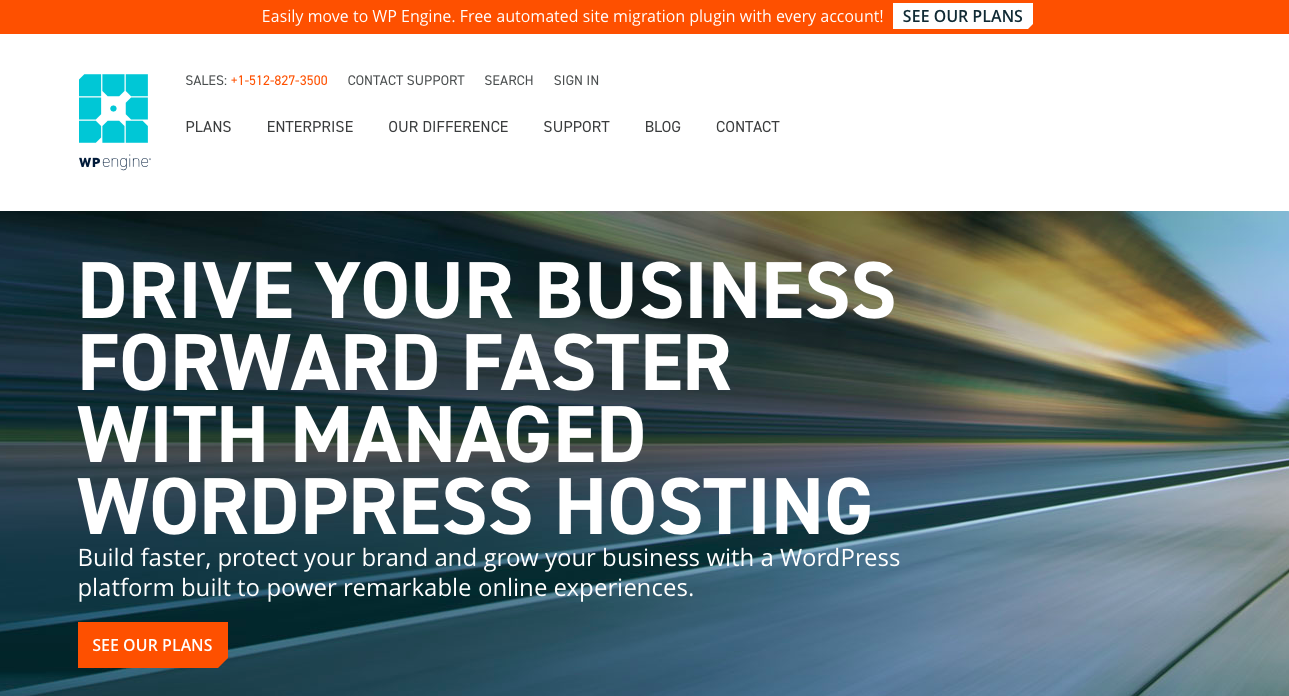 WP Engine Features
WP Engine offers a fully managed hosting service for WordPress sites, meaning they take care of security, backups, and upgrades, leaving you more time to work on your core business. They also offer superior customer support so if you do have any issues with your site, you'll benefit from the security of knowing that technical support staff will be ready to fix your problems as soon as possible.
#1. Automatic WordPress Backup and Disaster Recovery
WP Engine offers instant snapshot backups that allow you to quickly and easily backup your website before making any changes. If anything goes wrong, it is then easy to restore your site to an earlier snapshot at the click of a button.
Snapshots backup the current state of content, themes, and plugins, and are downloadable so WordPress backups can be saved in multiple locations.
As well as on-demand snapshot backup, WP Engine also backs up your site automatically on a daily basis. Backups are stored in a different physical location, so you know your data is always safe in the event of a fire, flood, or other disaster.
#2. 24/7 Superior Support
Most web hosts offer support only during office hours so if you have a major problem with your website and need help to sort it out, you may have to wait up to 12 hours, or even longer before anyone gets back to you.
WP Engine's support team are fully trained WordPress experts and there are over 100 full-time customer support agents on the team so you won't be left waiting when you need help with your site.
The customer service team can also advise on site optimization and performance enhancements. Premium and Enterprise members also receive assistance for onboarding and launch readiness.
#3. Enterprise-grade Architecture
WP Engine hosting could increase your site speed by four to six times due to the front-end technology and caching systems that optimize site performance and reduce server load.
WP Engine also offers a CDN (content delivery network) to serve users content from the server that is closest to them. This both speeds up your site and spreads the network load of your site across several servers.
#4. Enterprise-grade Security
Ensuring your site is secure does not only keep it safe from hackers but can also actually speed it up, as site resources are not used on non-genuine site visitors.
WP Engine runs a real-time threat detection service that detects and automatically blocks millions of threats every day.
Servers are also configured securely including disk write limitations, disallowing of insecure PHP commands, and protection against scripts with known vulnerabilities.
Regular security audits and vulnerability scans, including penetration testing, are used to ensure security is always at the highest possible level.
If despite the increased security, your site is still hacked, WP Engine will fix and recover it for free, which could save you thousands of dollars in fees from hacking recovery services.
#5. Automatic Upgrades
WordPress upgrades are designed to be quick and easy but you normally still have to backup your site before upgrading anything and it can be very time-consuming to keep up with the regular updates when you're running several sites.
WP Engine automatically upgrades WordPress installs whenever minor updates are released and thoroughly tests major upgrades before recommending them to customers.
Other Features
60 day money back guarantee for personal, professional, and business plans
Free automated migration
Free automated SSL certificates on every plan
Staging environment
24/7 live chat support
Transferable installs
Integration with Amazon S3
Multisite supported on all plans except Personal
GeoIP enabled for Business, Premium, and Enterprise accounts
Launch readiness and strategic account management provided for Premium and Enterprise account holders.
WP Engine Coupon Summary
If you're looking for an enhanced level of service from your WordPress host and want to reduce the time you spend in managing, maintaining and securing your sites, WP Engine offers a range of service and features that you just don't get from other webhosts.
With 33% off using the code wpeng50, and a risk-free 60-day money back guarantee, now is a great time to try out WP Engine.