While most other WordPress theme sites charge per theme, Elegant Themes is an amazing deal as you pay just once for access to 87 premium WordPress themes and a suite of premium plugins.
Whatever type of website you're building, there's sure to be a theme in the Elegant Themes directory that suits. You also have access to Divi – the world's most popular premium WordPress theme – that allows you to easily design your own site with a visual drag and drop page builder.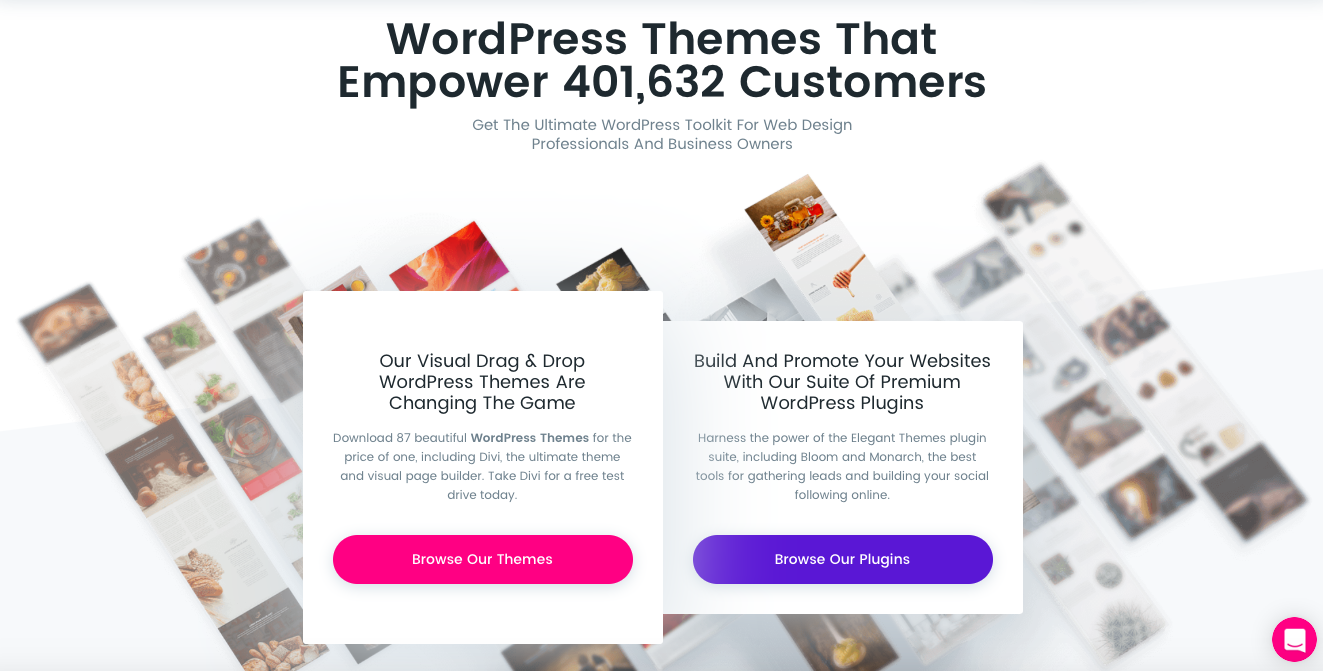 Elegant Themes Features and Benefits
There are several WordPress theme repositories to choose from, so why should you go with Elegant Themes?
Great value for money – join once and have free access to 87 themes
Free access to 3 premium plugins
Unlimited usage – install on as many websites as you wish
Themes added and updated regularly
30-day money back guarantee
Great support and community
Elegant Themes Premium WordPress Themes
Membership to Elegant Themes currently gives you access to 87 themes and more are being added all the time. You can preview all the themes at the Elegant Themes gallery, but here are some of the most popular:
Divi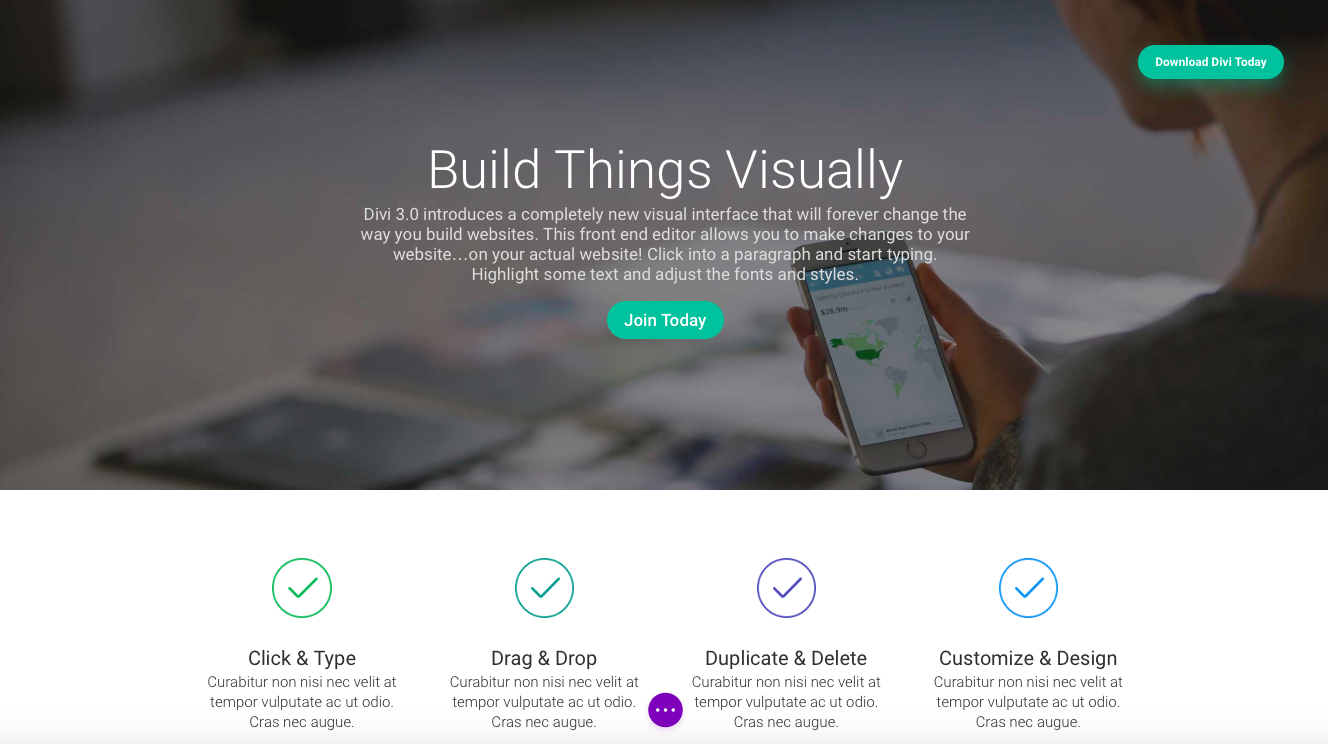 Divi is the most popular premium WordPress theme in the world (according to builtwith.com). Because of this you might think that there are a lot of similar-looking websites around but the flexibility of Divi makes it easy for you to create a completely unique and individual WordPress site and the design possibilities are endless.
Divi has a drag-and-drop page builder that allows you build websites visually and design in real-time. Every element out of the library of 42 is customizable and you can just click and type to add content where you want.
There are also over 20 pre-made layouts that you can use directly or customize as you wish.
Layouts can also be saved as templates and used again to save time whenever you want to use them.
Extra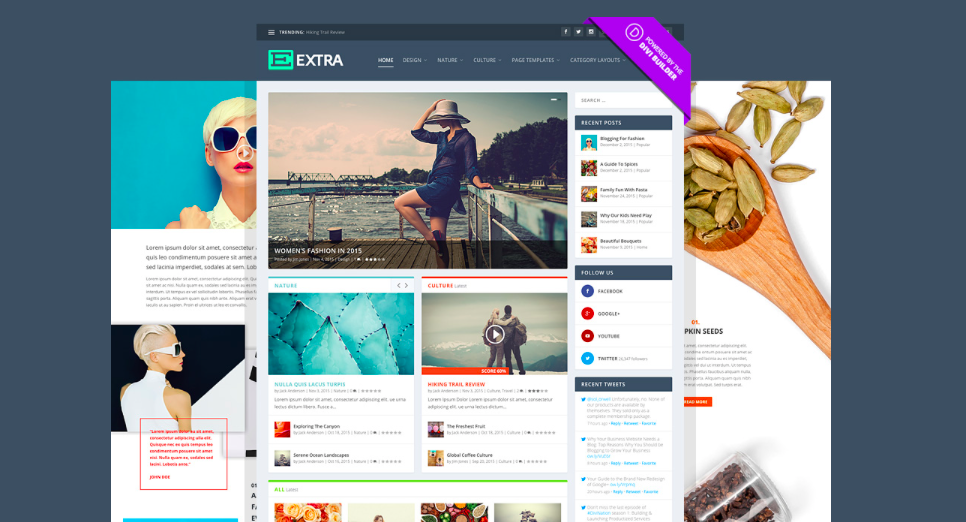 Extra is a magazine-style theme designed for bloggers and online publications. It includes the Divi drag-and drop builder for posts and pages, category modules designed for bloggers, and is fully customizable and responsive.
Vertex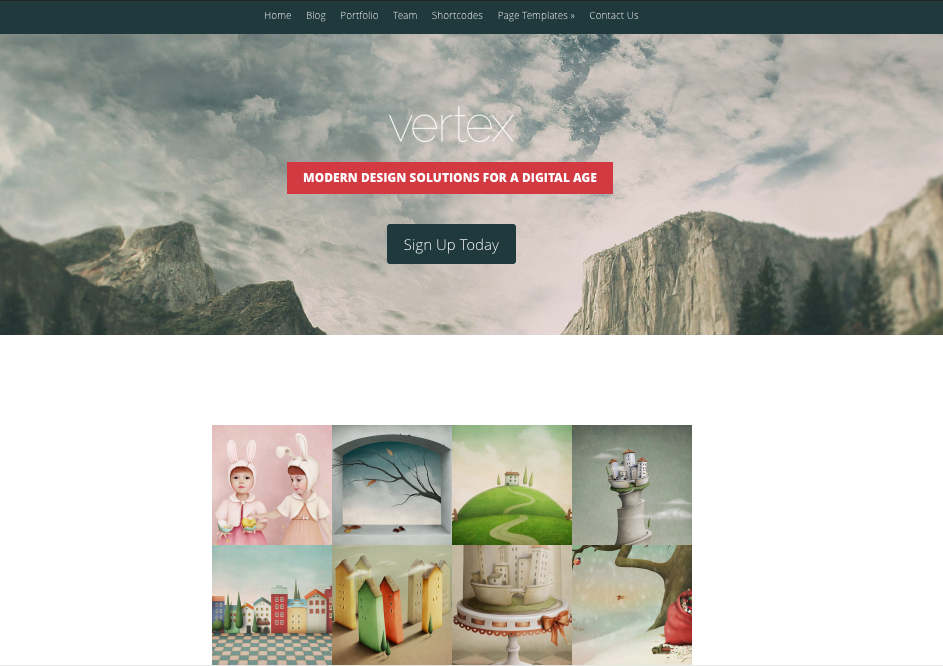 Vertex is a beautiful WordPress theme intended for creatives to effectively showcase a gallery of their work and includes animated content designed for scrolling.
Foxy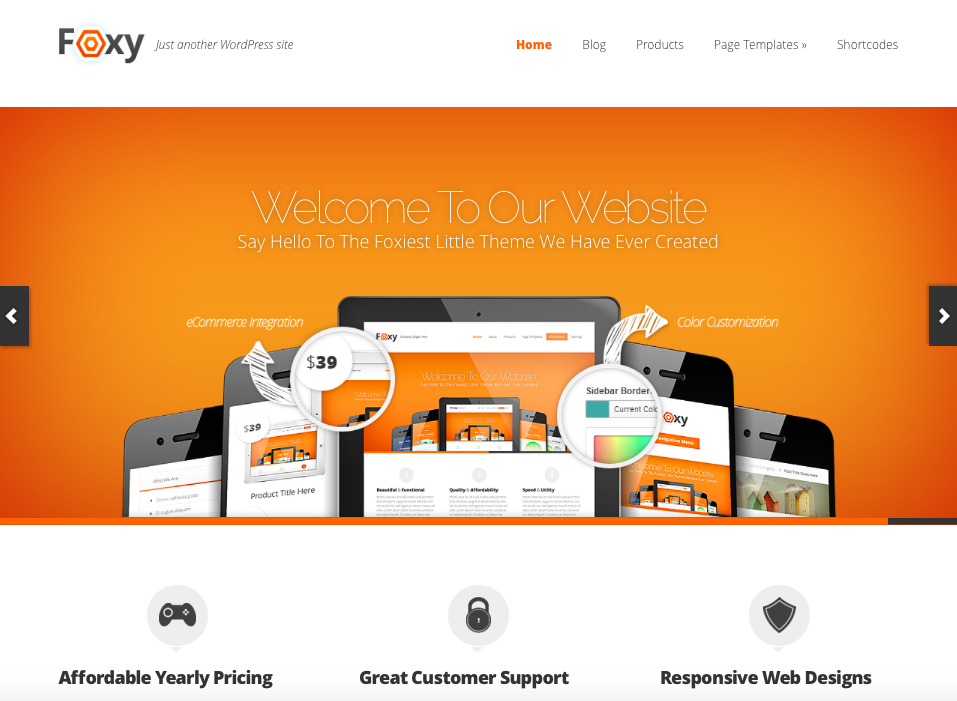 Foxy is a sleek business theme with eCommerce integration and responsive design. It's available in unlimited colors, thanks to the theme customizer.
Origin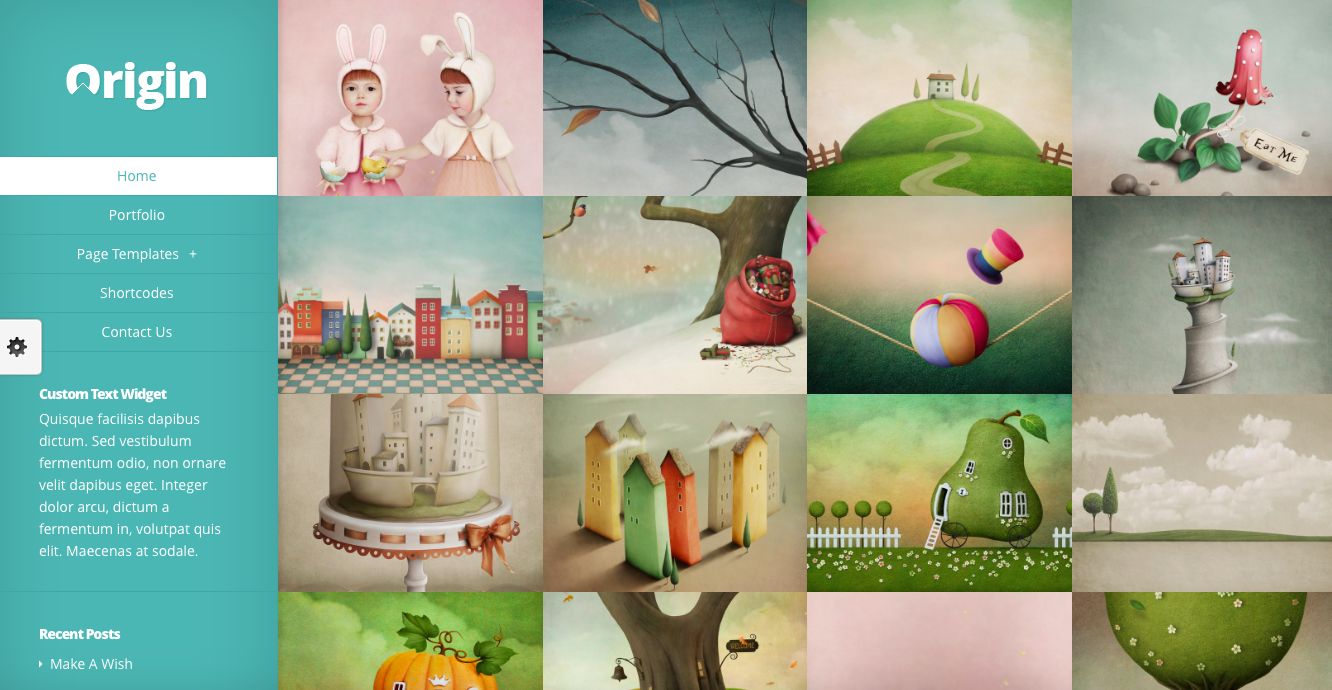 Origin is a grid-based portfolio theme designed for artists and photographers to showcase their work in a visually appealing and accessible way.
Elegant Themes Plugins
There are currently three premium plugins included with every Elegant Themes subscription:
Divi Builder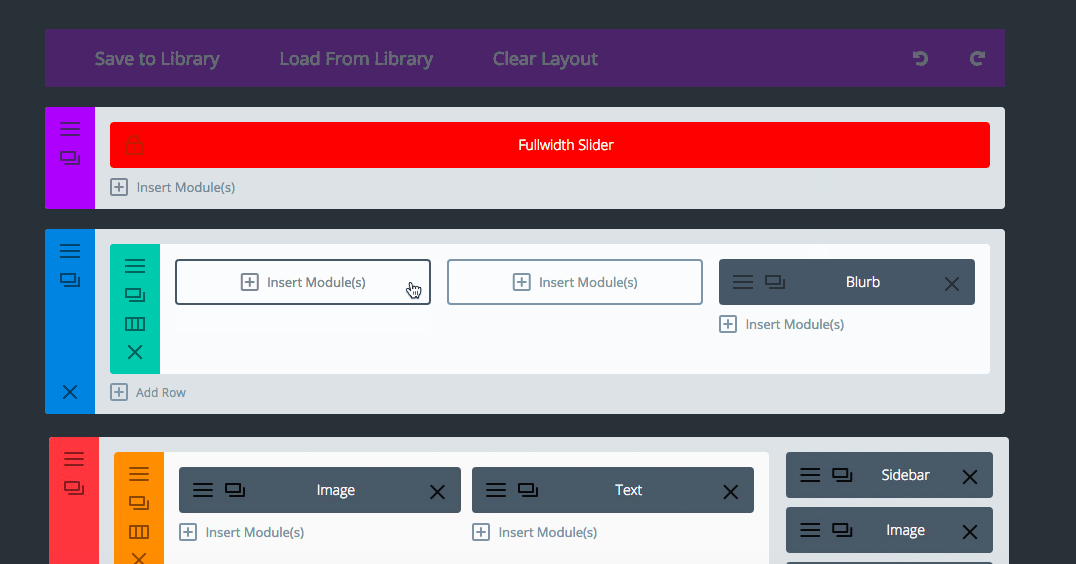 Designed for the Divi theme, this visual drag-and-drop page builder can be used with any WordPress theme to easily create any website you design you can imagine, with no coding required.
Layout options are unlimited and there are 46 content modules that can be used like building blocks to create your site including gallery, email opt-in, pricing table, video slider, shop, and many more.
Bloom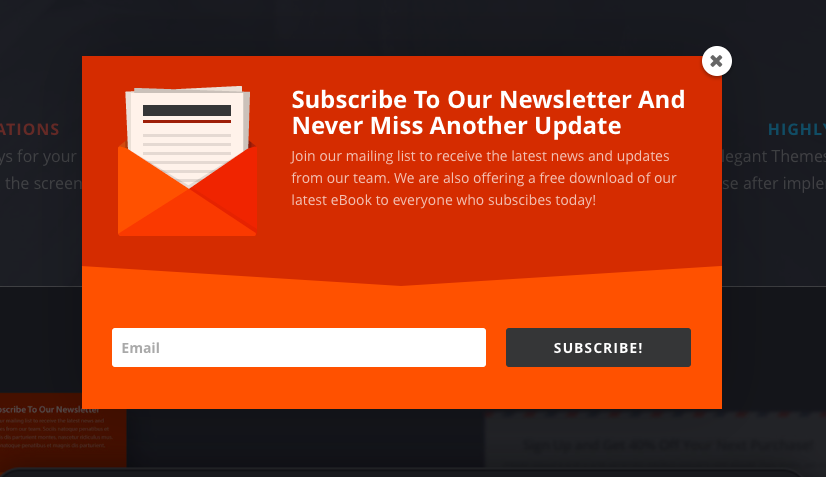 Bloom is a beautiful and very effective list building plugin that's comparable with many email opt-in and conversion plugins that charge a hefty fee for usage.
With this plugin you can easily add opt-in forms to your website as a pop-up, fly-in, inline form, or widget, and convert visitors into followers.
It's integrated with all the major email marketing platforms and comes with over 100 professionally designed templates that can be customized to match your site
Monarch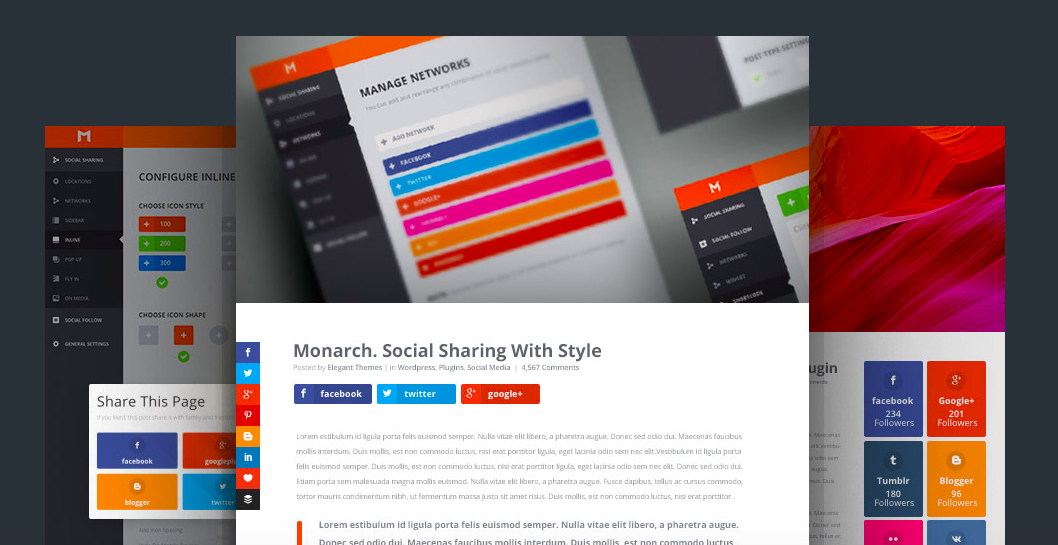 Monarch is a social media sharing plugin that allows easy integration with 20 social networks, a number of different styles of social sharing buttons, customizable design, and automatic pop-up and fly-ins.
Elegant Themes Plans and Pricing
Unlike most premium theme stores that charge on average $50 to $100 per theme, Elegant Themes charges a single membership fee for unlimited downloads and updates of all themes and plugins available on the site.
There are two membership options:
Yearly access costs $89 per year and includes all theme updates, premium support, a risk-free guarantee, and unlimited website usage for a year.
Lifetime access costs $249 one time fee for lifetime access to all themes and plugins, including updates, premium support, unlimited website usage, and a risk-free guarantee.
You can get an additional 20% off these prices by using our link: sign up for Elegant Themes here.
If you're wondering why you should consider the Lifetime access membership over the yearly option when you can just download all the themes to use whenever you want, the updates alone are well worth paying the extra fee for.
Unlike some themes, Elegant themes are updated regularly and some of the most popular themes have gone through several major revisions (Divi is now on version 3.0 and is significantly different from its first incarnation).
As well as updates you can also gain access to newly created themes
Elegant Themes Support
Elegant Themes offers two main channels of support if you need any help with a theme or plugin:
Detailed documentation describing the installation and customization of each theme, some with video tutorials.
Community support forums that are staffed by Elegant Themes employees as well as other experienced users of the themes. Many times you'll find your query has already been answered on the forums.
Elegant Themes Coupon Summary
When you compare the price of a single premium WordPress theme to Elegant Themes membership, it's a no-brainer which option is the best value. As well as access to the current 87 themes (that's just over $1 per theme), you also benefit from three premium and professionally designed plugins that are very useful for any website.
There's no sacrificing quality for this price either – all themes are professionally designed, most are responsive, and new modern designs are being added all the time.
Elegant Themes have a loyal user base of over 400,000 customers worldwide, and you can also benefit from community support for popular themes like Divi, as well as the official support customer support channels.
The company has been around for 8 years so you can be confident they're not going anywhere and if you do decide to signup for lifetime membership, you're pretty much guaranteed updates and support for the foreseeable feature