Thinking about applying for a new job? Looking for a way to get your resume noticed by potential employers? What you need is a resume template.
Resume templates are a great way to create eye-catching and professional designs without too much hassle. However, there are tons of options available online, and choosing the best can be time-consuming.
That's why we've created this list of the 21 best resume templates to impress employers. In this list, you can find a resume template to suit just about every job role. But before we jump into things, let's take a look at some of the benefits of using a resume template.
What Are the Benefits of Using a Resume Template?
You may think that creating a resume is a simple task that doesn't require a template, but there are actually many benefits to choosing a template over your own designs. Here's just a few:
They look professional and well laid out. One thing employers hate is starting at walls of text on a Word document. When they're browsing resumes, they want to see resumes that are well designed and presented in a professional way. Even if you have no design skills, using a resume template can help you to get ahead of the competition and impress potential employers.
They're formatted for printing. Getting all your information to fit neatly onto one or two pages can be hard when creating your resume can be hard. This can lead to bad formatting that can be problematic when printing. By using a template, you can ensure everything is laid out well and optimized for printing.
They can help you to organize your thoughts. Writing a resume can be a difficult task, and it's easy to forget important details like work experience, school history, or references. With the help of a resume template, you're less likely to miss out on any important sections by accident.
21 Best Resume Templates to Impress Employers
Now you know a little more about the benefits of using a resume template, let's take a look at some awesome options. All of the templates listed here are included in the Envato Elements subscription (starting from $14.50/month). Let's jump to our list, starting with a simple, but stylish option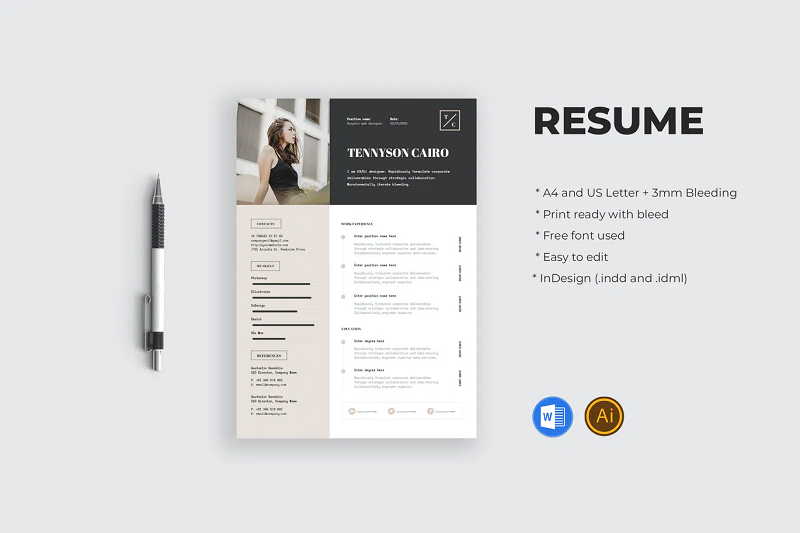 When it comes to applying for jobs, it's often a good idea to keep things understated and professional, and this template is perfect for doing exactly that. The muted color scheme and clear sections make the resume easy to read and digest.
Why it's our top pick
The minimal and professional design leaves space for all the important information, and a picture. Also, despite its simple design, it still looks stylish and impressive.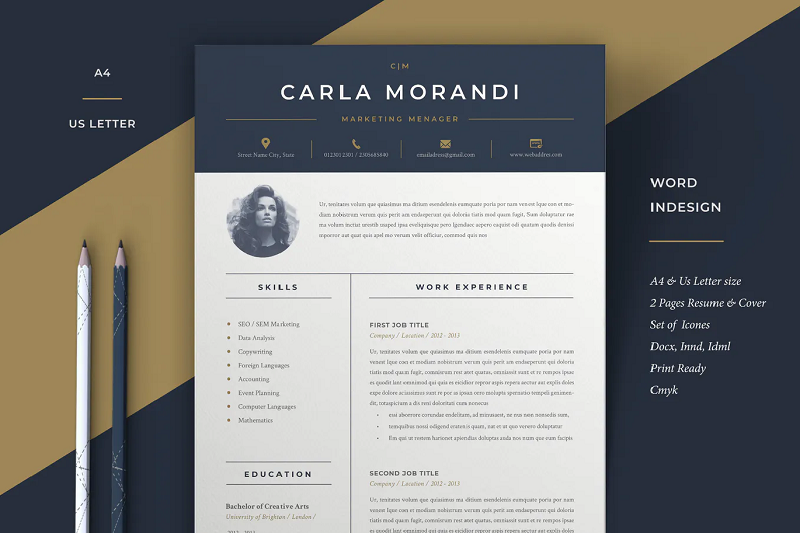 If you're looking for a template that includes a matching cover letter design, this is a perfect choice. The pack includes three professionally designed templates that all feature an eye-catching header section. It also includes golden graphics for your personal information such as location, telephone number, and email address.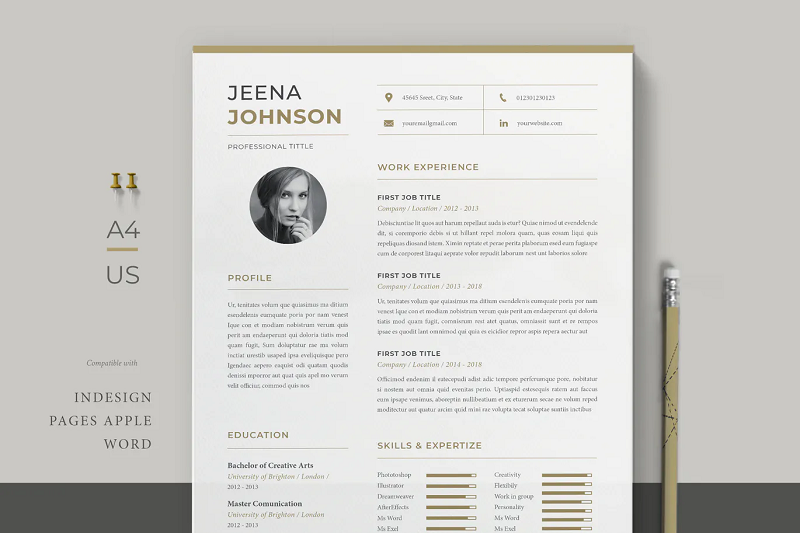 This template uses a gold and grey color scheme to create a minimal but luxury feeling resume. The template has a feminine feel so would be perfect for people applying for jobs in the fashion or design industries. You can edit the template in Word, InDesign, or Pages.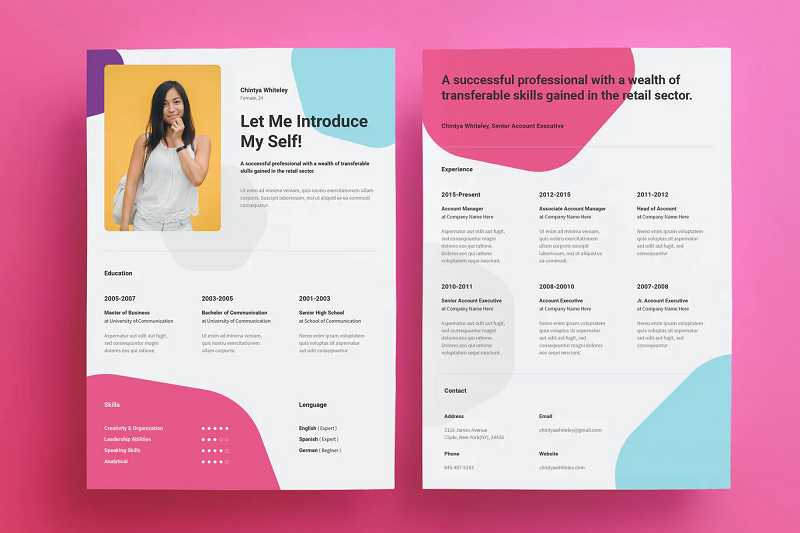 If you want to use a pop of color to catch the recruiter's eye, this is the resume template for you. This colorful and bold template is perfect for tech and design jobs and will help you to create a modern and fun first impression.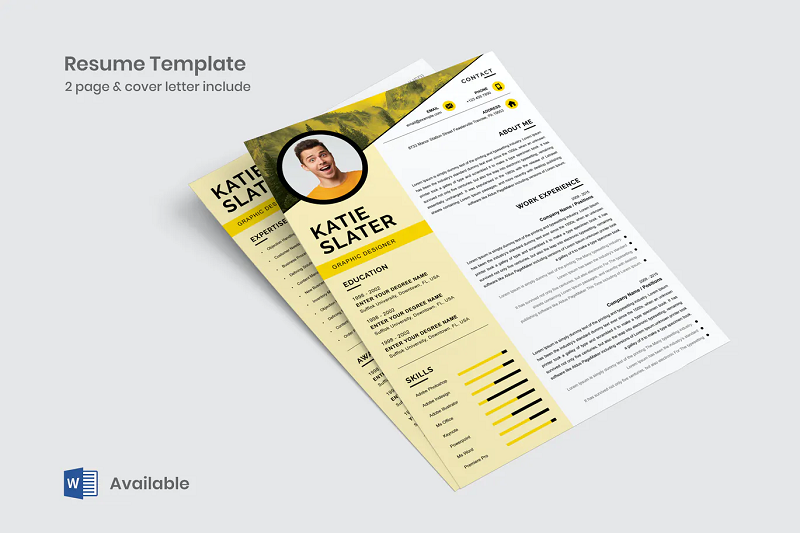 Sometimes, one page simply isn't enough to showcase all of your skills and expertise. Thankfully, this download includes a two-page template for creating your resume. The bold and colorful template includes tons of sections from work experience to awards, making it perfect for people who want to add a little more detail.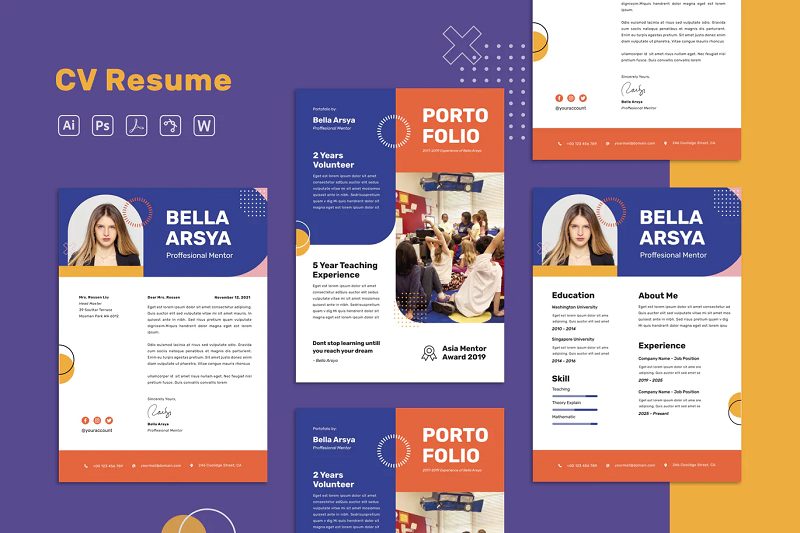 This fun and abstract design is so bold that it will easily get noticed by potential employers. The bright color blocks and cool graphics give it a fun but professional feel. This would be the perfect resume for applying for modern roles in the tech or design industries.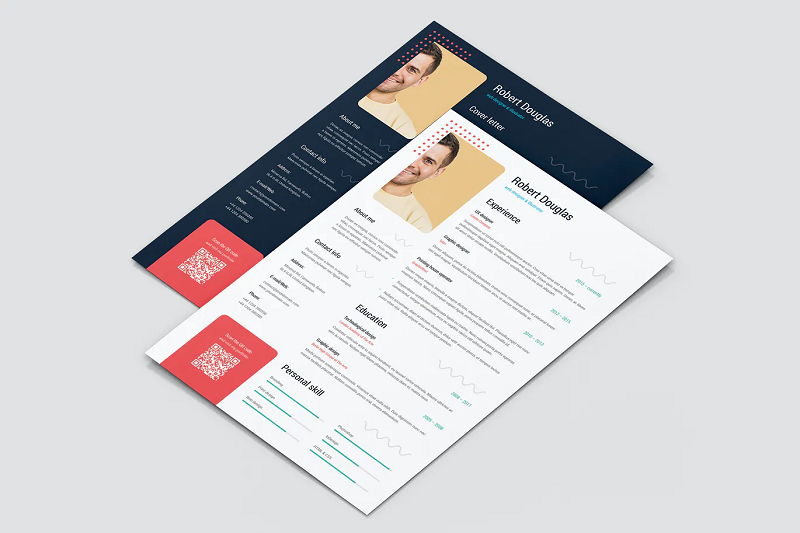 If you're the kind of person that likes to keep things simple, this is the template for you. This template offers all the sections you need, along with some cool headers and graphics to add a touch of style. Also, if you want to provide more detail, but don't have the space, there is a section to add a QR code to link to your online portfolio. Pretty cool right?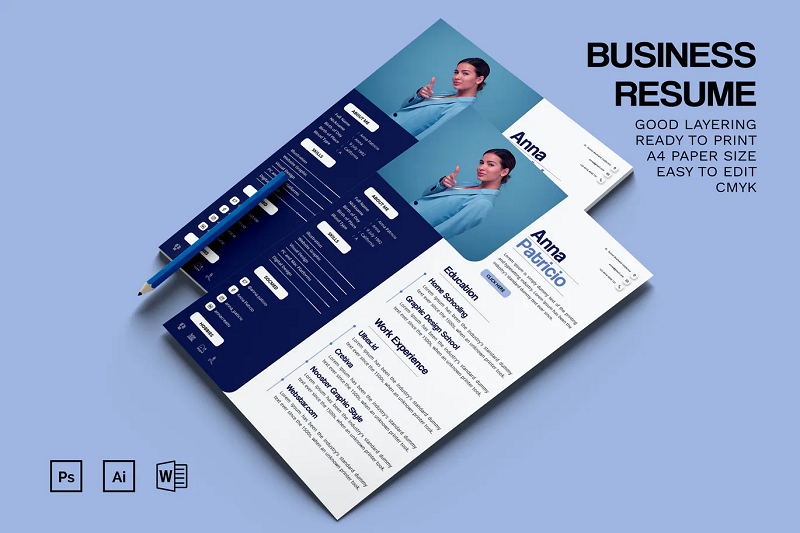 This resume is perfect for standing out from the crowd when applying for corporate and business roles. The dark blue color scheme is extremely professional, and there is even a large space in the top corner to place professional headshots. The template can be edited in PhotoShop, Illustrator, and Word.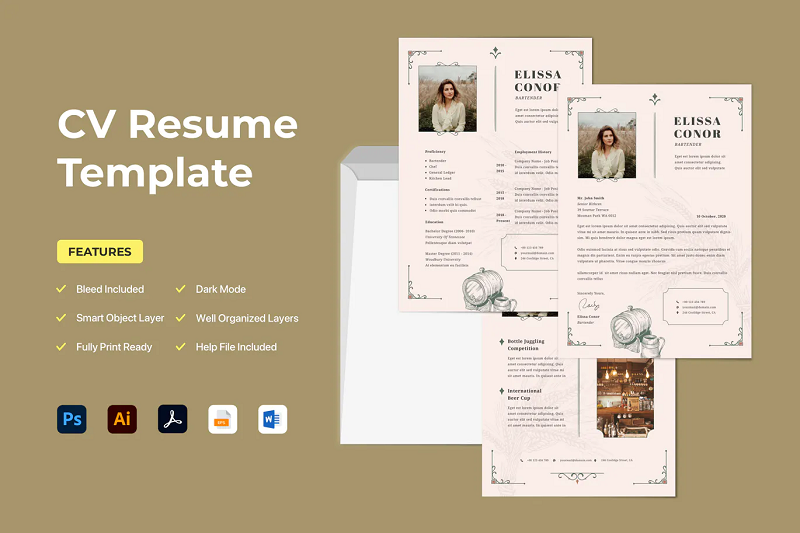 This retro resume template is perfect for applying for jobs in the food and hospitality industry. The template includes vintage beer and barrel graphic as well as retro-style borders. Whether you're a bartender or a waiter, this resume would be a great choice.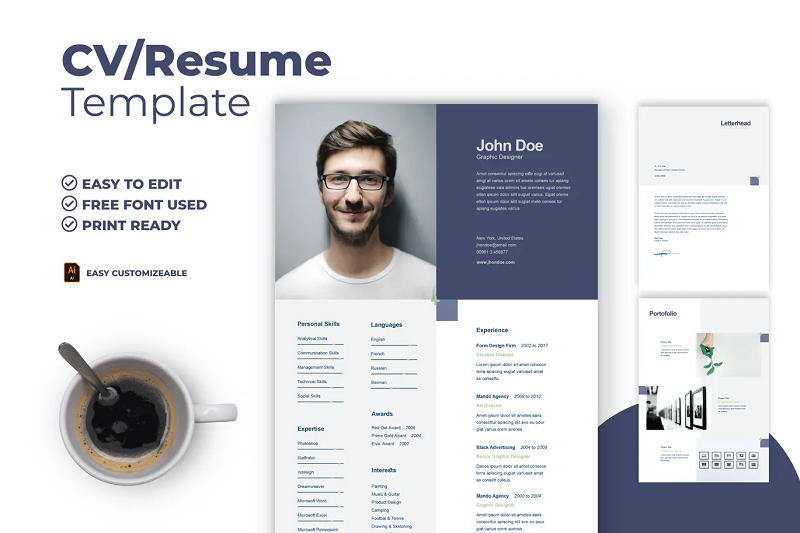 This clean and modern template is super versatile and could be used for applying for just about any role. The cool blue color blocks make the resume eye-catching and help the information to really jump off the page. There is also a large space for including a headshot, which makes it a great choice for applications that require this.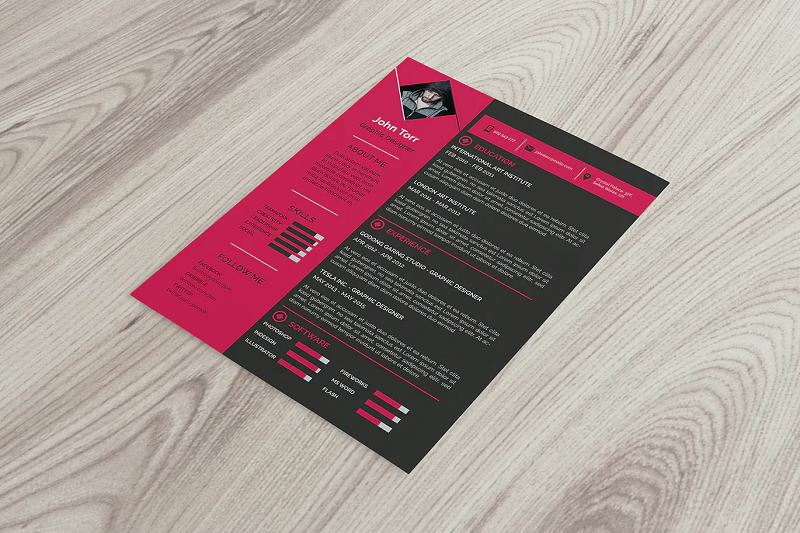 This modern template uses bold, contrasting colors to create a truly eye-catching design. This would be the perfect choice for jobs within the fashion industry or other creative fields. As well as a resume template, the download also includes a letter design.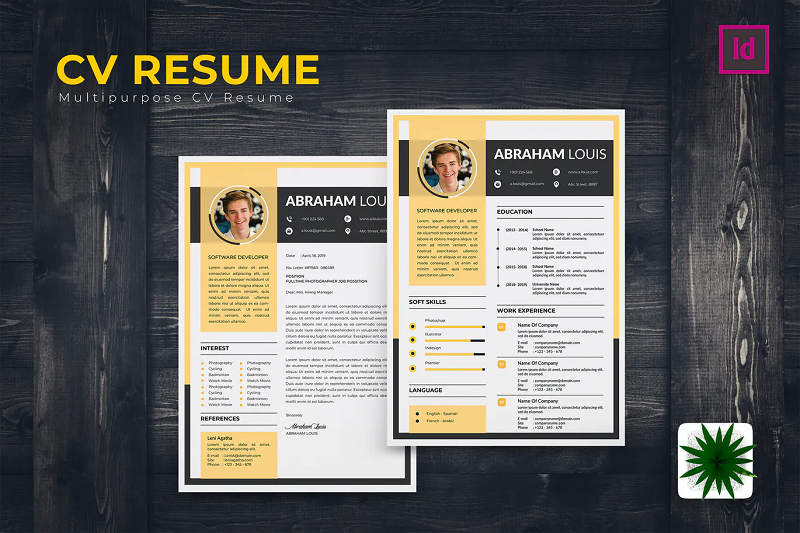 This youthful and colorful template is attractive and eye-catching. The yellow and black color scheme is both professional, and fun and gives the template a natural feel. This template would be suitable for a range of industries, including design, retail, and hospitality.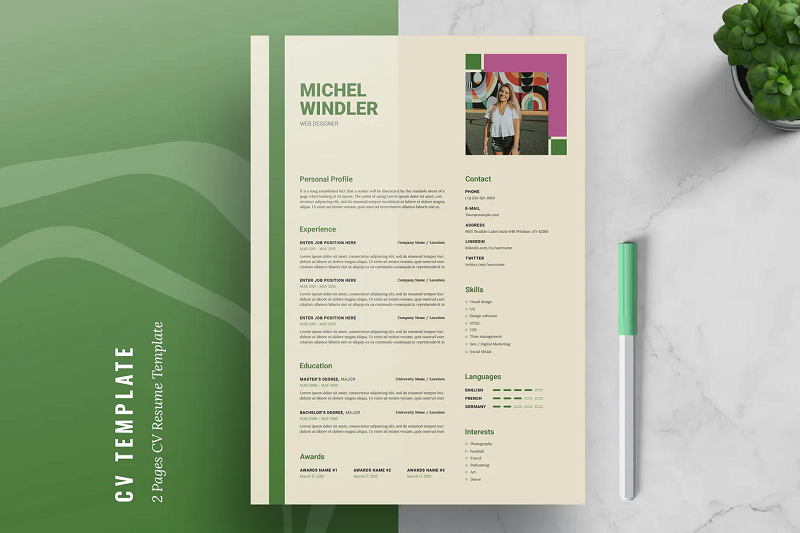 This natural green resume template would be perfect for a job in the energy and environment sector. The attractive green design accentuates the important information and helps the resume to look unique and professional.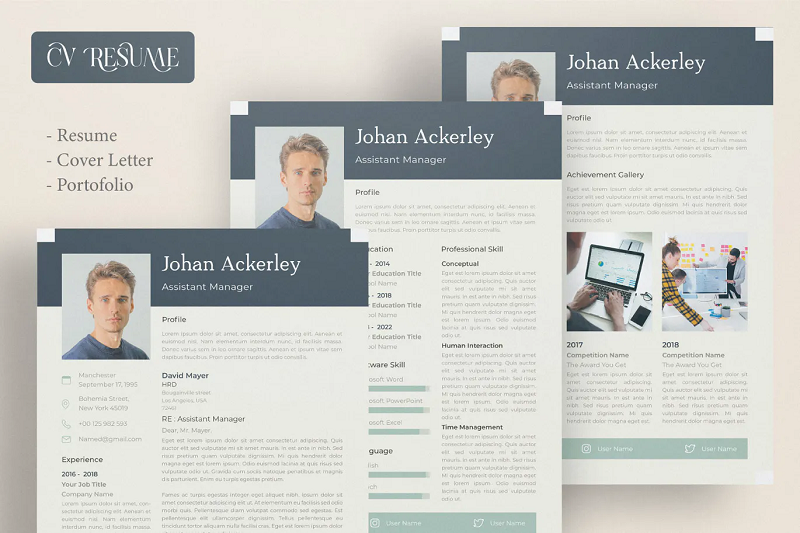 When it comes to resumes, sometimes it's best to keep things simple – and this clean resume template is the perfect choice for that. As the name suggests, it utilizes a clean, professional, and modern design with a neutral color palette.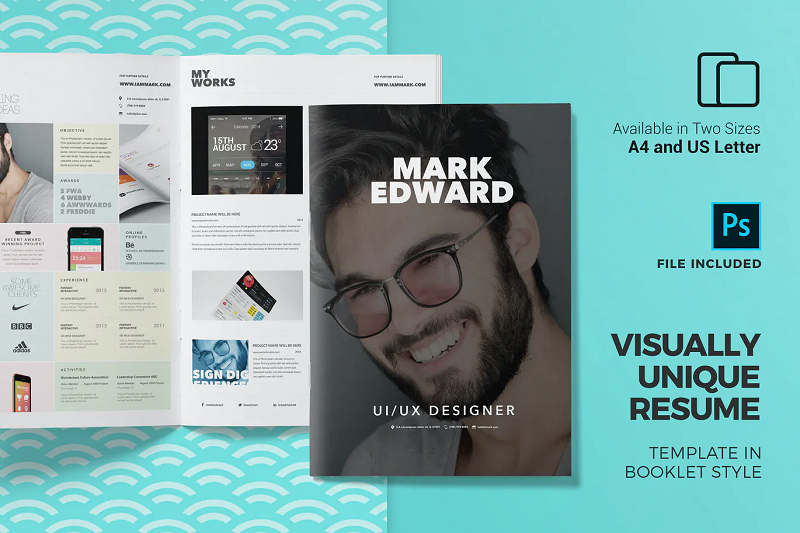 If you're keen to change up the format of your resume, this booklet template may be right for you. Instead of utilizing the traditional A4 style, this template uses a booklet format to provide ample room for presenting your information. This would be a great choice for artists who need extra room to display items from their portfolios.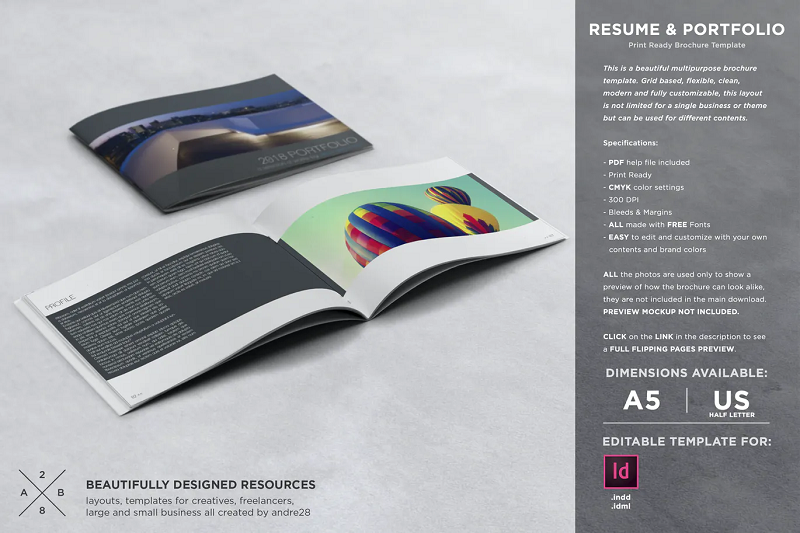 If you're planning on applying for jobs that require a portfolio of work, this is the template for you. It's a multipurpose, 20-page brochure template that enables you to showcase your work in style. The designer has used a flexible, grid-based design that's fully customizable. You can change the content, colors, and fonts to match your needs. It only comes in two dimensions: A5 ISO and US Half Letter.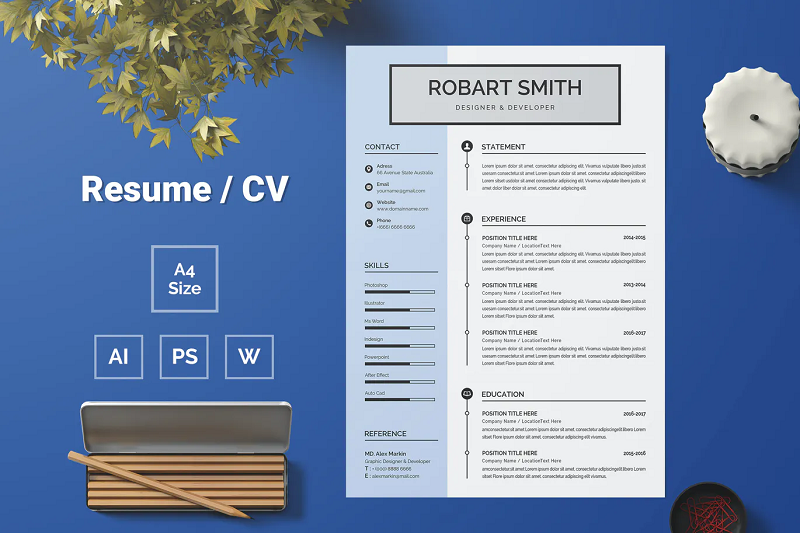 Laying out your details in a way that is easy for the reader to digest is the key to a great resume, and this template does just that. This classic and professional design uses a timeline layout to present all of your career and education information. It's great for people with a long career history and ample qualifications.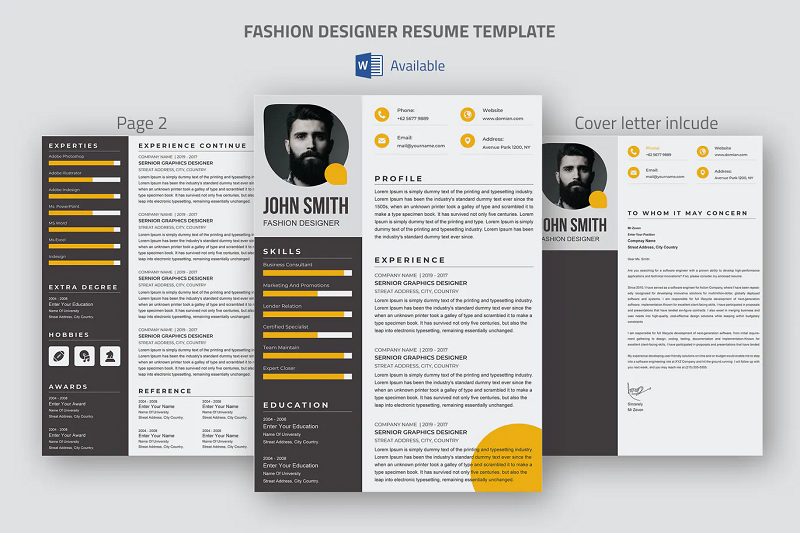 This resume template is perfect for anyone seeking a job in the fashion industry. It's neatly laid out into several sections with space for you to list your experiences, skills, education, awards, contact details, and other relevant information. There's even a cover letter template included. The color scheme is bold, eye-catching, and professional, and the well-designed icons and graphical elements make it easy for potential employers to digest key information at a glance.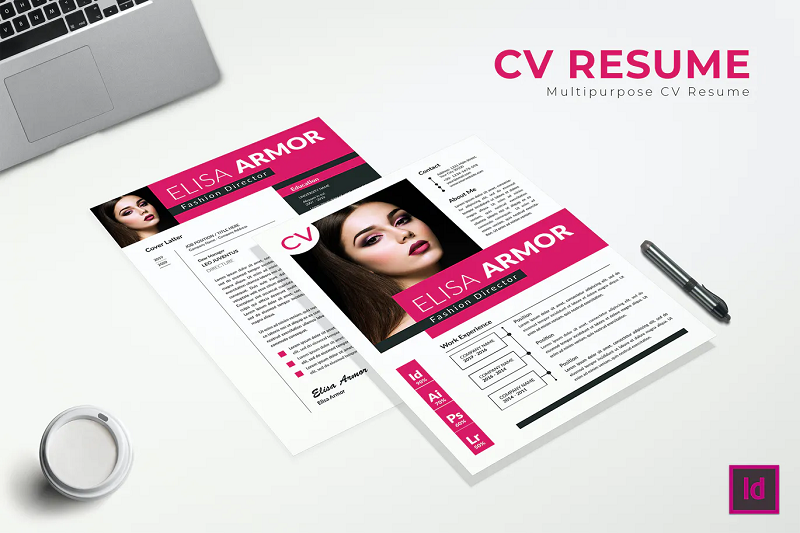 If you're looking for a bold and feminine resume template, this is it. This hot pink design would be perfect for models, as it is bold and eye-catching and also has a huge space for your headshots.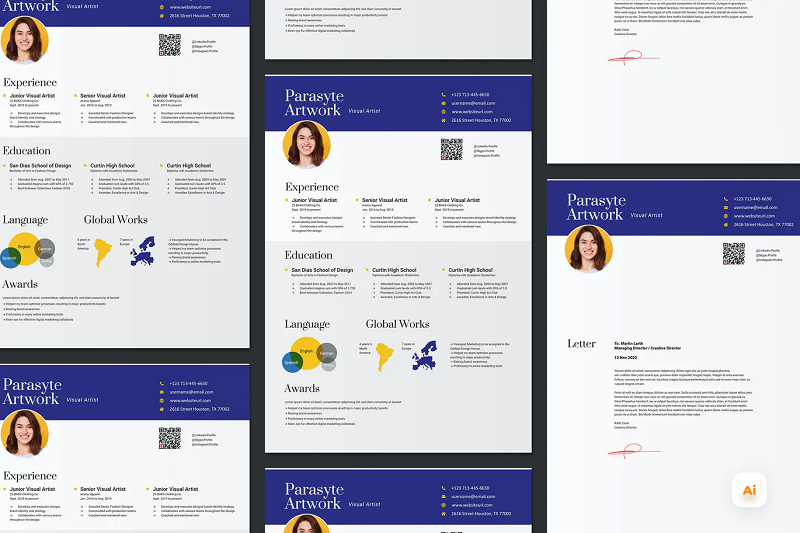 This template uses an elegant blue and yellow color scheme. The designer has made excellent use of space so that the resume doesn't look cluttered, as well as nifty graphics and map icons to help present the information in a way that's easy to digest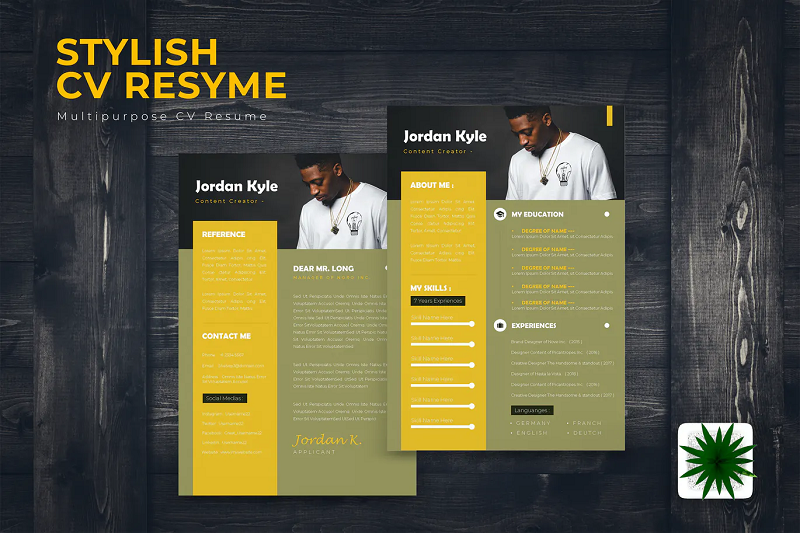 This resume template is super stylish and modern and perfect for people searching for creative jobs roles. The template's colors and layout are super trendy and it's sure to grab the attention of potential employers.