Website typography has multiple different aspects; displaying numbers on the screen is among the most important ones. There are many use cases when you might want to focus on the look and feel of numerals and find the best number fonts for your design. Number characters are especially important when you are creating infographics, pricing tables, data visualizations, or special offers on landing pages.
Besides, carefully chosen number fonts can also improve readability by making numbers stand out from the rest of the content. If you want to spotlight numerals in your design, you can use two kinds of number fonts:
numbers-only fonts that don't include any alphabetic characters just numbers and (sometimes) symbols and punctuation marks,
regular fonts that have both alphabetic and non-alphabetic characters but the numberals have a distinctive, readable, and/or unique design.
In this collection of the best number fonts, you can find examples of both.
The Best Number Fonts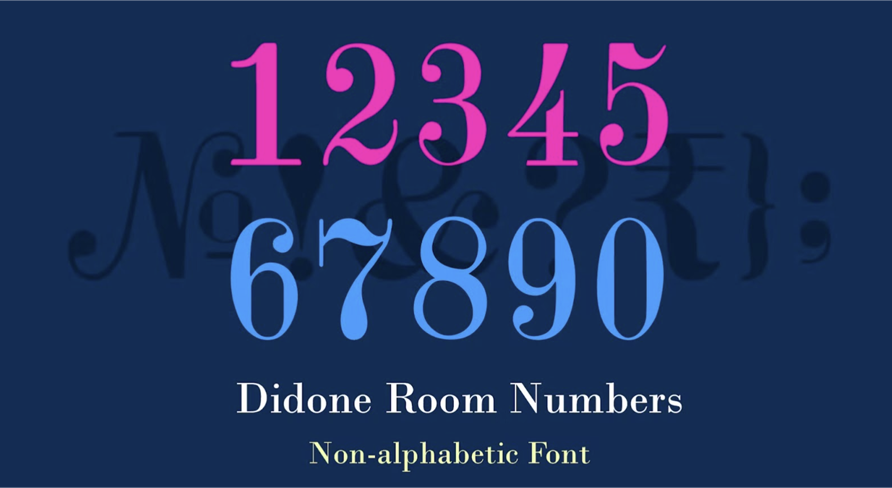 Didone Room Numbers is a non-alphabetic font, inspired by a hand-painted hotel room number plate in Vienna, Austria. It's a numbers-only font that follows the Didone type style characterized by an extreme weight contrast between thick and thin parts. To get access to the Didone Room Numbers typeface, you need a subscription on Envato Elements.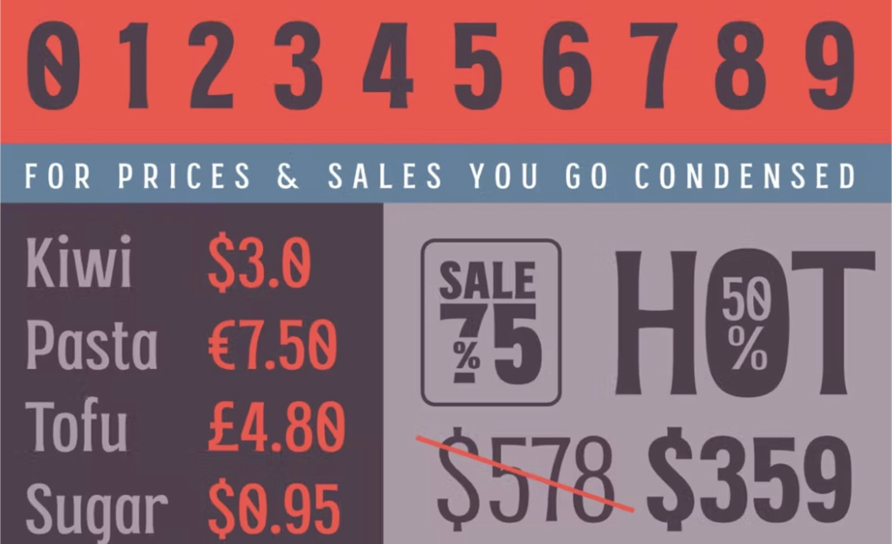 MRK Maston Pro is a vintage sans-serif display font typeface that works great for both retro and modern designs. It can also work well for displaying numbers and content in UI designs, especially if you need to display prices. Tip – use the condensed version for prices.
MRK Maston Pro is available as part of Envato Elements.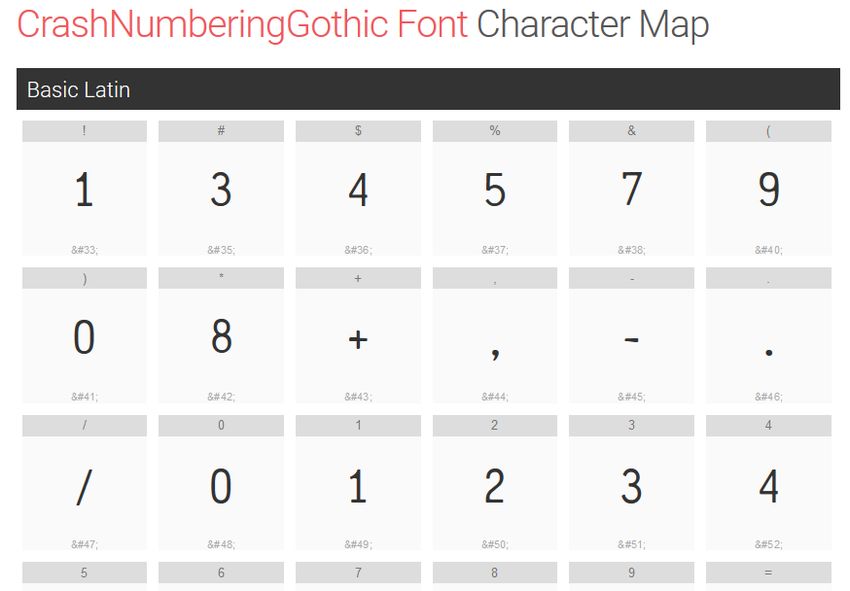 Crash Numbering Font is a free typeface, available for both personal and commercial use. It includes 42 glyphs: numbers and basic math symbols, however, it doesn't have any alphabetical characters. Crash Numbering Font comes in two versions: you can choose between Gothic (on the image above) and Serif styles. In this way, you can pick the kind of numbers that best matches your design.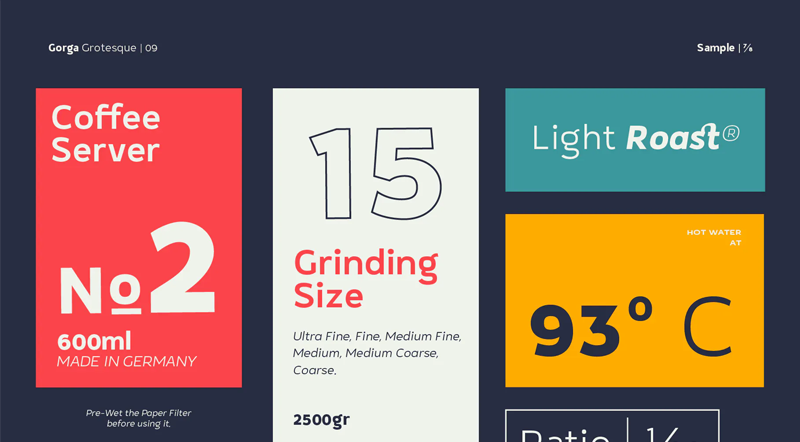 Gorga Grotesque is a modern take on the classics such as Helvetica and Open Sans. The great attention to detils on the numerals make this one an ideal typeface for signs and infographics.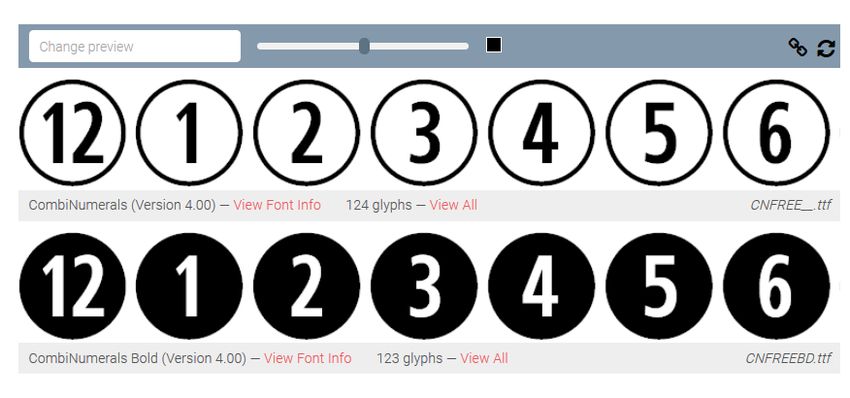 CombiNumerals Font is an interesting typeface that allows you to create circle numbers you can use in web graphics, maps, quizzes, tourist guides, forms, and many other places. With CombiNumerals, you can't only create one-digit circled numbers, but also two-digit ones (instructions are included in the docs).
Besides numerals, CombiNumerals also comes with alphabetic characters and tons of symbols, even rare ones (124 glyphs altogether). It's a freeware font, for both personal and commercial use.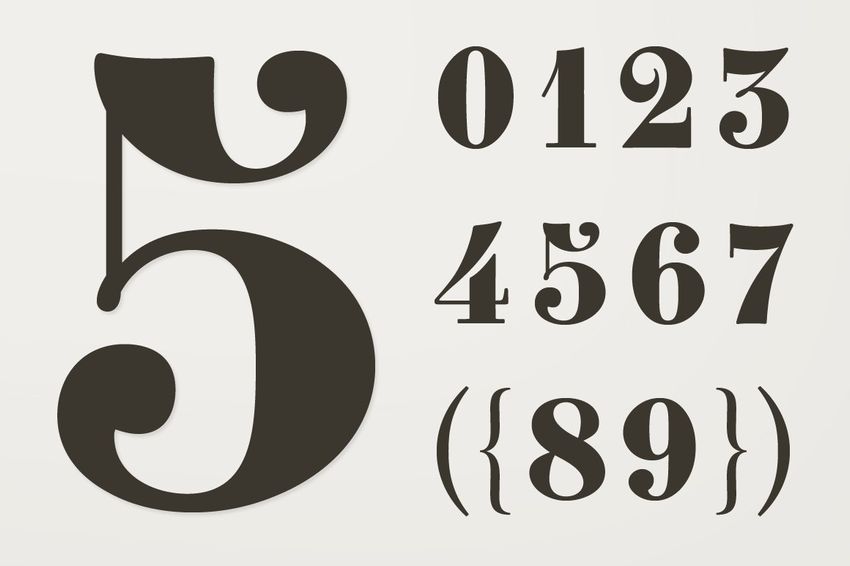 Clement Numbers is a beautiful number font coming with numeral characters and basic punctuation marks. It's an exclusive set of numbers that was rescued from a Type Specimen Book issued by the Fonderie Clement in Bruxelles in 1838.
As Clement Numbers is a stylish and elegant typeface, it's recommended for luxury products and vintage designs. You can purchase the standard license for $10.00 on Creative Market.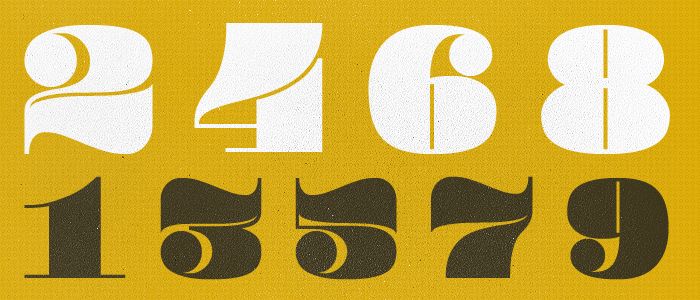 Pompadour Numerals is a set of extraordinary display numerals, inspired by the Rockabilly Hairdo of the 1950s. These numbers look best in large sizes, as they were created specifically for display. Each number character fits perfectly inside a square, so they look good next to each other both horizontally and vertically.
This font contains only number glyphs, without any alphabetic characters or punctuation marks. Note that you can use Pompadour Numerals only for personal projects, as commercial licensing is not available at the moment. You can get the personal license for a small donation of your choice.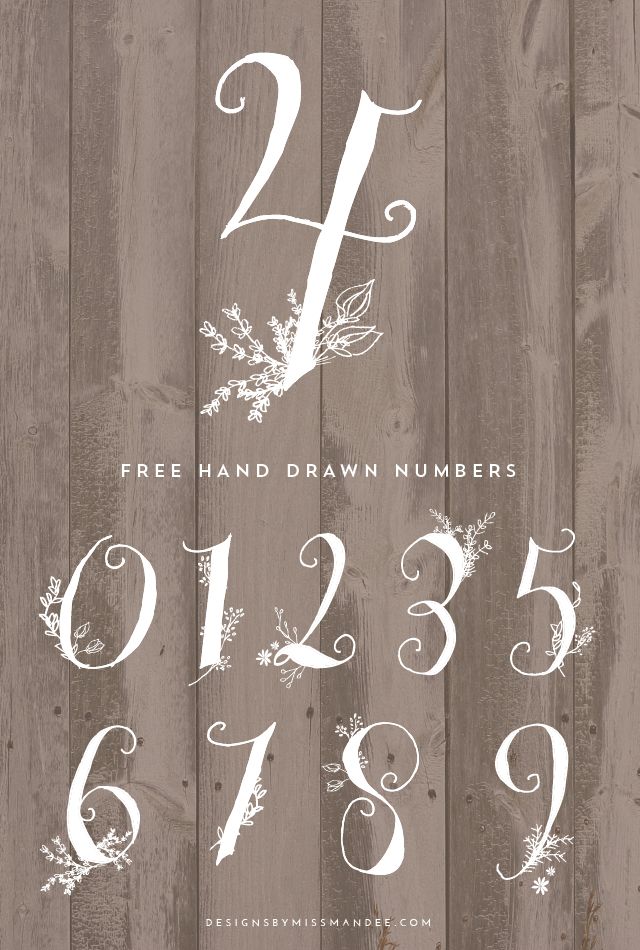 Mandee Thomas is a successful graphic designer who gives away this stunning hand-drawn number font as a freebie. It's a numbers-only font that contains digits from 0 to 9. The addition of laurel leaves and small flowers to the numbers and their uneven widths make the font quirky and elegant at the same time. It can be a perfect choice for event websites, wedding invitations, and when you are looking for a number font that goes well with cartoonish design.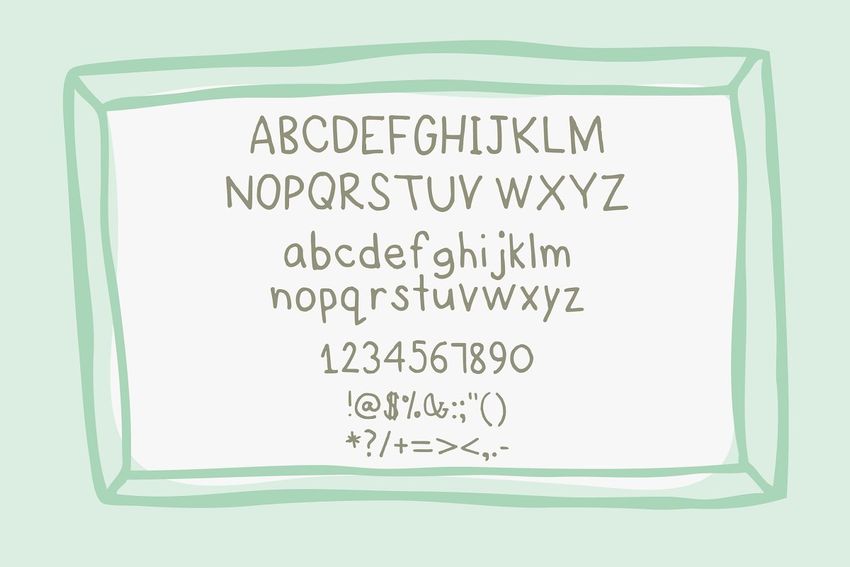 Story is a hand-drawn font that gives a unique look and feel to your design. It can be used best when you want to show familiarity and trust, but it especially goes well with designs made for children. Besides numerals, Story also includes alphabetic characters and basic punctuation marks. You can purchase the standard license for $5.00 on Creative Market.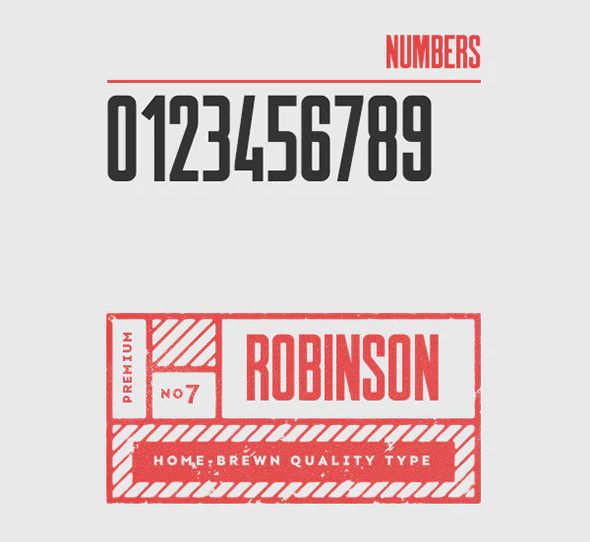 Robinson Typeface is an incredibly versatile font, inspired by vintage newspaper titles. It includes 18 different font styles such as regular, distorted, rough, outline, urban, and many others. It has both alphabetic and non-alphabetic characters, so you have matching numerals to each style. You can purchase the entire font family on GraphicRiver for $30.00.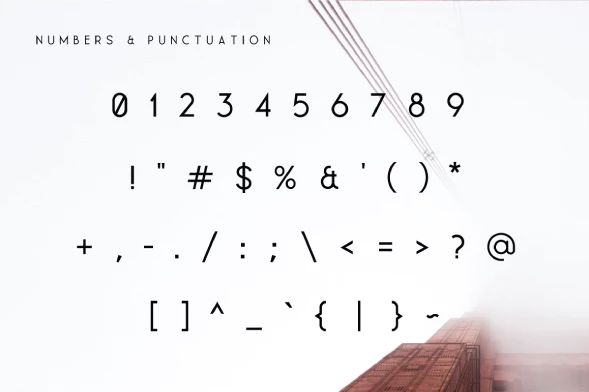 Leaner Typeface is a modern-looking, all-caps, sans-serif font that comes with uppercase letters, numbers, and punctuation marks. The fonts are available in three weights: thin, regular, and bold. Leaner is mostly recommended for logos and headings, however, you might find other use cases as well. You can purchase Leaner on GraphicRiver for $12.00.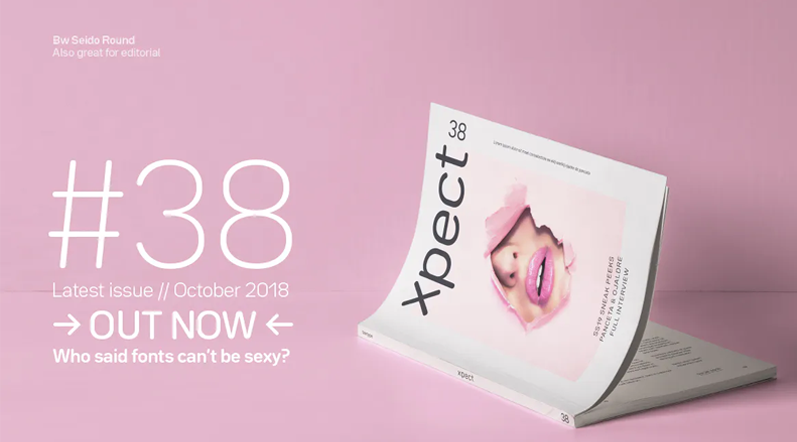 BW Seido is a rounded sans serif. A soft and subtle typeface for when you want to convey something elegant involving numbers.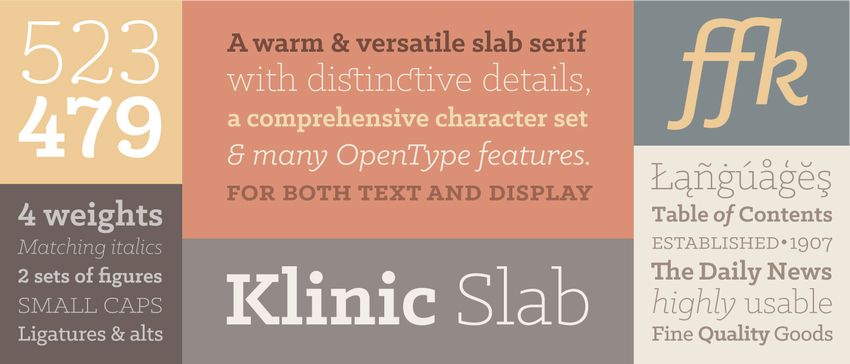 Klinic Slab is a contemporary slab serif font that comes with a comprehensive character set, including alphabetic and non-alphabetic characters as well. The font family consists of four weights that all have their matching italics. Klinic Slab looks especially good when used for headlines but it also stays readable when used in flowing text.
The number characters are bold and unique but still easy-to-read, so it's an excellent font for infographics and data-rich designs. The personal license uses the pay-what-you-want model, while the 1-5 user commercial license is available for $45.00.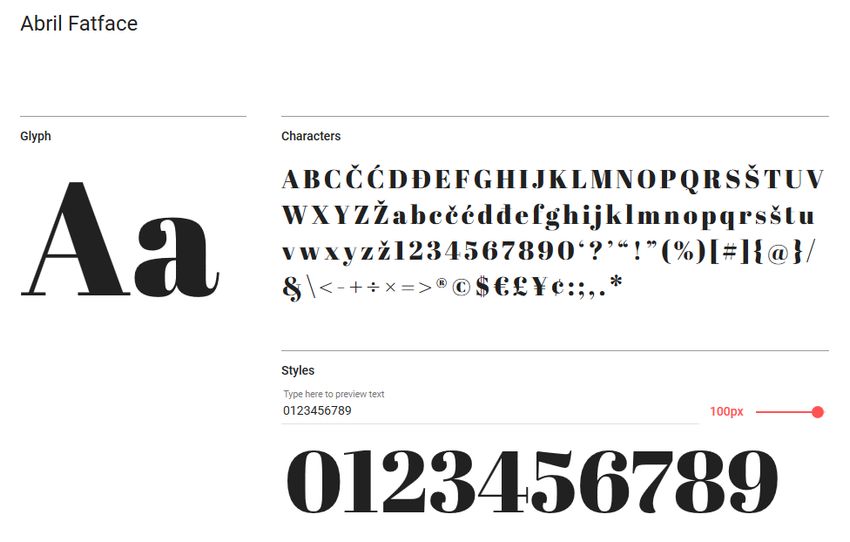 Abril Fatface is a free Google Font that was inspired by heavy titling fonts used in advertising in the 19th century. It includes 18 different font styles such as display regular, fatface, text bold, and many others. Abril Fatface comes with the Extended Latin character set, so you can use it with more than 50 languages. Its prominent and thick numerals make it suitable for any design where you want to emphasize numeric data.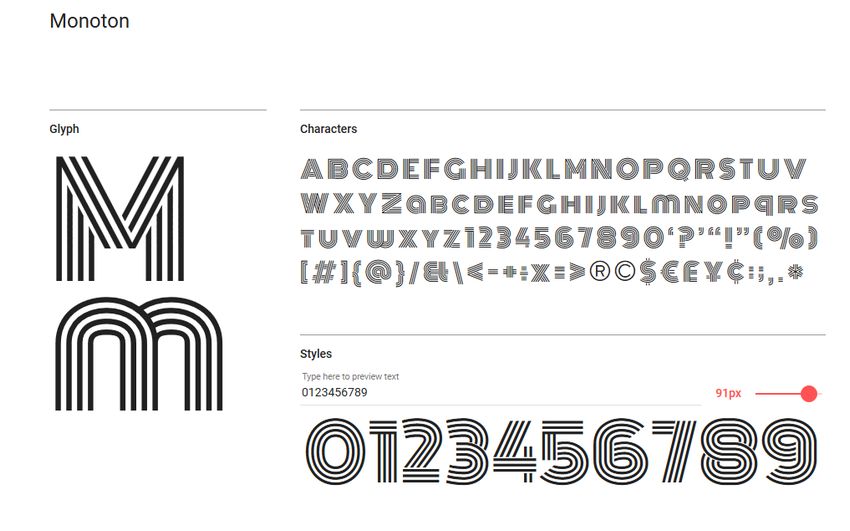 Monoton is another Google Font available for free, inspired by the metalpress fonts of the 1930s. It has a unique and quirky design that gives an extraordinary look to your numerals. Monoton is purely a display font, it's not recommended to be used with fonts smaller than 30 points. Besides numbers, it also includes alphabetic characters and punctuation marks.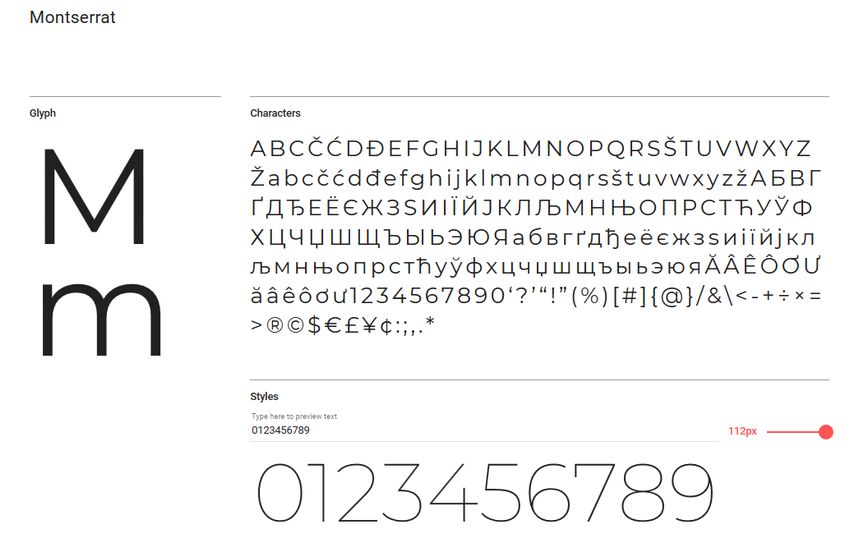 Montserrat is an incredibly versatile sans-serif typeface that, besides a comprehensive alphabetic character set, includes stunning number glyphs, too. It was inspired by old posters of Montserrat, a traditional neighbourhood in Buenos Aires, Argentina. It comes with multiple different styles from light to semi-bold to "black 900 italic" and supports Latin, Cyrillic, and Vietnamese languages as well. You can download Montserrat from Google Fonts for free.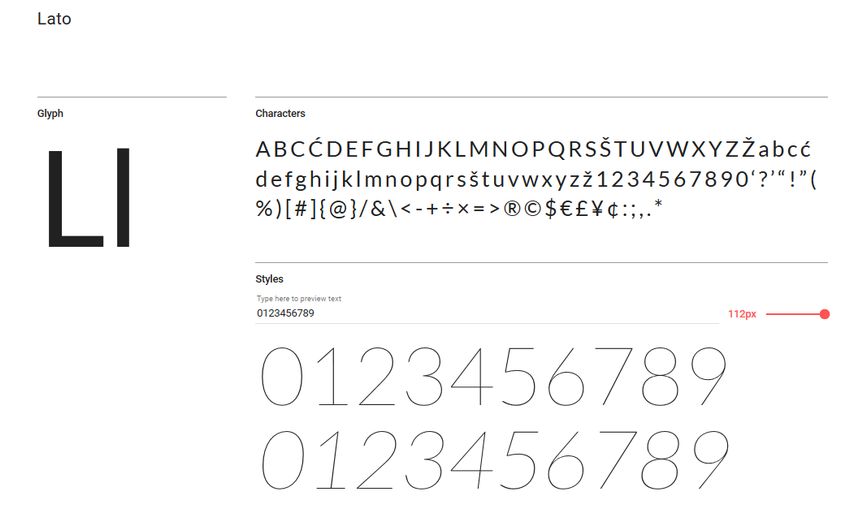 Lato is another popular sans-serif Google Font that includes easy-to-read, distinctive number characters. It was originally a corporate font designed for a large client who later abandoned it, so the author released it for the public. As a result, Lato is frequently used in pricing tables and eCommerce sites to show prices of different products and services.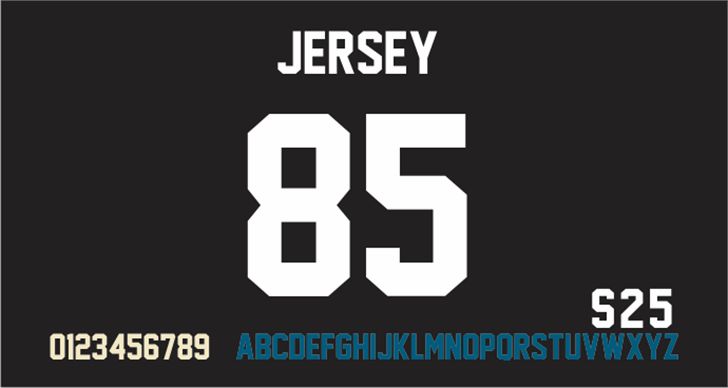 Jersey M54 is a modern-looking slab serif font that is an excellent choice to display numbers in bold designs. It's free for personal use, however, the commercial use requires a donation (although, it can be any amount). It has both alphabetic and non-alphabetic characters — 40 glyphs altogether. The author recommends it for apparel design and sports jerseys, however, you can use it for any other kinds of display fonts.
Conclusion
Finding the best number fonts is essential when you are creating a design that heavily relies on numerals.
There are a couple of numbers-only fonts such as Clement Numbers and Pompadour Numerals that can be a good solution if you want to highlight numbers with visibly different looks. However, if you don't want to use a separate font just to show numbers you can also go with a full-character typeface that has readable, well-designed number characters like Lato or Montserrat.
Number fonts are just one of the many typographic solutions to add personality to your design. If you want to see more stunning font collections, check out our ultimate list of 80s fonts or the best Google Fonts for page headers, too.