Debating using Rocket.net to host your WordPress site(s)? In our hands-on, honest Rocket.net review, we'll help you decide whether or not it's the best option for your needs. 
In general, Rocket.net is a strong option in the managed WordPress hosting space. The most unique thing about Rocket.net is how it implements the Cloudflare Enterprise network into its offering, with lots of tools to help your site load fast around the world.
While Rocket.net's top-line prices look similar to other managed WordPress hosts, it also has much higher traffic limits, which can make it much more cost-effective for high-traffic WordPress sites.
It's not all roses, as there are some drawbacks, too. But in general, Rocket.net offers an excellent hosting product, which is why it's the host that we use here at Onextrapixel.
To learn more about where those conclusions came from, you can keep reading our hands-on review.
Below, you'll see real data from our own performance tests, a look at the Rocket.net dashboard and experience, pros and cons, and more.
And just to show you that we really do use Rocket.net here at Onextrapixel, here's a screenshot of the Rocket.net dashboard for Onextrapixel:

Here's everything that we'll cover in our Rocket.net review:
Overview of key features and what makes Rocket.net unique
Real performance tests using three different tools
A hands-on look at the hosting dashboard and user experience
Support options
Pricing information
Pros and cons
FAQs
Final recommendations
Let's dig in.
How Does Rocket.net Work? Exploring Key Features
Rocket.net is a managed WordPress host, so it offers all of the standard features that you'd expect including…
A custom hosting dashboard
Automatic WordPress updates
Automatic daily backups and easy on-demand backups
Staging sites
24/7 expert WordPress support
Unlimited free migrations
However, the most unique thing about Rocket.net is how it builds in the Cloudflare Enterprise network, as you won't find very many other hosts doing this.
Kinsta is the only other popular WordPress host that I know of using Cloudflare like this, but Kinsta still hasn't integrated Cloudflare to the same extent as Rocket.net.
Rocket.net's use of Cloudflare benefits your WordPress site in two main areas:
Let's break it down…
Full-Page Caching on the Cloudflare Enterprise Network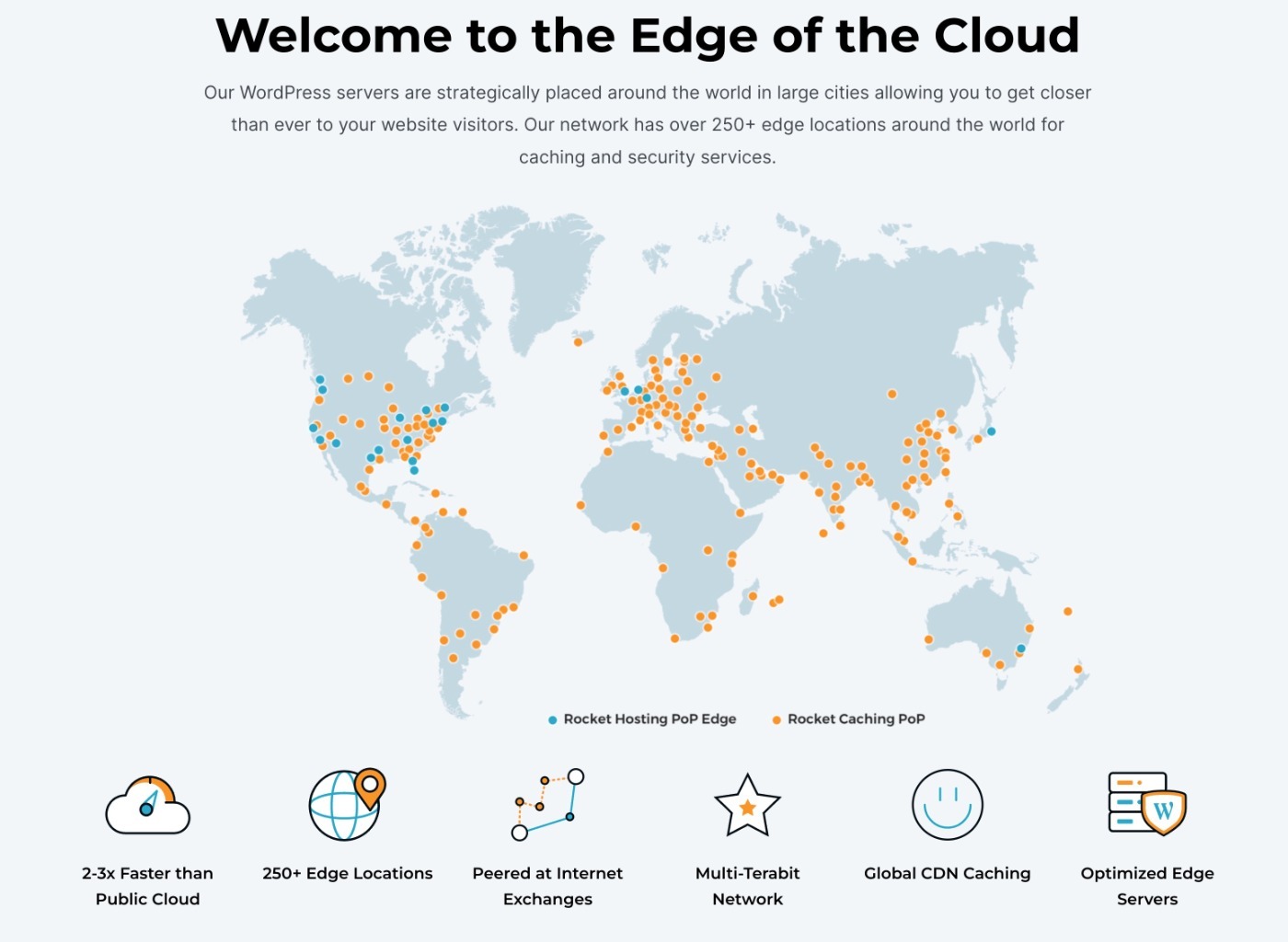 One of the biggest advantages of Rocket.net is that it uses Cloudflare Enterprise's global content delivery network to cache full pages (rather than just static assets/images like a lot of other CDNs).
This means that visitors can download the entire page from the nearest Cloudflare Enterprise node. The basic idea here is that your site will load super fast no matter where a visitor is browsing from – you'll see this in the performance tests below.
From looking at a few case studies, Rocket.net generally has a 95-98% cache hit for most sites, which means that the vast majority of your traffic is being served from Cloudflare's network instead of your origin server.
It also means that it's a lot easier to scale your site in high-traffic situations, which is part of why Rocket.net's traffic limits are so much higher than other managed WordPress hosts – more on that in the pricing section.
Beyond the global caching, Rocket.net also uses Cloudflare's real-time optimization features to build in the following:
Automatic dynamic image optimization – no need to use an image optimization plugin.
Automatic code minification – no need to use a minification plugin.
While you don't really need to use a caching plugin on Rocket.net, you still might want to consider it to serve cached content to the ~2-5% of visitors who miss the Cloudflare cache.
Enterprise-Level Security Protection from Cloudflare (and More)
In addition to benefiting from Cloudflare's performance features, your site will also benefit from Cloudflare's security protections.
Rocket.net protects your site with two different firewalls – Cloudflare Enterprise at the edge and Imunify360 on the actual Rocket.net servers.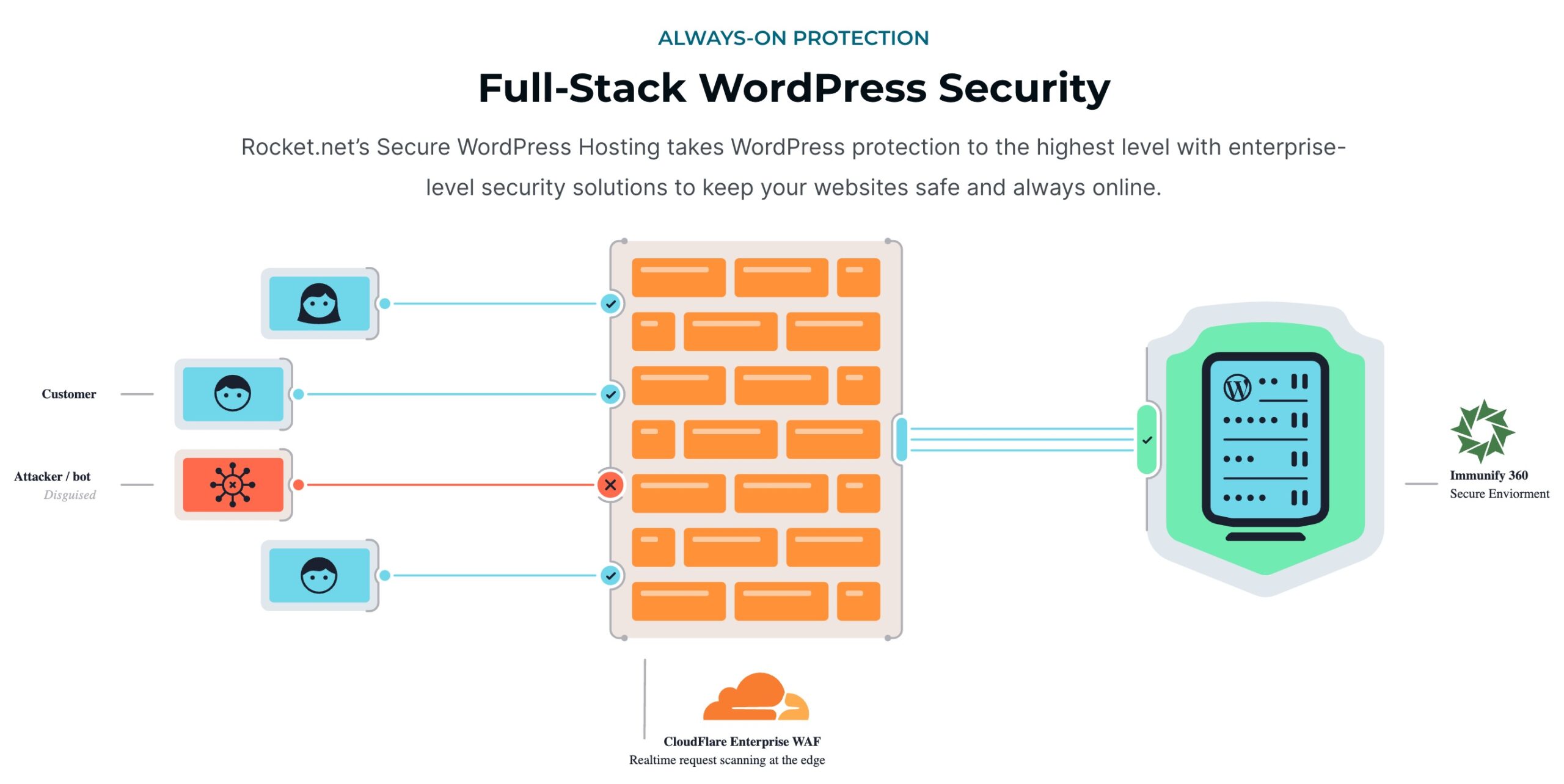 Both of these firewalls will proactively block threats before they can reach your site.
You'll also be able to see firewall events from the Rocket.net dashboard.
Beyond that, you get built-in WordPress activity logging to keep track of what's happening on your site.
Rocket.net Performance Tests: Fast Global Performance
Because of the unique way in which Rocket.net integrates Cloudflare Enterprise into its tech stack, it should offer pretty much equally fast load times no matter where your visitors are browsing from.
Well, at least according to the marketing copy!
So does that actually work out in the real world?
To see how Rocket.net's performance claims stack up, we created our own realistic test site using the popular Astra and one of its full block editor-powered demo sites. Then, we ran it through several performance tests to answer three main questions:
How fast is Rocket.net?
Does Rocket.net's approach of fully caching your site to Cloudflare's global network actually lead to consistent global load times?
Can Rocket.net scale?
WebPageTest – Test From North America
To start, we used WebPageTest to run a test from a single location (Virginia USA) with the following configuration:
Desktop device (Chrome)
Throttled FIOS connection (20/1 MBPS)
Run 9 separate tests and take the median value
Rocket.net aced this first test, with a median time to first byte (TTFB) of 0.089 s and a Largest Contentful Paint time (LCP) of .492 s.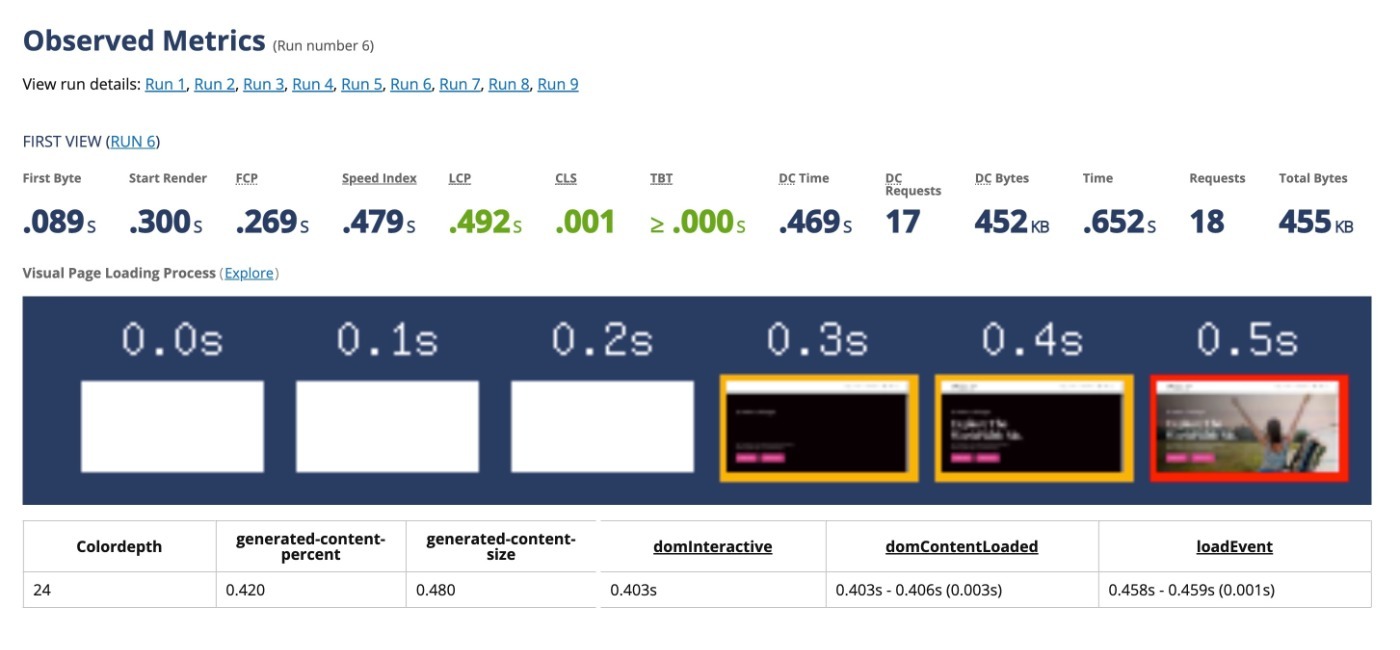 DotCom Tools – Global Tests
To assess Rocket.net's global performance, we used DotCom Tools to test from five different locations at the same time:
San Francisco, USA (North America)
Washington DC, USA (North America)
London, United Kingdom (Europe)
Singapore (Asia)
Bogota, Colombia (South America)
Here, you can see the benefit of Rocket.net's Cloudflare caching approach, as load times were equally fast around the globe.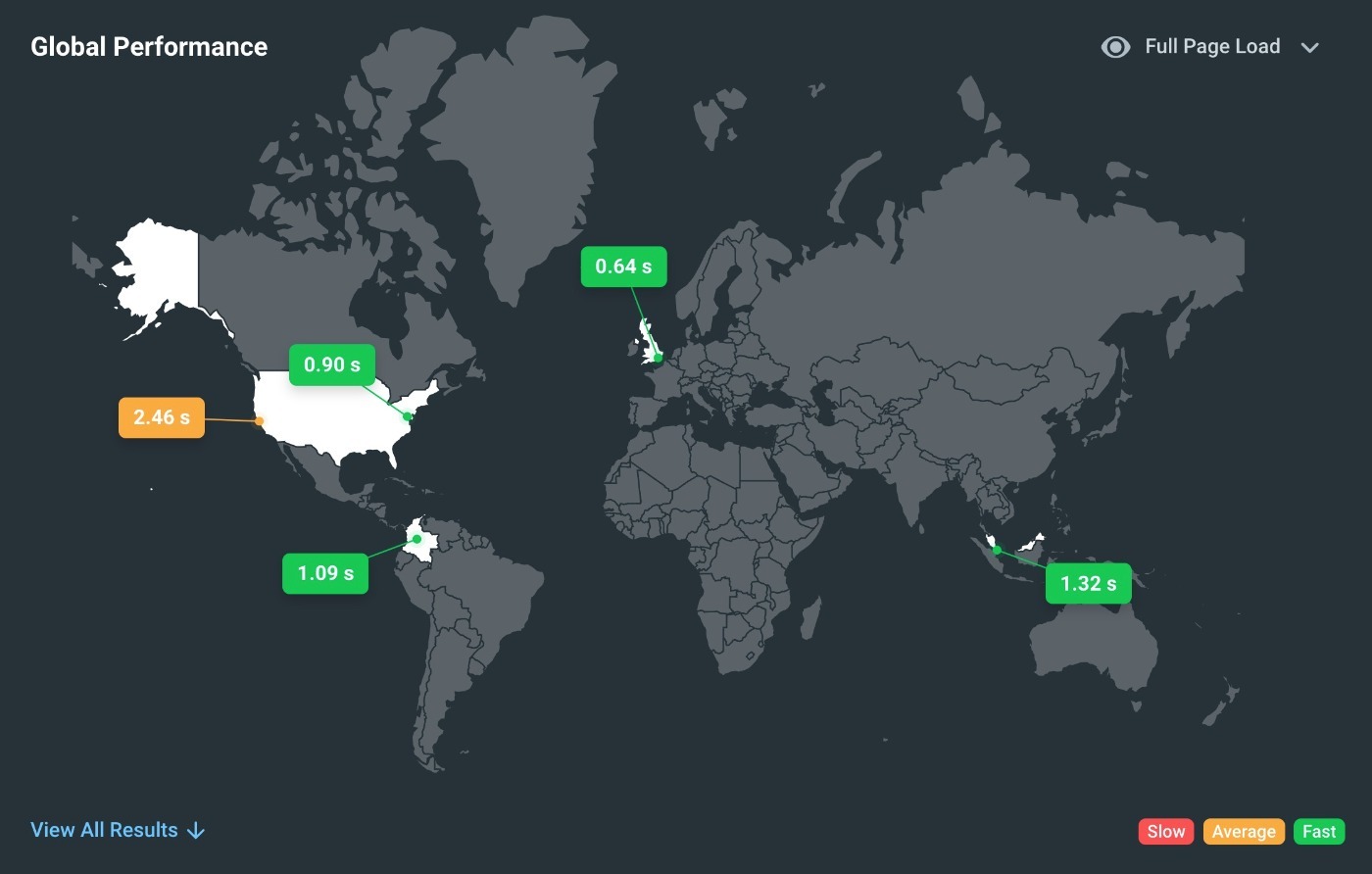 Here are the full details: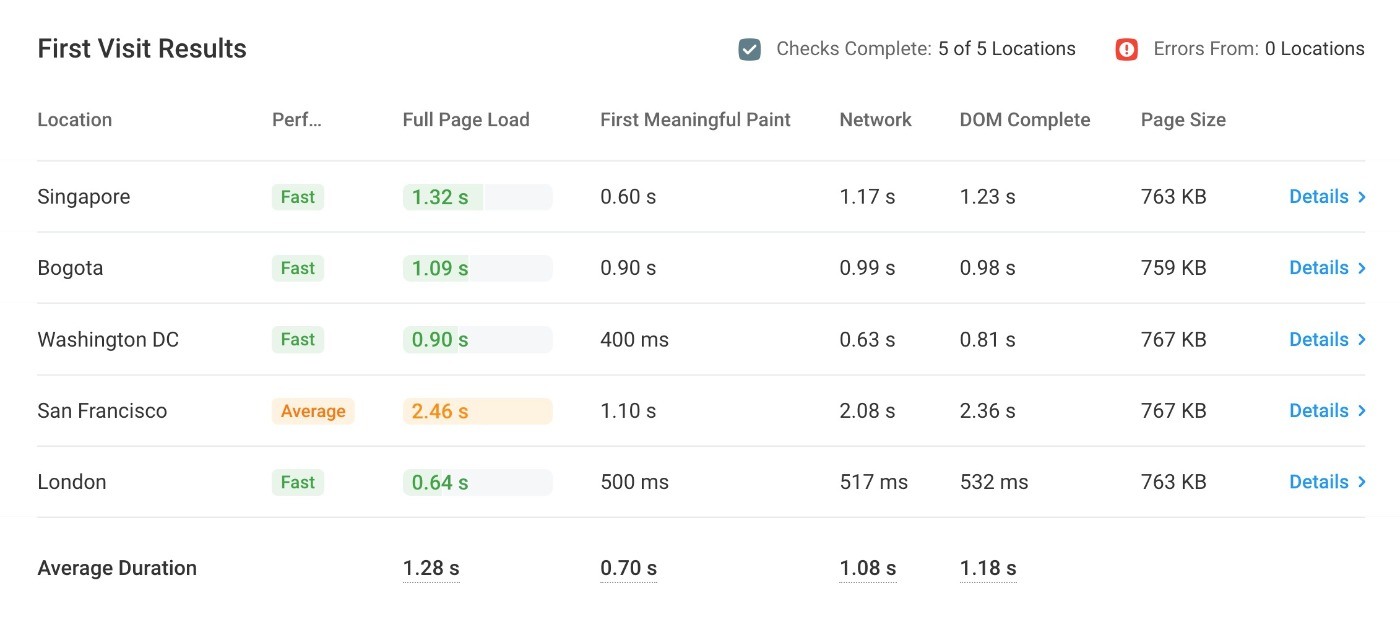 Load Focus – Load Testing
Finally, to see how Rocket.net performs in a higher-traffic scenario, we used Load Focus to run a simple load test with 20 active visitors browsing in the same one-minute window.
Here, Rocket.net aced the test again, with no sign of slowdown. It had an average response time of 436 ms and a 90th percentile time of 695 ms.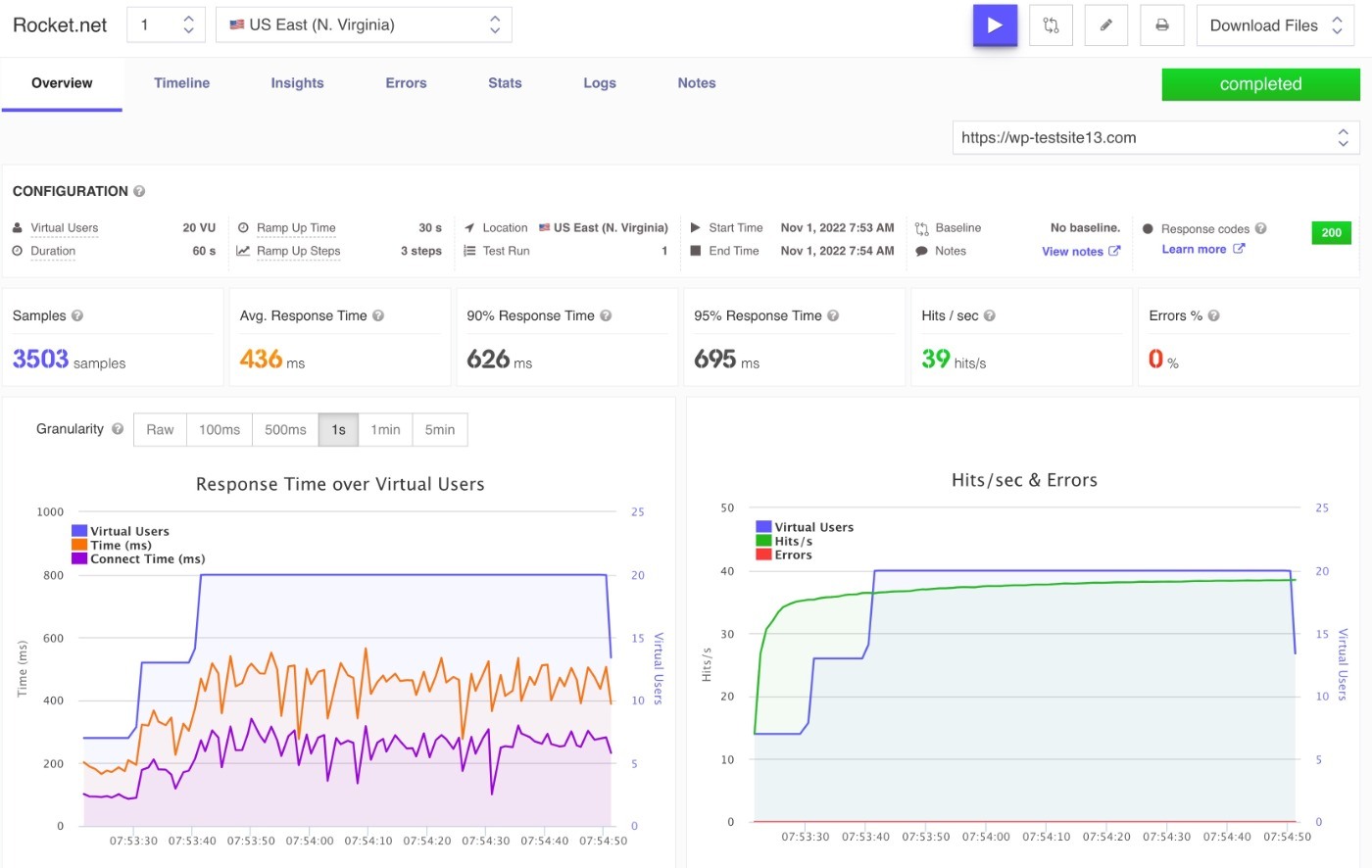 Rocket.net Performance Conclusions
Overall, Rocket.net performed well in all three tests that we ran, so we feel confident in recommending it as a high-performing host.
Again, the most impressive thing about Rocket.net's results in comparison to other managed WordPress hosts is the global performance in the DotCom Tools test.
Without any special configuration, Rocket.net was able to offer equally fast load times on four different continents, which is something many other hosts will struggle to achieve.
Rocket.net Hosting Dashboard and User Experience
Like other managed WordPress hosts, Rocket.net offers its own custom hosting dashboard, rather than using an off-the-rack tool such as cPanel.
This has pros and cons, but most regular users will probably be happier with Rocket.net's dashboard because it's well-designed and easier to use than cPanel (at least in our opinion).
The only people who might not like those are those who have existing workflows already built around cPanel.
Site Dashboard Experience
The main Rocket.net dashboard gives you a summary of everything that's happening on your account.
However, you'll spend most of your time managing individual sites. You can see a list of all your sites from the Sites dashboard.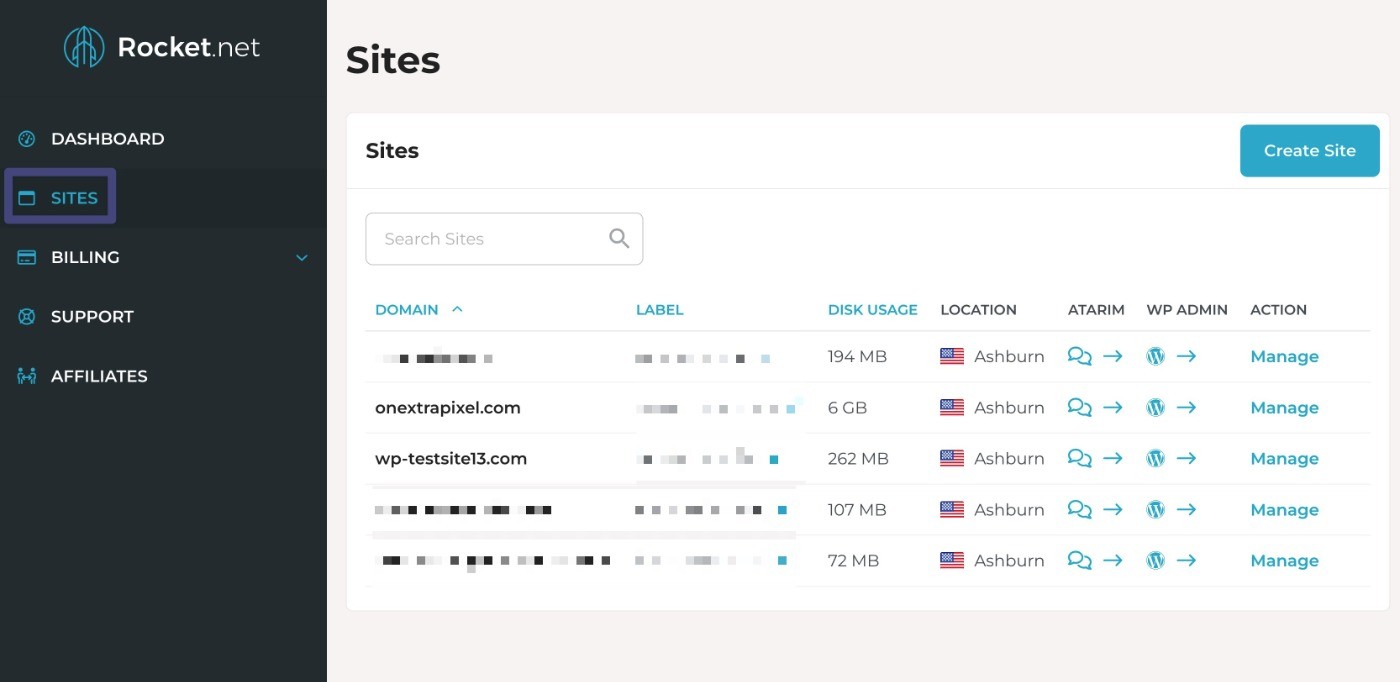 When you click on that site, you'll see the full dashboard for that site. The main dashboard lets you manage high-level information, such as FTP accounts.
Then, you can use the other tabs to access more specific tools.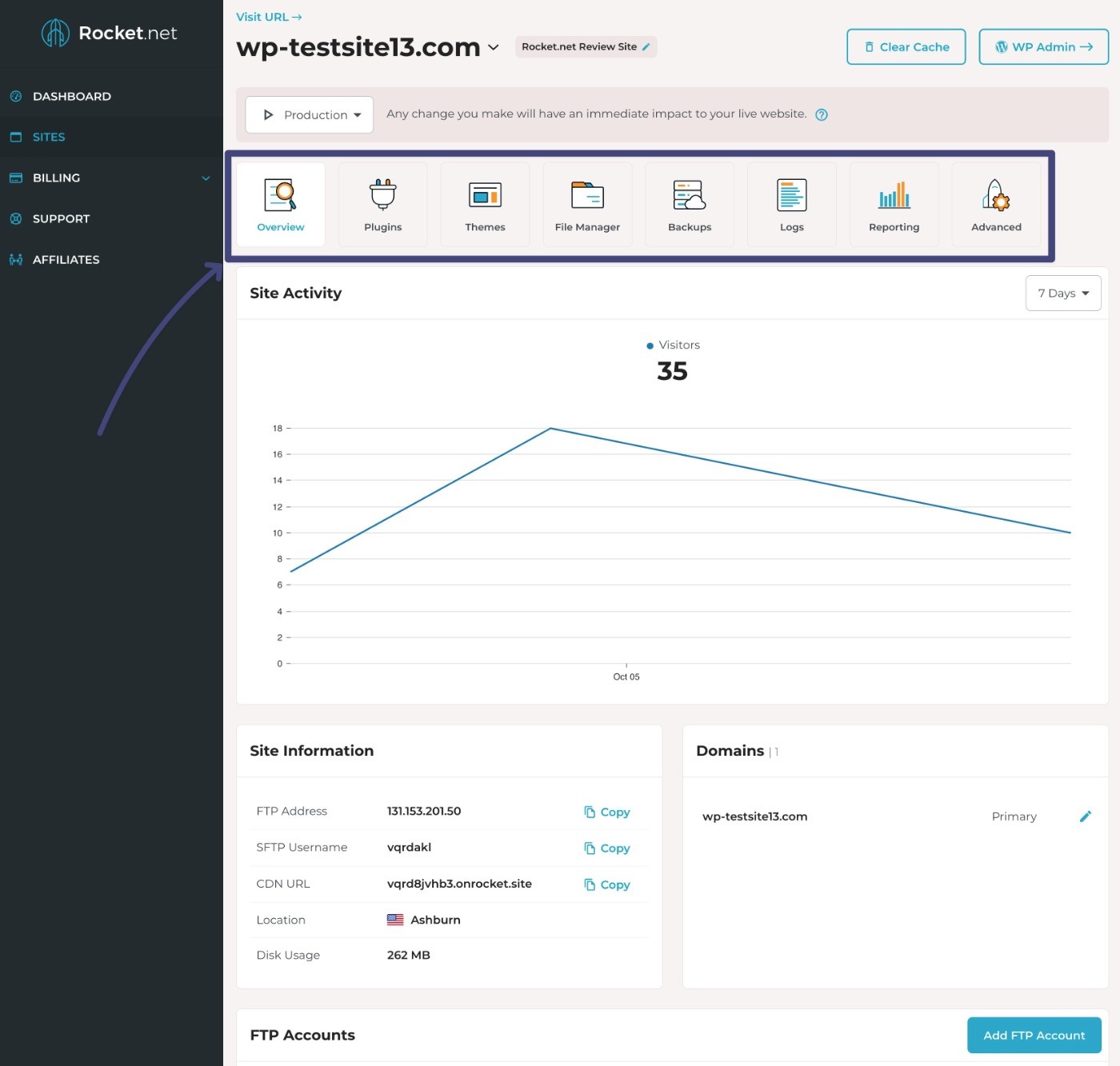 Let's go through some of the different tools that are available to you.
Backups
Rocket.net automatically backs up your site every day and stores those backups for 14 days. You also have the option to create manual backups when needed.
You can access both types of backups from the Backups tab.
The automated backups are listed at the bottom, along with an option to restore them. For manual backups, you also get an option to download the backup to your local computer (you can't do this for the automatic backups though).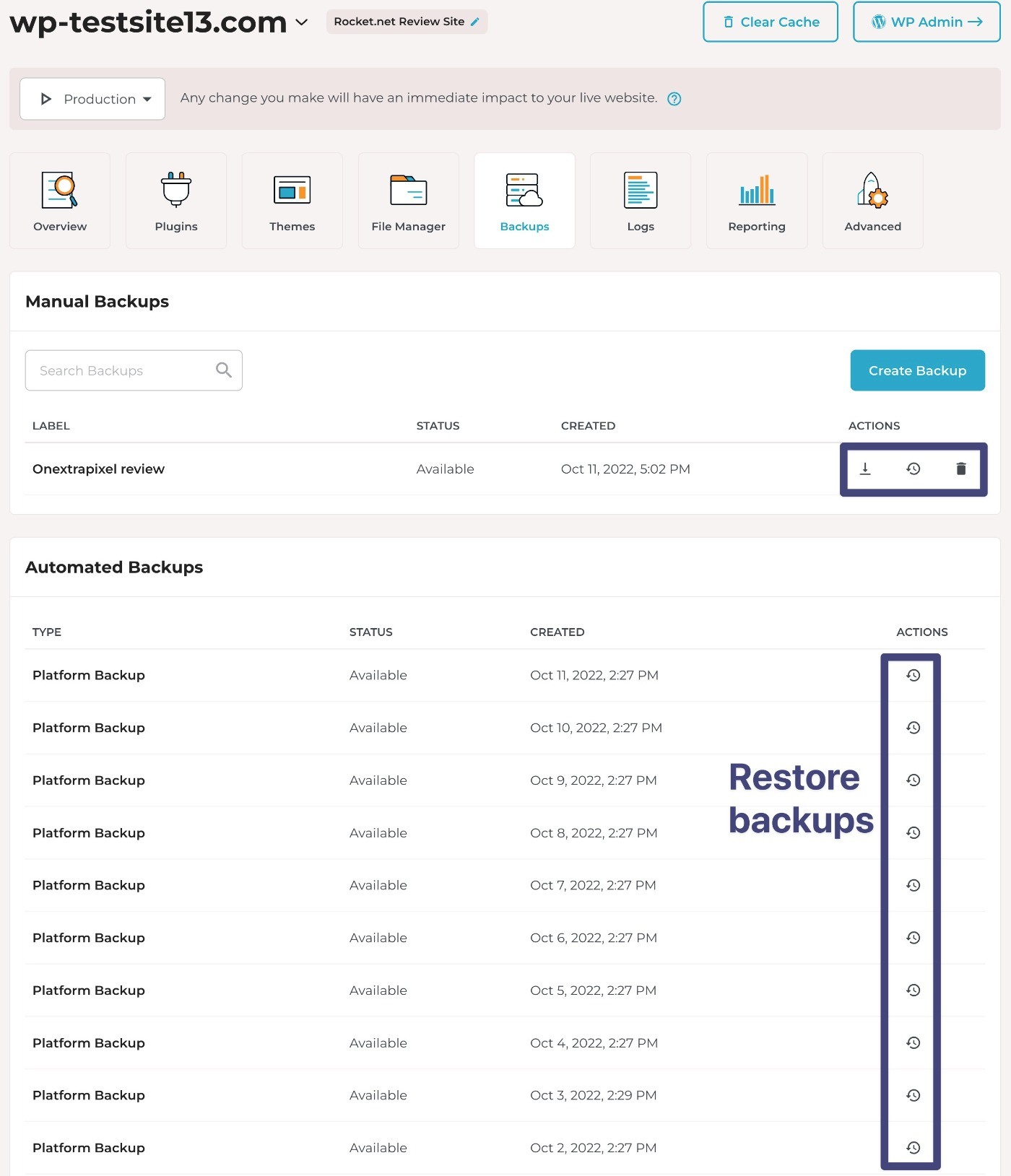 You can create a manual backup by clicking the Create Backup button. This will let you add a custom label and choose between a full backup or only backing up your files/database.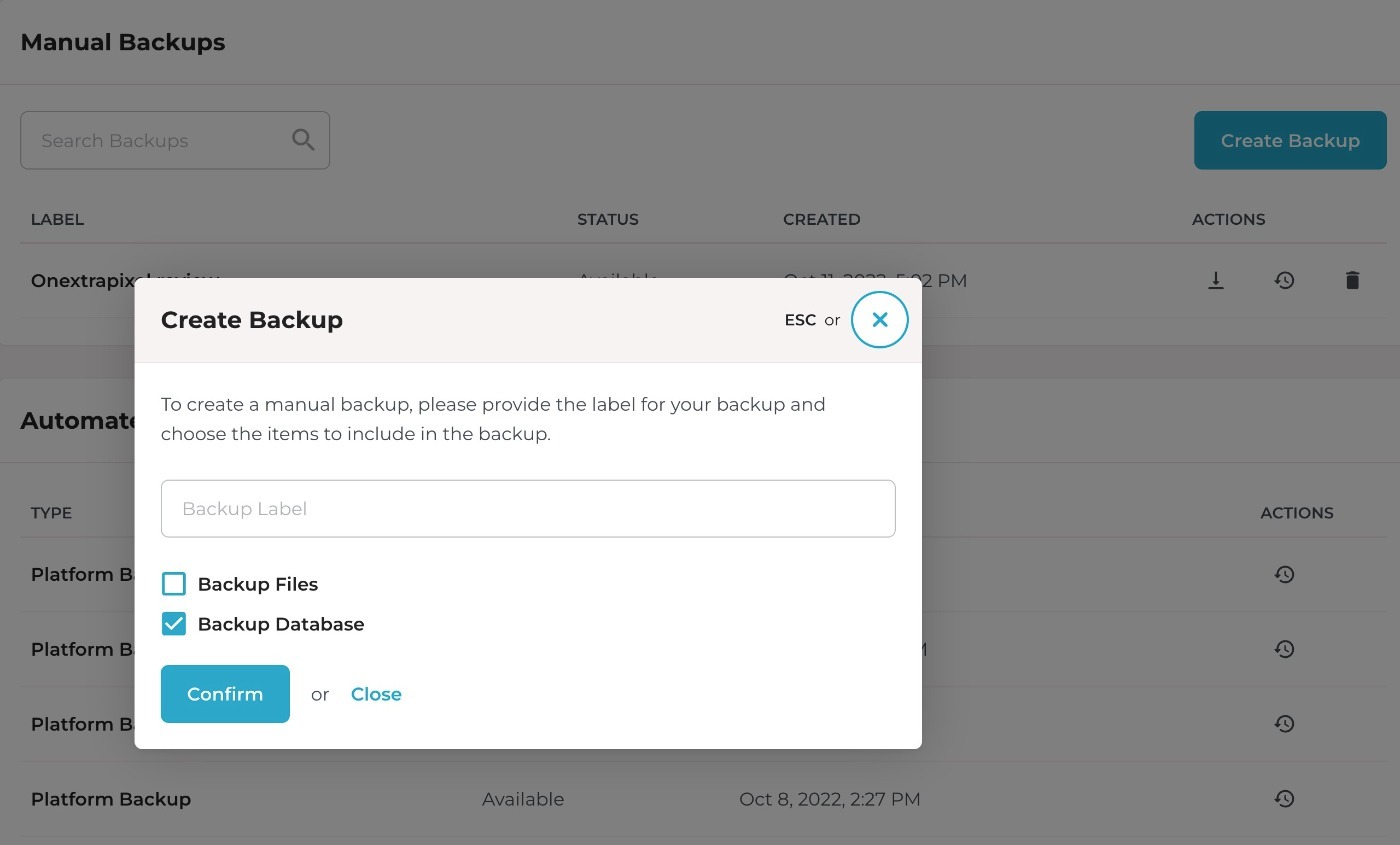 Staging Sites
To switch to the staging version of your site, you can use the drop-down at the top of the interface.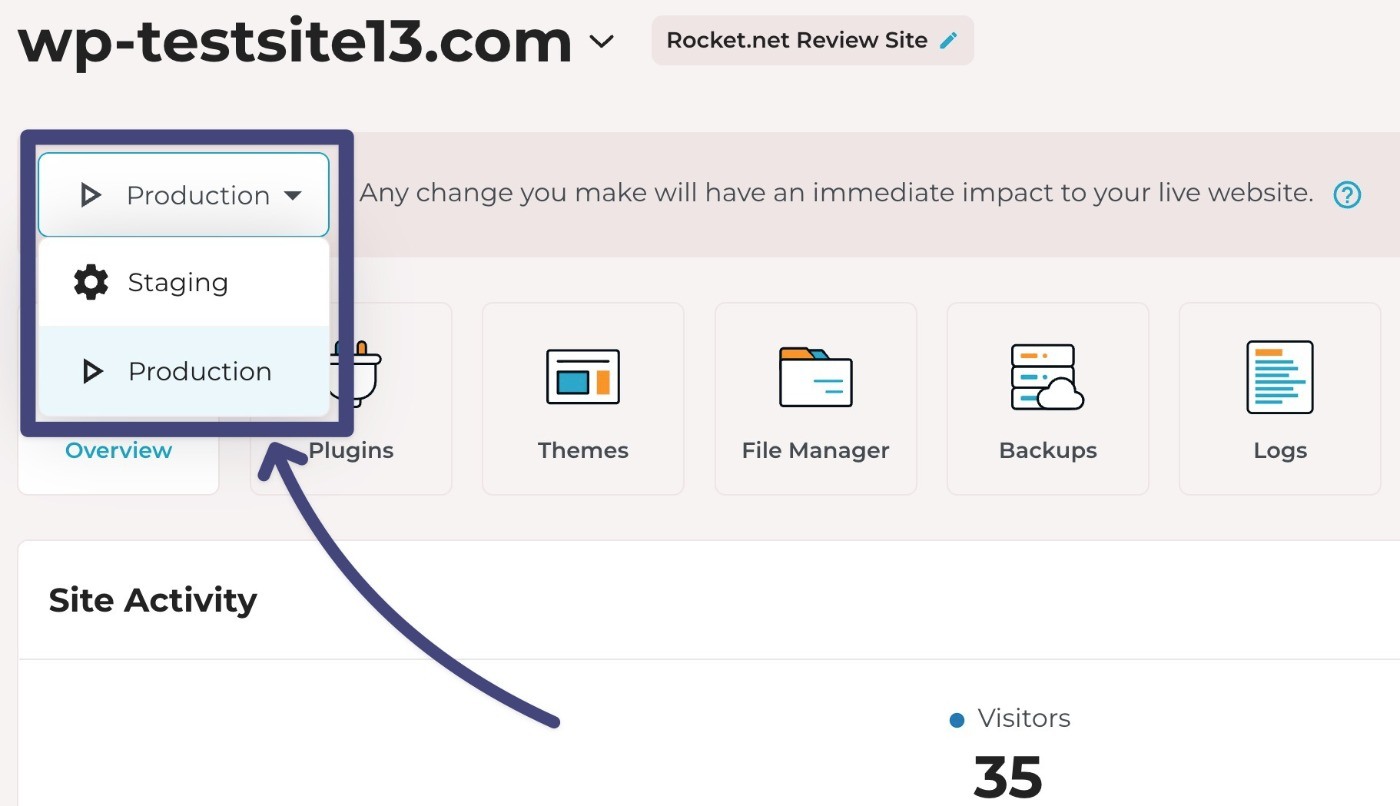 Switching to staging will give you an identical copy of the dashboard, but for the staging version of your site.
The one addition is that you get a Publish button to push the staging version of your site live.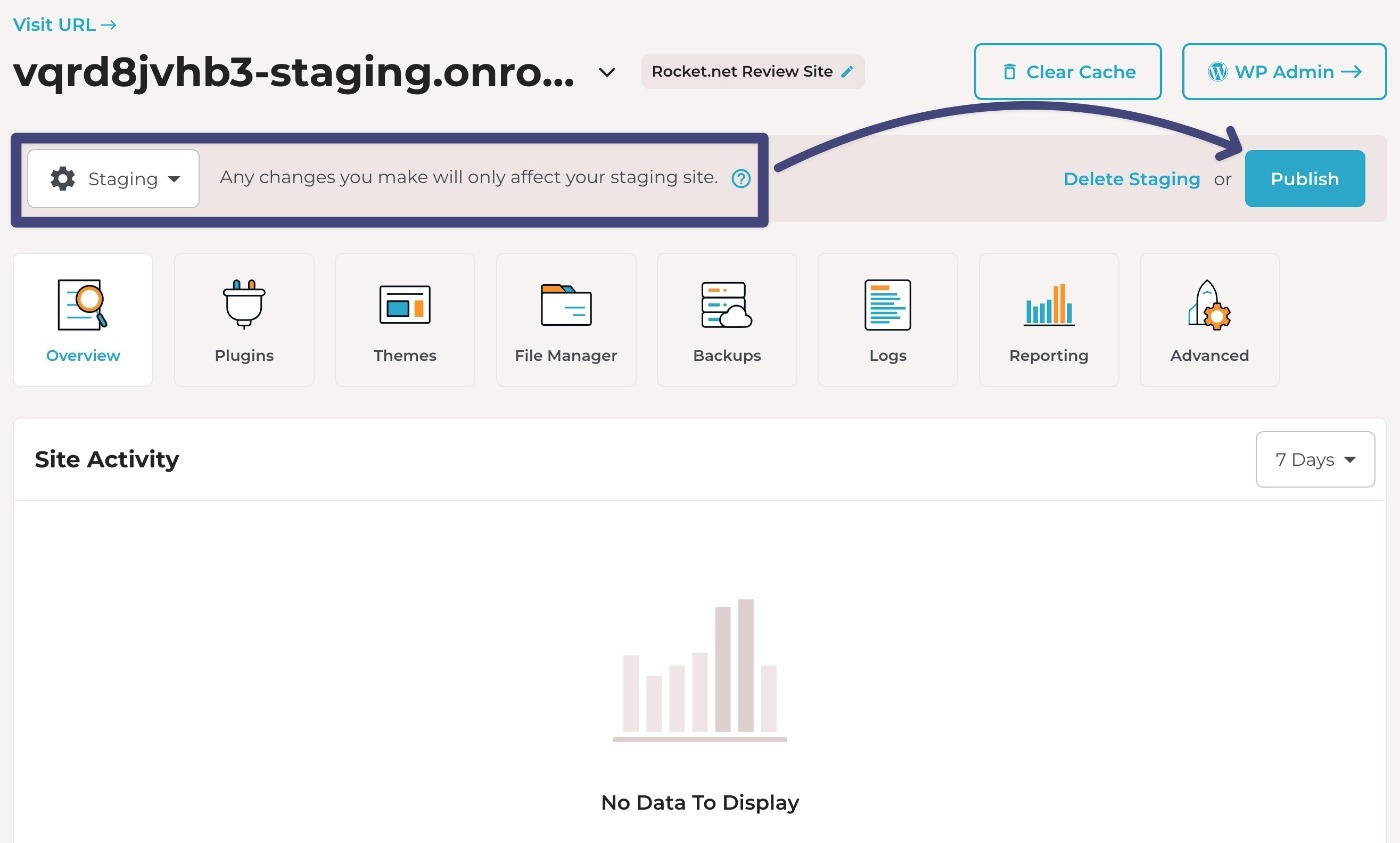 However, one area where Rocket.net is limited is that it doesn't offer conditional staging pushes. Your only option is to fully overwrite the live version of your site with the staging version.
While this is fine for most people, hosts like WP Rocket and Kinsta give you more detailed control, such as only pushing changes to the files or database instead of fully overwriting your live site.
Theme and Plugin Management
To help you more easily manage your WordPress extensions, Rocket.net lets you control both themes and plugins via your hosting dashboard.
This goes beyond just viewing a list of extensions, which is what some other hosts offer. Instead, you get full management control, including the following options:
Activate/deactivate plugins or themes.
Upgrade plugins or themes.
Delete plugins or themes.
Install new plugins or themes from WordPress.org (you can't manually install plugins/themes with a ZIP file, though).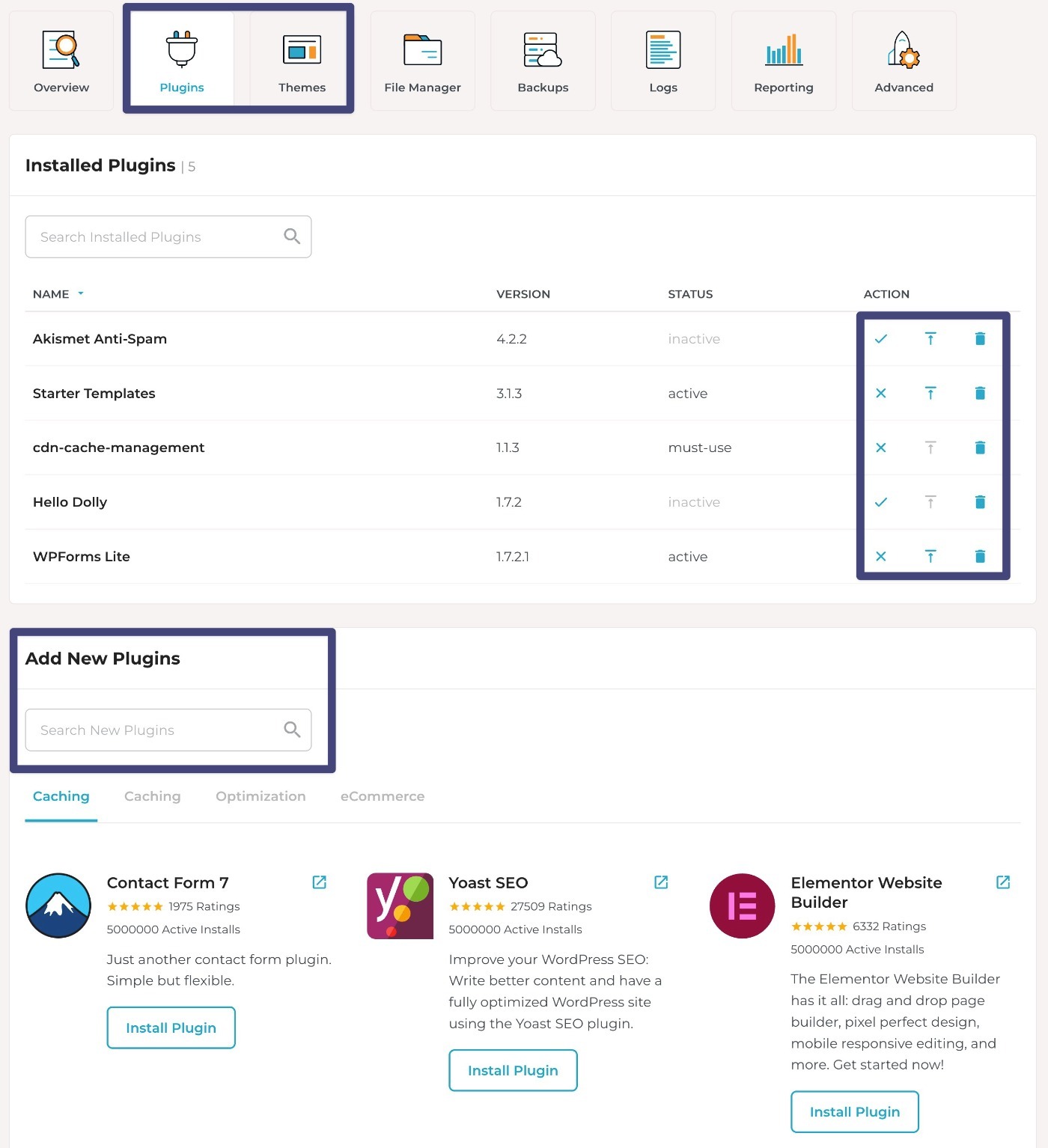 This is pretty handy when you just need to make a quick change and you don't want to access the WordPress dashboard.
However, it's probably more useful if you're an agency/freelancer managing client sites, as that setup might make it even more of a hassle to open the WordPress dashboard.
File Manager
To help you manage files without needing to connect via FTP, Rocket.net includes its own customer File Manager tool that lets you edit and upload files and folders.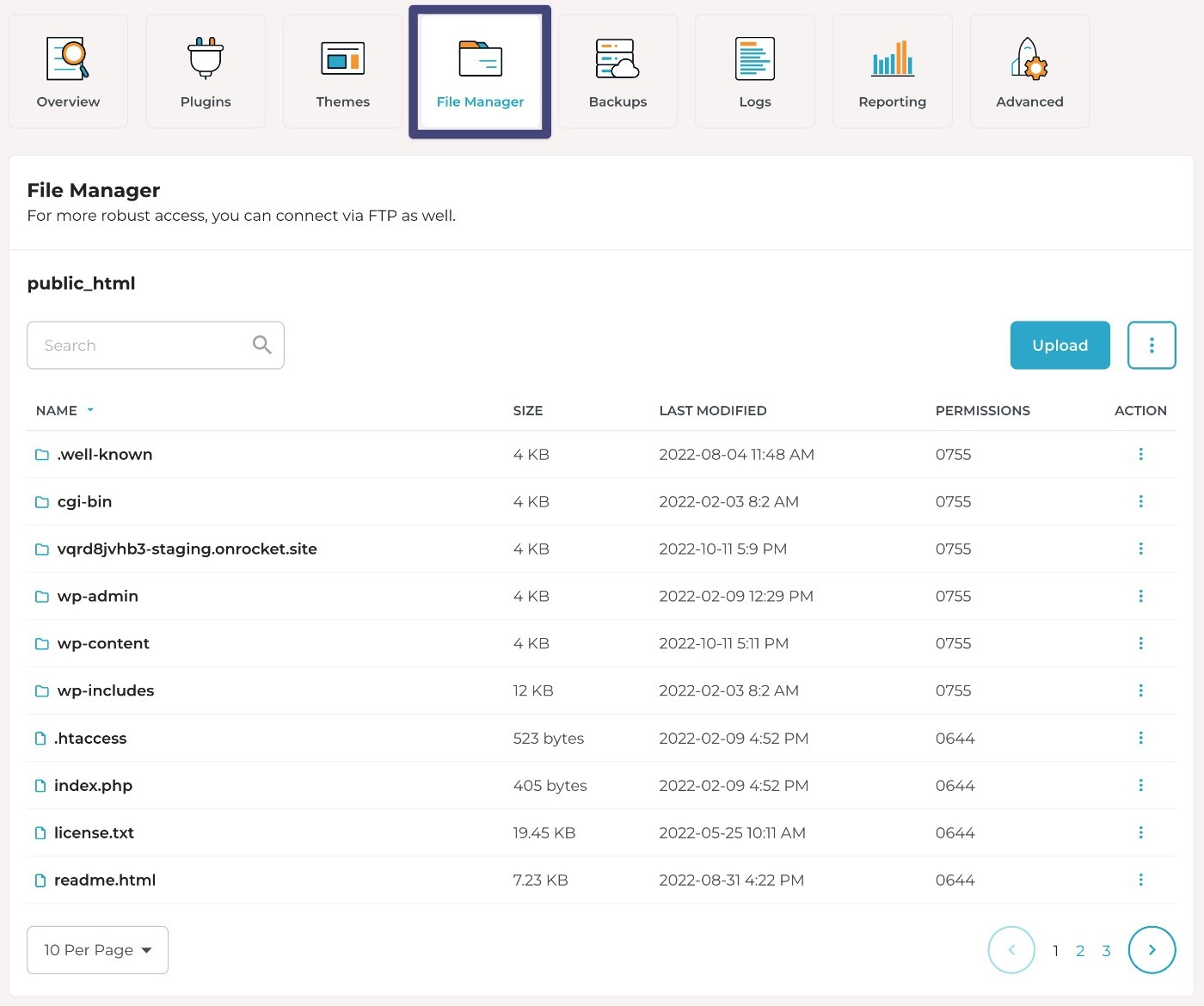 While it's not a big deal to connect via FTP, we find this handy for making quick changes. It's also something that many other managed WordPress hosts don't offer, so this is a definite advantage for Rocket.net's dashboard, albeit a small one.
Reporting and Logs
To help you stay on top of your site, Rocket.net gives you two options, one of which is pretty unique.
First, let's talk about the most unique one – the Logs tab. When you enable the Activity Log, it lets you see a log of all the actions users have taken inside WordPress. That is, it's not a server log, it actually logs WordPress activity, much like a WordPress security logging plugin: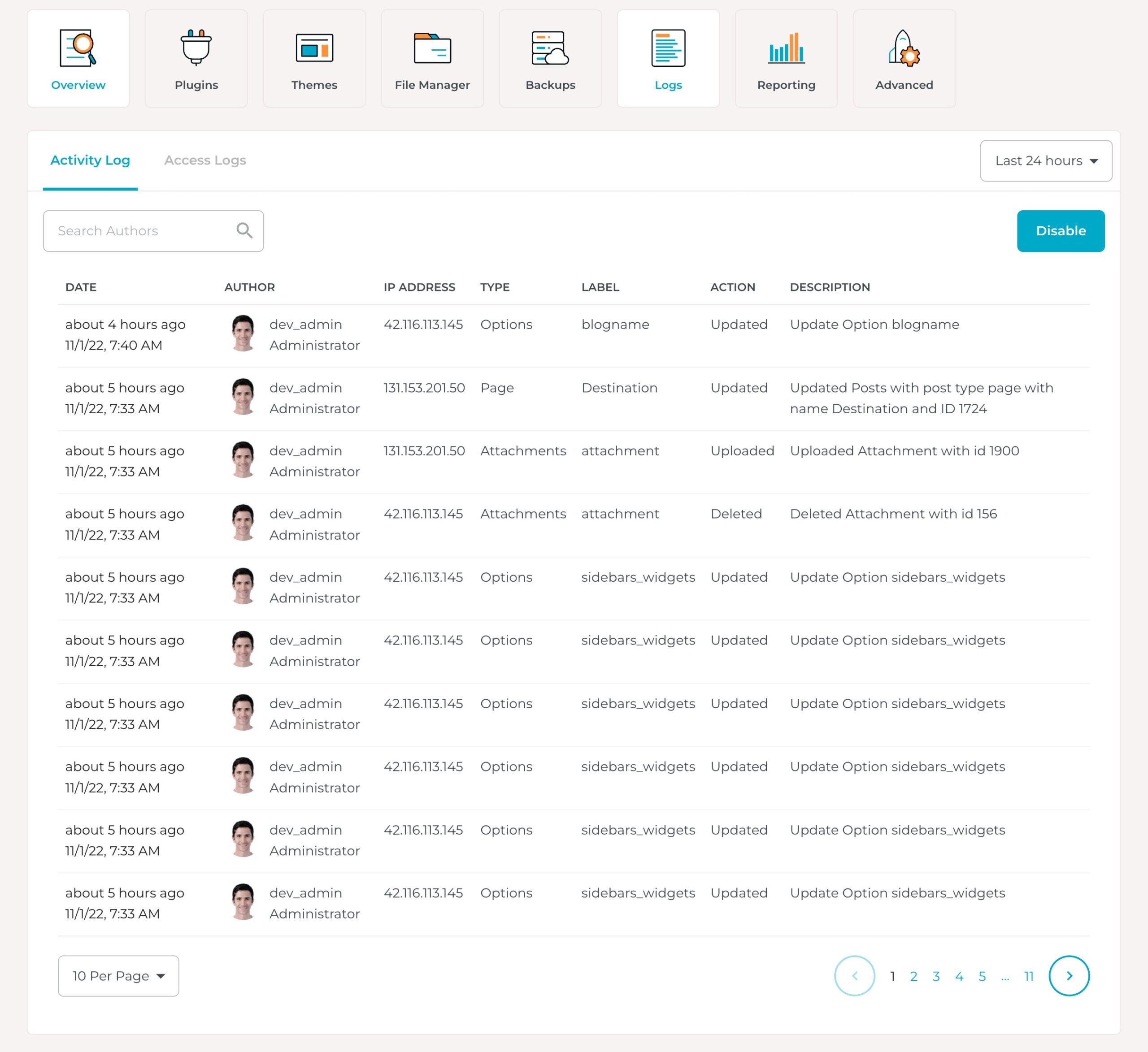 Then, the Access Logs area lets you see individual visits to your site. For example, you can see that some naughty German IP address was trying to probe XML-RPC, to which Rocket.net responded with a 403 Forbidden code.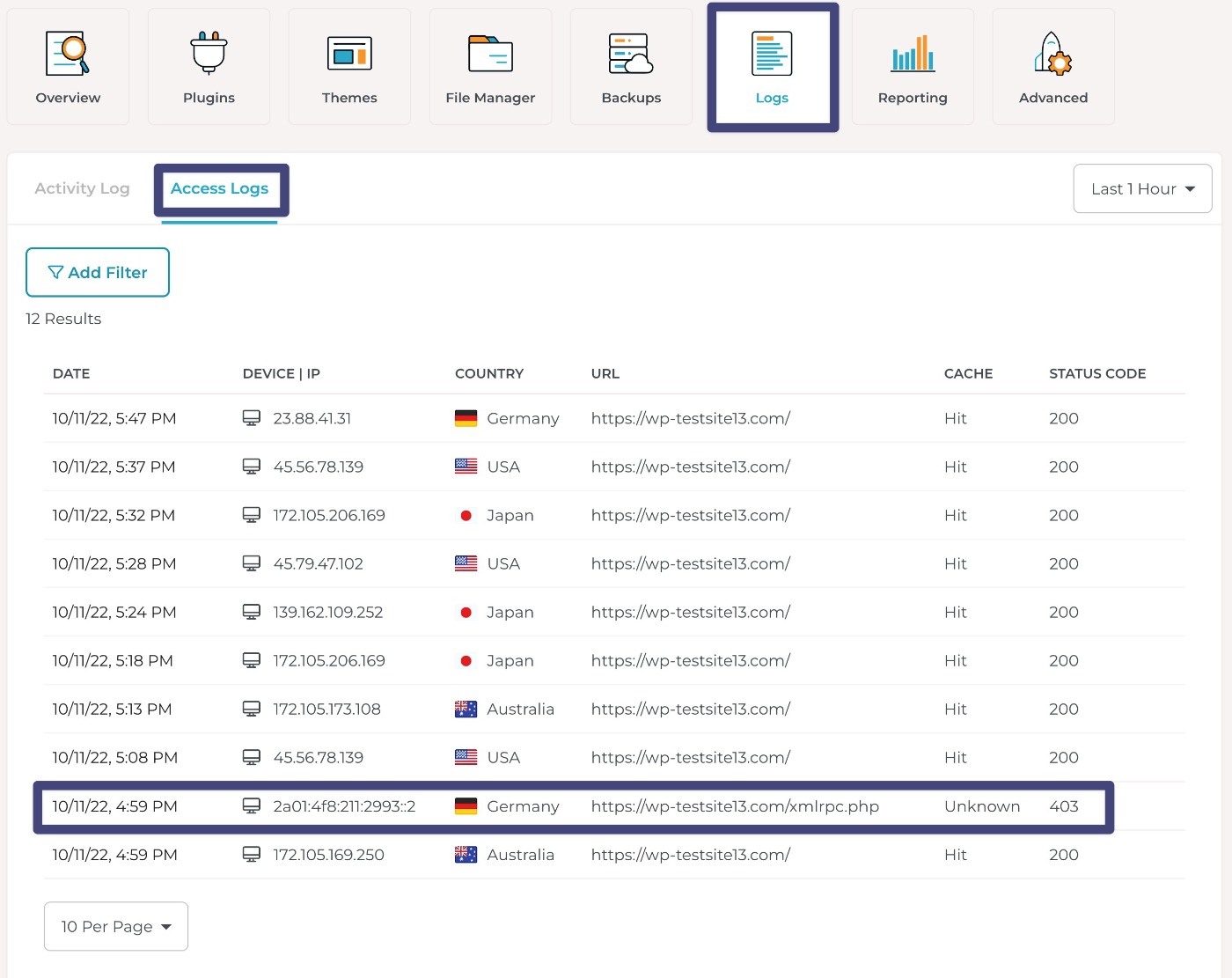 The Reporting tab gives you more helpful tools for monitoring your site's performance and security.
One of the really useful things here is that you can see your cache hit percentage, which lets you see how effective you are at serving pages from Cloudflare's edge network instead of your origin server.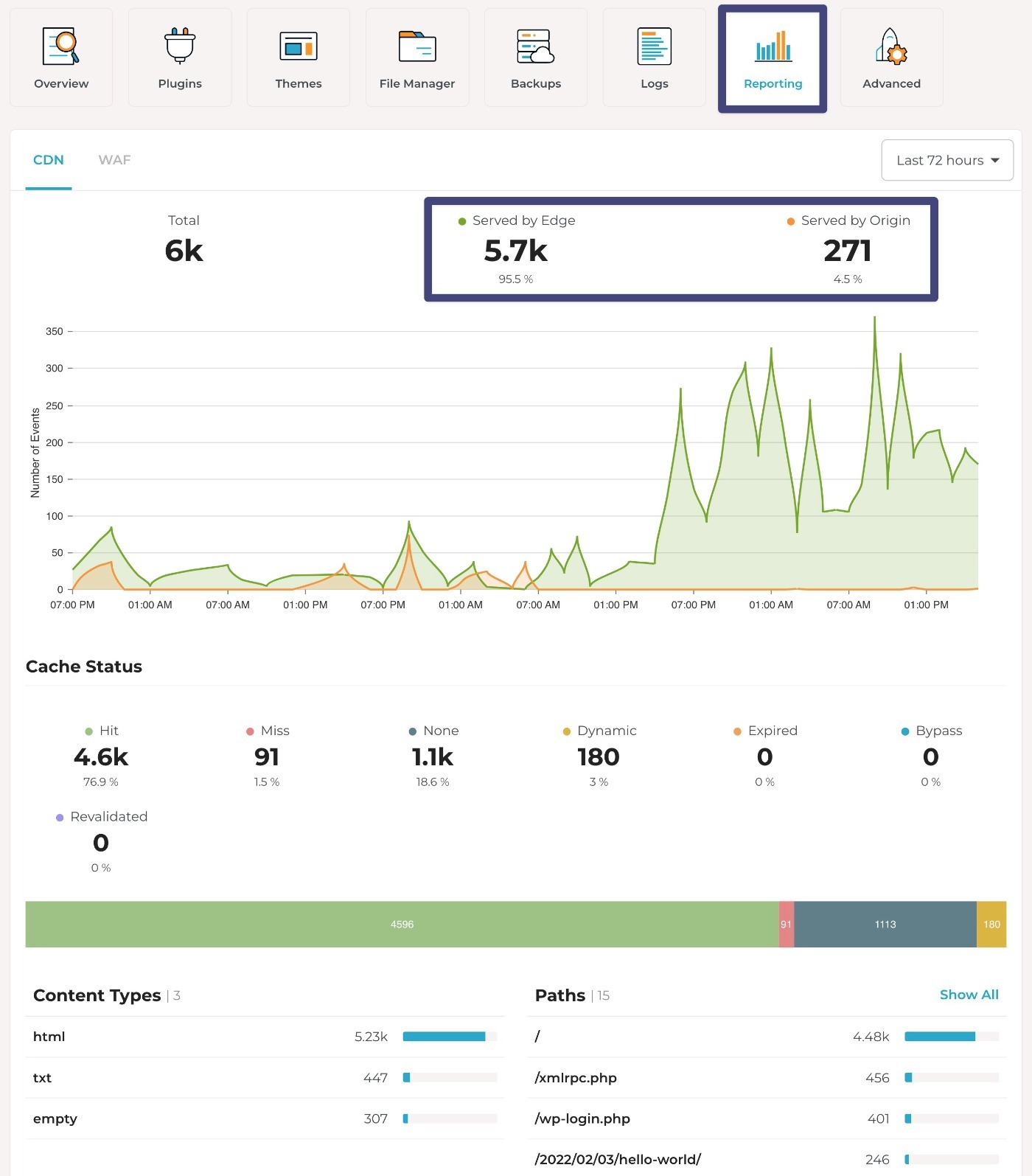 If you go to the WAF tab, you can see events that have triggered Rocket.net's built-in firewall rules.
You can see a lot of malicious actors trying to access the login page and XML-RPC, which Rocket.net protects automatically.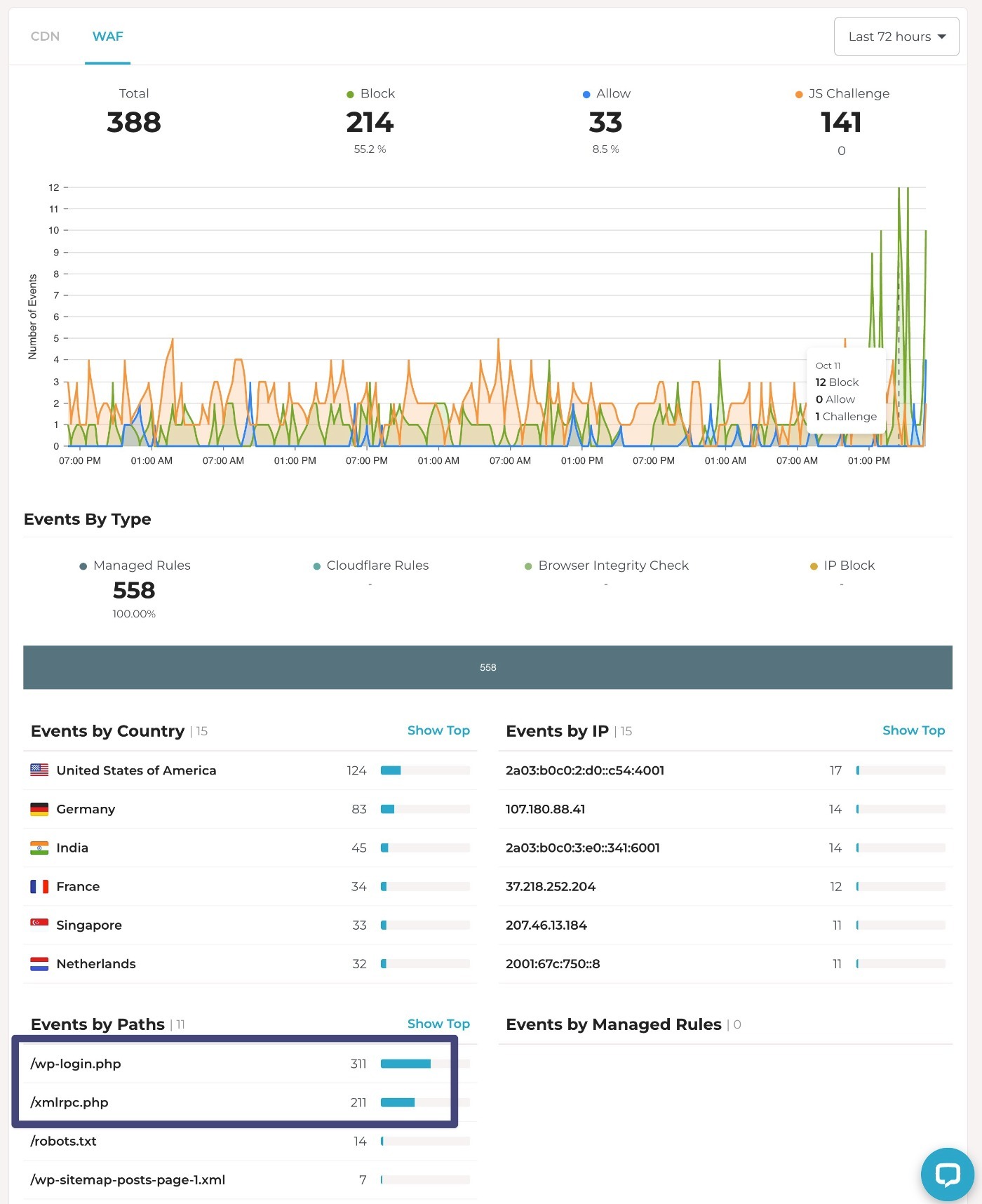 If Rocket.net isn't sure whether to allow or block a request, it might show a JavaScript challenge instead, which helps eliminate bot attacks.
Advanced
Finally, the Advanced tab is a catch-all for a few other helpful tools:
Access your database via phpMyAdmin.
Open an in-browser WP-CLI console.
Change your PHP version.
Enable SSH access and manage SSH keys.
Configure WordPress automatic updates.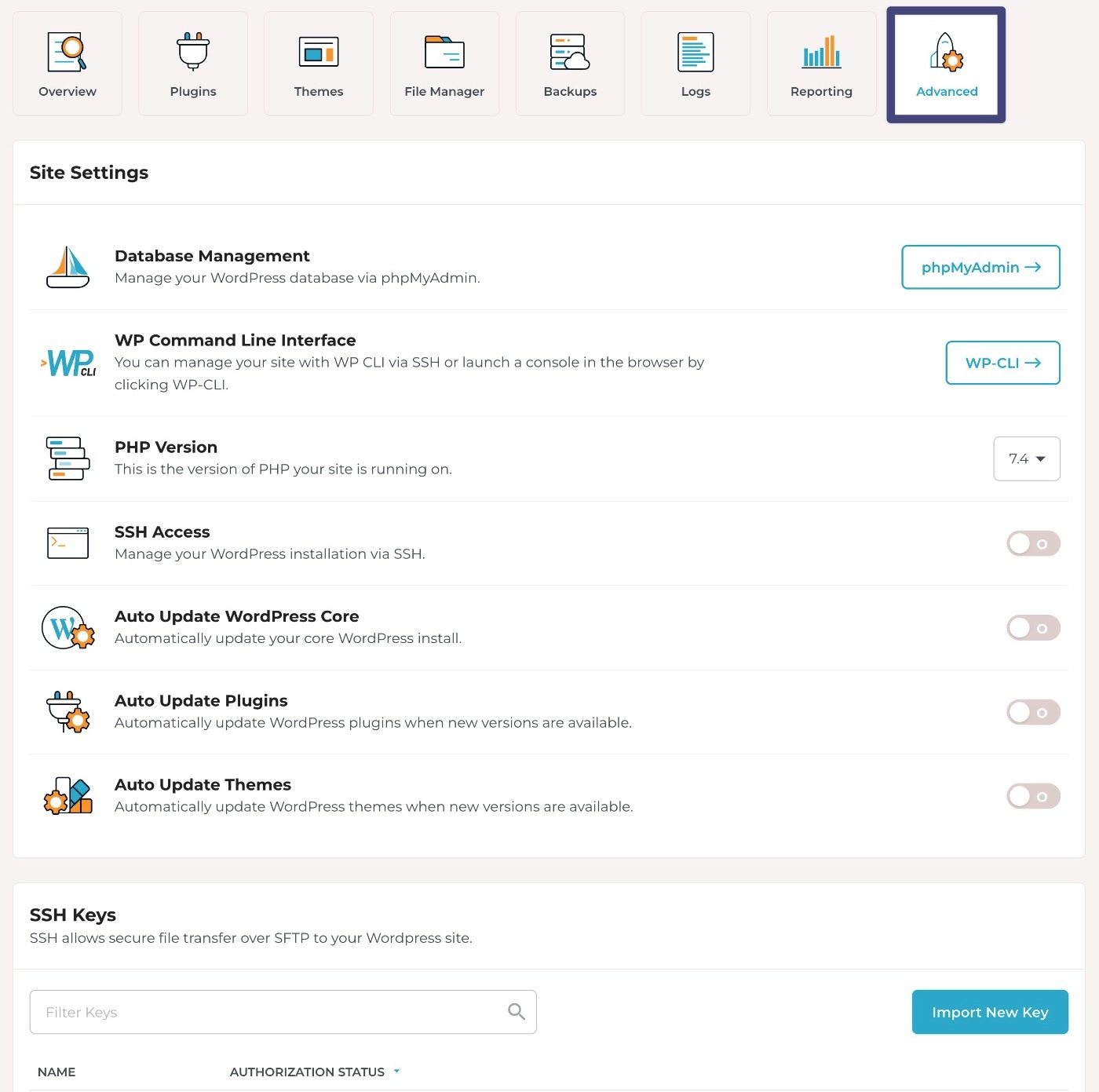 The WP-CLI tool is worth a second look as it's something you won't find at pretty much any other WordPress host. If you like to use WP-CLI to manage your sites, you might find this really handy.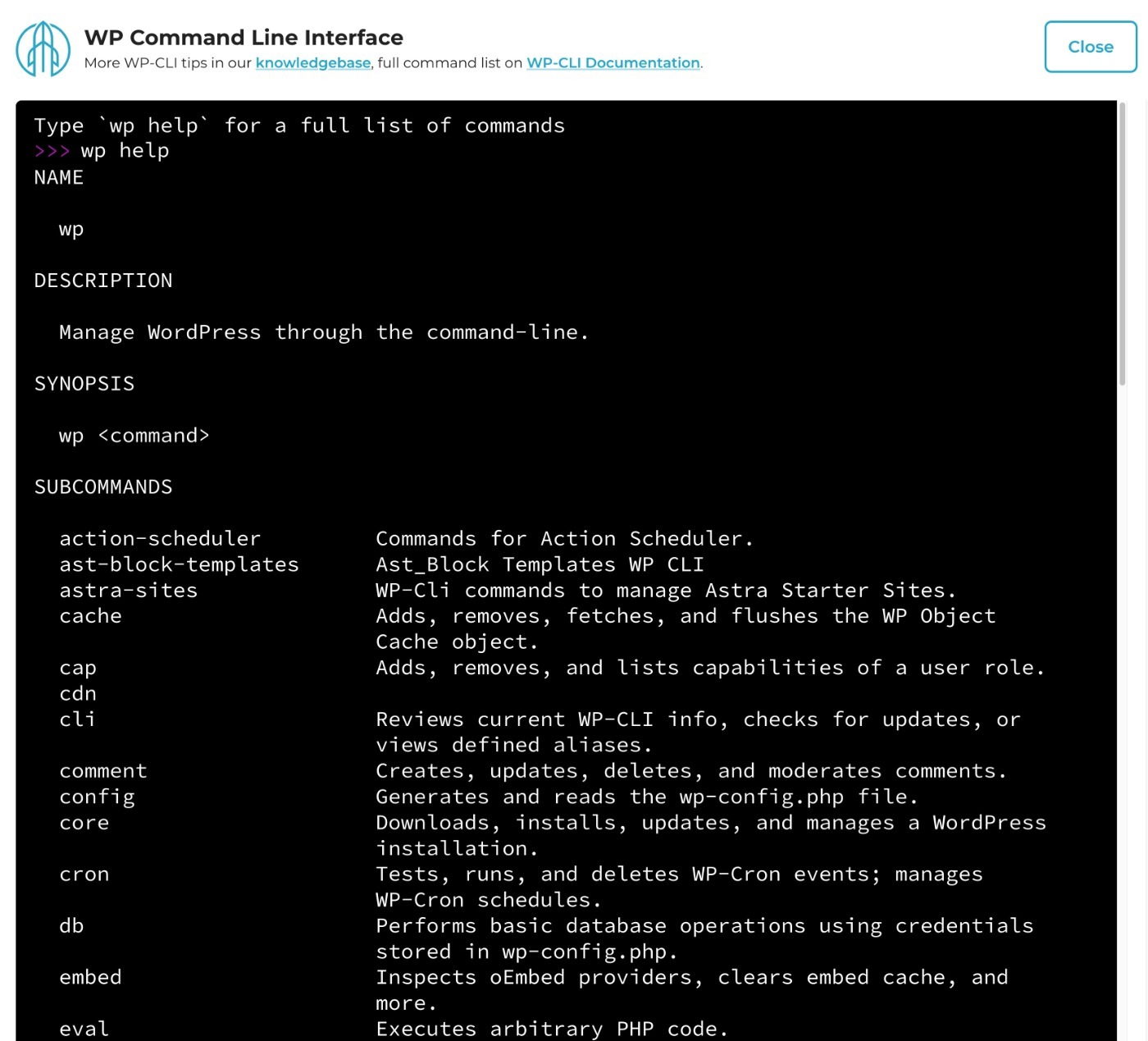 Rocket.net Support Options
All Rocket.net customers get 24/7 support via live chat and email, even on the cheapest plan.
Rockets.net uses the LiveChat service for live chat support and Zendesk for ticketing support – here's an example of what the interfaces look like: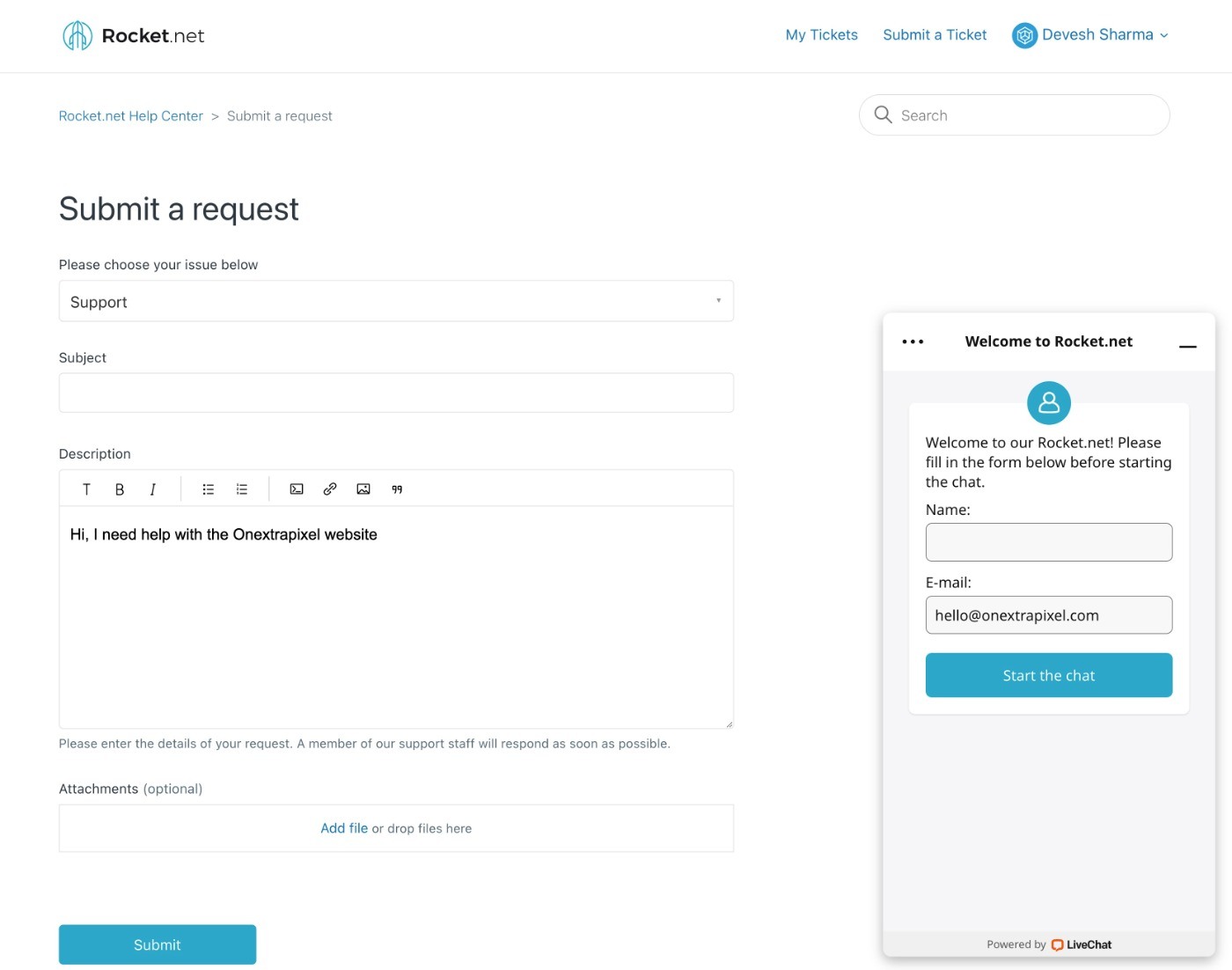 Higher-tier plans can also get access to additional support channels.
For example, if you're on the Business plan ($100 per month) or above, you also get access to 24/7 phone support in addition to live chat and email.
Finally, if you use Rocket.net's enterprise hosting solutions, you get your own private Slack channel that's accessible by the entire Rocket.net team.
Enterprise customers are also guaranteed 60-second or less response times via all channels, along with a special enterprise support phone number.
However, the enterprise plans start at $649 per month, so this will likely be out of reach for most people.
Still, even on the non-enterprise plans, you still get a competitive number of support options.
Rocket.net Pricing Review
In this section of our Rocket hosting review, we want to take a look at the Rocket.net pricing options.
As we mentioned in the introduction, Rocket.net is competitively priced in the managed WordPress hosting space. Plans start at $30 per month, which is similar to Kinsta, WP Rocket, Flywheel, and other similar hosts.
However, the key thing to understand is that Rocket.net has much higher traffic metrics for the plans. In fact, the Rocket.net plans support around 10X the amount of traffic that you'd get with WP Engine or Kinsta.
Note – Rocket.net will not shut off your site if you exceed the traffic limits, but you will pay $1 per 1,000 visits over your plan's limit.
Here's a table comparing the price and limits on the entry-level plans for Rocket.net vs Kinsta vs WP Engine:
| | | | |
| --- | --- | --- | --- |
| | Rocket.net | Kinsta | WP Engine |
| Price | $30 | $35 | $30 |
| Websites | 1 | 1 | 1 |
| Monthly Visits | 250,000 | 25,000 | 25,000 |
| Storage | 10 GB | 10 GB | 10 GB |
| CDN Bandwidth | 50 GB | 100 GB | 50 GB |
| Overage fee (per $1k visits) | $1 | $1 | $2 |
As you can see, the plans are pretty similar with the exception of Rocket.net's traffic limit, which is 10X the other hosts.
This can make Rocket.net especially good value for higher-traffic WordPress sites.
In total, Rocket.net offers three different types of plans:
Managed Hosting – this is what you'll use if you're a WordPress webmaster who wants to host your own sites.
Agencies – these are designed for agencies hosting client sites (though you can also host client sites on the regular Managed Hosting).
Enterprise Hosting – these are pricier plans for enterprise customers.
For all three types, you can pay monthly or annually. If you pay annually, you'll get two months free.
Here are the details on all three…
Rocket.net Pricing for Managed Hosting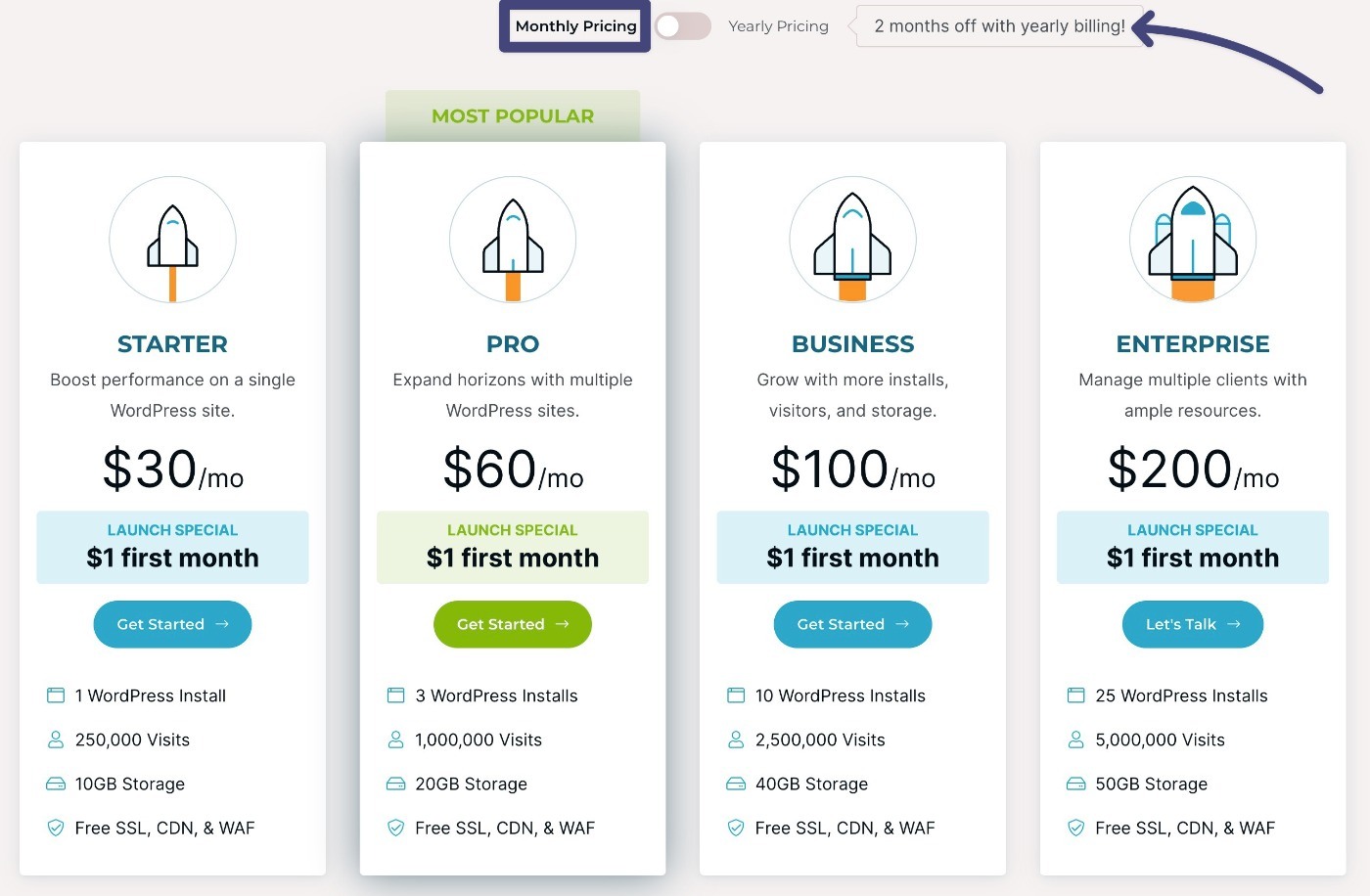 Rocket.net Pricing for Agencies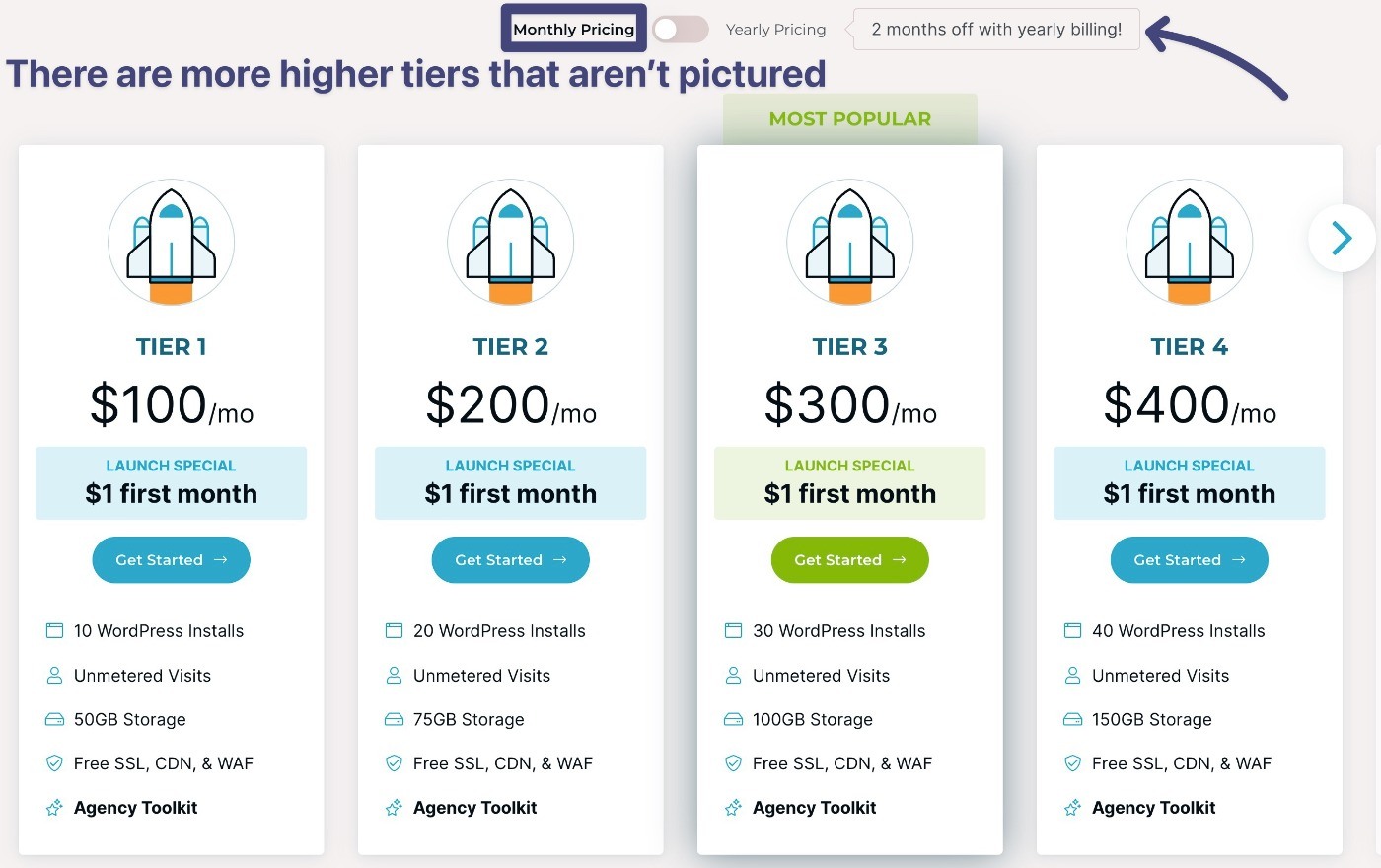 Rocket.net Pricing for Enterprise Hosting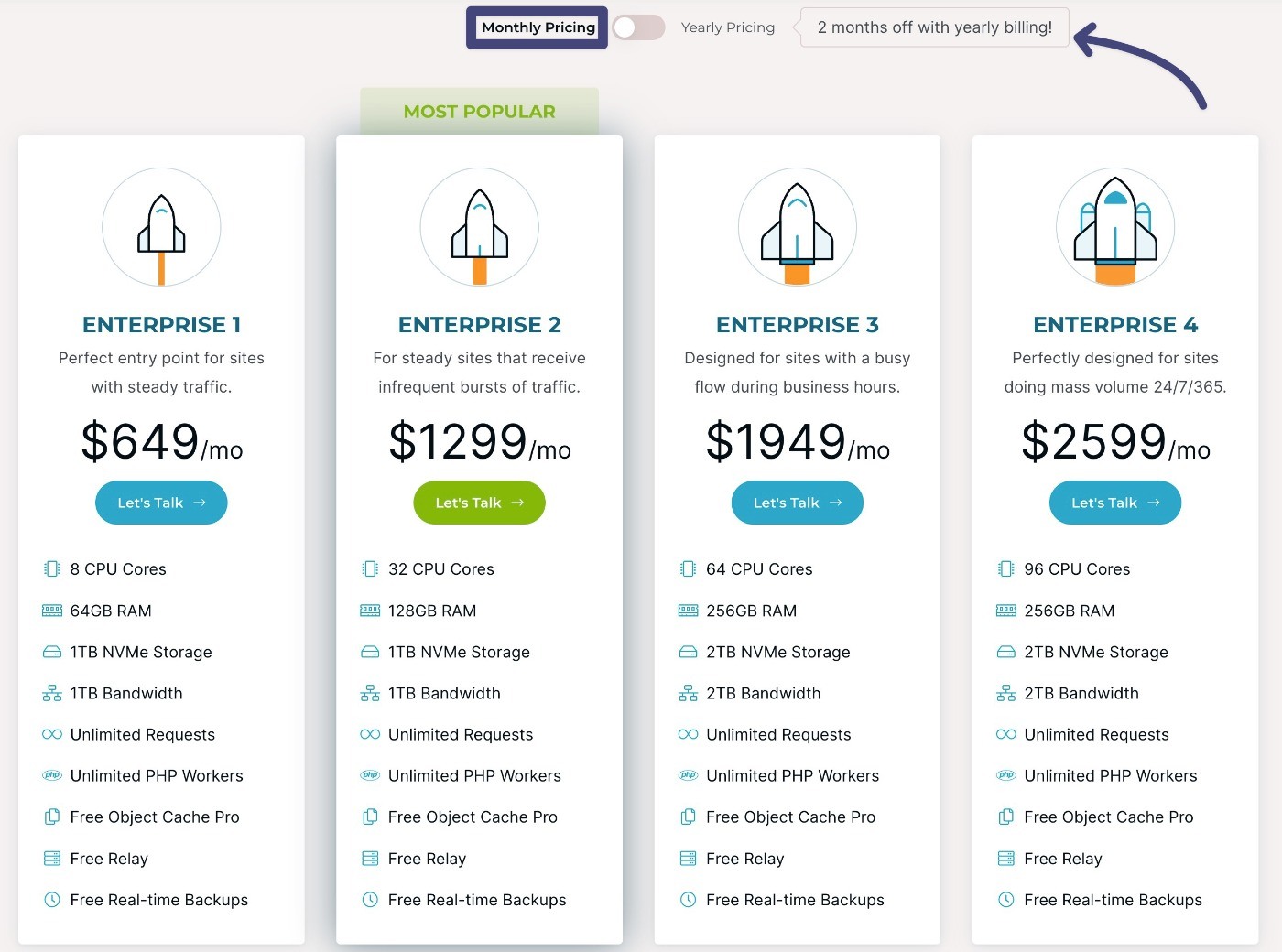 Rocket.net Pros and Cons
As we near the end of our Rocket.net hosting review, let's summarize these details into pros and cons.
Pros of Rocket.net
Built on Cloudflare Enterprise – Rocket.net integrates Cloudflare Enterprise into its stack in a unique way for the managed WordPress hosting space. As far as I'm aware, Kinsta is the only other major host doing this (and Rocket.net has a deeper integration for now).
Offers above-average performance tools – beyond its caching system, Rocket.net offers other built-in performance optimizations such as dynamic image optimization and code minification.
Fast global load times – because Rocket.net fully caches your site on the global Cloudflare Enterprise network, you'll benefit from fast load times all around the world.
High visit limits (for managed WordPress hosting) – Rocket.net's monthly visit limits are about 10X higher than comparably priced plans from other popular managed WordPress hosts such as Kinsta or WP Engine.
Multiple support channels – all customers can benefit from 24/7 live chat and ticket support, while customers on higher-tier plans can get phone support and even a private Slack channel.
Nice dashboard experience – while this is subjective, we find Rocket.net's dashboard to be nicely designed and easy to use. It also has some unique tools such as the in-browser WP-CLI console.
Unlimited free migrations – Rocket.net will manually migrate unlimited sites, rather than charging you or forcing you to use an automated migration plugin.
Cons of Rocket.net
Bandwidth limit doesn't track with traffic limit – while Rocket.net's traffic limits are much higher than average, the bandwidth limits are still equal to other hosts like Kinsta or WP Engine. Most sites won't have an issue, but high bandwidth sites might not be able to fully benefit from the high traffic limits because of this. It's definitely something to consider if your site has a high "bandwidth to visit" ratio.
No email hosting – while this is fairly standard for the managed WordPress hosting space, it's important to point out that Rocket.net does not offer email hosting. You'll need to use a separate service such as Google Workspace or MXroute.
No conditional staging pushes – while this isn't a big deal and won't affect most people, big names like Kinsta and WP Engine offer more flexible staging-to-live pushes that let you choose to only push the files or database.
Rocket.net Hosting Review FAQs
To finish out our Rocket.net review, let's recap a few common questions you might have about the service.
Will Rocket.net Cut Off Your Site If You Exceed the Visit Limits?
No, Rocket.net will never cut off your site for exceeding the monthly visit limits on your plan. However, you will need to pay an overage fee of $1 per 1,000 visitors over your plan's limit.
Do You Still Need a Caching Plugin With Rocket.net?
Most of your visitors will be served pages from Cloudflare's cache, rather than your origin server. However, you will still have a small percentage of visitors hitting your origin server, so it's worth using a caching plugin for those visits.
Do You Still Need a CDN With Rocket.net?
No, you don't need to use a separate CDN if you use Rocket.net because Rocket.net already builds Cloudflare Enterprise into its tech stack.
Do You Still Need a Security Plugin With Rocket.net?
While there's no harm in using a security plugin, we don't think you need one as long as you're implementing basic security best practices because Rocket.net already includes a WAF via Cloudflare Enterprise.
Final Thoughts on Rocket.net Hosting
Rocket.net has quickly grown to become one of the top options in the managed WordPress hosting space, which is why it's the actual host we use here at Onextrapixel.
Rocket.net's biggest advantage is its tech stack and the way it makes use of Cloudflare Enterprise. This gives you massive performance and security benefits without forcing you to rely on WordPress plugins.
Going forward, you're likely to see other hosts start to use this type of approach. We've already seen this with Kinsta shifting to Cloudflare and this trend will likely continue.
Beyond this, Rocket.net also offers about 10X the traffic limit of similar managed WordPress hosts for the same money.
However, it's important to remember that the storage and bandwidth limits are pretty much the same as other hosts (not 10X), which might limit your ability to benefit from those traffic limits if your site has high storage and/or bandwidth needs.
Overall, if you want managed WordPress hosting, we believe that Rocket.net is one of the best options and thoroughly recommend it.
Again, Rocket.net is the actual host that we use here at Onextrapixel.
On the other hand, if you're on a tight budget, you do have other options that are cheaper:
Non-technical users can go with shared LiteSpeed hosting from a provider like GreenGeeks or NameHero. These hosts do not perform as well as Rocket.net, but they still offer adequate performance for less money.
DIY/advanced users can consider using something like RunCloud + the Vultr HF servers, which can help you get excellent performance with higher bandwidth and storage limits for the money. You could then add in Cloudflare APO to achieve something kind of similar to Rocket.net's implementation (though Rocket.net is still doing some stuff that Cloudflare APO doesn't).
Do you still have any questions about Rocket.net or our Rocket.net review? Let us know in the comments!