The sun can be seen as the universal icon for all life on planet earth. Without it, there would be no life on earth. The sun is one of the most fascinating mysteries of the universe and its beauty is unparallel. However, not many of us take the time to appreciate its beauty and all it offers us. The sun could be a source of great inspiration, if we'd only stop for a moment to realize it.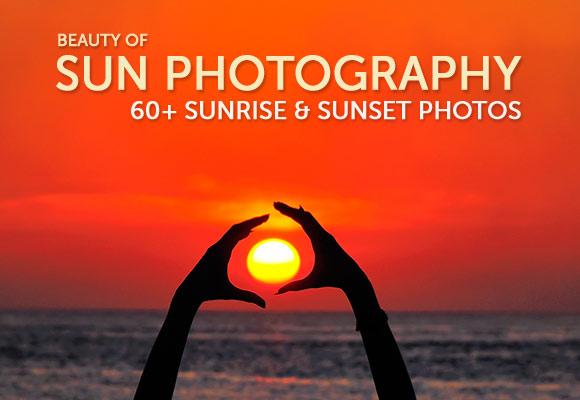 Touched by Nature's Light
The sun has been worshipped and revered by people throughout the ages. Each day starts and ends with a beautiful natural sight. The sun brings a new day to us in the form of a sunrise, and brings each day to a close with a sunset.
We have consolidated for you, 60+ amazing photographs showcasing this much overlooked natural phenomenon; the sunset and the sunrise.
Sunrise: Rays of Hope
There was never a night or a problem that could defeat sunrise or hope. – Bern Williams (American programmer and consultant)
At the start a brand new day, as the sun starts to appear over the horizon, rays of hope shine down upon us and gives us an amazing sight reminding us of all the things the new day has to offer us. We hope that these beautiful photographs of the sun rising will brighten up your day, put a smile on your face, and warm your heart. Every day is a new adventure.
Sunset: Reflect and be Thankful
Know what you want to do, hold the thought firmly, and do every day what should be done, and every sunset will see you that much nearer the goal.
– Elbert Hubbard (American writer, artist, and philosopher)
As each day draws to a close, a sunset reminds us that yet another day is about to pass and gives us the opportunity to reflect on the day and be thankful for everything we have. The sunset is one of the most romantic and inspiring sights nature has to offer us as it reminds us that there is beauty even at the end. We hope that these amazing photographs capturing the sun as it sets will invigorate you and help you remain hopeful.
Sunrise or Sunset?
The photographs we have shared with you here is just the tip of the iceberg. There are many other great sun photographs out there waiting to be discovered and appreciated. If you know of any you'd like to share with other readers, feel free to add a link in the comment box below.
We hope you have enjoyed these beautiful photographs of the rising and setting sun. Look out for the next sunrise or sunset and take a moment to appreciate all it encompasses. Every sunrise and sunset is different; perhaps you can take a picture of it each day and watch nature in its most brilliant moments. Sunrise or Sunset, dawn or dusk, morning or evening; which part of the day touches and inspires you most?