Having social media accounts is crucial in driving traffic to your website. It has become a "must-have" for bloggers nowadays since most people interact on social media sites like Facebook, Twitter, Google+, Pinterest, etc. More and more people are looking for free social media icons following the flat trend.
Today we're offering 24 FREE circular flat social media icons. They have been created by Pauline Cabrera, a twenty-something passionate web designer and a blogger based in Ontario, Canada.
Get access to icons of the most popular social media sites such as Facebook, Instagram, Pinterest, Youtube, Skype, Deviantart, Google+, Blogger, Vimeo, RSS,Wordpress, Yahoo!, LinkedIn, Dropbox, Stumbleupon, Dribble, Myspace, Digg, and Behance. These are all available in PNG format and these icons come in 3 different sizes – 32px X 32px, 64px x 64px and 128px x 128px.
Hope these icons will boost your daily site visitors!
About The Designer
Pauline Cabrera is a twenty-something internet geek and a night owl. She is passionate about web design, blogging and digital marketing. She's a huge fan of SEO, flat design and Apple products. In her spare time, she's either eating out or playing with her baby niece. She also has a blog – TwelveSkip.
Download Social Drops Icons Set
Feel free to use these icons for personal or commercial projects but please do not sell, modify, distribute or host them elsewhere whether online or offline. If you would like to share this freebie, please help us spread the word by linking back to this original release.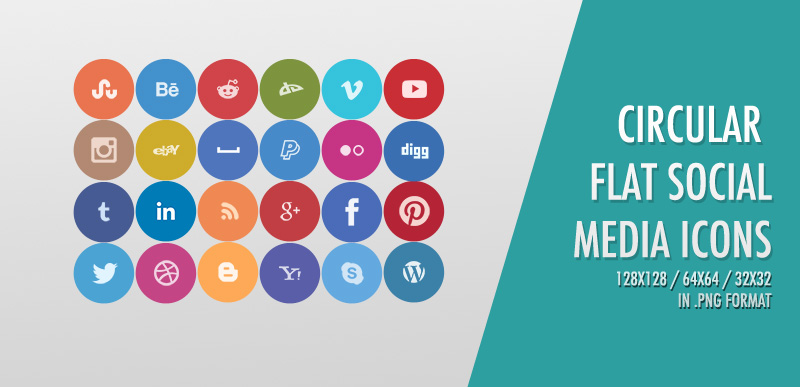 We offer our sincere thanks to Pauline Cabrera for creating these awesome "Circular Flat Social Media Icons" and we really appreciate her efforts.
Our freebies are created especially for our readers at Onextrapixel and the design community. If you'd like to release any freebies on Onextrapixel, feel free to contact us and we will be more than happy to assist you.
[freebiesub download="http://cdn.onextrapixel.com/wp-content/uploads/2014/01/circular-flat-social-icons.zip"]