Today we are happy to release a new set of social icons on Onextrapixel. This release is a set of 30 social media icons designed exclusively for Onextrapixel by Stéphanie Walter, a talented French web designer. Those icons were created with designers and developers in mind and they bring together a set of social services they might use.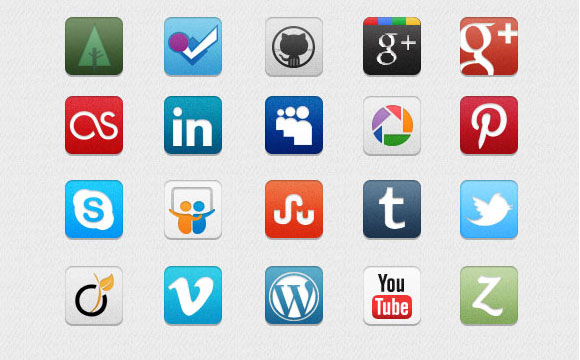 The set consist of 30 popular social media icons and is available in three different sizes – 39x40px, 58x60px and, 77×79.

About Stéphanie Walter
Stéphanie is a 25 year old French web designer at the moment specializing in UI and UX design for web applications and mobile applications, but she also creates websites, logos, and brand identities. She's a big pixel lover, hence the name of her website – In Pixel I Trust but also a passionate WordPress developer.
She's working both as a full time employee in an agency in Germany, and as a freelancer. When she has some free time, she likes to experiment with CSS, play around with code, and write articles about it. She loves to share her knowledge and to give away nice freebies.
Behind the Design
The idea for these icons came when she was creating a website to put together all of the social media sites she can be found on. The first icons were created based on the media she uses and then Stéphanie took a look at what is being done in the community and at the most commonly used social medias by designers and developers to add their icons to the set.
The final icons were created in Photoshop using layer styles, but most of the « branding part » (e.g. the P for Pinterest) were created as vectors in Illustrator, and imported into Photoshop as smart objects or shape layers to keep scalability.
Download This Free Icon Set Now!
Feel free to use these icons for personal or commercial projects. However, they may not be sold, rented, sub-licensed, transferred, edited, altered, or otherwise. The icons may not be offered for free download from websites other than Onextrapixel.com. If you'd like to share this set of icons, help us spread the word by linking back to this original release. Thank you.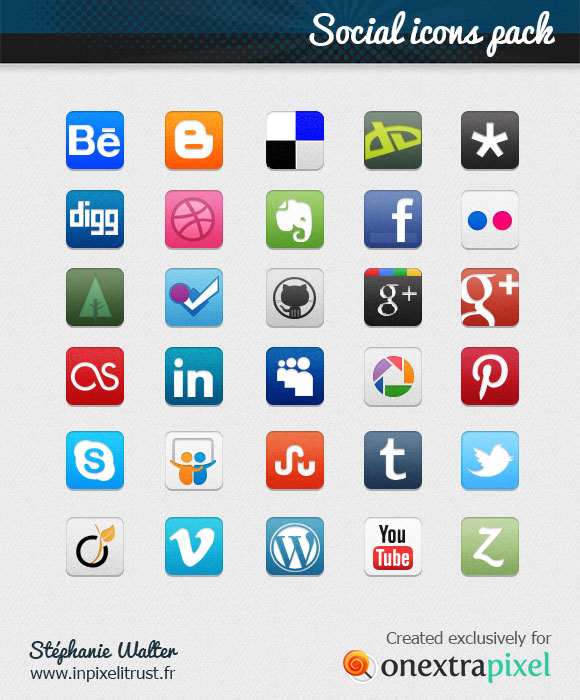 File Type: PNG
File Size: 680 kB
We offer our sincere thanks to Stéphanie Walter for creating this social icon pack and we really appreciate of her efforts.
Our freebies are especially for our readers at Onextrapixel and the design community. If you'd like to release icons or any other freebies on Onextrapixel, feel free to contact us and we will be more than happy to assist you with that.
[freebiesub download="http://cdn.onextrapixel.com/wp-content/uploads/2012/04/social-media-pack-design-and-developer.zip"]