So, you've finally finished building your WordPress website, customized the design, installed all the great plugins and filled it with mind-blowing content. You have made everything that might bring you thousands of constant readers.
But, there's only one problem. Nothing of that kind happened. You receive a couple hundred visitors per month but no returning readers. No clicks on your ads or product purchases. Sound familiar?
Now, you might be wondering where did it go wrong? The answer is simple: Like the majority of websites out there you forgot to build an email list.
Why Do You Need An Email List?
You shouldn't always depend on organic traffic from search engines. You'll never know when the next Google Search update comes along and push your website links to all the way back of the search results page.
An email list will not only provide you with an alternative source of traffic, but it will also allow you to promote your products to a dedicated community of followers and increase conversions.
55% of your website visitors spend less than 15 seconds on your website – Hubspot
Convert those visitors to subscribers!
How? Using an email list builder, of course!
If you are running a website powered by WordPress then the simple time-tested solution for growing an email list is installing a list builder plugin and it will give you a helping hand in this struggle for building readership readers and increasing conversions.
You need one that helps to build your subscription list and make offers different ways to grab the attention of your visitors. There are many of them in the lead generation market: OptinMonster, Bloom, Thrive Leads, Icegram etc.
All of them have a goal to convert your visitors into subscribers and customers; but not all of them can boast of great functionality that sorts out all the minor issues and broadens your possibilities.
Why We Use OptinMonster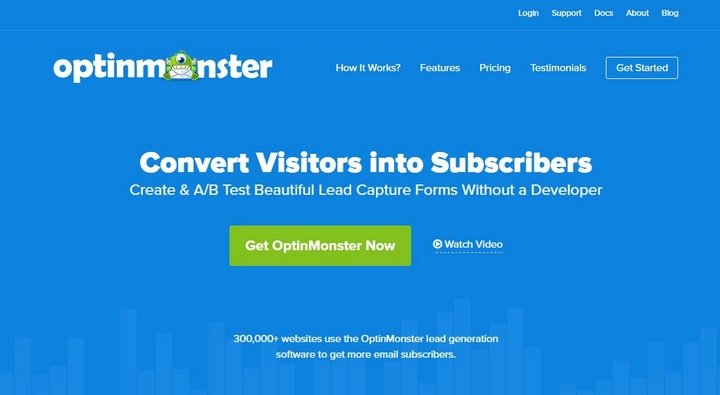 None does the job of converting visitors into subscribers better than OptinMonster. We're not trying to make it look good. We're actually speaking from experience because we've tested a lot of list builders before settling down with OptinMonster.
The reason why we finally settled for OptinMonster is the simplicity of using it. The other reason is we have many other WordPress plugins installed which often cause conflict with other lead generation plugins. But, nothing of that sort happened with OptinMonster.
Thanks to OptinMonster, we managed to increase our email newsletter subscriber list through the roof and double the revenue; and that's a pretty tangible effect. We're more than happy with our ROI.
The Many Benefits Of Using OptinMonster
OptinMonster offers plenty of features and options you need to get the users on the hook. With its increasingly intuitive interface and technologies, OptinMonster is the ideal option for non-tech-savvy people who the majority of website owners are.
You do not need to be a developer to create eye-catching lead capture forms or a marketer to run A/B testing campaigns and read analytics. With OptinMonster, it's easier than ever.
OptinMonster features a flexible drag and drop builder for creating beautiful opt-in forms to produce the highest conversion rates or you can use one of the many pre-designed templates.
You can also select from a dozen display types starting from modern lightbox popups, traditional sidebar forms, and much more. Then you can combine them with the page level targeting features, like exit intent technology that shows pop-up messages right before a user is about to leave the website, to increase conversion rates and get more subscribers for your email list.
Main Features Of OptinMonster
Optinmonster is a toolbox that is filled with instruments. Some of the other features of OptinMonster are:
A/B Testing: For figuring out the solutions that work best for your website. You can conduct some experiments with a theme, content, headline or styles to create more effective campaigns.
Many Different Form Types: For showing opt-in messages to your visitors in different ways.
Built-In 2-Step Opt-in Technology: Two-step opt-in is proved to be a conversion booster.
Mobile-Targeted Popups: These are a must-have for our fast-moving world that resorts to the use of smartphones and Optinmonster also helps you to stay compliant to Google's mobile-pop up rules.
Good Customer Support:  OptinMonster support team offers fast responses and has a friendly staff that are ready to solve all the issues.
Affordable Pricing Plans
Depending on the plan you choose, you can take your email campaigns far and beyond with scheduling, content locking, exit-intent technology, full screen takeover, fancy effects, and much more. Though if you have just one site, then the basic option is sufficient to feel its impact.
It costs just $9 a month and you will get all the necessary features to double your subscription list and get an instant lift on revenue in a graceful way without irritating your online visitors.
In Conclusion
Taking visitors and converting them into followers – is a dream for every website owner. As any dream it requires endeavor and a proper tool for fulfilling it. I have shared with you one of the two essential components, all you have to do is to put in some effort to push the matter through.
I would recommend you to give Optinmonster a try, especially as they have a "No questions asked. 100% No-Risk Money Back Guarantee!"