Used by over 25 million people, WordPress is one of the biggest website platforms used in the world. Its official plugin directory lists more than 13,000 plugins, but there are also more of them available on the internet. Even if these plugins are for the major part free, the investment in terms of time for those who created them, and continued to support and fixing them is huge. When something is given away for free, we sometimes forget all the hard work needed to create it. In this article we will show 9 ways of saying thank you to those amazing plugin developers, show them our gratitude for the great work and help them to maintain their great creations.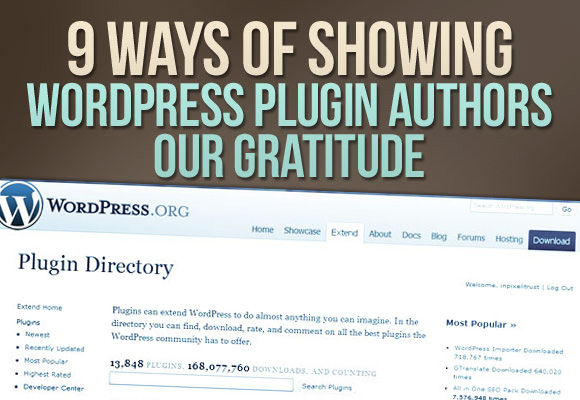 How to Show Gratitude for WordPress Plugin Authors
When Possible, Donate
The first and of course most obvious way of showing developers our gratitude is to donate a little something (or a big one) for the plug-in. Lots of plug-ins come with a donation button in their settings (usually PayPal donation) so it's very easy to make a donation. If there is no donation button in the settings, there might be one on the plugin author's website (like for cformII for example). When working with clients, the donation can be made by them.
A great way is to educate clients about open source for example and discuss with them how much they want to donate. Another way could be to anticipate a small "plugin donation budget" in the quote for example. No donation button? Don't panic, there are still some other ways to say thank you to those developers.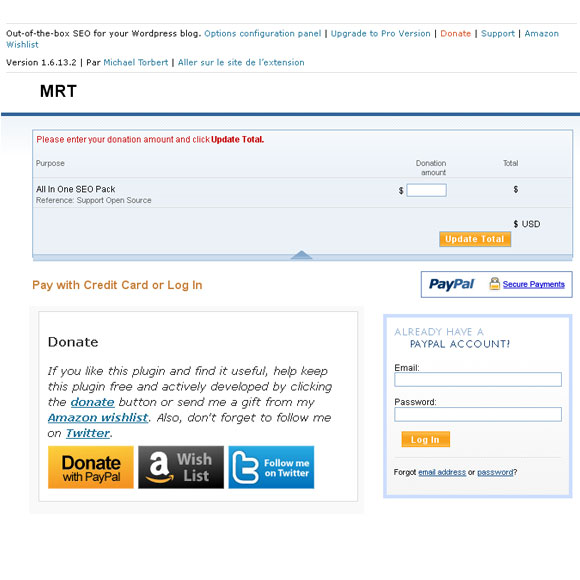 Buy an Item From Their Wish List
Some big websites like Amazon and others give the user the possibility to choose items from a wish list. You can then purchase those items and offer them to the plugin owner. Plugin author wish lists can often be found on their websites. All you have to do is go into the plugin panel and click the extension website link to see if you can find a wish list there. Some clever plugin author might even have added the wish list link in the plugin-admin panel next to the donation link for example.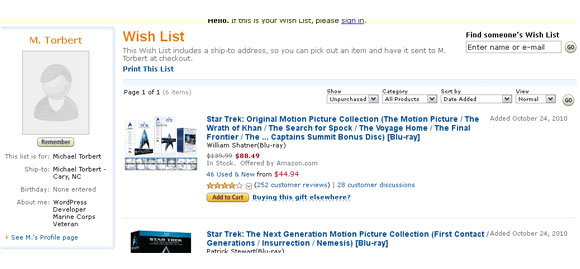 Give Them Credit, Give Them a Backlink
Another great and free way of rewarding plugin authors is by putting a little back link somewhere on the website to give them credit. Nevertheless, this method can be sometimes be controversial. Some plugin authors use a checkbox for those back links, so that you can choose to have it on your website or not. Some of them autocheck the box when the plugin is installed so that you have to uncheck it if you don't want to display the credit link, some others give you the choice, and you have to check it yourself to give the author credit. In both case, the plugin user get the choice to give credits, or not. Some authors also tend to hard code the credit line so that users don't have much of a choice.

Credit links are not such a big deal on personal websites when you can make your own design decisions, but they can become problematic on clients websites. Lots of clients will want the web designer to remove the credit link usually because it does not fit in with the design or simply because they do not understand open source. It is then the duty of the web designer to educate the client, explaining all the hard work behind the plugin. A win / win method in this case would be to convince clients to donate something for the plugin in exchange for removing the link away or to put the link in a "credit" section of the website, or in the footer so that it will not "break" the design of the pages where the plugin will appear.
Rate the Plugin on the WordPress Plugin Directory
You enjoyed the plugin? It does exactly what you needed it to do? It saves you a lot of time? Well, what are you waiting for then, don't be shy!! Go to the plugin directory and give your beloved plugin five stars so that the world will know that THIS plugin is the one. All you need is a WordPress account, but I'm sure you've already got one, right ? Giving stars will encourage the plugin author to continue its development, and let's face it; everybody enjoys getting a good mark sometimes
Give Feedback
Since you are now on the plugin page, why don't you also scroll down a little and give feedback about the plugin's compatibility? All you have to do is give the WordPress version and mark the plugin as "works". This is also important if the plugin is broken, people will want to know that they may not be able to use it on their WordPress version. Giving feedback is a very nice way to thank plugin developers, showing them that you care about their work.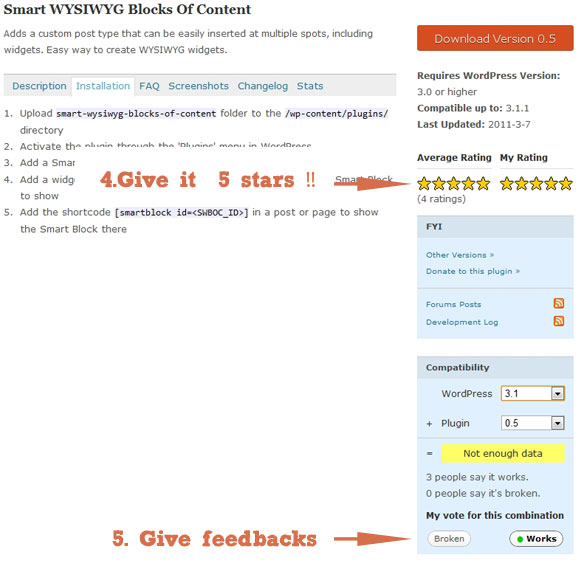 If the plugin seems broken, you could also post on the forum explaining why it is broken (PHP errors, where does it stop working etc). You may even get a solution from the author or other forum users. It's very hard for a plugin author to test every case, not to mention plugin compatibility issues, so giving feedback will help them to maintain plugins and solve issues for the next release. Plus it is very frustrating to see one's plugin marked as broken and not knowing why.
Help the Author by Answering on the Forum
Not only does developing plugins take a lot of time, but maintaining them and solving issues also increases the amount of hours spent on the plugin. A great way of thanking plugin authors could also be to help them to answer questions and solve problems on forums. Of course, not all of us are top class developers, but sometimes some questions about the plugins are simply related to CSS styling, wrong configuration etc.
Using those plugins on a daily basis, we may have already encountered the same small issues and then might be able to answer some of those simple questions, so that the author will be able to concentrate on more complicated issues. Giving some of our time to help out when we can seems fair considering the huge amount of time the author also gave to develop test and maintain the plugin.
Share Enhancements and Bug Fixes
Some of us (myself included) are not top class developers, but we might be able to fix some bugs we discover while using the plugin. This is the great thing about open source: we can play around with the code of others, correct issues and even enhance it. This is also the great thing about being part of the web-developer / web-designer community: sharing. Then what better way to prove our gratitude than sharing the fix – enhancements with the plugin author himself?
First of all this will gain him a lot of time, and he might also be able to include the bug-fix / enhancement in the next version of the plug-in. This can also be salutary for us: we will be able to make the plugin upgrade with the bugs fixed and will not need to tweak the code again to make our changes for the next release.
Translate the Plugin and Share Your Translations
Most of the plugins in the WordPress repository are in English. But isn't it great, for non English native- speakers, to find out that the plugin they need has been translated into their native language? Some of us might need to translate English plugins for personal purposes, or even for clients, so another way to show the plugin author that we enjoyed his creation would be to send him the translation so that he can publish it. Doing this will also help spread the plugin around the world.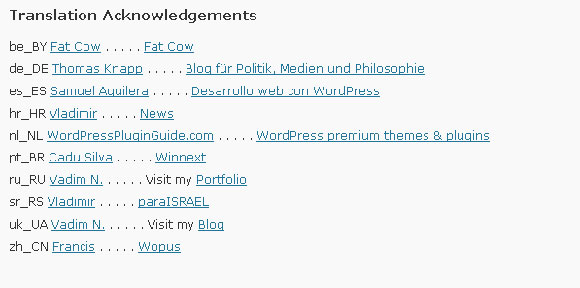 There are two ways to translate a plugin. If you are lucky the author took the pains to internationalize his plugin code. All you will need to do is to find the .po files, open them with poedit and translate them in your native language. As simple as that. If the author did not internationalize his plugin, you will unfortunately have to translate each php string in the code. In both cases, sending the author your translation would be a great way to show him your gratitude. Plus you might even get a "thank you" link in the plugin administration or on the WordPress plugin repository.
There might also exist some local websites providing translation, like wptrads.fr for the French version.
Share it Share Share it
A last way of showing developers our gratitude is of course to spread the word. The [put cool plugin name here] plugin was really helpful? It saved you a lot of time? The plugin is easy to use? The user-interface of the plugin looks great? Why don't you just share all of this out loud? If you have a blog for example, you could make a nice post about this plugin, maybe explaining how it works, why you enjoyed it, and of course why it could be useful for the community. You could also post a quick link on twitter, etc. There are multiple ways of sharing a great plugin so don't hesitate to spread the word!
Conclusion
Plugins are part of what makes WordPress (and other CMS platforms) so flexible and great. They are created by passionate members of the community, who are still human beings. Those human beings have a life, family, and sometimes create plugins in their free time. So be patient when you ask them a question, be polite, and remember that they are "just" human beings like you and me.