Growing your online business takes more than just publishing high-quality content, sending out engaging email campaigns, and converting more customers. In fact, sometimes it's the in-person interactions you have with people offline that can make the biggest difference in how successful you are. This is especially true if you also happen to own a physical shop or office.
If you're in need of new ways to market your brand, inform leads about what you have to offer, and promote your online business, you need an innovative print company like Print Peppermint on your side.
Having produced thousands of one-of-a-kind print projects for creative businesses across the globe, Print Peppermint knows what it takes to get your brand to a broader audience.
And today, we're going to share with you everything it has to offer so you can achieve your goals.
What is Print Peppermint?

Print Peppermint started out as a web design, print, and event company. And while that brought a lot success to the new business, its founders realized their passion was rooted in print design.
As a result, Print Peppermint has evolved into a creative online printer that specializes in standout business cards. But there's more to the print company than just business cards.
With a global team of design enthusiasts spanning from Texas to Germany, South America, and India, over 10,000 well-established companies trust Print Peppermint. For example, brands like Geico, Wendy's, and even the free online writing app Grammarly trust Print Peppermint for their marketing and digital design needs.
So, what exactly does Print Peppermint do so well that big name brands like Google, Vice, and others trust them to help them succeed? Let's take a look.
Affordable Design Services
First and foremost, Print Peppermint is a print design company that offers inexpensive custom logo and business card design services. And to top it off, your project comes with a 100% guarantee and ownership. In other words, if you're not happy, Print Peppermint will do it again until you're 100% satisfied. And when your project is finished, you own it free and clear.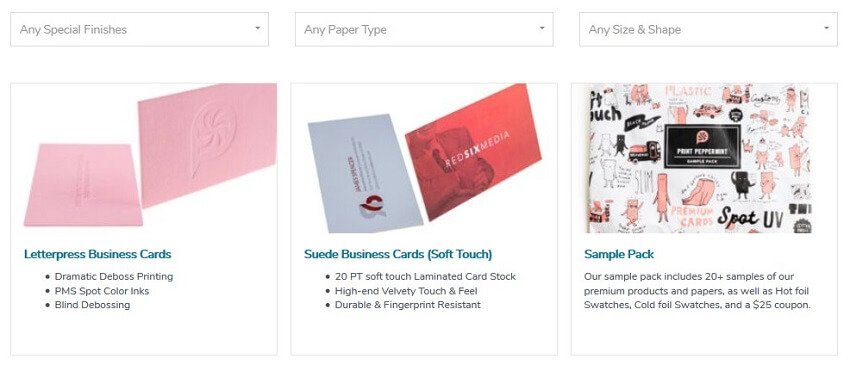 Print Peppermint gives you the option to hire one of their expert designers. And for those on a budget, you can hire a junior designer and forgo priority support so you can get your project done without breaking the bank.
This is one of the best things about Print Peppermint. It caters to businesses of all sizes and meets the needs of all size budgets.
Other print design features include:
Full color on both sides of the paper
Offset printing with 500 lines per inch screening
Thick, premium papers that are durable, writable, and scratch-proof
Chemical-free inks on partially recycled papers
Option to upload own custom designs to add to projects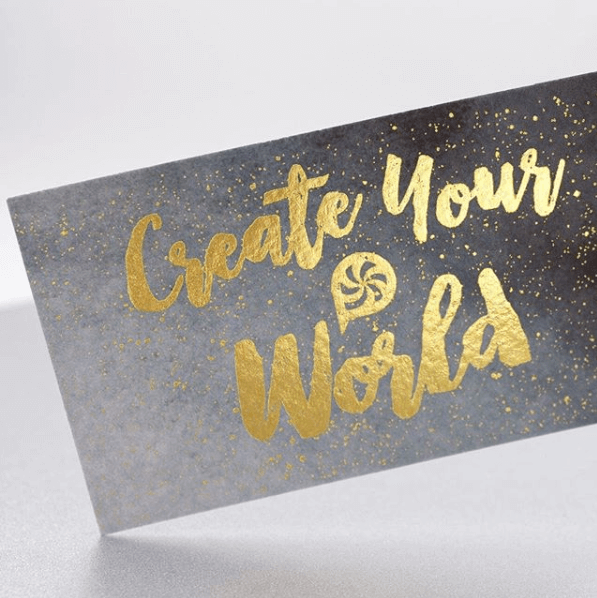 When you submit an order with Print Peppermint, you can expect a print proof within 24 hours. From, there you can make unlimited change requests until you're happy with the final design.
Custom Business Card Creation
Print Peppermint specializes in creating unique, high-end business cards with multiple beautiful finishes.
For example, pick from foil stamping, die-cutting, embossing, letterpress, edge painting, and much more. And to make it even better, your custom business cards come printed on only the very best papers.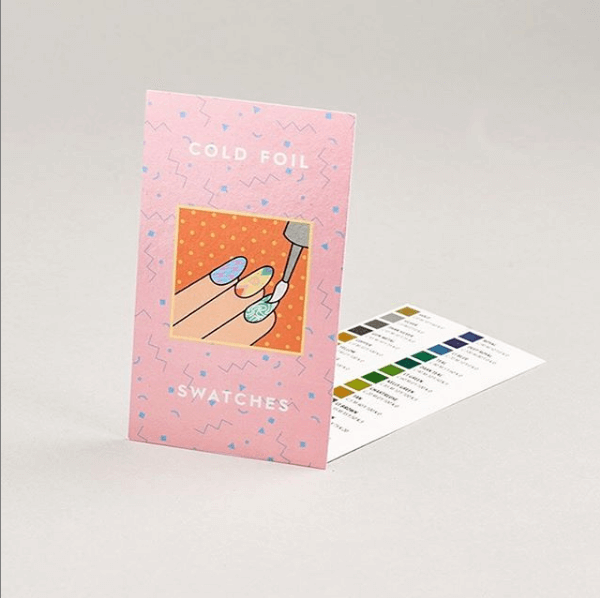 For instance, have your pick from 100% cotton, soft-touch, triplex layered, onyx black suede, recycled craft premium papers, and even clear-frosted plastic.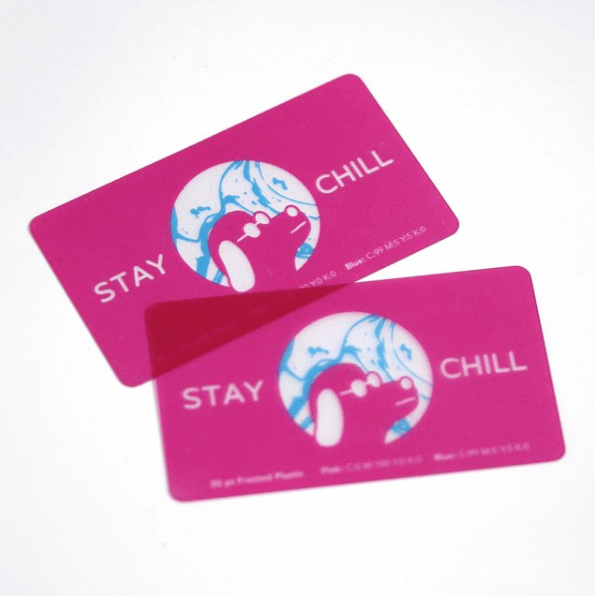 And that's just the beginning.
Your custom business cards are super simple to order if you want to create them yourself. In fact, Print Peppermint has a neat business card maker that only takes a few minutes to use.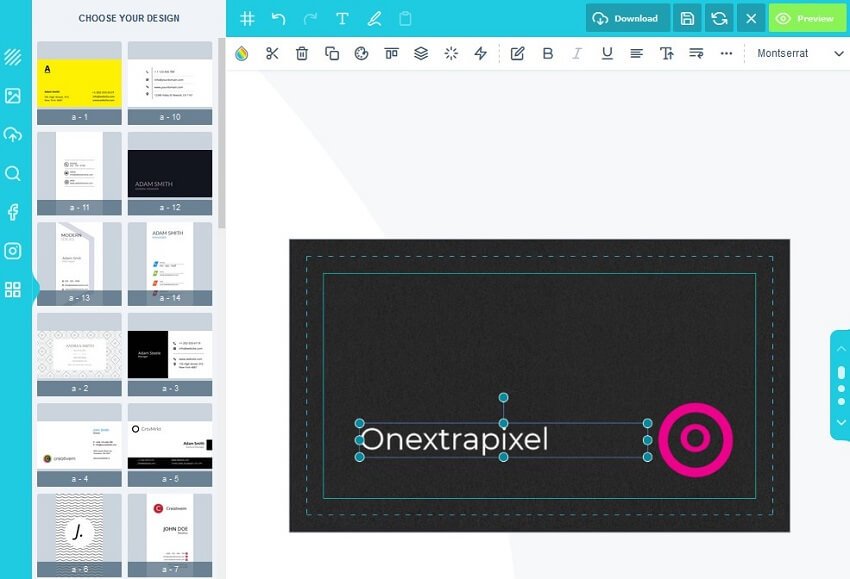 With it, you can:
Personalize the text of your card
Add your own logo
Upload images from social media such as Facebook and Instagram
Use pre-made illustrations and graphics
Choose from over 1m stock photos
Select your paper and quantity
Customize color schemes, add layers, tweak orientation, upload images, and even choose from pre-made designs
Preview your final business card and submit for print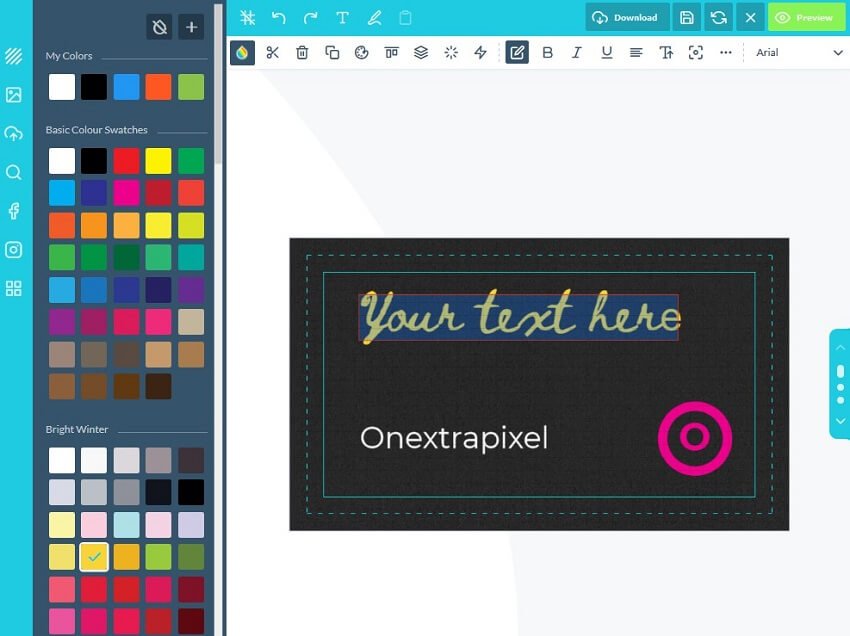 If you don't need business cards, that's okay. Print Peppermint also has a flyer, poster, invitation, and greeting card maker too.
Huge Variety of Print Products

In addition to be a leading business card design and print company, Print Peppermint also provides an impressive variety of print products:
Business Cards: promote your business, products, and/or services
Postcards: snail mail business openings, deals, and discounts to your best customers
Brochures: inform potential leads about your company and tell current customers what's new
Invitations: host a company event and send out personal invites to those who support your brand
Flyers: quickly get the word out about your business to large groups of people
Banners: display your company name and custom logo with pride anywhere inside or out
But Wait, There's More…
Still not enough? Print Peppermint can also print greeting cards, stickers, labels, buttons, hand tags, magnets, posters, trading cards, and even calendars.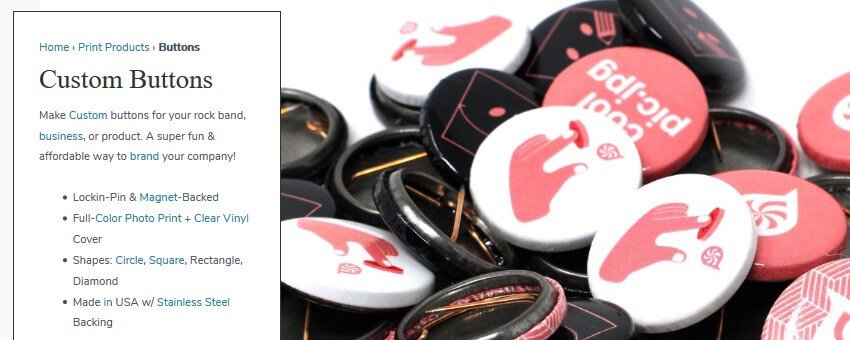 These items are great for promoting your brand, giving to loyal customers as bonus gifts with purchases, and handing out to your team members to use and share with others. After all, the wider your reach the more business you'll generate.
One of the best things about Print Peppermint is that they have so many products available for you to choose from. But that can be really overwhelming if you aren't sure what you want.
That's why there's always the option purchase a sample pack, complete with 20+ samples of Print Peppermint products and a $25 coupon to use on a future purchase.

And if you have a team of business associates, you have the opportunity to benefit from bulk purchases. Even just buying for two team members earns you a bulk discount on Print Peppermint products.
Not to mention, this print company can source special papers for your team and even store your critical design files on their secure cloud server for your convenience.
Need a custom quote? Print Peppermint has an easy to fill out contact form for getting custom quotes.
Environmentally Friendly Practices
As a paper company that specializes in print design, Print Peppermint understands how much waste is possible on their end. That's why the team behind the company has become dedicated to doing its part for the environment.
For example, Print Peppermint uses soy-oil based inks, rather than petroleum-based inks, to consume less energy. These inks are easily removed from paper too, which makes it easier and faster to recycle used papers. Lastly, they are more vibrant than traditional inks, meaning your end product is of higher quality.
In addition, Print Peppermint:
Recycles all waste materials that can be recycled
Always considers the environment first
Takes pride in setting a good example as a print company that cares
Does not use paper sourced from illegally deforested trees
Continues to research eco-friendly ways to continue business
For those that care about the environment, but need their paper products too, Print Peppermint is the perfect option.
Guarantee and Dedication to Quality
One thing that stands out about Print Peppermint is its dedication to quality and the guarantee it offers customers.
No matter what your project is, or whether it's large or small, the team of designers hand-proof every single order to make sure they are 100% perfect.
Adding to that, if you're not satisfied with your order, Print Peppermint gives you options (which is unique to many businesses in general):
Get a full refund – no questions asked
Ask for a reprint to fix whatever you don't like
Though these options may seem obvious to a consumer that demands value for their money, not all companies guarantee their products  like this. Nor does every company care so much about providing a stellar shopping experience for its customers.
Support and Documentation
Print Peppermint offers live chat, phone, and email support to anyone that needs it. Whether you just have a question or need help with your design options, professionals are on hand to help.
And to prove it to you, the company shares that it has handled over 100k support tickets and continues to grow its business thanks to high customer satisfaction.
In addition, Print Peppermint has plenty of resources to help you with your design needs: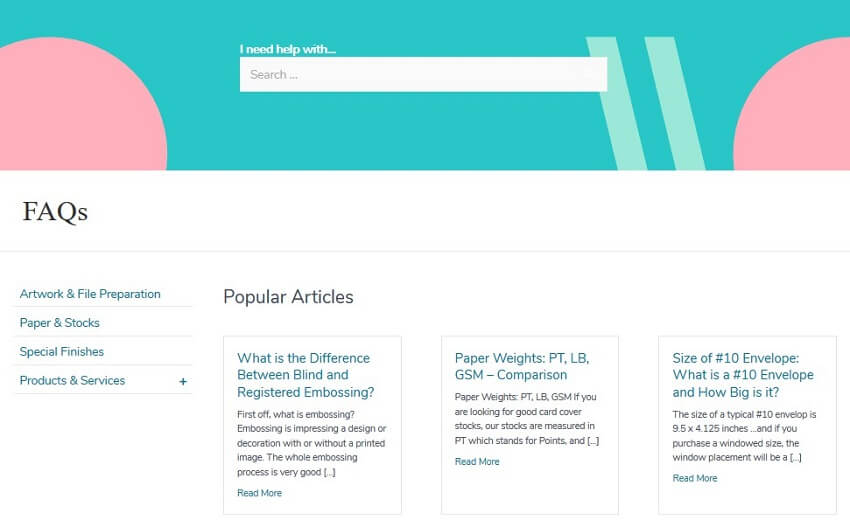 Is Print Peppermint Right For You?
In the end, it doesn't matter if you own a physical shop, an online business, or both. What matters is that you're able to promote your brand to the widest audience possible, grow your business, and generate more revenue.
Luckily, with a print shop like Print Peppermint, you can do just that. Offering creative businesses an affordable, customizable, and easy way to order print materials such as business cards (and a whole lot more), Print Peppermint makes it easy for people to achieve their business dreams. From the free business card maker to the environmentally friendly papers, and the unique paper and detail options to the 100% satisfaction guarantee, Print Peppermint has everything you need to get your business noticed.
If your goal it to work on marketing your business beyond the confines of your website, physical shop, or office, then Print Peppermint is worth your consideration. With the right marketing materials in the right hands, you're sure to notice a jump in leads and sales.