Free web fonts such Museo, League Gothic, Droid and Lobster have been around since the dawn of the @font-face revolution. Whilst these are all fantastic typefaces, they are beginning to suffer from over-use. Services such as Google Web Fonts and FontSquirrel are expanding their free @font-face collections weekly but it can be difficult to pick through masses of naff display fonts to find that perfect typeface. The purpose of this article is to highlight some great fonts that are around that you may not have considered using yet.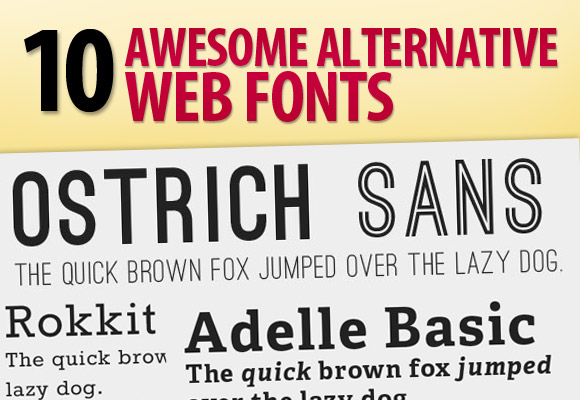 10 Awesome Free Web Fonts
Franchise Bold
Described by its designer Derek Weathersbee as a "stout display face", Franchise is strong, tall and full of character. It's perfect for those who are looking for a unique alternative to the ubiquitous League Gothic. Derek plans to release three further weights to complete his Franchise family but for now Franchise Bold is available for free on his website. You can turn it into an @font-face kit use FontSquirrel's @font-face generator. To see the font in action, take a look at the stunning Ben the Bodyguard website.
Open Sans
Open Sans comes from a fantastic pedigree. This humanist typeface was designed by Steve Matteson of the Ascender Corporation. Steve has worked on many fonts including the mighty Droid for Google. In its regular weight, it is actually rather similar to Droid Sans apart from being a little wider (and therefore arguably even more readable on-screen). The big bonus that Open has over the Google font is that it comes in a whopping eight different variants! The inclusion of light to extrabold weights (including italics) and its large number of glyphs make Open Sans a very versatile typeface. It is available on Google Web Fonts and FontSquirrel.

Merriweather
Merriweather is a font with big plans. There are currently four weights available (for free of course!) but designer Eben Sorkin also plans a sans-serif version as well as italics for each of the weights. Merriweather is a low contrast serif, inspired by old-style book faces such as Garamond. It has been specifically designed for screen-use however, so has some more modern features such as a very large x-height. It is currently available on both Google Web Fonts and FontSquirrel.

Ostrich Sans
Ostrich Sans is a new typeface from The League of Moveable Type (home of favourites League Gothic, ChunkFive and Raleway). It's friendly, slim and rather chic. It's the pretty girl-next-door of typefaces. Ostrich is strictly for titles but comes in six variants. It's a fantastic choice for magazine style layouts and trendy blogs and can be found on FontSquirrel.

CartoGothic Std
CartoGothic Std has been around for a little while now but it is a big favourite of mine. It's a humanist sans-serif and is a great free alternative to classics such as Myriad Pro and Frutiger. It's highly legible at smaller sizes but still has a load of character. CartoGothic Std is available in four variants from FontSquirrel.

Rokkit
Rokkit is one of Vern Adams many fonts. He has the ambitious goal of creating a new font every single week! Rokkit is a slab-serif, which is very, very similar to Rockwell. It is only available in a single weight but it's great if you want a distinctive slab serif for titles and want to avoid Museo Slab. You can get it from both Google Web Fonts and FontSquirrel.

Adelle Basic
Not that bird with a similar name who has sold about a trillion records but a beautiful Egyptian typeface. Adelle was primarily designed for use in newspapers and magazines and reminds me of the stunning Guardian newspaper typeface. Sadly the full family is not available for free but you can grab the basic bold and bold-italic from FontSquirrel.

Tinos
Tinos, together with Arimo and Cousine make up the new default fonts for Chrome OS. Tinos is another Ascender Corporation creation and is Google's answer to Times New Roman. It is "metrically compatible" with the Microsoft typeface so that it is suitable for document distribution. Screen legibility at smaller sizes was obviously a key consideration in its design. It still has a lot of personality though, with its tapered brackets and its slightly squared-off look. It's a great alternative to TNR, Droid Serif or some of the popular paid-for typefaces such as FF Meta Serif.

Titilium
Titilium is a low-contrast sans-serif typeface that is currently available in six weights. As its name may suggest, it's great for titles but works well as body copy too. For me, it has a rather minimal, techie feel which seems perfect for trendy technology products. Download from FontSquirrel.

Lekton
Lekton is a classy(!) mono-spaced font inspired by old Italian typewriters. It's a slimmer, sophisticated alternative to Courier or Droid Sans Mono. With an italic and bold variant it is not just restricted to being used for code however. It's available on the usual places; Google Web Fonts and FontSquirrel.

Conclusion
I hope that you have enjoyed this little article and I hope that it has helped you start to think beyond the 'usual' web fonts. I think that it is really important to find out a little about a typeface before using it for a project. By reading a bit about its background and the designer's intentions and inspirations you can begin to understand the best ways in which fonts can be used.
What do you think of the fonts that I have highlighted? Can anybody recommend any other alternative typographic gems?