It is uncommon today to find desktop-based website prototyping tools. Most applications are in the Cloud – online tools accessible through your web browser. Here we present a list of the most common online website architecture applications.
It seems as if every category of software is moving into the Cloud so it's not surprising web prototyping applications are doing the same. After all, what better way to plan website architecture than on the web?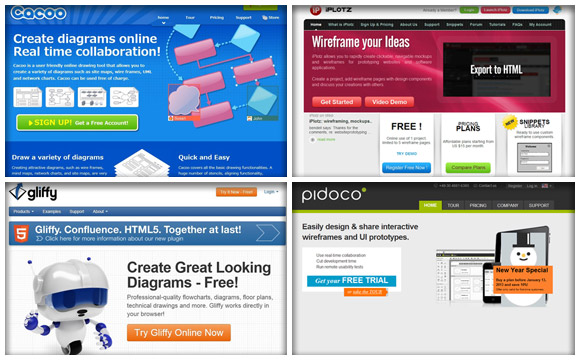 Online Website Prototyping Tools
Online web prototyping tools are more easily accessible than desktop versions. You can log on from your computer at work, the laptop you take when you travel, or the desktop you have at home. You don't need to install any software so it doesn't matter what operating system you are using. Any designer or reviewer can use Windows, Mac or Linux computers to access the prototypes, just as you can use any computer to access the final website.
The biggest change between desktop-based and Cloud-based web prototyping software is the pricing structure. When you use a desktop application, you pay a flat fee for a license and can use the software forever. Online software uses a subscription model. You pay a fee every month you need to access the software.
Here are some of the online website prototyping applications available right now:
Gliffy claims they are "the most widely used online diagramming application". Multiple users can access a project; yet, unlike many of the products here, they can't access the files simultaneously. However, each time a user saves a document Gliffy archives the older version so it is easier to revert changes one user makes than it would be with simultaneous access. The software integrates with Google Apps, WordPress and Chrome as well as offering an API, allowing other web-based application developers to integrate with it.
Cacoo supports 22 languages making it ideal for companies with developers all over the world. It offers real-time collaboration so multiple developers can access the website prototyping tool at the same time. This would allow, for example, a graphic artist to work on images at the same time your SEO expert is tweaking the text. Projects can be made private to ensure nobody sees them before they are ready, or public so customers can comment on the new design before you update your website.
Invision has a simple drag-and-drop interface making it easy even for non-technical people to add graphics, text boxes and buttons. User management allows developers to be assigned to specific projects so nobody has unneeded access. Reviewers can add comments directly to the screen, and replies are kept in threaded form so it's easy to follow the conversation between developer and client.
Mockingbird is powered by Cappuccino, unlike most of the others on this list, which are Flash-based. Cappuccino applications tend to run more efficiently than Flash so it is likely your website prototyping activities will be a bit faster. It offers real-time collaboration among approved users, and wireframes can be exported to PDF or PNG for review.
Creately also provides real-time collaboration, and is available in seven languages. They offer desktop versions for Windows, Mac and Linux for users who need to be able to do website prototyping without an Internet connection. The diagrams automatically sync to the Cloud for those who do have Internet connections, so collaboration is still possible with the desktop version.
HotGloo supplements their real-time collaboration features with an integrated chat, streamlining communication among team members. Messages left by reviewers appear on the pages, but can also be set to automatically forward to an email address.
ProtoShare supports more than just images and text boxes. Website prototyping with this tool includes the use of CSS and JavaScript to create custom components and advanced interactions. Comments can be turned into tasks assigned to one or more users so reviewer concerns can be addressed as quickly as possible, speeding up the development process.
Pidoco includes usability testing features. Developers can monitor and communicate with testers as they use the prototype, getting live feedback even as they make changes. Developers can see the user's screen, communicate through VoIP and chat, and record the testing session for future review. This facilitates the user-friendly design which is the final phase of website architecture development.
Lumzy has an integrated image editor so graphics can be cropped, resized or adjusted without the need for another program. It offers more advanced website prototyping than many other tools by allowing more complex interactions than simple page linking. Testers can select from menus, trigger popup dialogs and so on. Lumzy is currently in beta so it is free to use, though the developers have said there will be a subscription fee once it goes live.
iPlotz uses three access levels: preview, wireframe and manage. Preview users can view the prototype and leave comments; preview users can be using free accounts. Wireframe users can edit the website prototyping. Manage users can add or remove other users and change their permissions. There is also a desktop version which runs under Adobe Air Runtime, and syncs with the online version when in online mode.
Conclusion
There are a number of other Cloud-based website prototyping tools available and more are appearing all the time. With the fluid and team-based nature of modern website architecture development, it's quite possible pure desktop-based tools will either move to the Cloud or die out. Today's developers have a multitude of online options at a variety of subscription rates to fit their needs and budget.