WordPress is probably not the first thing that comes to mind, when you're thinking of building your internet empire. I know that personally, whenever I have wanted to build a new project – whether that be an ecommerce store or a product site. I have always leaned towards making my own solution or going with something that at least costs a little bit of money.
I often overlooked WordPress, because it was a free solution. So it made me place little value on it. It's something that we tend to do as human beings for a lot of things, because, lets be honest – most times, you get what you pay for. But fortunately, with WordPress, this is simply not the case.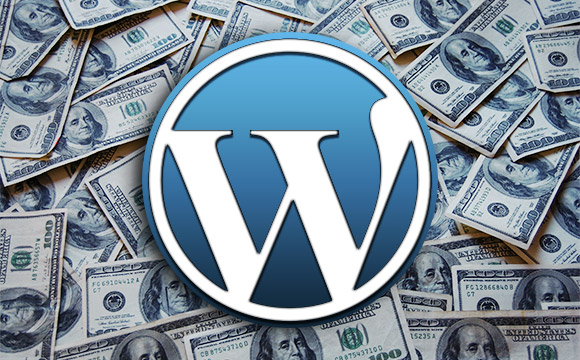 It's not only possible to build something big with wordpress. It's being done by people online everyday. And in this post I will share just some of the huge success stories that have resulted from people using WordPress to build very impressive businesses.

10 Entrepreneurial Success Stories Built on WordPress
Disclaimer: All estimates are ONLY estimates and are not necessarily 100% correct. They are just an indication of how well these websites are doing – based on information that is publicly available from around the web.
1. Julian Hearn: Promotional Codes
Promotional codes – a voucher codes website, built on the wordpress platform, was started in early 2008 when founder, Julian Hearn decided to branch out on his own and start his own business. He gave himself a six month ultimatum that should he not succeed in making enough to support himself within that time – he would go back and resume his job as an online marketer.
He never had to do that. In 2011 he sold the site, to Internet Brands for an undisclosed sum that is estimated to be in the millions. In his recent Mixergy interview he states that the site cost him less than $2,000 to make.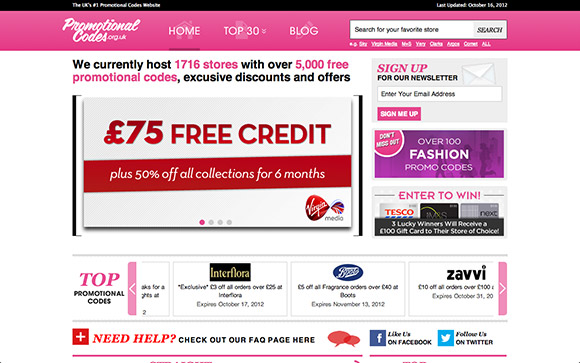 Estimated monthly revenue: $400,000 (Acquired in 2011 for a figure estimated to be in the millions) (Source)
How it looked when it started: PromotionalCodes.org.uk early 2008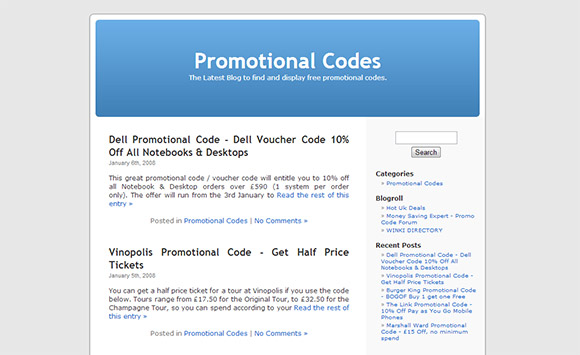 2. Ramit Sethi, I Will Teach You To Be Rich
I Will Teach You To Be Rich or IWTYTBR for short, was started by Ramit Sethi in 2005 to educate young people, mainly college grads, on personal finance and wealth generation. His type of advice is very different from most financial blogs however. He focuses on creating 'big wins' – ie. opening up new income streams and earning significantly more money instead of small savings such as skipping that latte you get every morning. He previously founded venture backed startup – Pbwiki.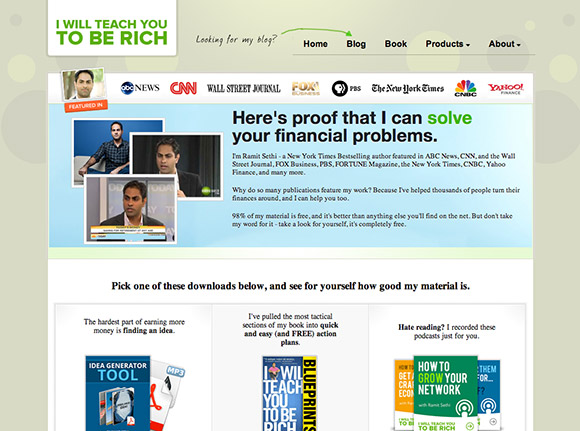 Estimated monthly revenue: $100,000 (Source)
How it looked when it started: IWTYTBR in early 2005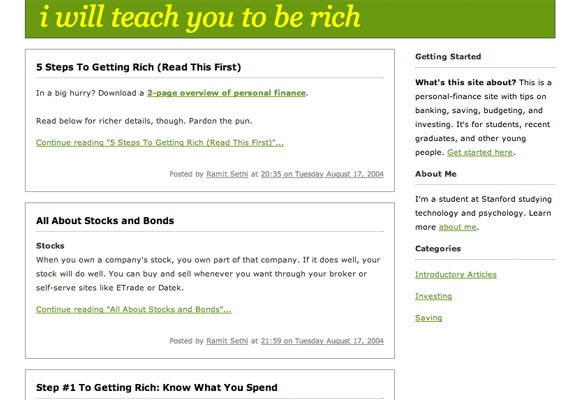 3. Timothy Sykes, TimothySykes.com
Tim Sykes started out early, when at 13 he got $12,000 in Bar Mitzvah money, which he invested and promptly turned into over $1.6 million in just a few short years. He started the site, TimothySykes.com – a WordPress built site, to share the knowledge that he has gained making money on the stock markets.
He sells through the site, DVD's, premium memberships and products that help people make money through stocks. According to this recent interview that he did with Mixergy – his site made $3.5 million in 2011.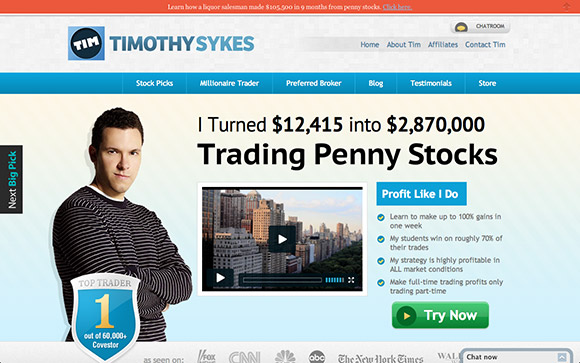 Estimated monthly revenue: $300,000 (Source)
How it looked when it started: TimothySykes.com in early 2007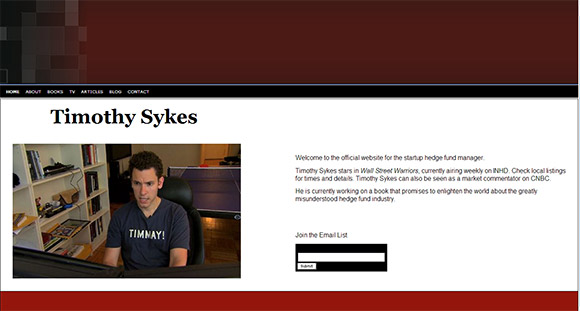 4. Pete Cashmore, Mashable
Pete Cashmore started Mashable at 19, with just a simple WordPress blog. He mentions in this interview that he was working 18 hour days on it before it became successful. He also mentions that it took 6 months for him to get his first advertiser.
Now, Mashable recieves over 50 million page views a month and is one of the most visited sites in the world. Recently, it has even been speculated that CNN would like to acquire Mashable for $200 million. Not bad for a site that started out as nothing but a simple WordPress blog just a few years ago.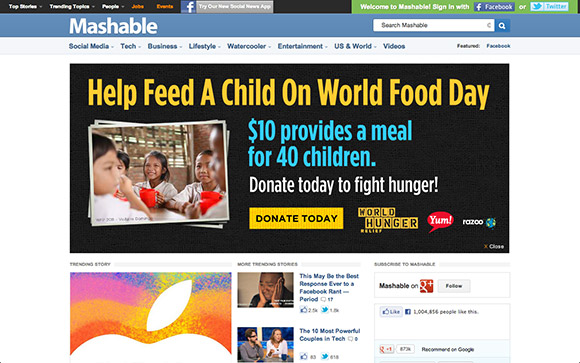 Estimated monthly revenue: $550,000 (Source)
How it looked when it started: Mashable in late 2005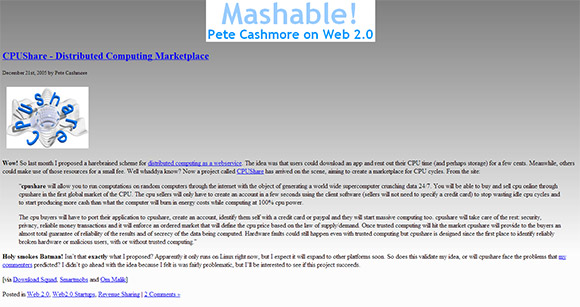 5. Johns Wu, Bankaholic
Johns Wu, the 22 year old who in 2008 sold his WordPress blog for $15 million, only two years after starting it, has probably the most impressive success story on this list. He used clever SEO tactics to build up the traffic to his site, getting over 8,000 uniques a day at one point.
This may not seem that big in comparison to some sites, I think that even Onextrapixel gets more. But in the niche that Wu was operating – personal finance, there was big money to be made. Which goes to show that where you're making your money is as, if not more important than the traffic you are getting.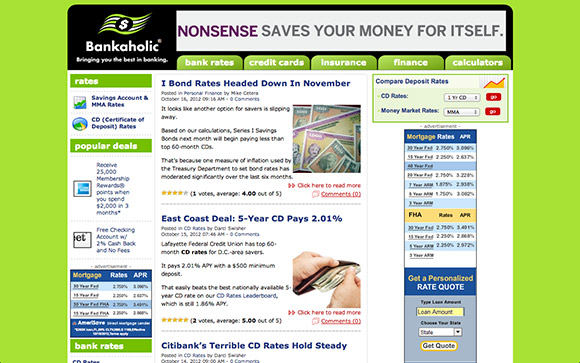 Acquired in 2008 for $15 million. (Source)
Two years after starting his blog, BankRate – a publicly traded company, paid him $12.5 million upfront with $2.5 million to be earned out over time, to acquire it.
How it looked when it started: Bankaholic in 2006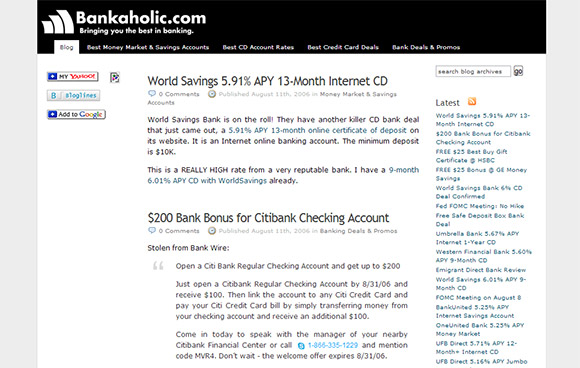 6. Brian Clark, CopyBlogger
In a recent interview, Brian Clark of Copyblogger stated that his company did $5 million in revenue in 2011. This mainly from additional products that emerged from his blogging empire.
He started CopyBlogger by just posting interesting content on copywriting for sales and also just generally writing for the web himself, and slowly built up a following that now is at over 170,000 subscribers. With many more visiting monthly. He used this platform as a base for the business that now turns over millions per year.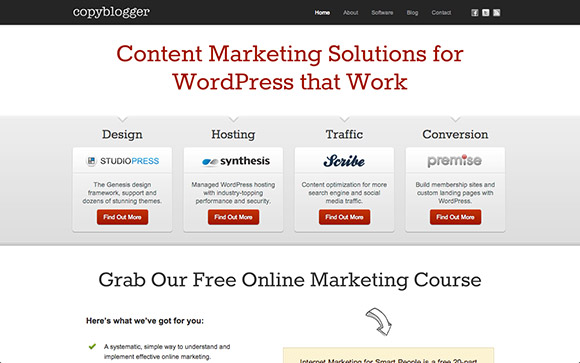 Estimated monthly revenue: $416,666 (Source)
How it looked when it started: CopyBlogger in early 2006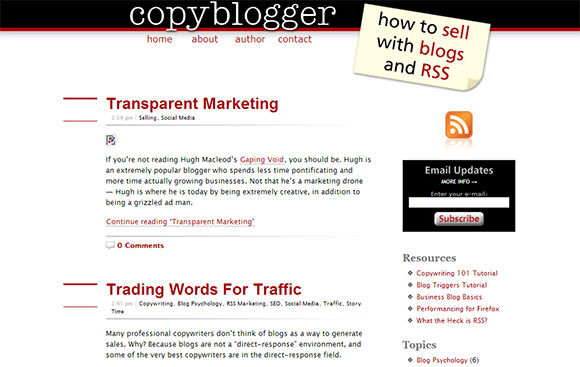 7. Alborz Fallah, CarAdvice
Alborz Fallah started out as a blogging student of well known internet entrepreneur Yaro Starak. When he started, he couldn't decide on which topic he wanted to write about – so he created three blogs at once to see which one would stick. The car advice blog showed itself to be a clear winner early on.
So he decided to drop the other two and dedicate his efforts to it. He maintained his full time job – but slowly starting earning more and more from the site. Going from $10 a day to over $30,000 a month! According to a recent interview that he did with his former teacher Yaro Starak, his site is worth $5 million.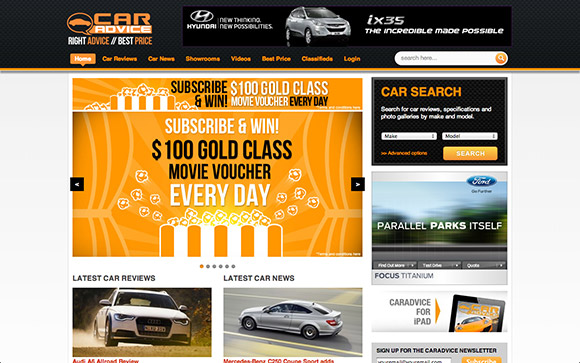 Estimated value: $5 million (Source)
How it looked when it started: CarAdvice in mid late 2006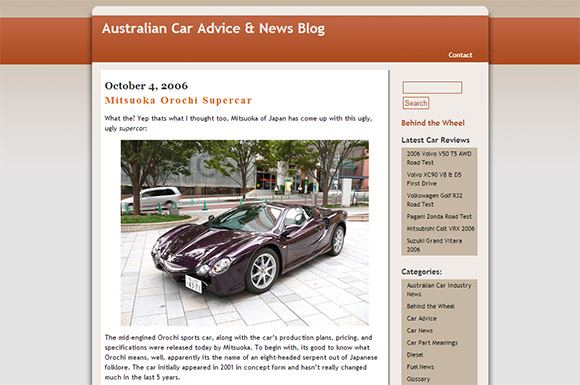 8. Adii Pienaar, WooThemes
Adii Pienaar – a South African born entrepreneur, started WooThemes in 2008, with two co founders. Before starting WooThemes, he was finishing up his final year in business school. In his really informative and entertaining Mixergy interview, he talks about how he was always around computers when he was young, thanks to his dads computer shop. And how with his constant hacking and curious nature, he taught himself to create and edit websites. He created his first theme in 2007 and as he says in his interview – "things just kind of grew from there".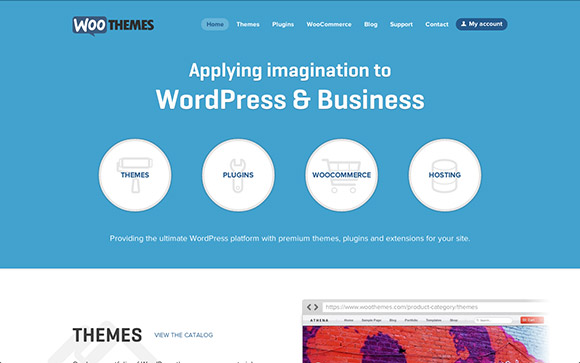 Estimated annual revenue: At Least $2 million. (Source)
How it looked when it started: Woothemes in 2008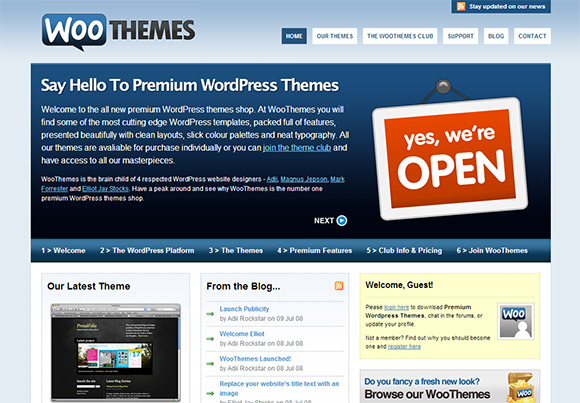 9. James Farmer, WPMUDev
WPMUDev was founded a few years back by James Farmer, an entrepreneur who found himself in the middle of the WordPress Multi site industry, which was only just emerging at the time. He was creating other projects as well as freelancing to help people set up their WordPress Multi sites, when he decided to start WPMUDev.
Gaining his initial traffic from his blog WPMU.org – it has become a huge success. According to his recently published Mixergy interview. He is now pulling in $300,000 a month.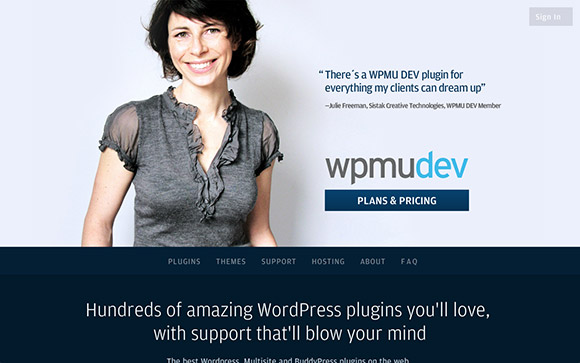 Estimated monthly revenue: $300,000 (Source)
How it looked when it started: WPMU on 5th May 2008
The blog that started it all, not to be confused with WPMUDev, their premium site where they actually make money.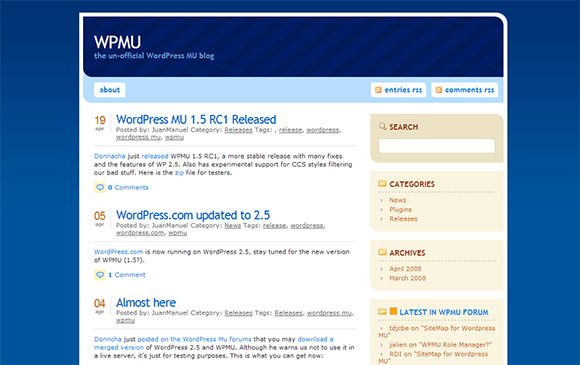 10. Vitaly Friedman, Smashing Magazine
Smashing Magazine was founded in September 2006, with the goal of delivering useful and innovative information to web designers and developers. It was founded by Vitaly Friedman, who is a blogger with a love for the web. It is one of the most highly trafficked web design blogs on the web, with millions of visits every month.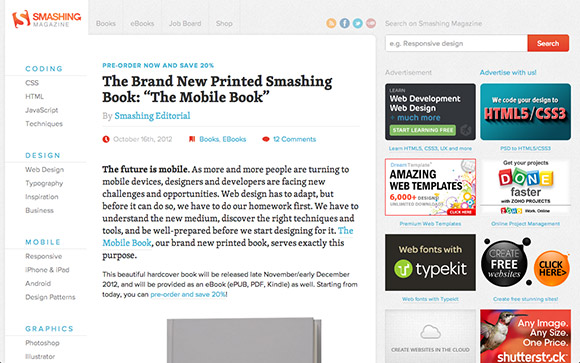 Estimated monthly revenue: $190,000 (Source)
How it looked when it started: Smashing Magazine in 2006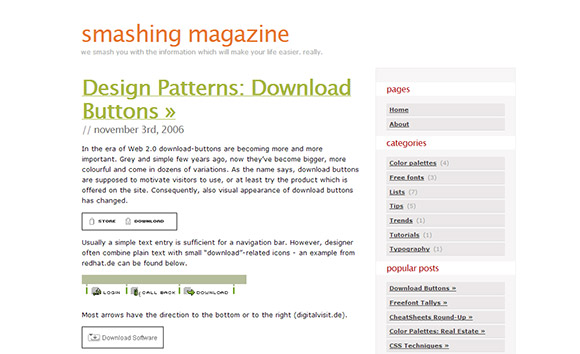 Conclusion
It can be intimidating as well as inspiring when you look at the huge numbers that these guys are doing now, but that's why I also included how they looked when they started.
Almost all of them just started out with a small WordPress install, probably on a shared web host somewhere, and with determination and a lot of hard work – managed to create the huge success stories that you see above.
The underlying premise of this post – and my goal with it, is to show that you don't need to start big to have a big success. Don't go out and spend $1,000's on a developer to build your next big thing. Instead – start small, with WordPress or any other content management system on a simple shared server. And put the sweat equity in. You'll be amazed at where it can take you.
Do you know any other interesting WordPress-built entrepreneurial stories? Let me know in the comments!