The new Facebook page layout also known as Timeline provides us with tons of opportunities to promote and advertise any content or products via visual means. Many brands grasped this idea long go – the corporate Facebook pages design is the key to a brand's popularity and fans close engagement.
We've already examined best showcases of creative incorporation of brand design into social media. In addition to attractive business pages, brands also organize stand-alone campaigns on Facebook devoted to a new product launch, sales and important events such as company anniversaries.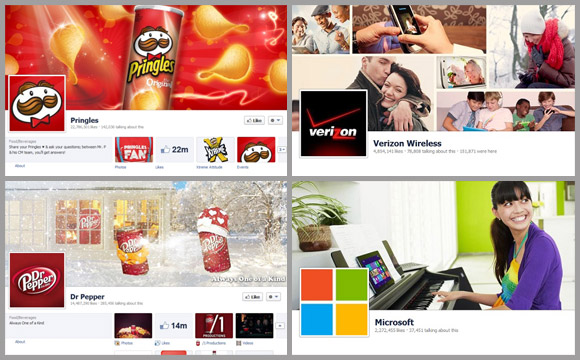 Now it's time to examine top 10 successful promo campaigns on Facebook that brilliantly integrated their appeal into a special design on their Facebook pages.

10 Properly Designed Promo Campaigns on Facebook
First, let's define the criteria of what significant elements make up a successfully designed Facebook campaign:
Cover photo: A cover photo is one of the best helpers to inform your audience about brand news and upcoming events. Some intricate details on their usage are listed below.
Timeline images: Timeline images include branded content, coupons, QR codes, etc. An unusual approach to distribute important content and info in the form of images on the social network increases fans' engagement.
Milestones: A creative add-on is also able to constitute a harmonious design biosphere of a Facebook promo campaign.
Apps: Promo apps fit the overall design, educate or entertain the Facebook audience, they also inform about news, upcoming events or new services.
Events & Contests: Offline promotional meetings are an integral continuation of marketing activities in social media. Contests ensure maximum reach of the audience that will 100% include a fan's friends there for broadening your potential audience.
If all these puzzle units merge together (or at least the chosen ones will be joined perfectly), you'll get thousands of fans who will eye-worship your page and many loyal clients who will stream to your website or store, longing for a new product, service or special offer.
Now let's look at some Facebook pages for the best design examples of promo campaigns and analyze their tricks.
Subway
Subway successfully manages two Facebook promo campaigns: Avocado Season and ANY campaigns.
The first Avocado Season in Subway campaign was focused on the healthy eating culture that considered consuming fresh products. All design efforts were concentrated on this topic: green and white colors prevailed in the layouts during that period. Subway published avocado meals recipes by their chef-cook in the form of photos. Certain images were pinned to the top of the page to attract more attention.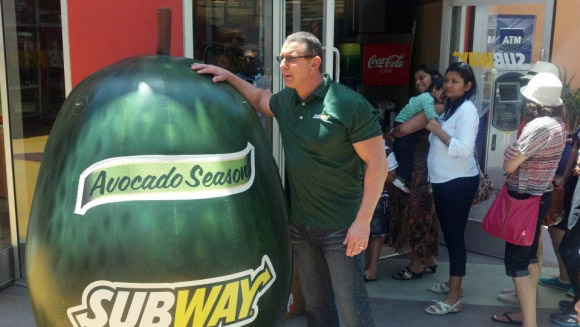 The second Facebook campaign launched by Subway – ANY – utilizes all possible visual promotional means provided by Facebook like cover photos, a special tab with discount coupons, offline events and contests for fans. ANY displays tasty food, popular holidays and other important occasions in which all people are able to take part. Bright colors and interactive apps helped the company win new fresh meals ideas.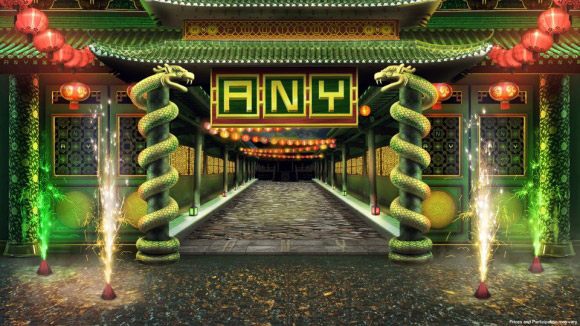 Microsoft
Microsoft started Windows 8 promotional campaign on Facebook. This is one of the most carefully designed product launch campaigns in social media. The company advertises new devices like Windows Surface and the next-generation OS Windows 8.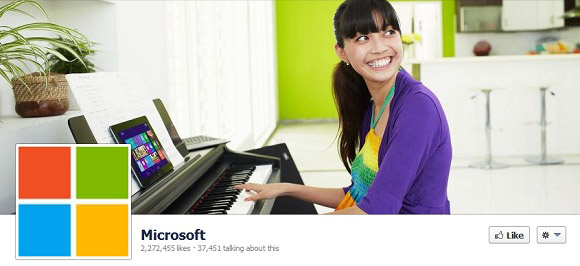 All visual elements display thenew Modern (Metro) style. Their look and feel are transmitted via all images, photos spotlights and videos. Besides, Microsoft have crafted a special app – Windows PC Finder in a similar corporate rainbow tile style.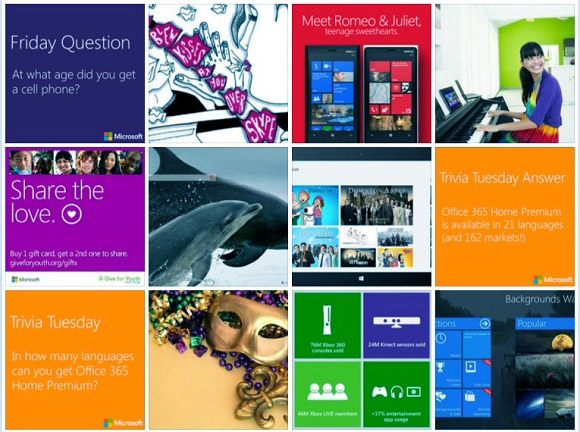 Verizon
The Verizon motto on Facebook is Share your life as it happens. The company preaches a doctrine of a personal approach to each client. They do stick to this approach in their Facebook page design. Verizon compile pure photos into photo collages, apply Instagram style and promote even local events in many towns on their Facebook page in order to be closer to the users.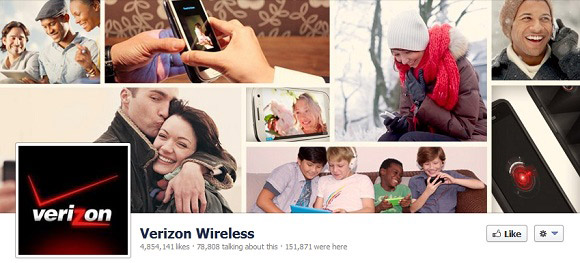 Verizon organized one of the most brilliant promo campaigns with the help of a Facebook cover photo and Verizon page activities. Verizon asked fans to submit pictures taken with their Verizon mobile devices. Each day, Verizon rotated its cover photo using the fans' images and a picture of the fan who took the photo. A very personal approach made thousands of people watch the page in suspense.

Skittles
Skittles take advantage of user-generated content on Facebook. The company mixes all visual components like cover photos, apps and contests.
Recently, they've started the "Greatest Fans" campaign on Facebook. Unlike Verizon, Skittles decided to insert user photos into their branded background in such a way that each picture matches brand style guidelines. Each fan's pic is highlighted, so images straightly indicate a fan's attachment to the brand.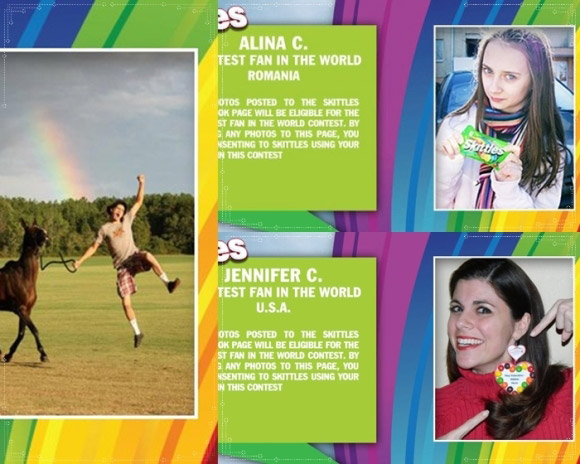 JESS3
JESS3 is a creative agency which promotes their own data visualization and visual story-telling services in social media. A smart usage of images, pins and arrows gives a stunning visual effect and solid audience involvement. An image itself attracts fans attention and if you put an incomplete image, you'll cause curiosity.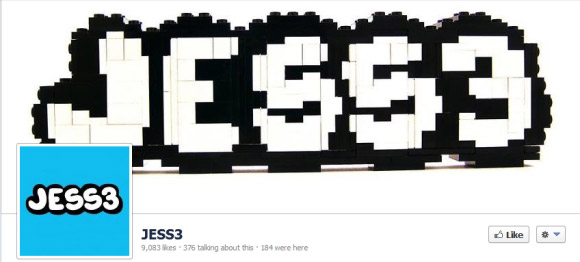 Since the agency is famous for its unconventional and funny infographics, JESS3 show only a part of work, so to say – visual teasers of their design. Meanwhile, the full infographic picture is provided at their website which makes their users parade there.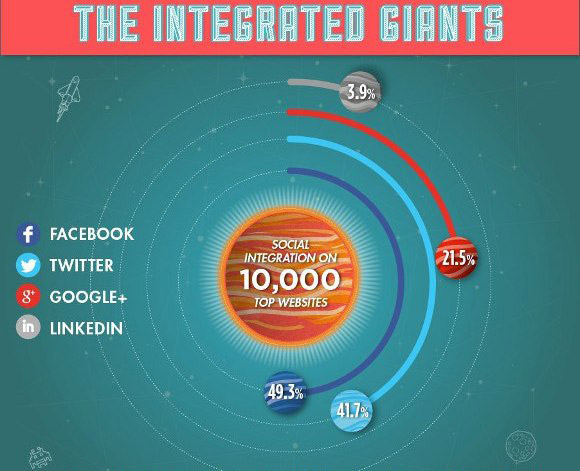 Fanta
Fanta hold the "Fanta in 3D" campaign. It's a unique example that illustrates the use of a cutting-edge technology in Facebook images. Fans can put on 3D glasses to view Timeline pictures from different angles. In addition to 3D branded content for fans, they also enrich Facebook page with apps, video commercials and Facebook game named Fanta Fruit Slam. Fanta paints all types of visual content into brandedsunny and joyful colors: orange, yellow, red.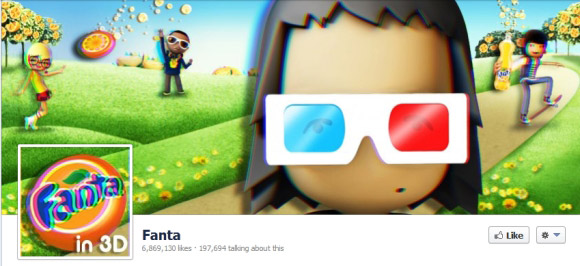 Fanta also cleverly use the Facebook Timeline layout and the Milestones features to actively engage both existing and new fans. Fanta highlights its youth-oriented characters and is proud of the drink history. Fans can jump in the timeline through the decades, browse pictures in the years like 1956 and 1988.
Milestones work best when they are accompanied by vivid visuals. If you do not have an appropriate graphic that tells the milestone story, any visual that displays the milestone essence is often much better than no visual at all.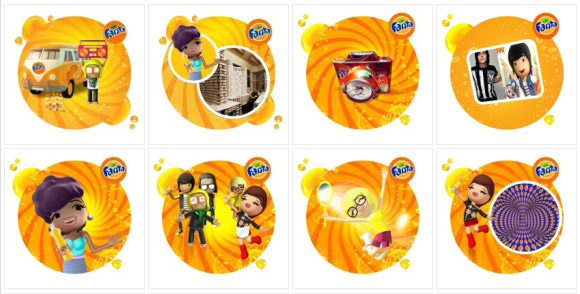 Oreo
Oreo celebrated its 100th anniversary in 2012 and designed a Facebook special campaign. The goals were to strengthen the brand's popularity and engage more fans. Catchy images as a cover photo or Timeline photos also did their work.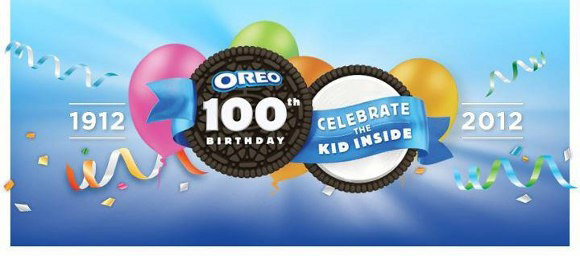 On its Facebook page, Oreo preserves the corporate black / blue / white color scheme for all elements: image spotlights, cover pictures and profile apps. The Oreo unique design on Facebook is easily recognizedby everyone.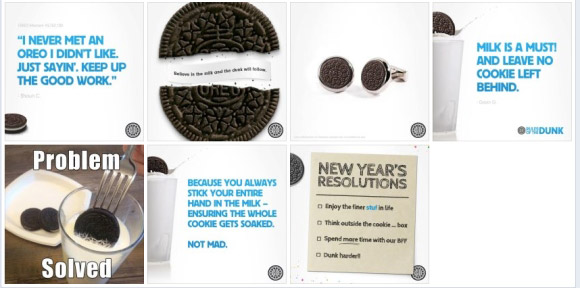 Evernote
Evernote regularly inform their fans about two current promo-campaigns – Evernote Food and Evernote Ambassador. Their Facebook page updates include photos, videos and events. On the one hand, in its photos, Evernote Food follows the so popular Instagram and Pinterest style and displays food in fine fashion. On the other hand, Evernote Ambassador campaign unites personal fan content (photos) and branded backgrounds.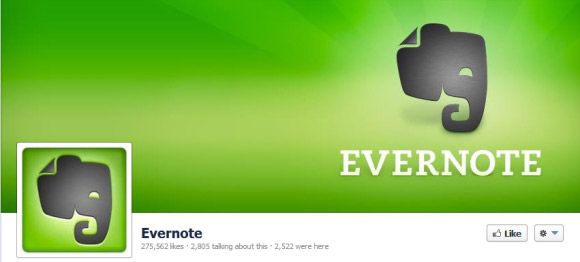 In a word, the company puts essentially different design approaches into practice to reach different audiences.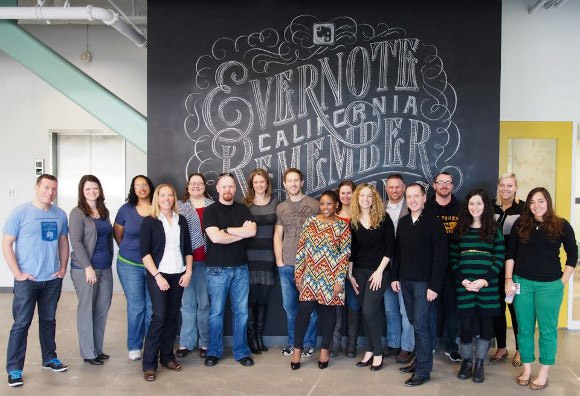 Dr Pepper
Dr Pepper is a drink for young people. The brand tries to be up to modern teenagers' standards, so they published customized memes, funny quotes, celebrity-related content, polls; they also hold events and sweepstakes for fans.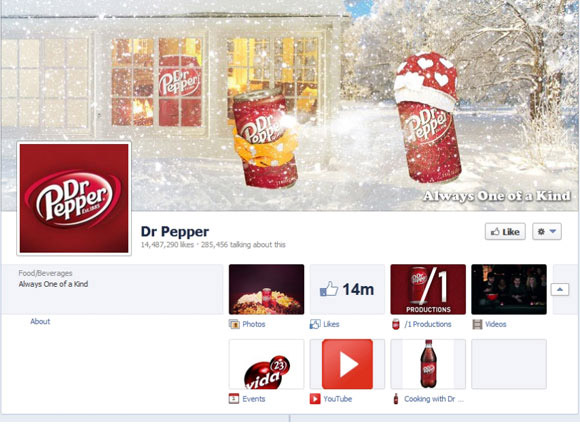 DrPepper is one of the best examples of the unified branded design where all Facebook content elements match each other like puzzle stones.

Pringles
Pringles follow the Dr Pepper pattern and emphasize the product in each creative image like cover photos, Timeline pics, videos, apps, etc.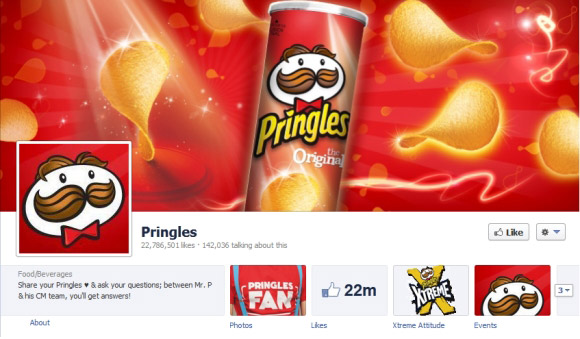 Pringles conduct their Facebook campaign with the What if topic. This method allows the brand to associate its products with the latest current events. For instance, What if Pringles got an Oscar? On the eve of the most important Hollywood ceremony, Pringles tweaked red carpet photos and placed chips instead of actors.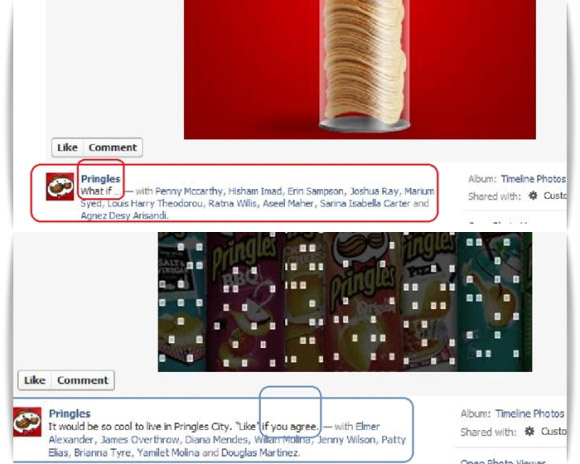 Thus, the branded style gets modified but meets the core design principles. Such creative variety lets the fans associate Pringles with something new and always up-to-date.

Conclusion
To sum up, many objects vs. few objects, multi-color or monochrome, bright or pale, everything could be a remedy to attract more fans. One can think up a bunch of promotional variants. There are many visual elements and design approaches to express your brand vision, inform about various company events and new products.
What other creative examples of Facebook page design would you add to the list?