This is a sponsored post.
When it comes to settling on a steady source of images to employ in your designing, marketing or writing work, you'd like to think that you've made yourself a good deal. There are many agencies that provide quality stock images, media and design elements, including illustration and photos. But do you know which one of them best suit your needs?
The following selection outlines several stock photo agencies of the moment, for your consideration. This list is meant to provide a global perspective in regard to the industry of stock images, and to serve as a guide if you're trying to assess what the best choices really are. I hope that you'll find it useful.

Top Stock Image Agencies
Fotolia
For starters, I present to you number one in my preferences: Fotolia. So far, over 24 million stock photos reside in their vaults, which have been diligently gathered since 2004. Presently, 4 million professionals vouch for Fotolia's flawless services and low prices.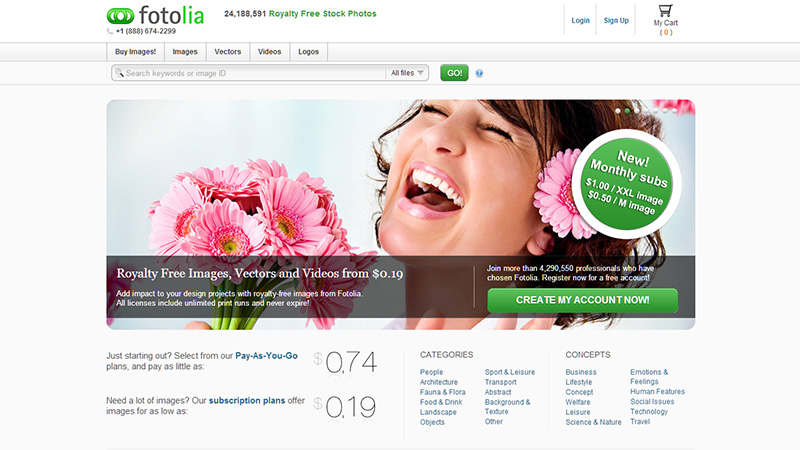 You don't need to sign up in order to roam around their many video, vector, and image collections. When you see anything you like (and you doubtless will), you can go the classic route of credits, or choose a subscription plan.
With the On-Demand credit packages, one credit is the equivalent of $0.74, and it expires only after 365 days after it's been bought. Furthermore, Fotolia's credit system gives you access to Extended Licenses. Besides, the Low Cost Collection yields approximately 12 million images, and the user can save up to 60% by purchasing files for 1 to 6 credits (according to size).
In terms of subscriptions, an Individual or Multiple Membership can go for a Daily or Monthly plan. The Daily option is ideal for users who need a consistent inflow of images at a low cost of up to $0.19 each, and allows for a rate of 25 to 250 downloads per day. Alternatively, Monthly subscriptions don't impose a limit on daily downloads, but require a general monthly one instead, which can be anywhere from 5 to 5000.
Cool fact: if the user fails to use all of the assigned downloads in a month, they Rollover to the following month's quota. Second cool fact: if you click the Fotolia image above, you'll see the BOGO offer which states that, for a monthly subscription of $25 for 5 images, the second month is free. Click on the image above for the direct link.
iStock
iStock doesn't require any introduction. They're titans of the stock photo market, having first launched in 2000 as the first ever microstock agency. With an accumulated experience of 13 years, the experts at iStock have compiled 6 million exclusive files categorized in photos, audio files, video footage, vector illustrations and Flash media.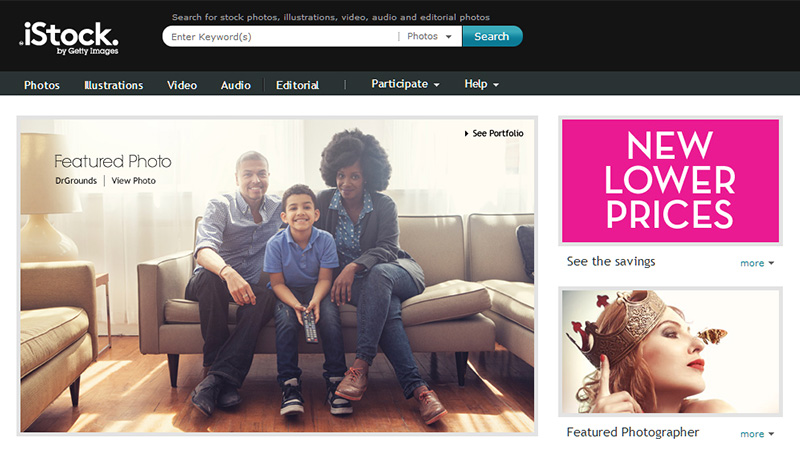 Be sure to check out their newest installment: if you go to their homepage, you'll see that iStock sells half of the files from their exclusive collections at half their original price. This is a unique offer. Apart from this great opportunity, taking a peak at the Editor's Picks section will most likely reveal the richest images you've ever set your eyes on. In addition, the Lightbox is definitely worth a visit from time to time, seeing as several free images are added there on a weekly basis.
Seeking something specific? iStock has the most comprehensive search tools I've ever encountered, which guarantee an extremely refined quarry. The payment options of iStock fall along the traditional lines of credits and subscriptions. Their credit bundles are based on credits starting from 15 to 30.000, and savings of up to 25%.
At checkout, the user can punch in the code ISTOCK14, and thus gain a discount of 14% for any image acquired via credits. Tap into the link in the image above for a direct path to using this advantage.
123RF
I was looking forward to including 123RF in our exclusive selection. They take pride in their 22 million photos, vectors, audio and video files, and I love what they have to offer. Day in and day out, 123RF relentlessly gathers 35,000 new files of top-notch quality to enrich their collection. Some of those crisp additions are submitted by professional contributors through a mobile application named 123RF On-The-Go, and they look gorgeous.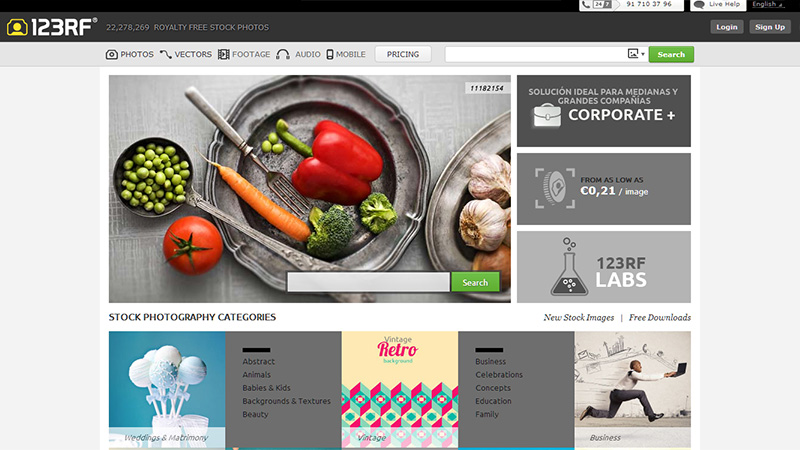 You're probably going to be as exhilarated about this as I was when I first found out: 123RF has a freely available section comprising of 30.000 images and other file types (audio files, digital arts, and graphics). As if the free access to a large number of works is not singularly attractive in itself, 123RF also takes its 100% Money-Back guarantee very seriously. According to their refund policy, if the user is not satisfied with a purchase, he/she can signal this within 72 hours and get their money back.
Sealing the deal with 123RF happens with credits or subscriptions. There are two subscription options, namely Basic and Premium: the longer the pledge to work with 123RF stock images, the bigger the savings per file, and the larger the allowed download rate for one day. Aside from subscriptions, the credit system is concentrated in an 'On Demand' plan which comes with an unlimited number of daily downloads. All in all, 123RF is one of the best stock image providers out there.
Dreamstime
Dreamstime is like a designer's dream-come-true. Their 18 million-strong bank has been growing and growing since 2000. With each new passing day, more thousands of files are admitted on the website by a hawk-eyed selection team. The most enticing thing about Dreamstime, however, is the fact that they grant their designer customers access to a section where several thousand stock images are put up for free download.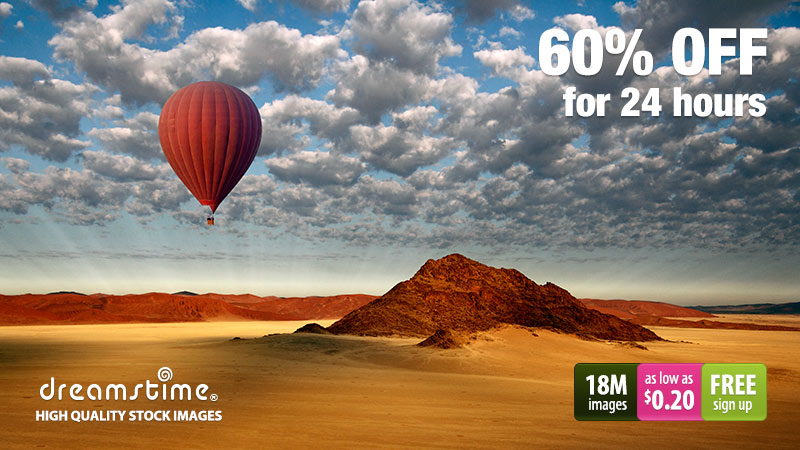 Regarding their costs, you'll notice that Dreamstime's pricing page automatically converts the currency of their services' worth according to the visitor's area of residence. The agency relies on credit and subscription systems, with a minimum of 11 credits, and respectively, 750 downloads in a month.
Furthermore, new customers can get a 60% discount on all image prices for 24 hours after signup.
Bigstock
Bigstock is one of my favorites. They have much to offer with their appealing 14 million photos, illustrations and pixel-perfect vectors. I hope you're paying attention, because this is something you just don't want to miss out on: anyone can take up a 7-day Free Trial which allows for 5 downloads in any size every day, and no charge is attached to re-downloads.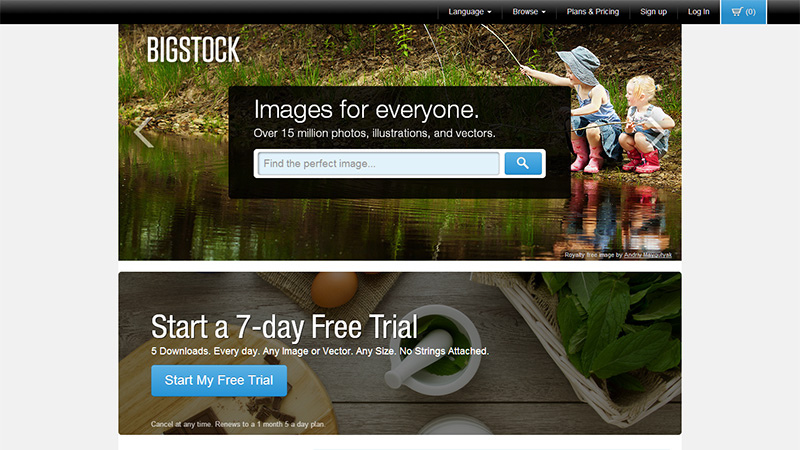 Besides, you can cancel the whole thing at any given time. If you become a member, the credit system yields discounts of up to 27%, whereas an annual subscription plan with a daily download rate of 5 costs as little as $0.35 for an image.
Thinkstock
Thinkstock is such an alluring source for stock images. A brand of Getty Images, the agency partnered with iStock and Jupiterimages to compile a massive reserve of photos, illustrations and vectors. One of the perks of signing with Thinkstock is that the price of an image does not scale along with its chosen download size.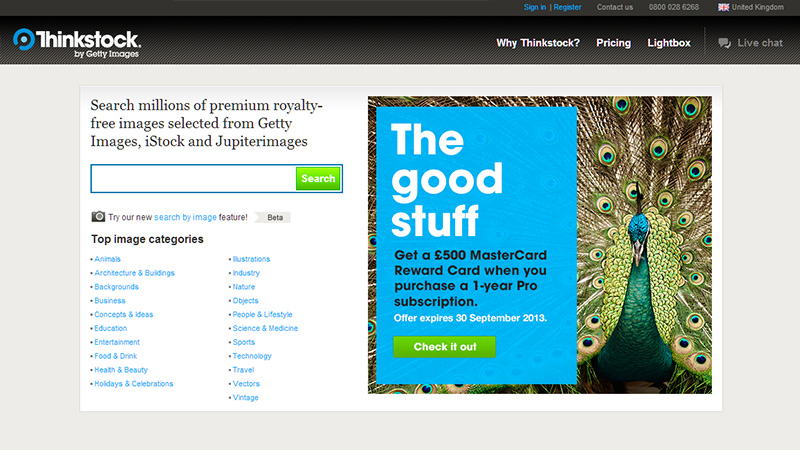 Moreover, the month of September is associated with a handsome offer: a $750 Visa Reward Card on activating an annual Pro subscription plan. Besides, Thinkstock's customers can save 20% off the Pro yearly option with the code R4HPC46N, and 60% off a monthly subscription with GTDPC46N. As you can see, the reasons to go to Thinkstock are manifold.
Depositphotos
Further along the list of my precious mix of stock photo agencies, Depositphotos receives both thumbs-up. With their 17 million vectors, videos, and photos, you're sure to find anything you need. I'd like to stress their collection of vector illustrations, adding up to 4.600, and the fact that one illustration is offered free of charge as a weekly routine.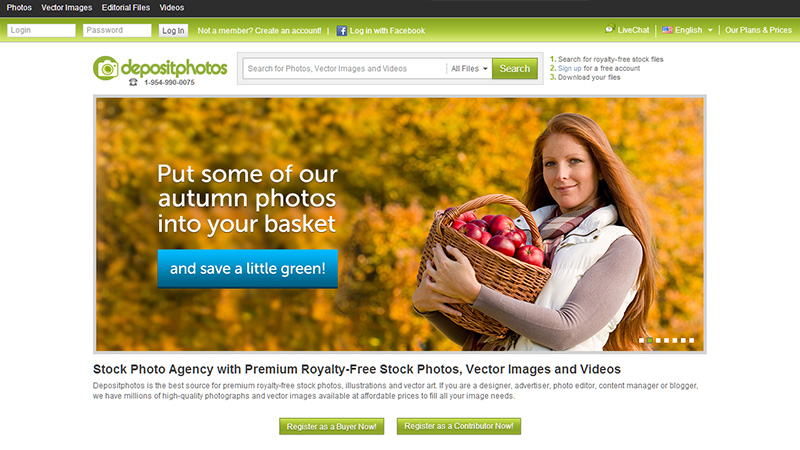 What is more, you need to know that the Depositphotos' Sales Lightboxes has a comprehensive selection of images that are in tone of the season, and those images are offered with a discount of 20%. The users can either Pay-As-They-Go by credit, or take up a daily/monthly subscription.
Cutcaster
Cutcaster is certainly noteworthy, being an exclusive source of royalty-free vectors, illustrations and photos, which are neatly organized according to topic. Meet the Crescendo Collection, which is comprised of 920 files that you'll definitely want to see, and their picture collections are just as amazing.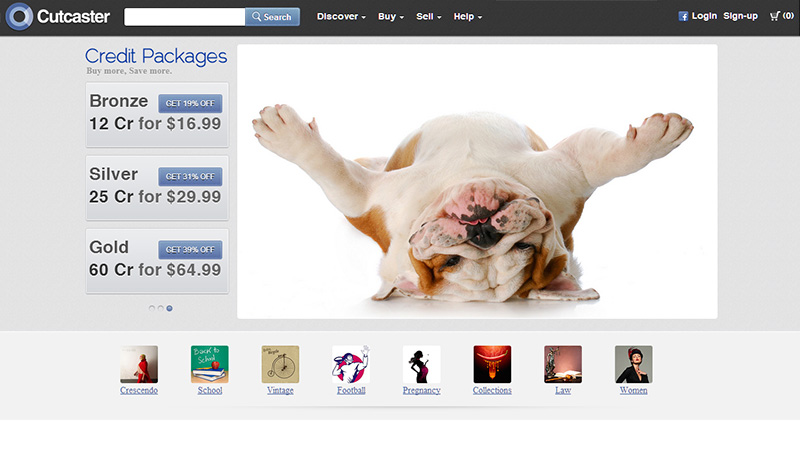 But don't take my word for it, pay them a visit. There aren't any strings attached: you don't have to sign up for anything from the start, just Pay-As-You-Go. And this can go on indefinitely. However, if you do register, you can choose either one of the bronze, silver, gold and customizable bundles, which are associated with discounts of up to 49%.
Stockfresh
Stockfresh is an old crush of mine. The reason why I'm so particularly fond of this agency is that helped me save a lot of time. How? The user interface is super-friendly and easy to use, while the search box finds the perfect object of your quarry without much ado. 2 and a half million stock files are placed by Stockfresh at the user's disposal, out of which the 300.000 vectors are a gem.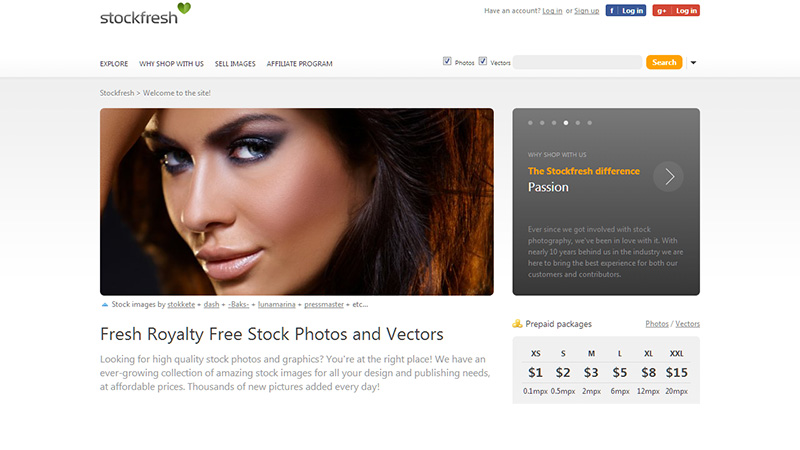 If you wish to become a member of their community, you can buy credits starting from $4.99 each, or go with a monthly subscription with a minimum value of $99. Trust me, you'll get your money's worth.
PhotoSpin
I also have a soft spot for PhotoSpin, an agency that has amassed 3 million awesome stock photos and illustrations in two principal collections. The largest of these is the Expanded Collection, which altogether holds 2.4 million files. It can be accessed with a payment plan that is customized according to 4 categories, 4 options (1, 3, 6, or 12 months) and 16 subscription plans.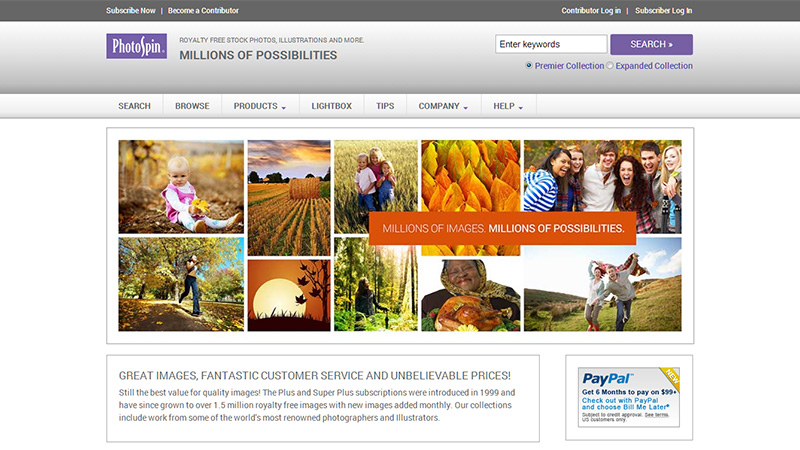 The Premium Collection may be smaller, but it's fine: depending on the size of the JPEG and EPS files that users choose to acquire, the options are split into Plus and Super Plus. Either way, getting in league with PhotoSpin is a good idea.
Conclusion
Whichever of these stock solutions you may choose to follow up with, chances are that they will help you do a great job. If you design, keep a blog, own any kind of website, or write for a magazine, you recognize the importance of integrating images which add visual relevance to your projects. So be careful when you look to settle for one web source.