Finding the perfect theme for your WordPress website is not easy when you have to browse thousands of choices. To make things worse, most of those themes on WordPress database and third-party marketplaces are unreliable and ships with poorly coded designs.
Don't you wish it would be easier to just build a theme yourself? But, who has the time to learn programming, web design, and write code for days to develop a WordPress theme, right?
Wrong! You don't have to do any of that. All you need is this awesome WordPress theme/page builder called Divi and you'll be able to design your own themes without typing a single line of code.
What Is Divi Theme?
Divi theme is a WordPress theme that also doubles as a visual page builder. The theme can be used as a theme of its own or you can use its page builder to customize and create your own designs as well.
Divi theme is developed by Elegant Themes and it gets powered by their Divi Builder, a lightweight and a powerful page builder that allows you to design landing pages and themes using a visual live-editor. Or you can use Divi child themes to setup a design that suits your website.
Here are some of the coolest features of the Divi theme.
Main Features
Even though Divi theme comes with only over 20 pre-designed layouts, you can find thousands of great Divi child themes through third-party marketplaces. Followings are some of the coolest looking Divi child themes that we've stumbled upon while browsing the web.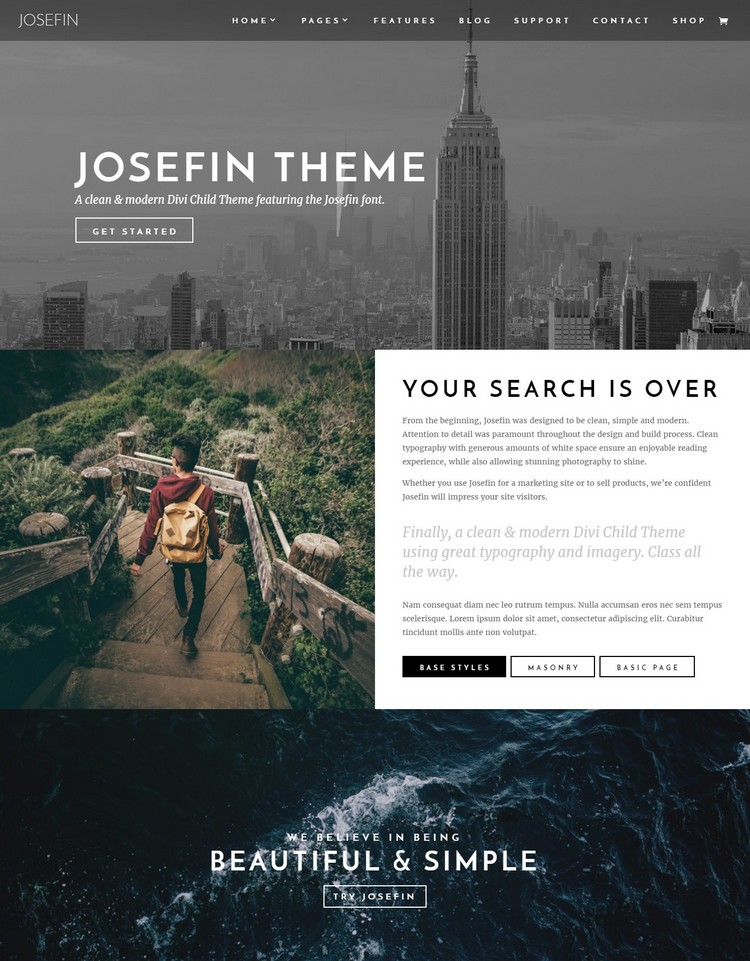 Josefin is one of the most beautiful Divi child themes we've seen. It has a unique and a modern design that follows current web design trends and features a number of engaging animations and effects that make the theme even more amazing.
This theme is ideal for a small business or an agency website. It comes with over 5 custom page layouts, Twitter and Instagram feed integration, and a number of other unique elements.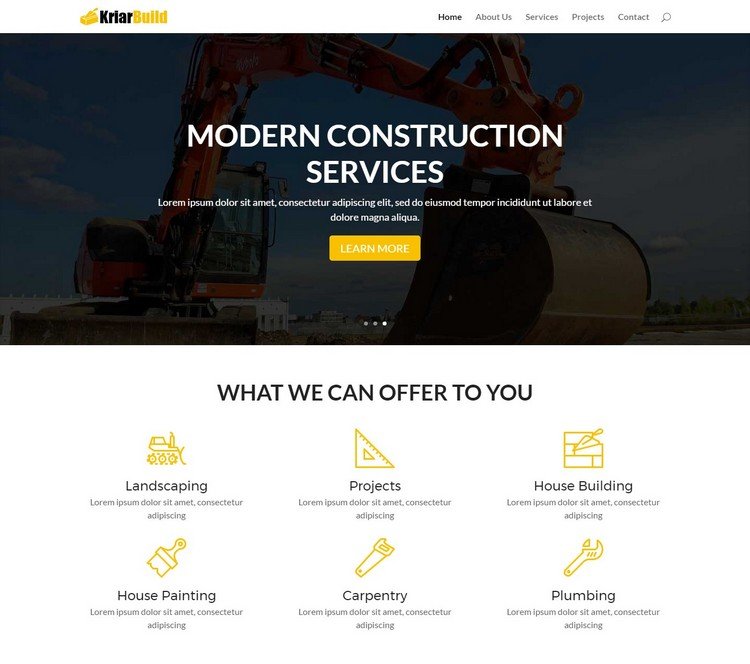 A professionally crafted Divi theme for construction and building companies, the Kriar Build Divi child theme comes with an affordable price tag and a fully responsive design. It also features an attractive slider on the homepage with a call to action as well.
The theme includes 5 pages for about page, contact page, services and more. To increase engagement the theme comes with various hover effects.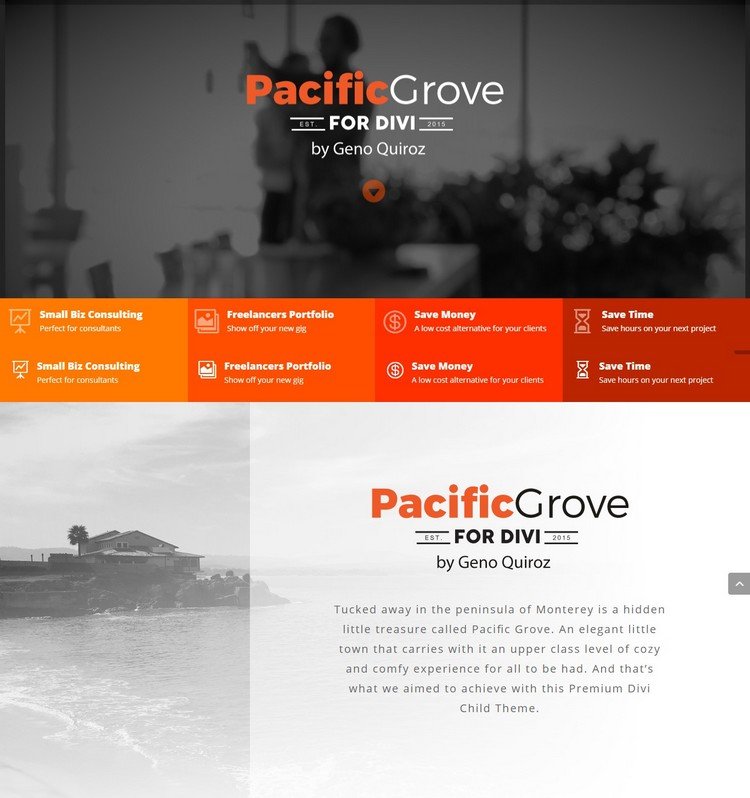 This premium Divi child theme is designed to be used as either a landing page for an agency or a portfolio page for an individual. It features a great modern design with a video background for quickly grabbing the attention of the users and offers a smooth and a streamlined experience for the visitors.
The theme features 9 custom pages as well as a functional contact page, a custom menu, custom headers, footers, and much more.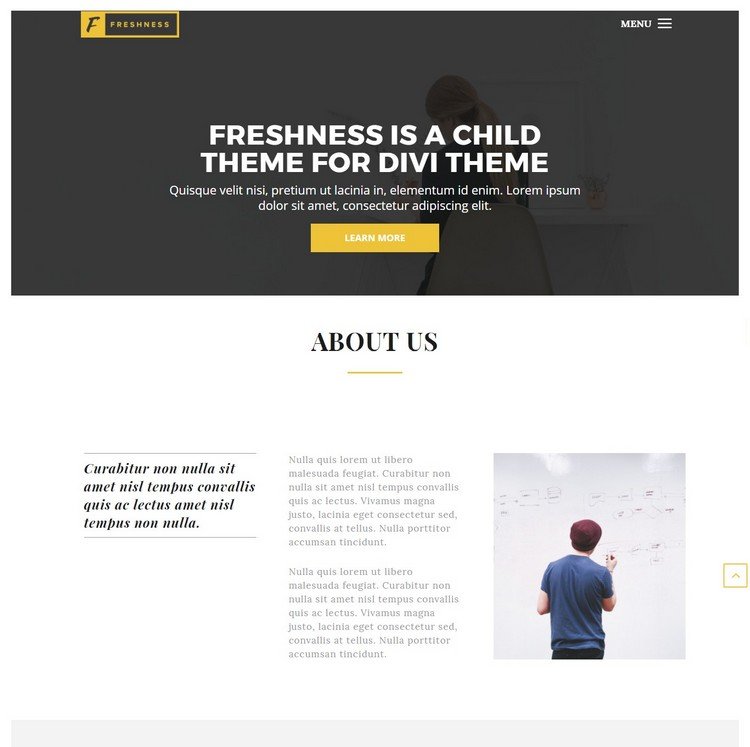 Freshness is a portfolio theme for freelancers and professionals. It comes with a minimalist and a stylish design for showcasing all your work, services, and testimonials all in one place. It also has a functioning contact page to let your potential clients quickly contact you for work.
The theme itself features a one-page design and it looks great across all types of devices and platforms.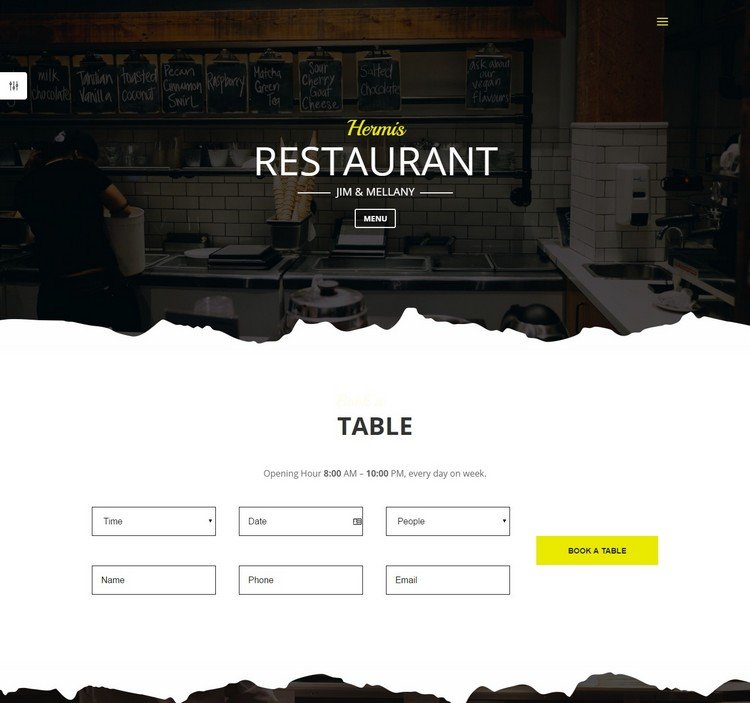 If you're setting up a website for a restaurant, this Divi child theme may be the perfect theme for your website. The DiviRestaurant theme not only features a gorgeous design with a beautiful menu for showcasing different food items and an events section, but it also has a unique "book a table" form that will allow your website visitors to book a table at your restaurant from the website.
The modern and effective design of this theme will certainly add more value to your website as well.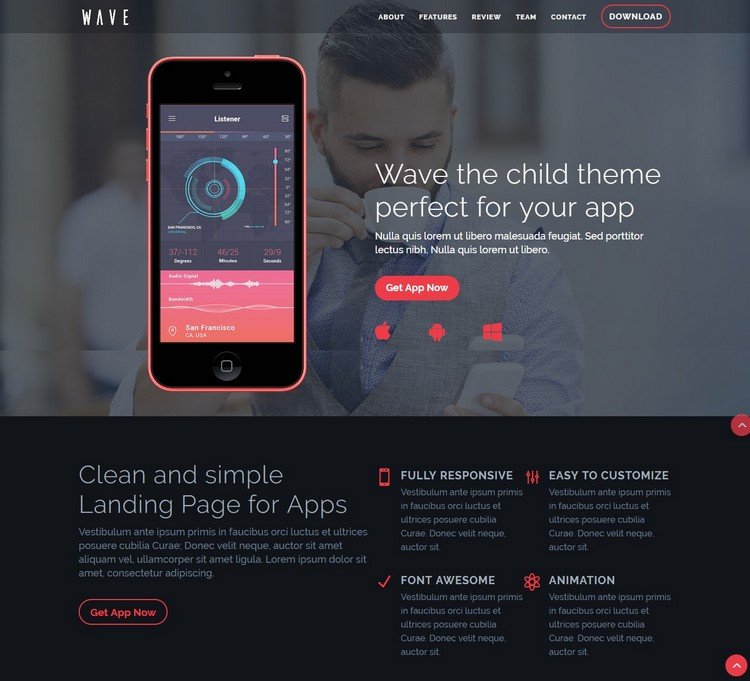 Building a landing page for your brand new app? Then you might want to check out this great Divi theme. Wave Dark is a landing page theme that's been designed for showcasing and promoting mobile apps.
The theme itself has a one-page layout and features a dark and an attractive design that instantly steals anyone's attention. Wave Dark theme design comes with all the necessary sections for showing off your app features, functions, downloads, along with app screenshots. This Divi theme is fully responsive and comes with lots of great features such as CTA buttons, opt-in forms, and more.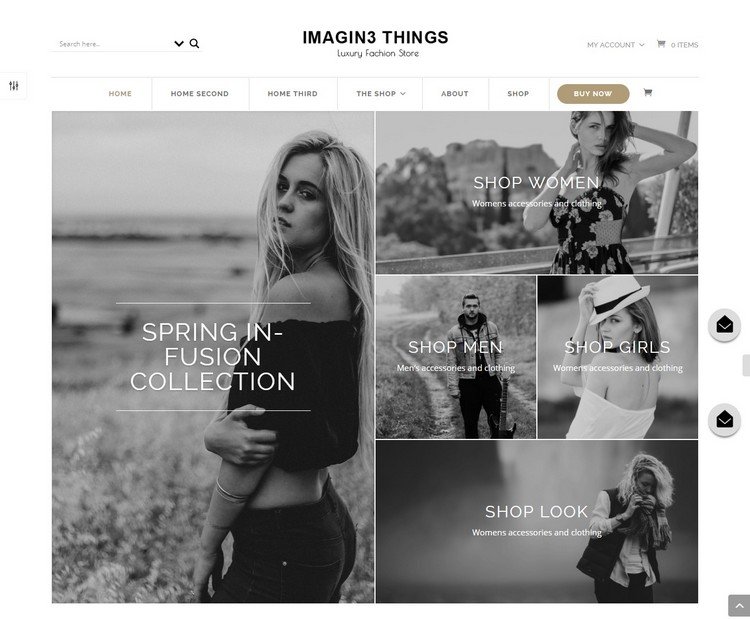 DiviWoocommerce is a gorgeous Divi child theme ideal for building a luxury brand or product website. Even though the theme comes with a hefty price tag, the brilliantly designed theme and its special features make it worth the price.
Some of the theme's main features include support for WooCommerce plugin. Which means you can use this Divi child theme to sell your products online using WooCommerce. In addition, DiviWoocommerce comes with a live chat system, a shopping cart in the sidebar, and you'll also be able to choose from 3 different homepage layouts and easily customize the theme with its color switcher as well.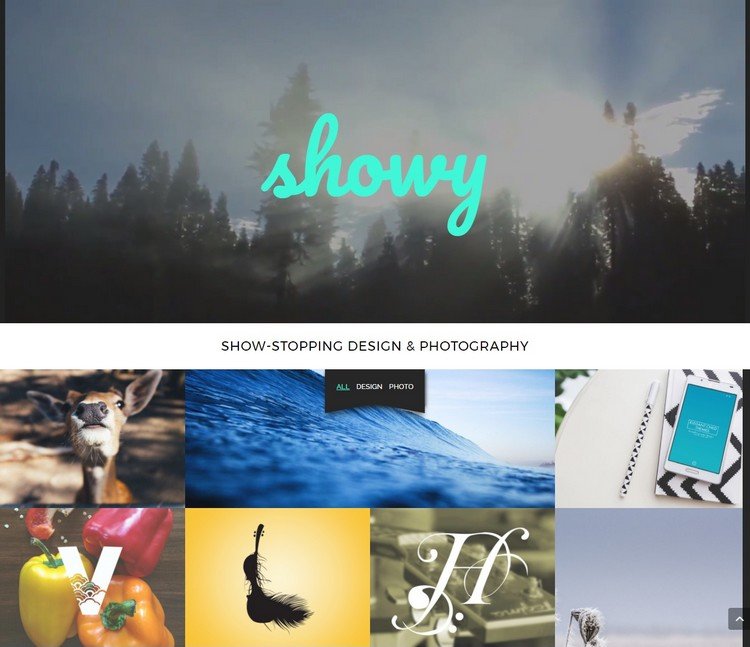 Showy is a simple yet an elegantly designed Divi child theme for freelancers and professionals. It's a portfolio theme specifically designed for photographers and designers.
The theme features a header with a video background and includes a large image gallery section for visualizing and showcasing your work under different categories. When you click on an item in the gallery, it will open up the image in its own page where you can include more details and images about the project you've worked on.
Showy doesn't have a ton of great features, but its simplicity gives it a certain originality. Making it quite a unique theme.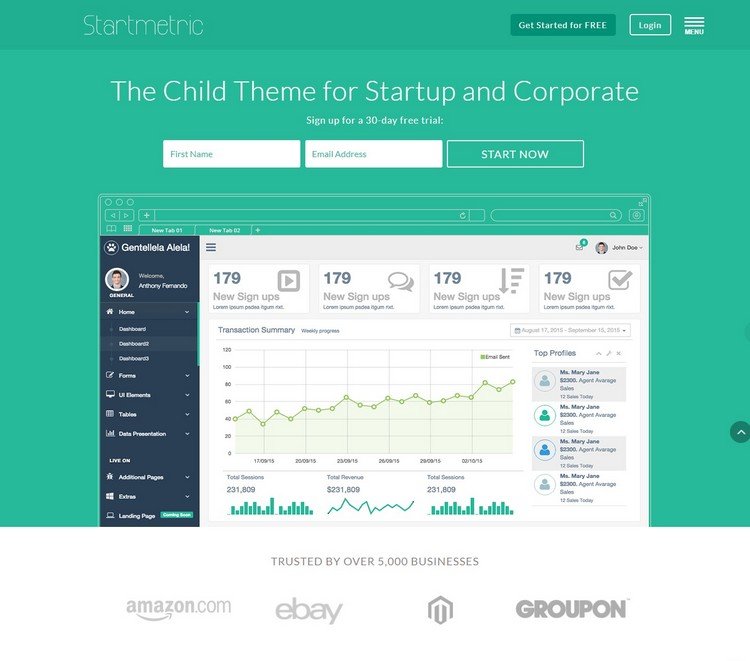 Startmetric is a theme that doubles as both a website for startups and for promoting a product. You can use this Divi child theme to generate leads and let users sign up with your service or app while also using the theme to tell the story of your startup and your team.
The theme comes with an integrated signup form, a login page, two contact pages, a page for case studies, a pricing table, and much more. Above all, the beautiful modern design of this theme makes it fit in with any type of an online startup as well.
Startmetric theme is fully responsive and features an app-style look for mobile devices.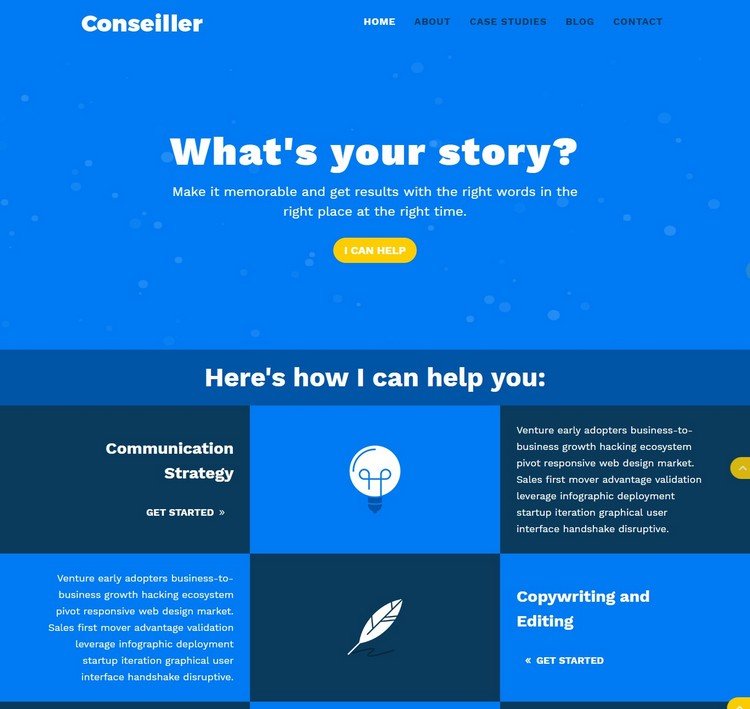 With its beautiful homepage featuring a stylishly animated header and its stunning animations, Conseiller aims to be the ideal theme for setting up a website for freelancers and consultants.
This theme has been perfectly designed for streamlining your experience, your skills, and your portfolio all in one design, making it the perfect theme for promoting your services. The Conseiller theme also comes with custom pages for a contact page, case studies, a blog layout, and many others.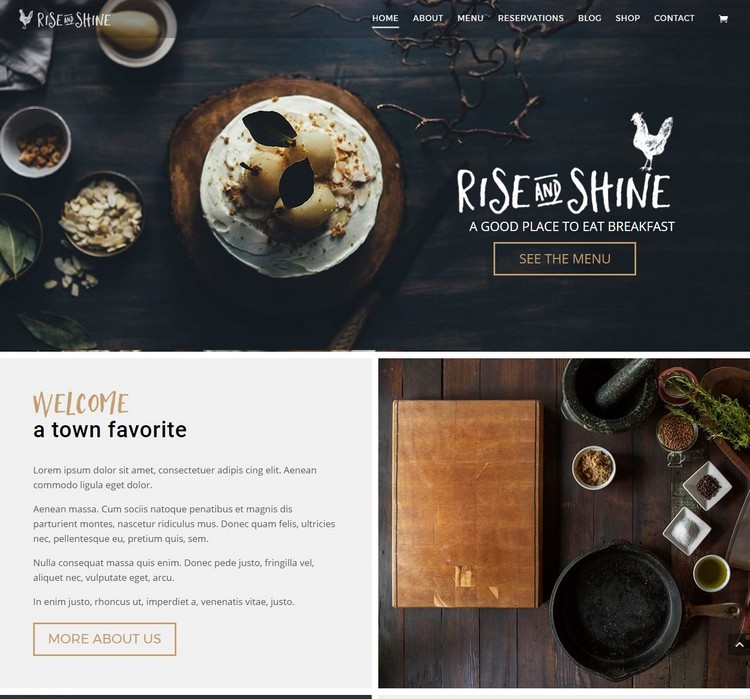 Rise & Shine is a modern Divi child theme designed for restaurants and coffee shops. The theme heavily relies on images, which will give you a chance to attract the audience with beautiful pictures of your shop and food items.
The theme also includes a reservations form for reserving a table at the restaurant online. It also includes a blog and a shop layout as well.
This Divi child theme is crafted for creative agencies and startups for showcasing their services more effectively. The Kriar theme features a number of sections for introducing your audience to what you do at your company, your team, your services, pricing plans, client testimonials, and much more.
The theme comes with 5 pages with 13 sections and lots of CSS animations.
Get Divi Theme 20% OFF
Of course, you'll need to get Divi theme first before using these child themes. Divi theme comes to you as a part of the Elegant Themes membership program. When you join the Elegant Themes membership, you'll get access to not only the Divi theme but all the other themes and plugins developed by Elegant Themes.
Elegant Themes membership starts at $89 per year or $249 for lifetime access. However, you don't have to pay full price. Using our Coupon Code you can sign up with Elegant Themes at 20% OFF.
You should never settle for poorly designed themes when you can build a theme by yourself within a few minutes. Whether using child themes or designing your own landing pages, Divi theme is arguably the best choice for WordPress websites.