We have compiled a list of best Angular templates for you. These offer you to start your web application and help you build a powerful and practical administration panel.
Why complicate things and go through the entire setup process from scratch? there are the ones that target a specific industry.
However, all angular templates are fully customizable, so you can create the exact admin panel you are looking for. All elements, components, and plugins cooperate particularly well out of the box.
Also, you will find that each web design works on all modern web browsers and devices like a dream. In short, performance will always be flawless, no matter where the user comes from.
For creating an easy to use and manageable application, you can win the game with choosing correct Angular template. Each alternative is a unique package of useful material that ranges from design to practicality.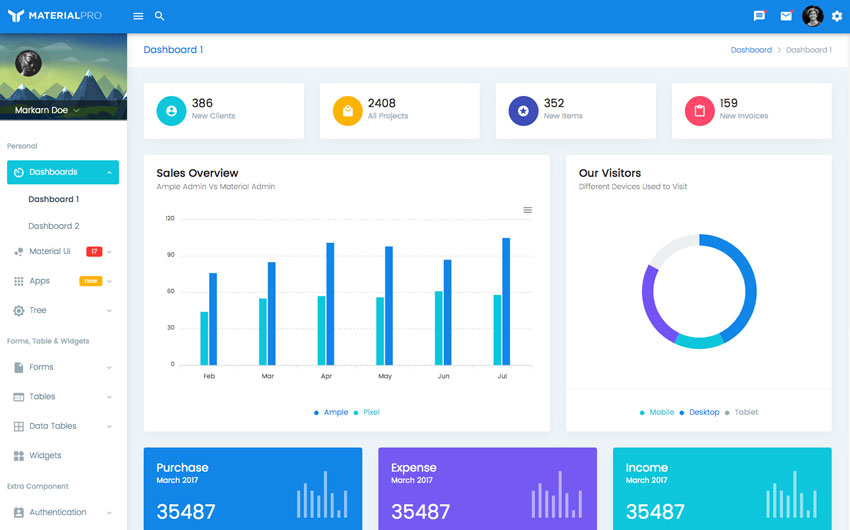 MaterialPro Angular Dashboard is one of the most vibrant, reliable and creative templates. This particular premium angular admin dashboard template has the design inspired by Google's material design principles that is useful and handy to create a stunning user interface for the subsequent commercial applications and websites.
Another important aspect of this template is, it's easy to customize options and fully responsive Angular CLI template that uses Material components for its designs and re-styling plugins for maintaining consistency in design. The angular material theme is based on the Angular Material framework that uses angular components and UI elements.
The seamless experience provided by MaterialPro Angular Admin Template is appealing and thought-provoking.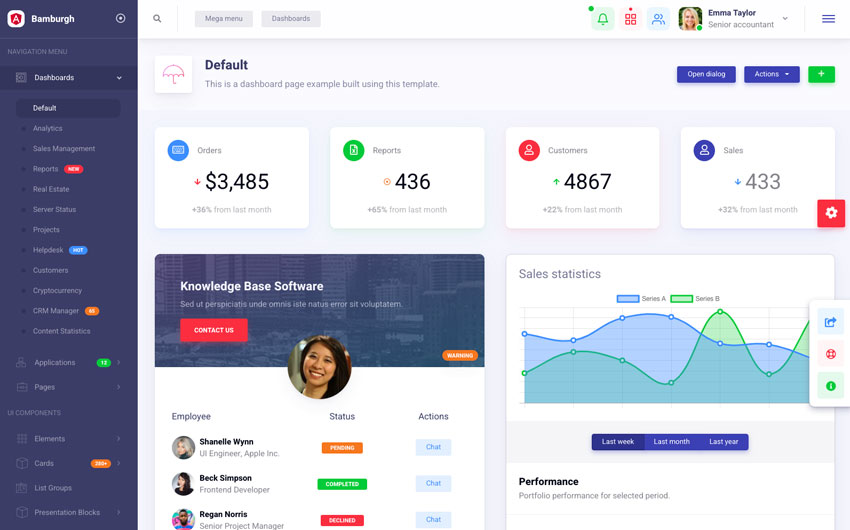 Like the other tools in this collection, Bamburgh is easy to use and comes with all the must-have designs and services to get you started that are sure to set you apart. You can even create landing pages.
This is based on modular design concept and comes with some nice and unique page templates. The code is neatly crafted as well. This can be a good choice as well.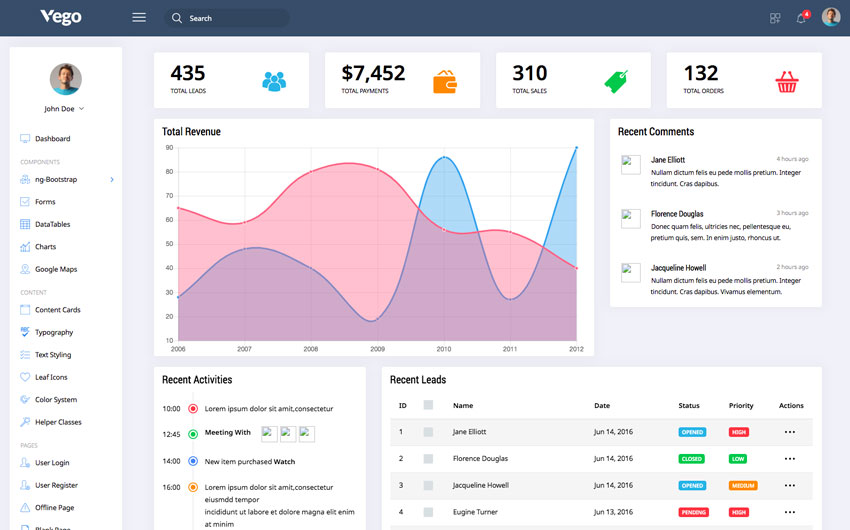 With seven different designs, you are sure to find the look to suit your meticulous taste. You can go with a minimalist approach, dark style, light mode, whatever you want.

The options are there. Vego also supports RTL languages. The endless kit of practical features will make a difference when it comes to building your project administration panel. Mix and match and go from there.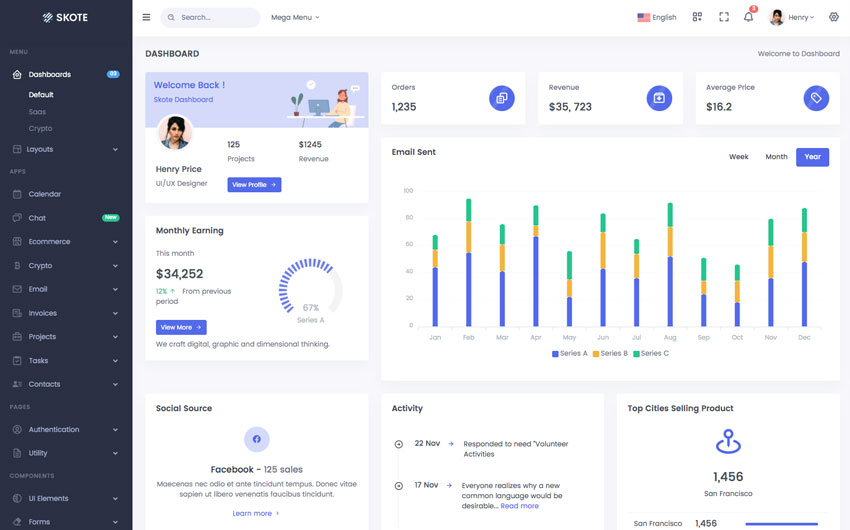 Skote's code is well structured so that every developer benefit from it greatly. Which means that whatever customization you want to do, it will go smoothly.

Enjoy the performance and all the significant assets that Skote has in store for you now.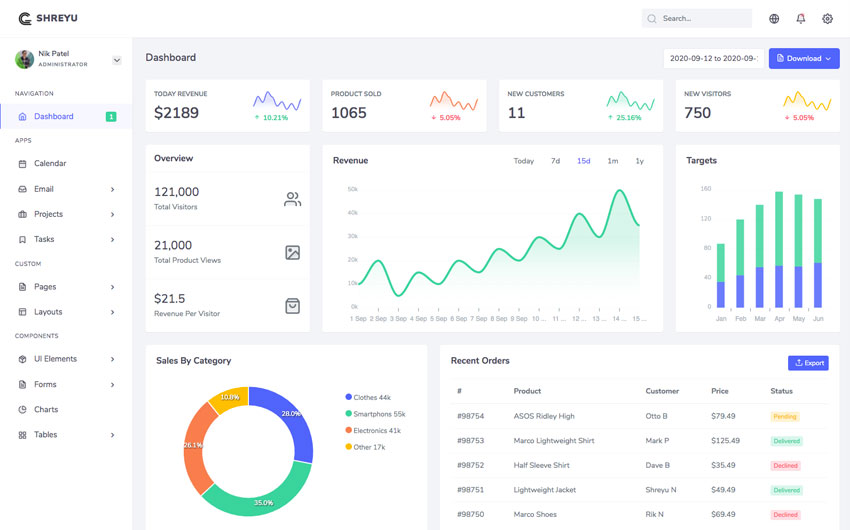 Some of the features Shreyu treats you to are toast notifications, form wizards, icons, data tables, date and time grabbers, the list goes on and on.

As for the pages, you get the invoice, profile, price, login / registration, recovery password, error layouts and more. With the clean, distraction-free design, everything will look stunning with Shreyu.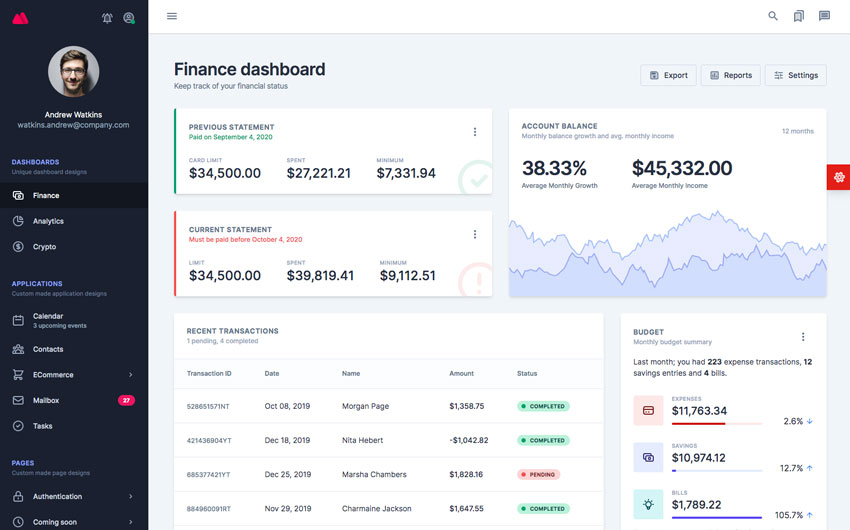 Lots of pre-made layouts, light and dark versions, out-of-the-box applications, modular design, and different custom-made components are just some of Treo's highlights.

With Treo, you'll also learn all kinds of angular techniques and get tips for building apps that will work for you.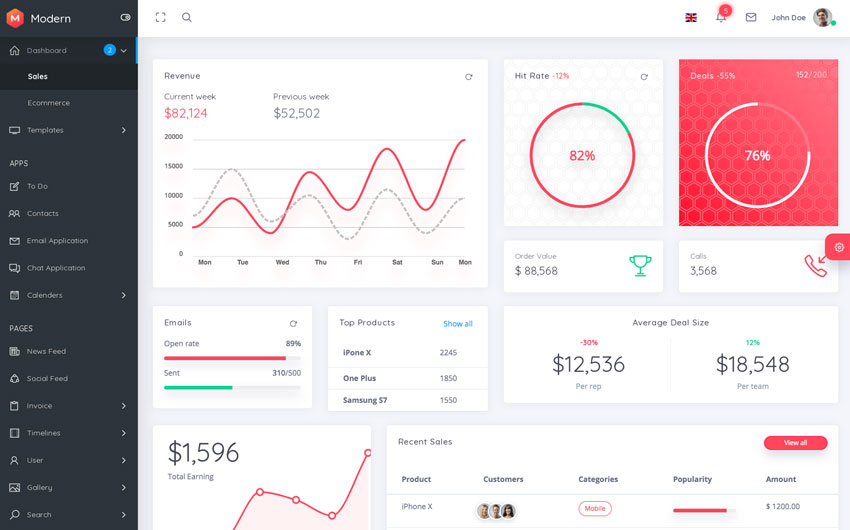 Modern management covers various applications such as email, chat, everything, calendar, and contacts.

Other services contain handy cards, flyers, badges, data tables, charts, maps, unlimited color options, whatever you want, Modern Admin takes care of it. Each Modern Admin user also receives free lifetime updates and access to a friendly support team.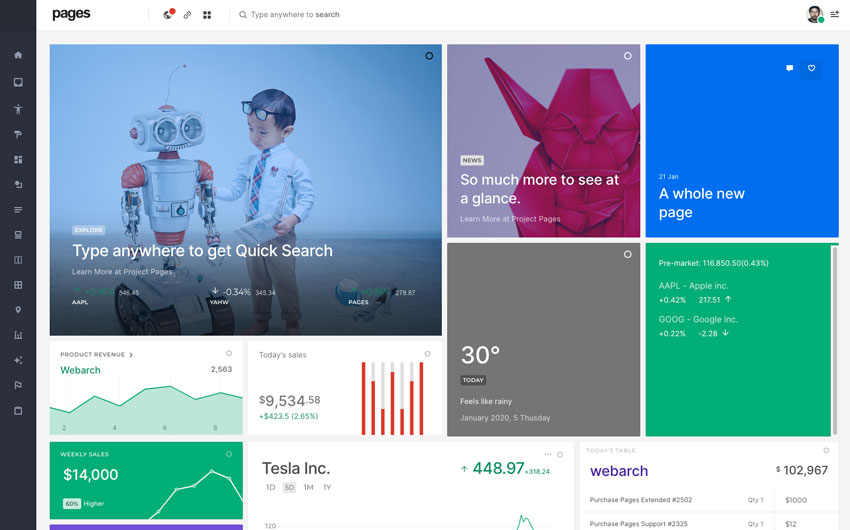 There are tons of components available so you can mix and match and have a finished product ready to go without having to build anything yourself.

Tabs, cards, notifications, switches, time selectors, sliders, horizontal menu, parallax effect, progress bars, widgets, you get the essentials. Pages is a great alternative for quick admin panel setup.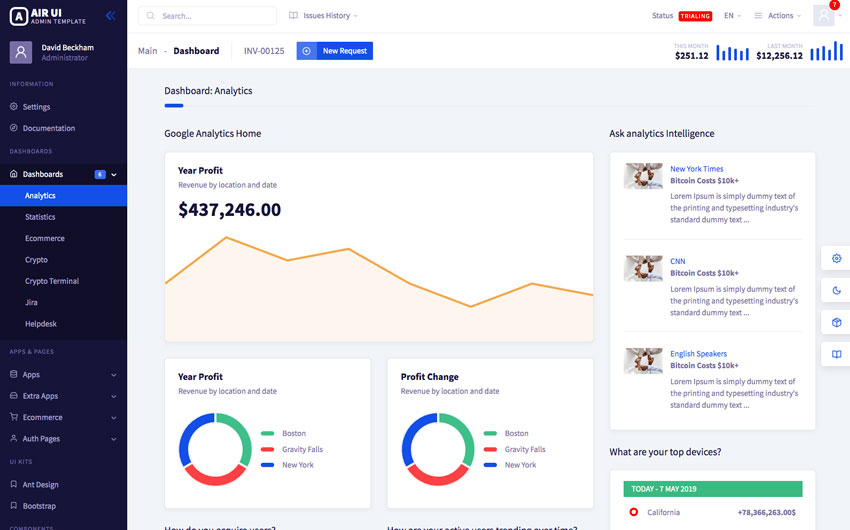 Ten impressive demos are available by unpacking the air interface kit. Please note that with the upcoming updates, you can expect even more variations to drop.

Other standout features of Air's user interface are layered PSD files, exceptional performance, quality code, six different layout structures, and predefined color skins. You only need basic coding skills and you are well on your way to a successful admin creation.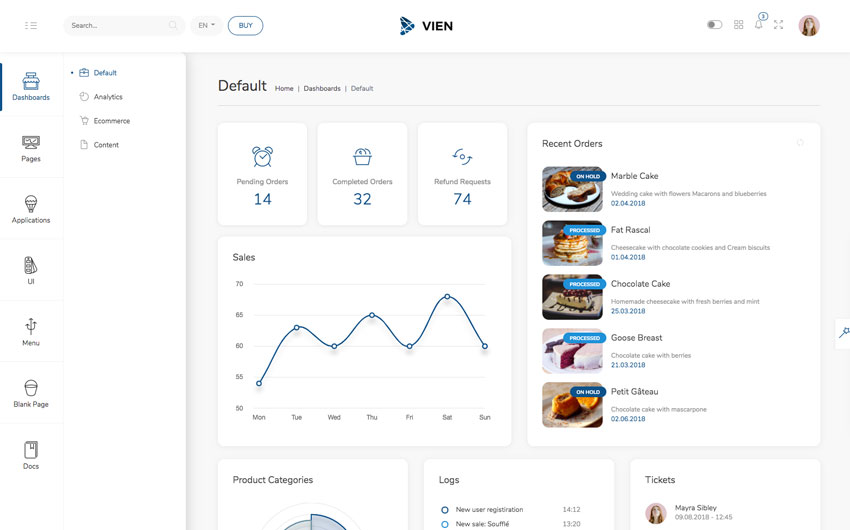 Vien knows no limits. In the package, you'll discover loads of features to help you get things set up quickly. From four boards and three apps to multiple skins, keyboard shortcuts, two-panel menu, and lazy loading, this and much more is what you get with Vien.

Tons of different frame and design combinations are also possible for your convenience. You can do things your way and keep everything in perfect order with the ingenious Vien.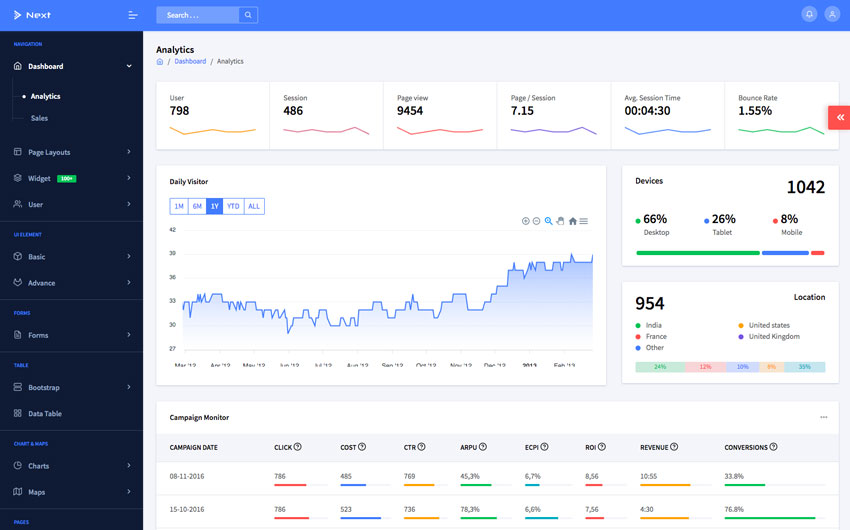 This Theme has attractive page layouts, attractive color options, graphics, Google Maps, smart menu, dark mode, ratings, and validation forms are just a small segment of everything that comes with Next.

Next's performance is on point all the time too, as it's always improving. If you like our top collection of angular templates then do let us know. We'll be happy to hear it from you.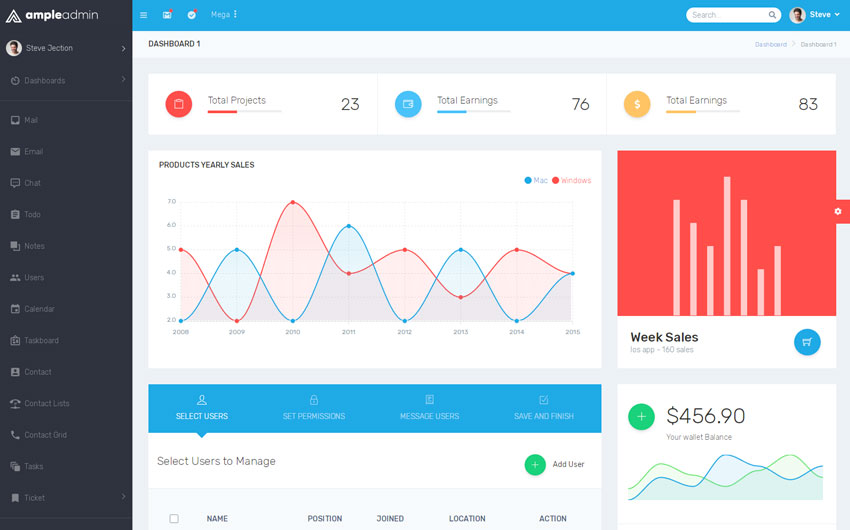 When you get all essential features like page templates, unique demos, multiple dashboard choice, light as well as a dark-colored scheme with this premium admin dashboard angular template there is nothing better than that. Based on the Angular / CLI Web App this template is fully responsive and provides utmost customization options. As we know Angular is a Typescript framework that offers amazing features to execute the complex requirements is extremely useful.
Interestingly, Ample angular admin dashboard is based on a modular design with a wide range of font icons is a perfect match for user-friendliness and flexibility along with the comprehensive package. It also provides many other promising components, elements, widgets and tools to create a simple, sober and amazing user interface for your backend applications.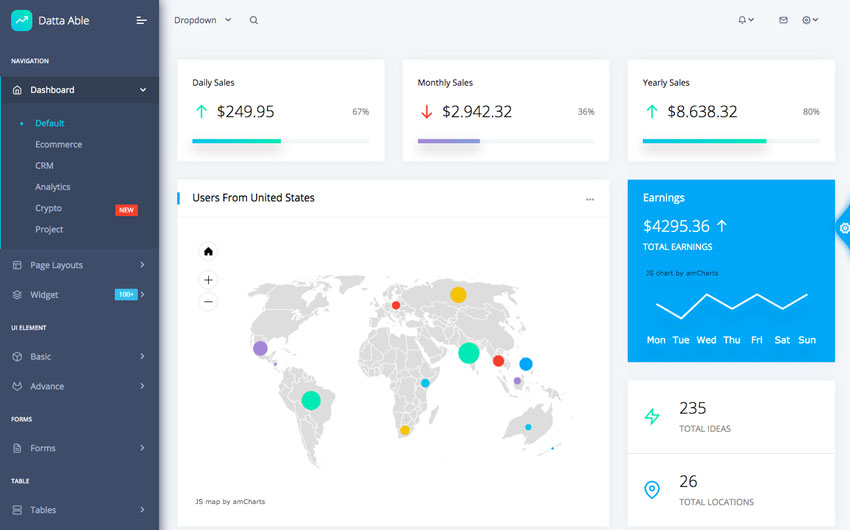 With Datta Able Dashboard Template we have provided all possible prebuilt admin template layouts. Which gives you the best selection choice of your backend template need for your projects. Comes with error/bug-free, well structured, well-commented code and regularly with all latest updated code. Which saves your large amount of developing backend application time and it is fully customizable.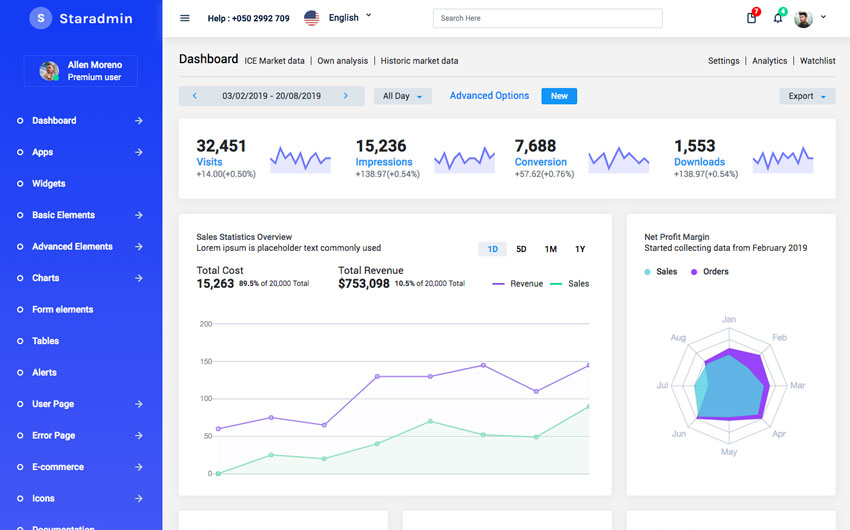 Start angular admin is clean and modern angular based dashboard template. It comes with nice and clean layout and easy to use code. It includes variety of dashboards, page options and lots more. You can create nice looking backend admin panel for your web application using Star AdminPro. Check its live preview for more features.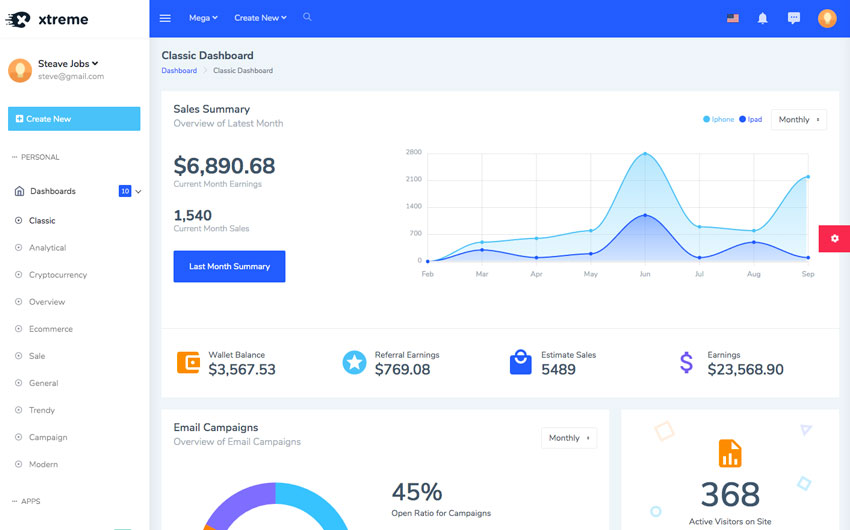 How about using one of the most successful premium angular admin template with modular design? Yes, you heard it right WrapPixel has the best-known template with minimalist design and functionality for all your commercial projects. Primarily, its modern design helps you to reduce the dependency on expensive designs and at the same time provides customization options.
It offers incredible elements, plugins, configurations, and widgets that help you to build a feature-rich app. With lots of theme layout options and demo options, this admin dashboard template angular does wonders for you.
Conclusion
Angular Dashboard Templates are always helpful and saves you lots of time and money. There are some free angular dashboard templates available as well, which come with less features, but still a worth to search, because you can download that and use in your project with zero investment.