The field of UX is daunting without the right guidance. So many subjective questions pop up on a daily basis. How do we provide access to secondary navigation without cluttering the interface? What UI patterns are the most intuitive? How do we fulfill the logical and emotional needs of users? Answer one of them, and five more will inevitably pop up to take their place.
But by browsing the existing body of knowledge — along with practice, practice, practice — you can shorten the journey to becoming an expert. You don't need to go it alone since there's plenty of insights from professionals who've been there and done it. Check out these free and paid resources covering topics ranging from best practices of today's hottest companies to the more theoretical realm of cognitive psychology and design minimalism.

7 Free Online UX Design Guide Books
Web UI Design Patterns 2014: A Deeper Look at the Hottest Websites and Web Apps Today
Detailed screenshots and pretty designs are the norm in this ebook as it illustrates what design patterns work best for which use cases. Straight out of UXPin's online library, this guide takes a very practical approach by showing what the big players like Pinterest, Spotify, Amazon, Kickstarter, and more are doing. That way, you don't have to start from scratch.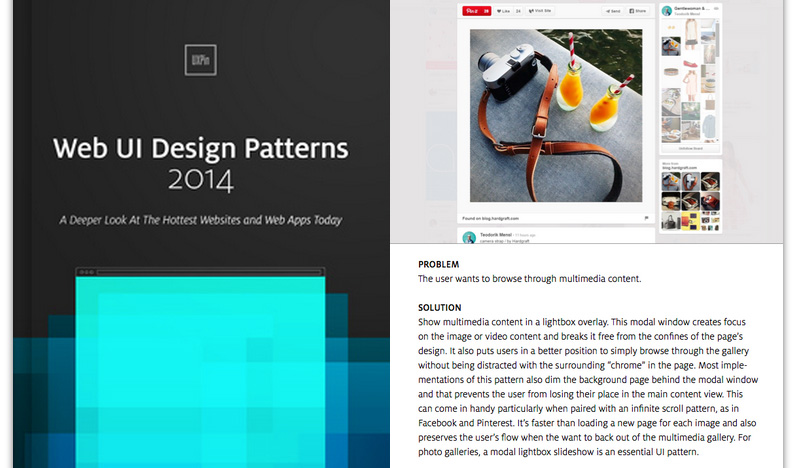 50 User Experience Best Practices
Boutique design agency Above the Fold takes a comprehensive look at everything UX from user research to UI design and all the way to front-end development. They teach you important lessons such as: how to think about the "big picture" by envisioning what the product experience will be like in 5 years, how to balance user needs with stakeholder egos, and how to test edge cases early on with simulated data. There's also a much-welcomed section on how to hold less meetings (but much more efficiently).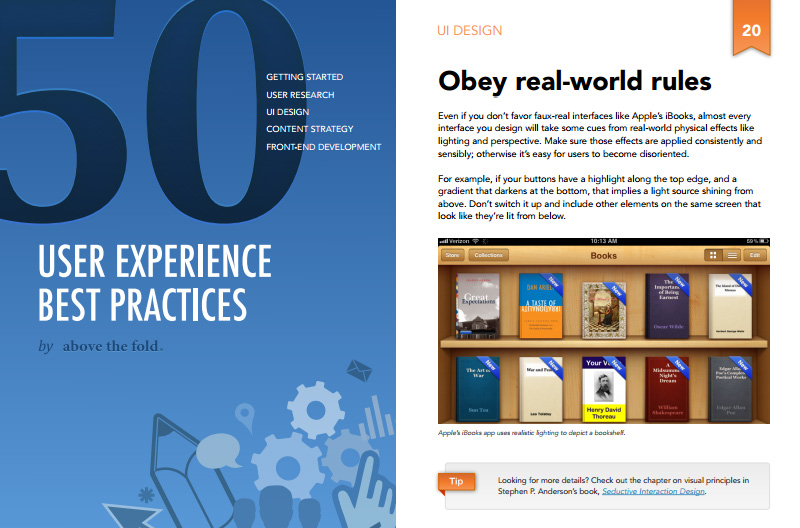 The Guide to MVPs: A Master Collection of Frameworks, Expert Opinions, and Examples
While this guide looks more at product management, it still provides perspective on the role UX plays when it comes to creating a simple but elegant minimum viable product. Considering the Lean and Agile direction most companies seem to going, it's helpful to understand how "pretty" an MVP needs to be to get the job done. This one reads more like a series of case studies (with companies like AirBnB, Zappos, DropBox and others) mixed in with some theory and advice from dozens of experts including Aarron Walther of MailChimp, Rand Fishkin of Moz, and Cindy Alvarez of Yammer.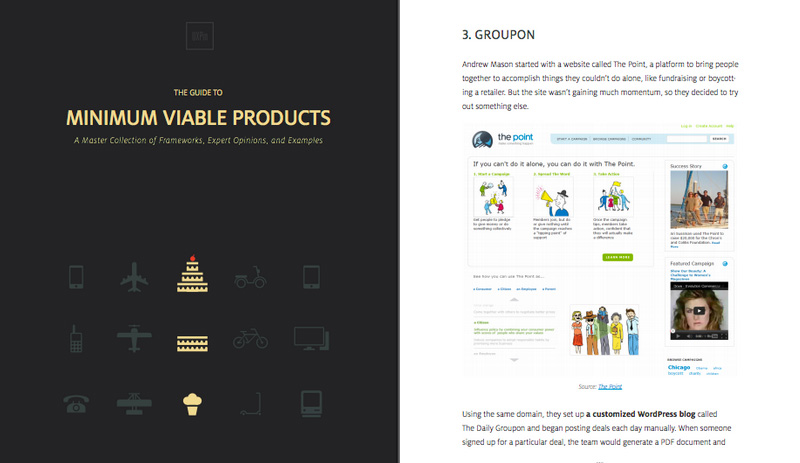 UX Storytellers: Connecting the Dots
This anthology of horror stories, the daily grind, and life-changing experiences tells the personal stories of 42 UX masterminds who paint a very entertaining picture of the multifaceted community. Whether you're a usability master or still a student, you'll laugh and learn as experts from around the globe tell of the upsides and downsides of their careers. Jason Hobb's chapter titled "Sex, Drugs, and UX" stands out as one of the more entertaining yet insightful pieces.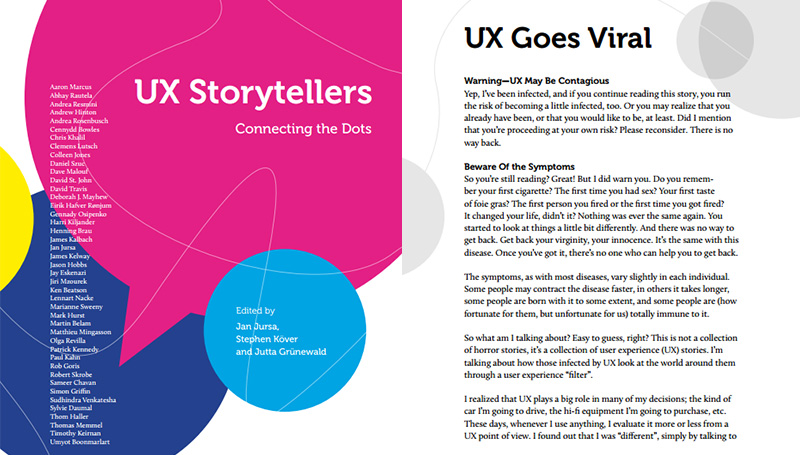 Bright Ideas for UX Researchers
UX consulting firm UserFocus dives into the deep end of usability testing and user research. Referencing Sherlock Holmes' hypothetical thinking, they explain a highly methodical approach to asking users the right questions and coming to the right conclusions. If you really want to get into the minds of users to tease out buried insights, this is a must-read. You might actually also learn something interesting about yourself.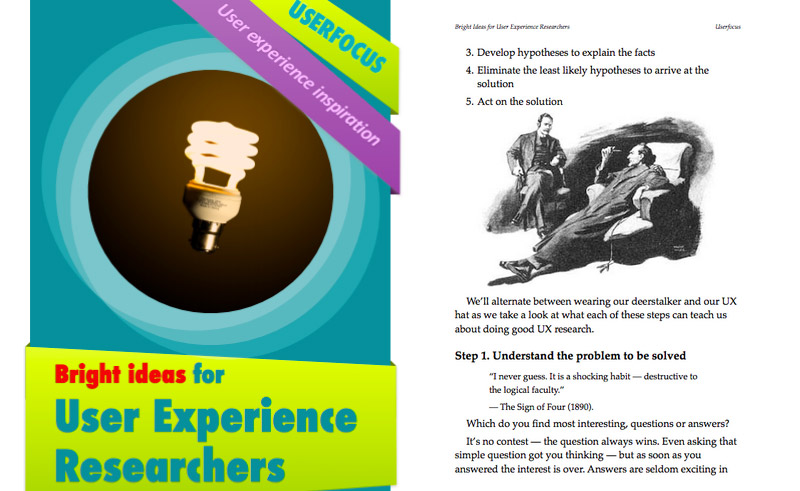 Mobile UI Design Patterns 2014: A Deeper Look at the Hottest Apps Today
Designing tends to get more difficult as screen sizes shrink. This guide looks at how to tackle the trickiness and intricacy of mobile UI design. Even though it's over 100 pages, the copy itself is pretty concise. The focus is the 46 mobile UI patterns which are pulled again from big-name companies like Flipboard, Uber, Mailbox, and others.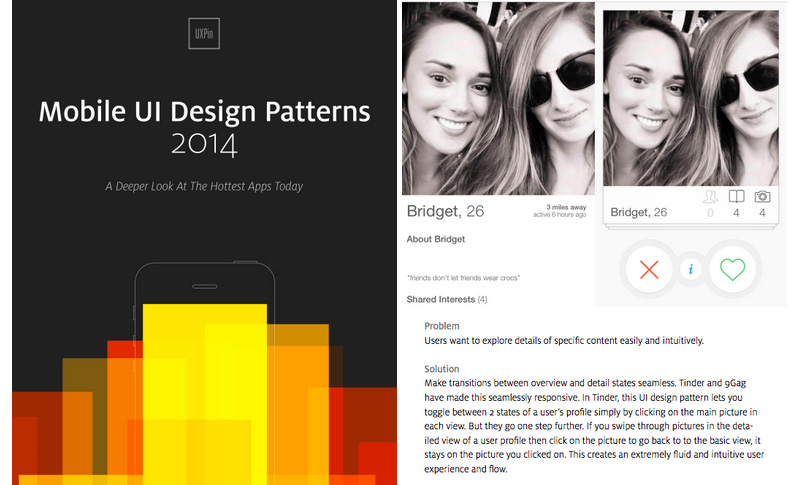 A Guide to Mobile UX Research
Despite the rapid growth in mobile usage, the flaws and limitations in the design still create frustrating experiences. Usability testing software company UserZoom looks at the methods, tools, and techniques for mobile research to help overcome some of those obstacles. What's nice about this guide is that they look at both moderated on-site testing and unmoderated remote testing so you can understand the benefits and downsides of each process.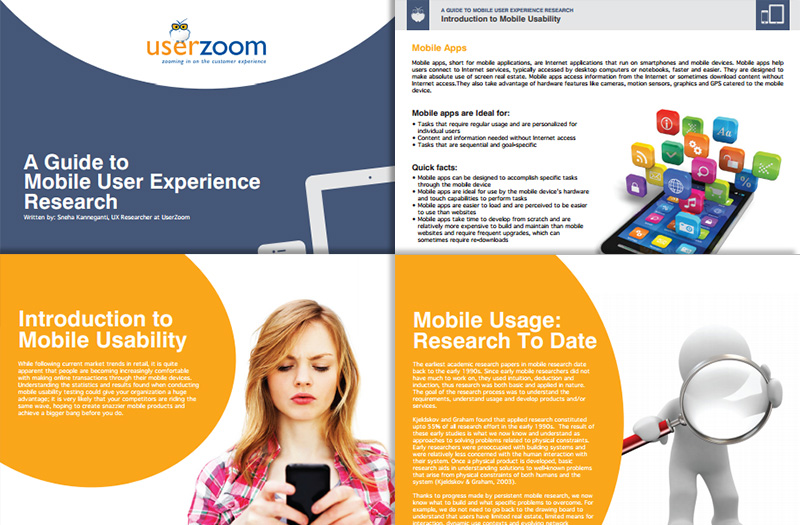 8 Buyable UX Design Books
Designing with the Mind in Mind: Simple Guide to Understanding User Interface Design Rules by Jeff Johnson
Best-selling author Jeff Johnson explains the cognitive psychology from which many UI design rules are based and aims to help you understand at a fundamental level why, when and how to effectively implement these guidelines in your user interface design. The goal of each chapter is to get you to think more intuitively about UI instead of treating it as a list of rules to follow.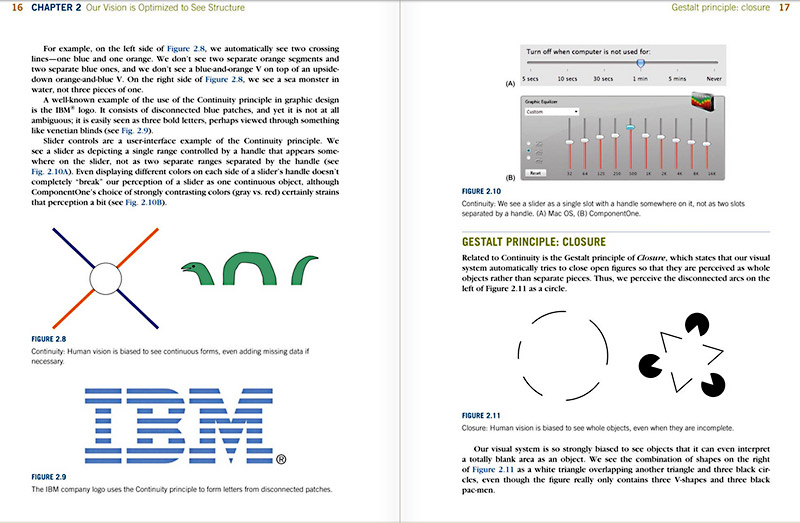 Designing For Emotion by Aarron Walter
In this book, MailChimp UX design lead Aarron Walter describes strategies and methods to make users fall in love with your site. By demonstrating how to design for emotion, this book offers a new perspective on how to use design to expand and maintain your user base. Walter covers everything from classic psychology to plain common sense. Ian Yates, design editor at Tuts Plus, recommends the book as a great view into the psychology of UX and says it might even change your view of Twitter, Dropbox, and other large companies. If you're feeling constrained to producing dull and dreary designs, this book can be a nice pick-me-up.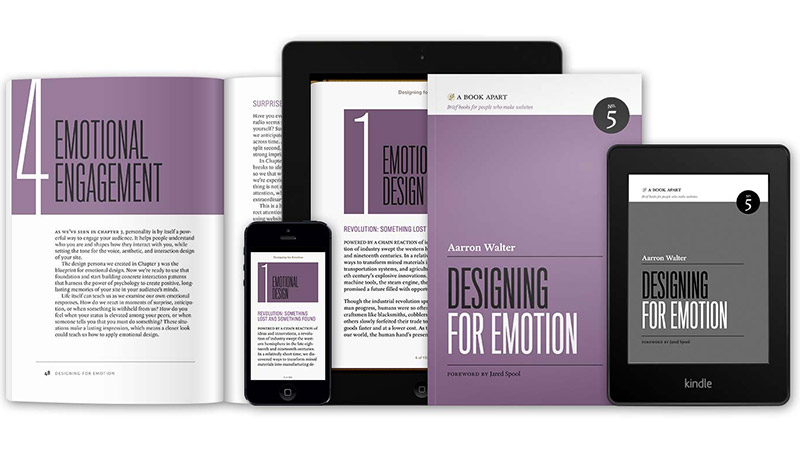 Simple and Usable Web, Mobile, and Interaction Design by Giles Colborne
We've all been frustrated by a gadget, from trying to install a printer to spending hours setting up a new mobile phone. This book explains why things don't have to be so complicated. Aimed specifically at interaction designers, it examines proven strategies and case studies for simplifying UX when designing applications and tools. Whitney Quesenbery from the Center of Civic Design says the book will show you how to "thoughtfully craft a product that is just simple and no more".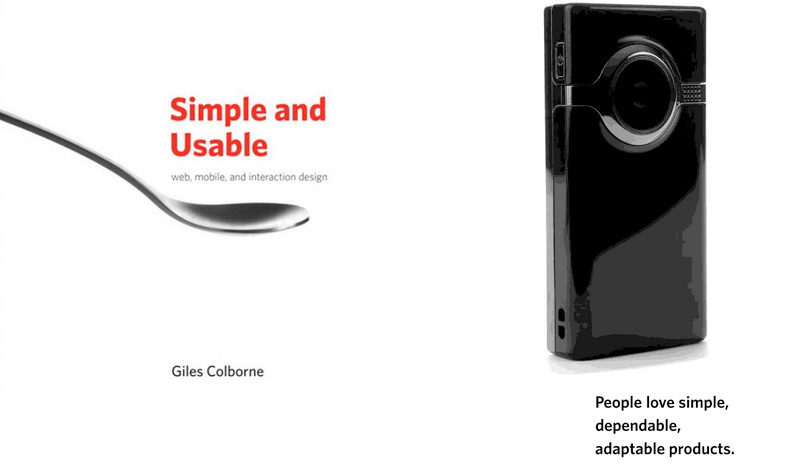 Product Design For the Web: Principles of Designing & Releasing Web Products by Randy J. Hunt
Etsy Creative Director Randy Hunt presents the topics in this book in a very easy to follow progression with plenty of memorable quotes and real life experience. You'll learn all about how to create world-class web products, from how to think like a product designer to the types of tools, recommended workflows, and best practices necessary to keep users coming back again and again. For more detail about Etsy's product design philosophy and process, you can also check out this interview with the author.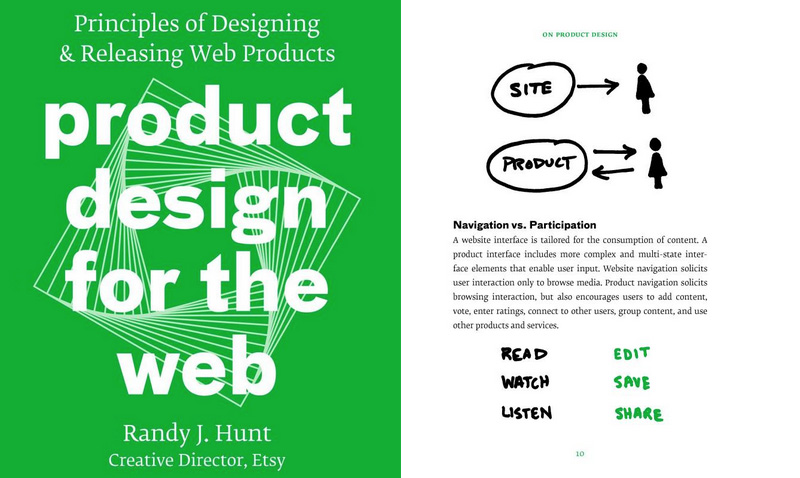 Interaction Design: Beyond Human – Computer Interaction by Yvonne Rogers, Helen Sharp, and Jenny Preece
This is a very helpful, although dense at times, resource for learning the necessary interdisciplinary skills for human-computer interaction and interaction design. While it reads more like a textbook, this book does thoroughly explain how to design products that enhance and extend the human-computer experience and the theories behind human-computer interaction.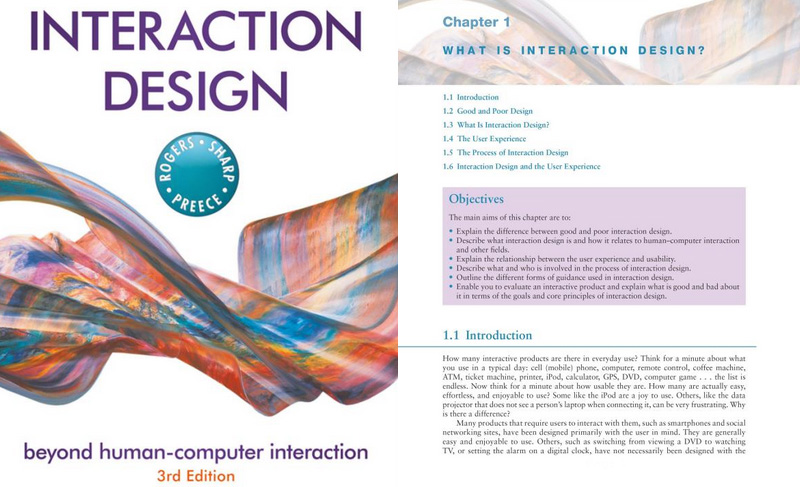 Don't Make Me Think, Revisited: A Common Sense Approach to Web Usability by Steve Krug
Unfortunately, web usability is a consideration missed by some designers who create beautiful sites packed with information — and just aren't usable. Usability guru Steve Krug has updated his 2000 classic to apply his elegant usability teachings to today's web and responsive mobile world. Kerry Butters, designer and founder of content agency MarkItWrite, believes the book is highly accessible due its conversational tone and humor. Both witty and insightful, this guide is fun yet practical and definitely leaves you thinking.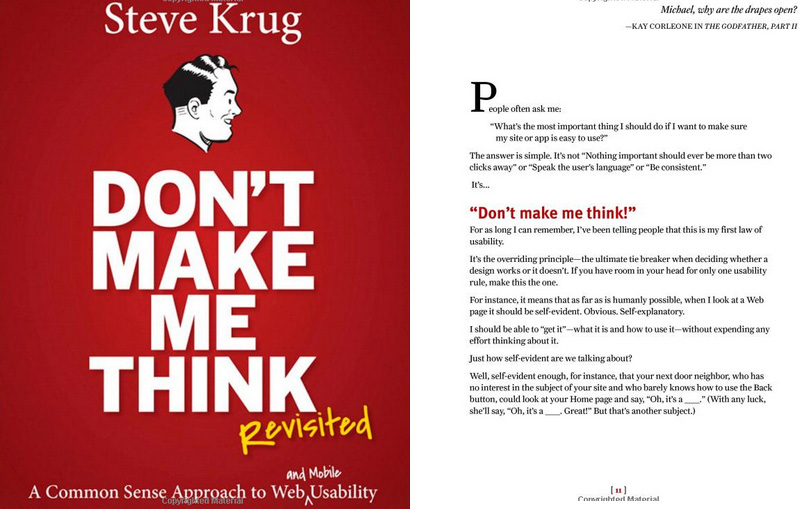 Lean UX: Applying Lean Principles to Improve User Experience by Jeff Gothelf & Josh Seiden
Inspired by Lean and Agile theories, the authors show you how to drive design in rapid, iterative cycles, validate design decisions with real users, and adjust your designs accordingly. This book is a quick read and is packed with practical advice on how to include UX in fast-paced software development cycles. Alex Osterwalder, co-founder of Strategyzer, says the book excels at teaching how to "build cheaper, faster, and—most importantly—better experiences".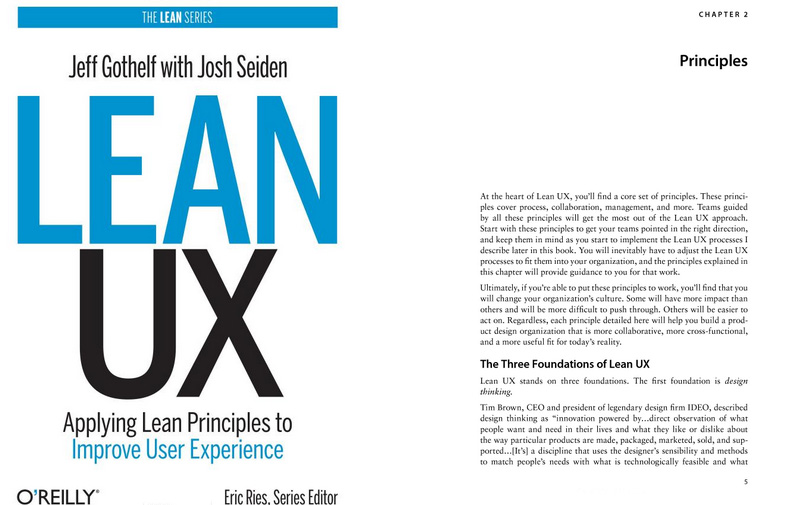 About Face: The Essentials of Interaction Design by Alan Cooper, Robert Reimann, David Cronin, Christopher Noessel
The original book helped bring interaction design out of the laboratory and into the boardroom by demystifying user research with Goal-Directed Design. The newest book we've mentioned, this latest edition now applies that same thinking towards interface and product design for smartphones and tablets. New content includes discussions on mobile apps, touch interfaces, and screen size considerations.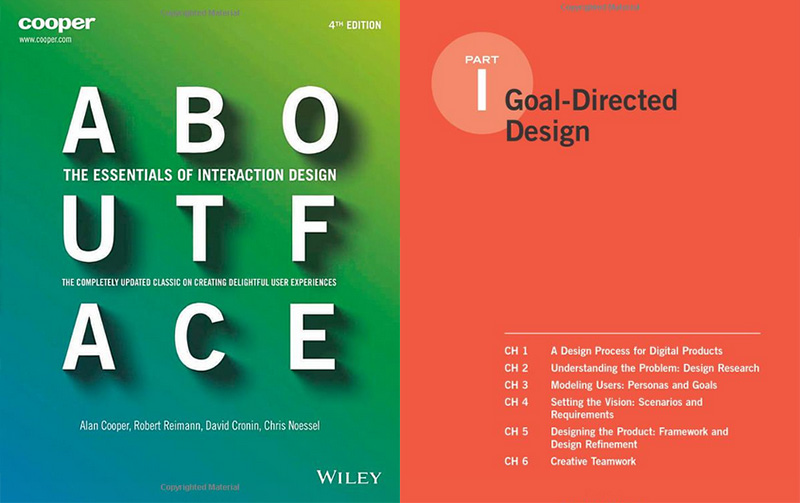 Conclusion
These are just a few of the self-help books that are available for perfecting your UX designs. Have you come across a good book on this subject that is not in this list? Do you think books are the best way of learning such subjects? Please share your links and opinions with us in the section below.