E-mail marketing is a form of direct marketing which uses electronic mail as a means of communicating commercial or fund-raising messages to an audience. A newsletter is a regularly distributed publication generally about one main topic that is of interest to its subscribers.
This post contains a bunch of different, beautiful, elegant, modern and creative newsletters examples that may be a great source of inspiration.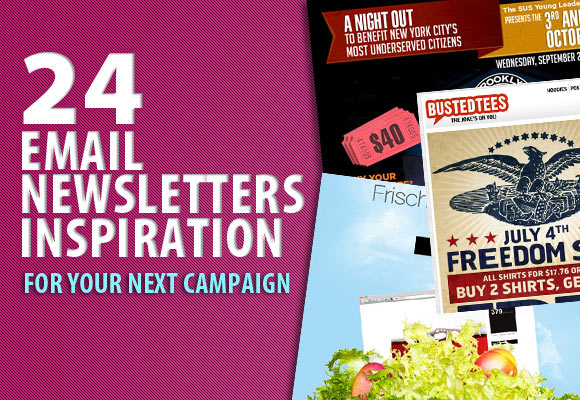 Tips and Notices When Designing a Newsletter
Keep it Simple, Do not Over-Load the Use of Data and Colors
A lot of readers nowadays, do not read the whole newsletter, they just take a look that isn't longer than a half a minute – that's why you should keep your newsletter simple, with a limited number of colors and of course not over-informative! You would be better dividing your content to two newsletters rather than to place a lot of information (even if it's exciting) in one newsletter – it won't be fully read. You should also make good use of numbers as users usually associate them with prices, savings and different coupons.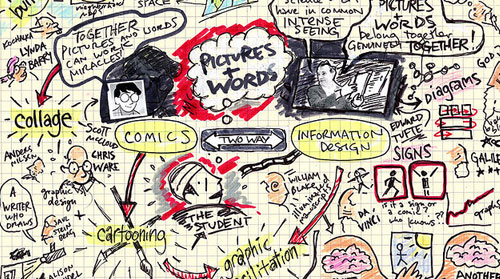 Offer Stuff for Subscribing
Everyone likes free stuff. Everybody simply likes it because it's free. That's why to increase the number of your subscribers you may offer some free things. Discounts and coupon codes work well too. A large number of websites and blogs offer e-books and freebie packs to get a huge number of subscribers. By getting a number of subscribers, they are informed of the ultimate news and changes that may happen on your website. Also by receiving large numbers of subscribers, you can increase your sales and of course visitors to your site.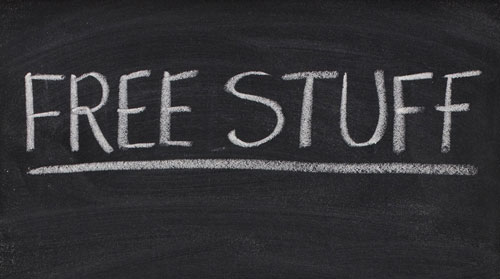 Inform Your Users What They Will Receive
Before asking your users to subscribe to your newsletter, first of all you should tell them what kind of mail and what content you will send. If you cover an IT topic, you should clearly inform your visitors that they will receive (daily, weekly, monthly) newsletters related to some Tech News, and also once a month, a coupon code to be used on hardware. Try to abide by respect all the fixed terms and dates if there are any, in this way your site or company will not appear to be spamming.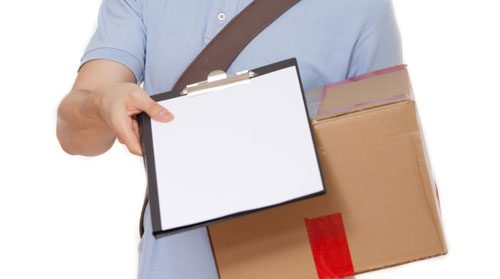 Examples of Beautiful Newsletters
SUS Newsletter
Modern looking Newsletter for promoting the 3rd annual SUS October fest, taking place in the New York City.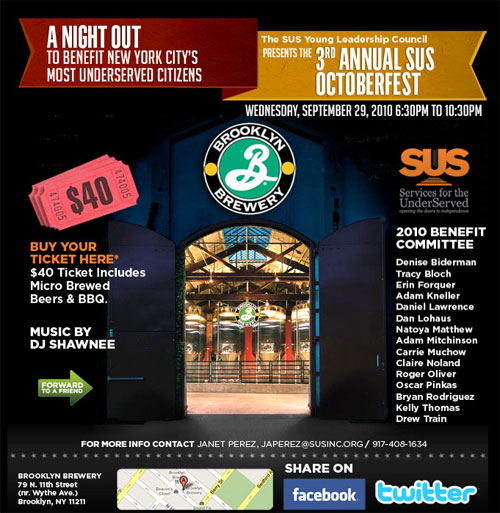 Digicom Events Newsletter
In this beautiful newsletter, the Digicom Events company promotes an event that took place on Aviva Stadium + organizing a contest to win an iPad.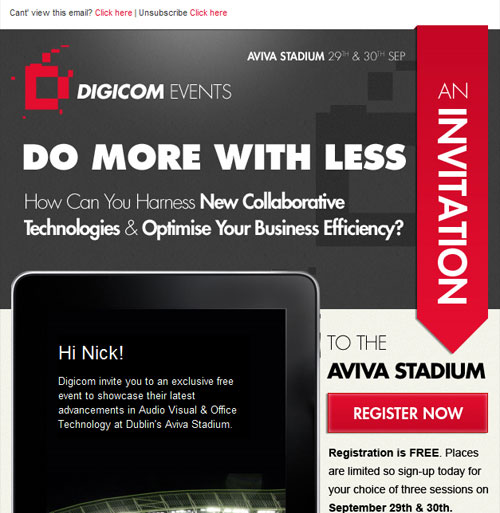 Habitat Newsletter
Habitat interior decor seller, show some highlighted products of this month, a spotlight product and also organize a competition.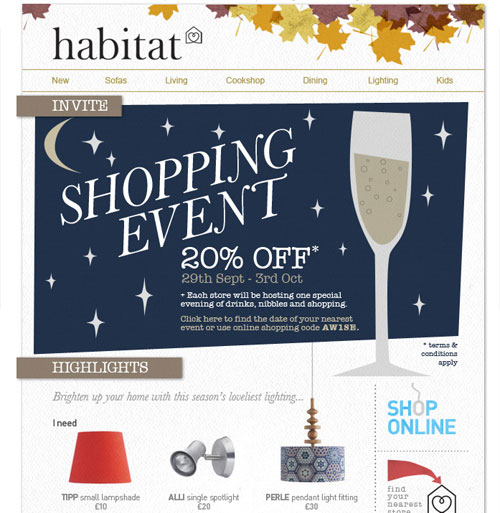 Frisch in den Fruhling Newsletter
This beautiful and modern newsletter is designed by Simone Vogel, highlighting his website, for the visitors.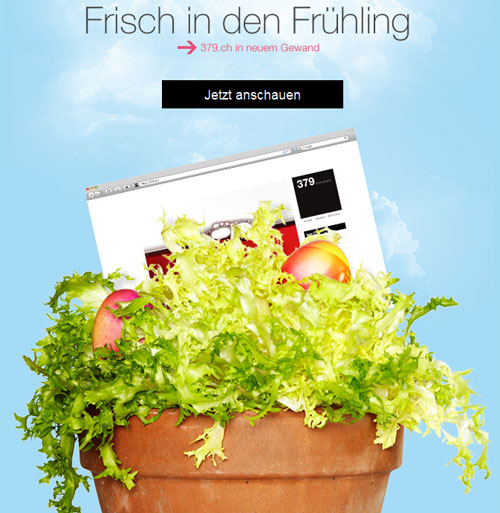 Navigon Newsletter
This elegant newsletter is distributed by Navigon, promoting a 40% cut from the price, on their iPhone MobileNavigator app.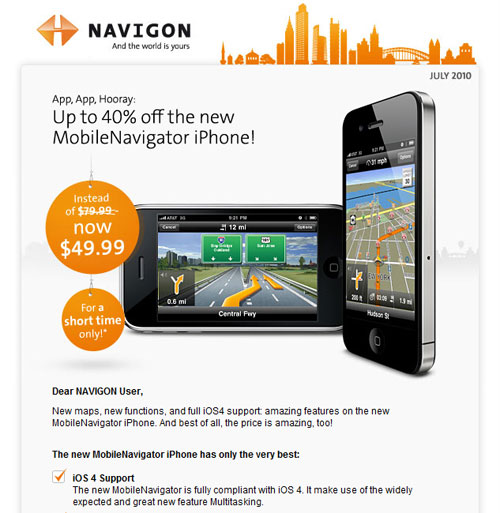 Hoiio Newsletter
In this modern and beautiful newsletter, Hoiio is giving away 1 million local free calls.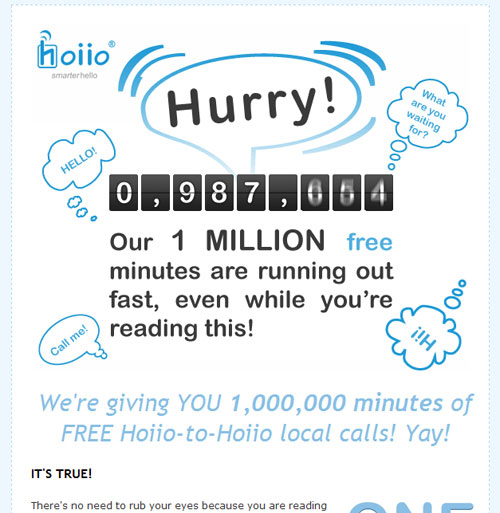 Fru Newsletter
This elegant newsletter, promotes a contest of four £125 vouchers to spend at any Alex Monroe shop.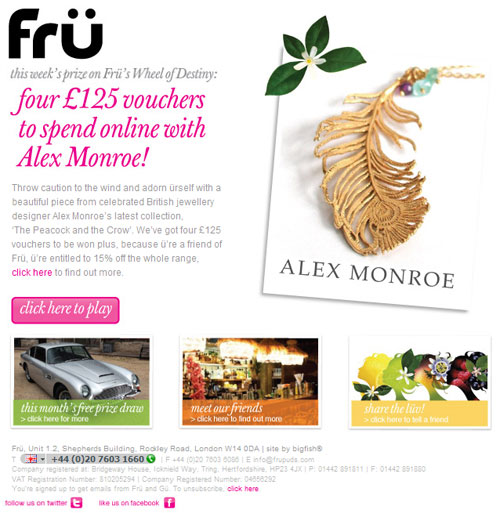 Mafia II Newsletter
In this modern newsletter, the game Mafia II is promoted + some information on shops where it can be bought.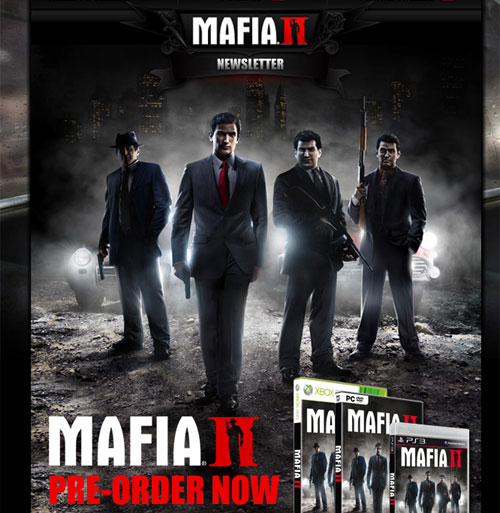 Busted Tees Newsletter
This beautiful and fresh newsletter, is distributed by BustedTees, with some discount coupons in it.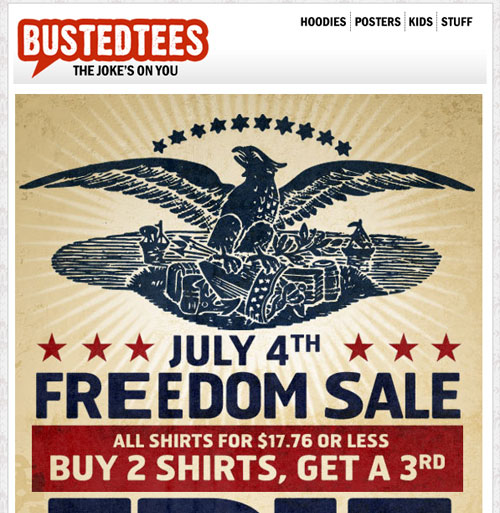 BigStar Newsletter
Newsletter promoting a 70% cut from the price of some jeans, by the polish company, bigstar.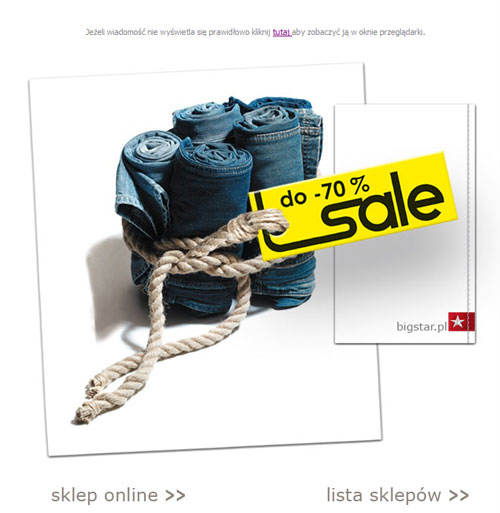 American Winery Newsletter
This newsletter promotes some wine types by American Winery collective + a 15% discount code.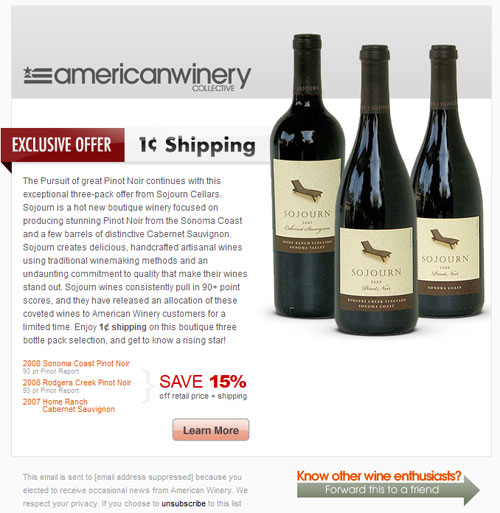 Behance Newsletter
In this modern and beautiful newsletter, the behance network shows off their new options, widgets and features.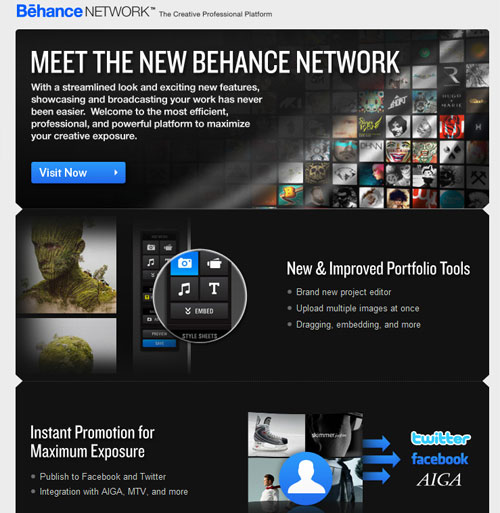 PeopaLove Newsletter
This beautiful and elegant newsletter aims to enhance the talk about brands and brand marketing.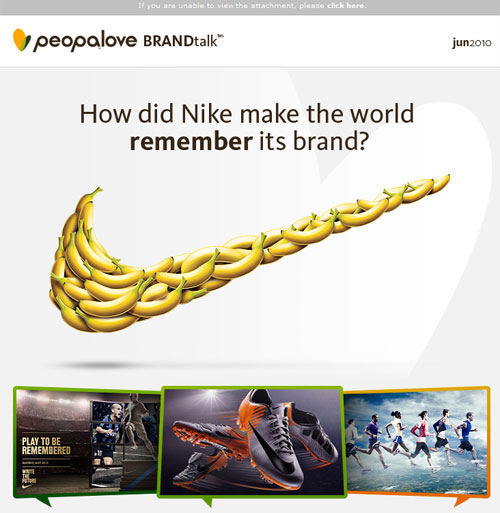 eROI Newsletter
Beautiful Newsletter, explaining the conversation after opt-in in four steps to get to know your audience better.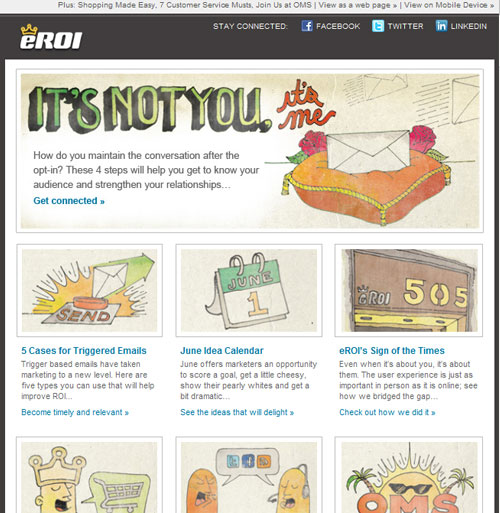 Vexio Newsletter
Elegant and Fresh Newsletter, where a newly-launched shop runs a contest for a camera.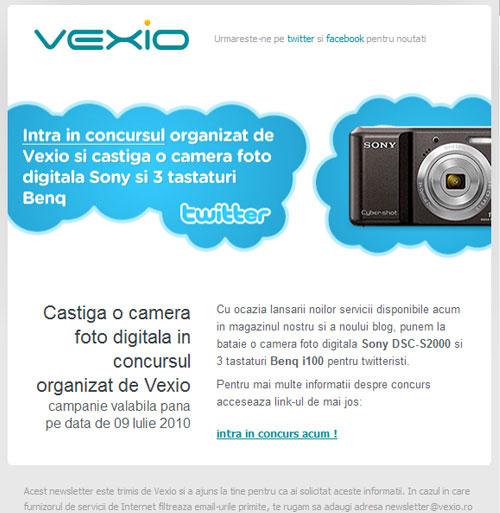 Kate Spade Newsletter
This beautiful newsletter in the style of a "newspaper" informs about a discount on kate spade shops.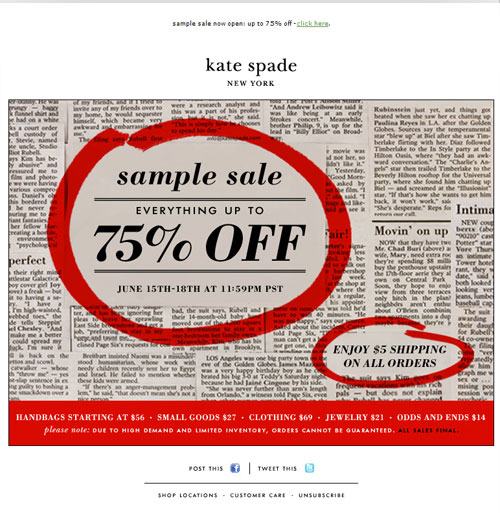 The Publishers Club
Current beautiful and retro style newsletter on a grunge background is an invitation to an event that took place in London.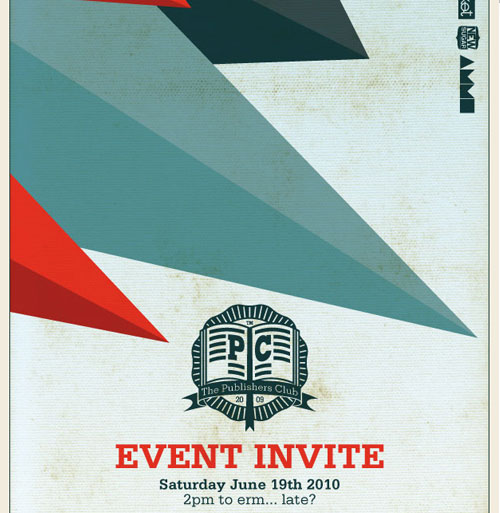 Crate and Barrel Newsletter
This modern newsletter shows a great deal for father's day on some "beer" glasses at a cheap price.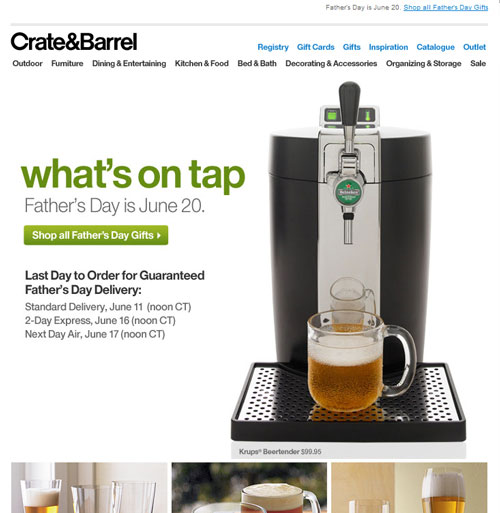 Kate Spade Newsletter 2
This beautiful newsletter shows some samples of a new collection of wear on the Kate Spade shops.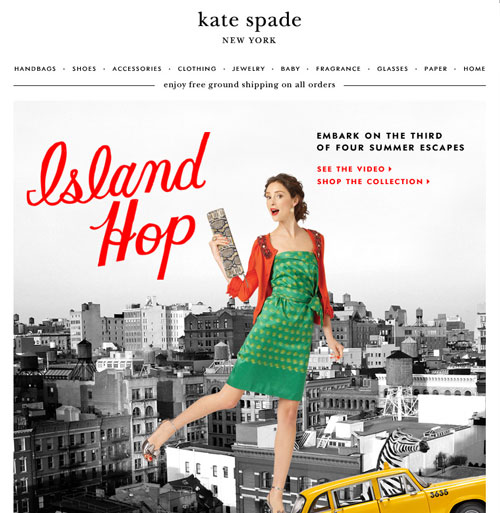 37 Signals Newsletter
Current modern and elegant newsletter shows some information about new features and options on 37 signals.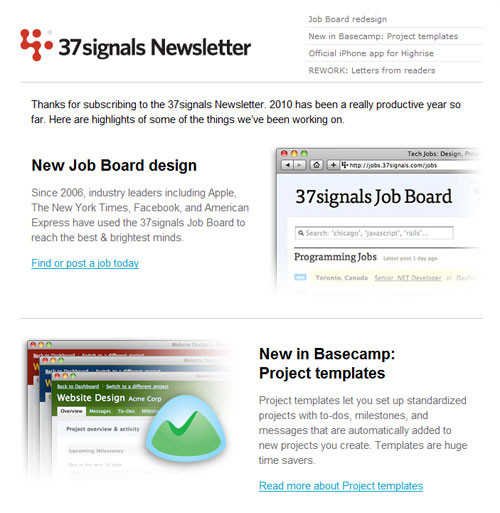 Kate Spade Newsletter
This beautiful and elegant newsletter shows some clothes and accessories for men, by the Jack Spade shop.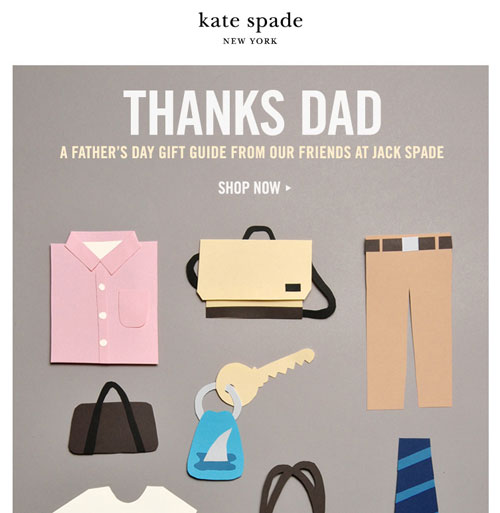 Estrategico Newsletter
Beautiful newsletter on a splatter texture presenting a product.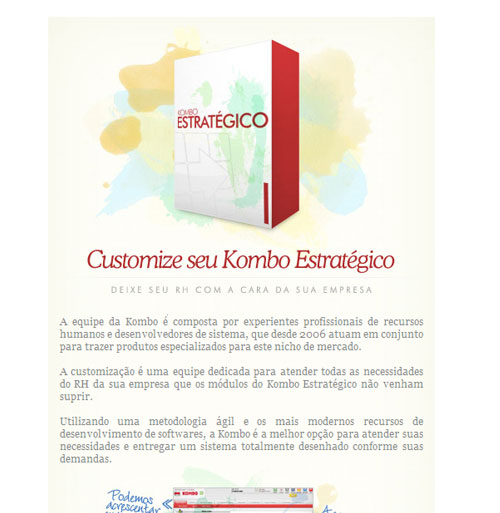 Fine Tuna Newsletter
Beautiful, Elegant, somehow "Child-Like" newsletter with hand-drawn elements presenting a contest.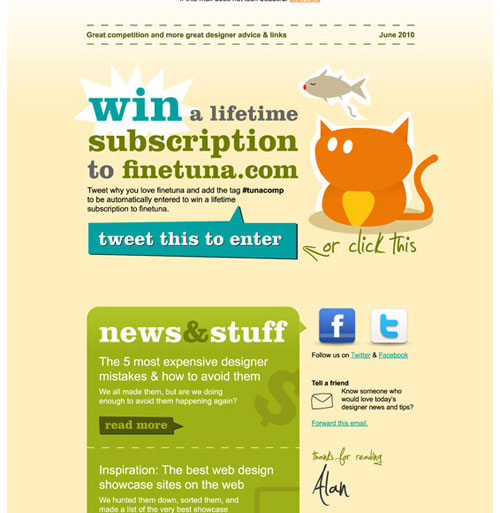 Becasse Newsletter
Beautiful and Elegant newsletter of a restaurant, presenting some photos and news of it.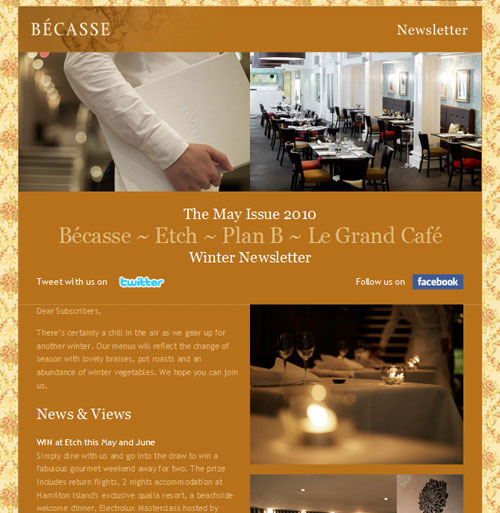 Other Resources
Conclusion
By following and respecting the tips and techniques provided at the beginning of the post, you will surely own a well-designed and interesting newsletter and through this, also a large number of subscribers.