jQuery JavaScript Framework has fast become an indispensable part of web 2.0 formation and will continue to be used heavily in websites and projects. As the search for entertaining visual effects continues, the performance and speed of a site should not be compromised. Now with jQuery, it's possible to integrate captivating visual effects together with highly effective functions.
Using jQuery scrolling effect is not only a new form of showcasing your site or work, but it also gives the audience a fresh experience when they interact with your site.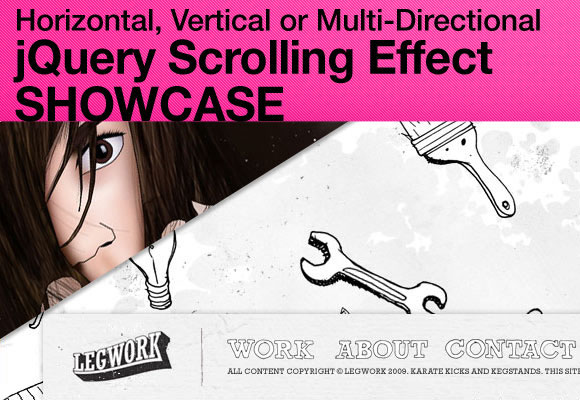 With the help of jQuery.ScrollTo plugin, we can transform a normal site into a slideshow storyboard that will bring across a unique experience to visitors during their journey on the site.
Here are 24 superb sites that has used jQuery to displayed either the horizontal, vertical or multi-directional scrolling effect. Most of them have used the jQuery.ScrollTo plugin to create a flash-like scrolling navigation experience, while some of them have used other unique jQuery scripts.
jQuery Horizontal Scroll
jQuery Horizontal Scroll is a unique way of presenting your site to the audience, not many sites have chosen to use it in their site. Sometimes designers or developers worry that the audience will not like the feel horizontal scrolls give, and believes it may compromise the conventional style of vertical web page surfing.
When applying the horizontal scroll on a site, the message that you want to bring across needs to be bold so that it will create an impact to the audience. Also, remember to keep the writing to a minimum. If it's done appropriately, they can be very attractive.
Vanityclaire
Claire Baxter lives in Dallas and is a Creative Director of the Art Director persuasion.
Aredes for Girls
AREDES is a Brazilian company dealing with a variety of clothing for girls.
Carrot Creative
Carrot Creative is a new-media marketing agency located in DUMBO, Brooklyn, NY. It specializes in social media marketing and user experience design.
Sursly
Tyler Finck is a designer that specializes in Photoshop, Illustrator, InDesign, Flash, Canon/Nikon DSLRs, Final Cut Studio, Logic Pro, Mac + PC and iWork.
Peter Pearson
Peter Pearson is a BA New Media graduate from the University of Leeds, UK, currently based in St Albans, Hertfordshire. The site is a showcase of his university and freelance work as a web designer, developer, animator and artist.
Zupadupa
Zupadupa is a web agency from Romania that offer web design services, web development, marketing and online ads, web consulting, branding and rebranding.
Gavin Castleton
Gavin Castleton is a musician and currently on tour to spread his talents.
Artist In Design
Artist In Design is a German web agency that provides web graphic designs.
jQuery Vertical Scroll
jQuery Vertical Scroll reassembles the old school way of vertical scrolling and injects a new vibrant auto scrolling into it. By clicking at the navigation, the page scrolls gracefully down the section. Now you can change your perspective of the traditional vertical scrolling sites.
Danny Blackman
Danny Blackman is currently a 3rd year BA Communications & New Media student at University of Leeds, UK and a freelance designer & developer.
Design in Social
Designinsocial is a collective aspiration, where one occurs to the opportunity to entrepreneurs and industrialists with fewer resources to harness his product or business through professional graphical design.
Dreamerlines
Janis is a web designer working for a digital creative agency called Digibrand.
Emrah Yaman
Emrah Yaman's was born in Kocaeli/Turkey and is a freelancer working on all kinds of projects varying from websites to print and brand identity.
Kinetic Shadows
Et Cetera Brian started his design career in multimedia and web design in the 90s and deals with interactive development, 3D work and interactive design.
Legwork Studio
Legwork Studio is a web agency that deals with print design, web design & development and motion design.
New in Creative
Nguyen Le is an Interactive Designer/Developer from Melbourne.
Pojeta
Tomas Pojeta is a designer from the Czech Republic.
Red Crown Studio
Red Crown Studio has a team of professionals that deal with web design, web development, visual identity design and email marketing.
Spicy Design
Alex ElChehimi is a web/graphic designer located in Montreal.
Toby Powell
Toby Powell is a web designer that specializes in creating beautiful, usable, professional websites using best practice accessibility and the latest W3C web standards guidelines.
Visual Elixir
Jim Gunardson is an illustrator and designer located in New Jersey, near Philadelphia.
jQuery Multi-Directional Scroll
Integrating the best of horizontal and vertical scrolling effects and transforms them into an interactive experience. Using jQuery multi-directional scroll effect is a beautiful way of presenting your site to your audience.
Wall Swaps
Wall Swaps is a design firm located in Nottingham, UK.
Serial Cut
Serial Cut is a Madrid based studio, established in 1999 by Sergio del Puerto, working on a wide variety of worldwide projects, but focusing mainly on Art Direction.
Enterro da gata
Enterro da gata is developed by Rui Silva, also known as "Penso", who lives in Braga, Portugal. He is a web designer and developer.
J and K
Jackson & Kent is a French agency that deals with web designs and development.
Conclusion
This list sums up some of the superb sites that have used jQuery to display horizontal, vertical or multi direction effects. Most sites are so dynamic that even the background moves around. One thing is for sure, jQuery will be constantly improving and we will be constantly looking for better ways to present our sites to our audiences.
Do you use the above mentioned jQuery scrolling effects in your site(s)? Or do you have a superb site that you wish to recommend? Leave your recommendation below!