CSS, the stylesheet language is now more powerful than ever. It's no longer just a  language that web designers use to style HTML websites. It's now a programming language of its own.
Coders are now using CSS to design not just websites but also create so many amazing things such as icon fonts, animations, and so much more.
If you've also been looking for inspiration to create something amazing with CSS for your next project, here are a few amazing resources you can use to find some ideas.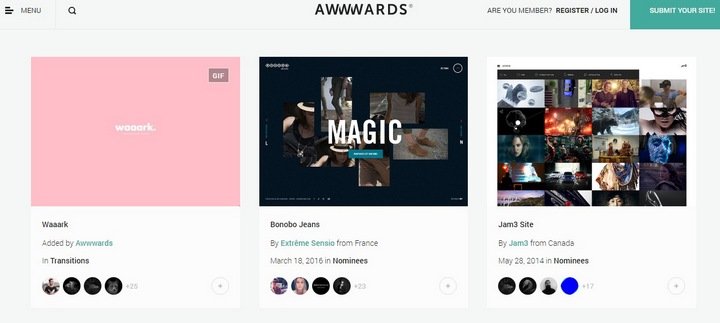 Awwwards is a community website for individual web designers and design agencies where they share their best work with the rest of the world. The website is filled with different types of websites built with different programming languages, including HTML and CSS.
Why You'll Love Awwwards
The website gallery of Awwwards is curated by a professional team that only accepts the best-crafted websites into its gallery. You'll find amazing sites in this gallery, including websites of well-established brands such as Nike, Uber, Ferrari, and more.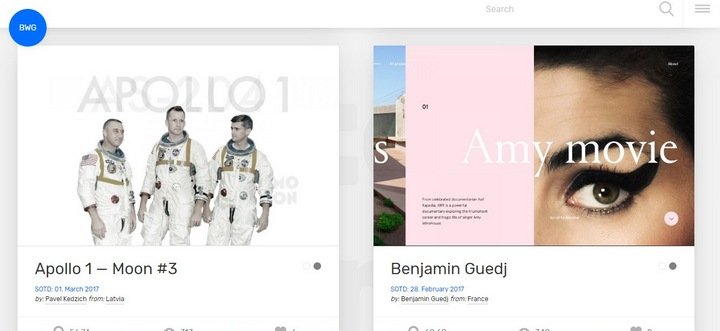 This gallery showcases the most popular websites with beautiful designs. A cool feature of this website is that it allows you to search and browse websites based on their color.
Why You'll Love Best Website Gallery
Curated by professional web designer and developer, David Hellmann, this gallery started out as his "visual bookmark collection" of his favorite websites on the Internet. Now everyone can explore it for inspiration. David has been updating this site regularly since 2008. This is a highly personalized gallery, which is what makes the site different from others.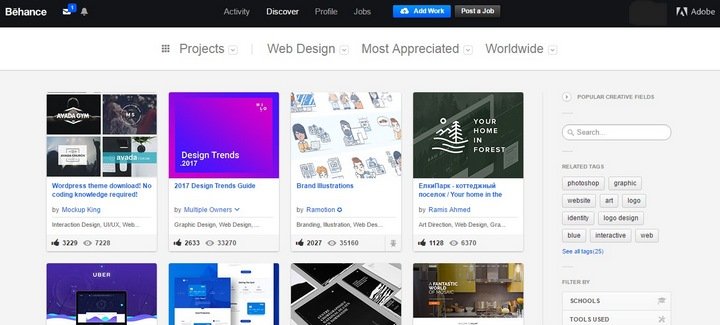 Behance is a popular social network developed by Adobe, which lets professional designers create online portfolios to showcase their work. The site is filled with different types of website designs, mockups, prototypes, and lots of free stuff.
Why You'll Love Behance
Since it's a community, people submit all kinds of websites to Behance. As a result, the site features a mix of both good and bad designs. That makes it a great place for you to learn from other designers. Get inspired, learn how to avoid mistakes, and get feedback on your own designs.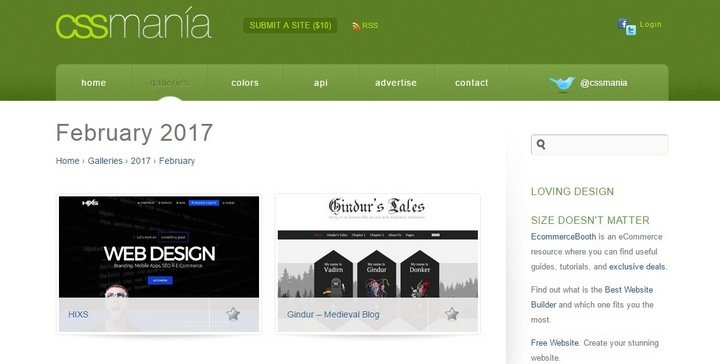 You'll probably end up spending a few hours of your time browsing this site. It consists of monthly archives that date back to 2004, full of websites for your inspiration.
Why You'll Love CSSMania
The websites featured on CSSMania are not random sites. It charges $10 to submit a site to CSSMania. Only serious designers would invest in submitting their site to this directory. Which means you'll only find the best website designs in this gallery.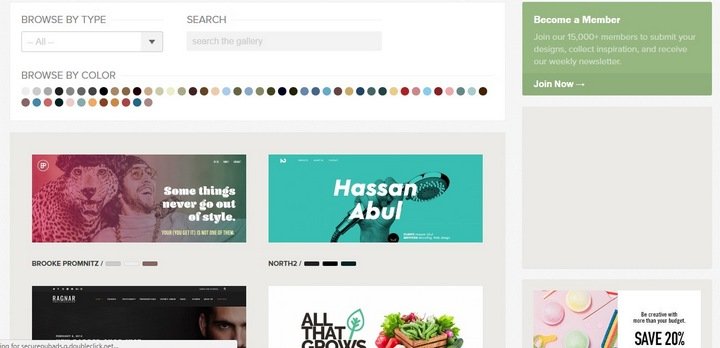 Design Shack's web design gallery features beautiful websites that use CSS, which you can also browse by website type or the color of the design.
Why You'll Love Design Shack Gallery
This gallery is often updated by the website's community members. What makes it special is that the profiles for each website also includes the color palette used to design those websites. A feature all web designers would certainly appreciate.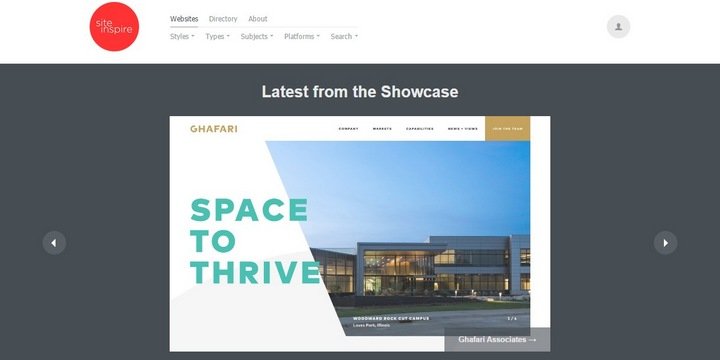 SiteInspire is a large gallery of stunningly designed websites. The entire library is nicely organized by the style, type, subject, and the platform of each website, making it easy for you to explore the gallery.
Why You'll Love SiteInspire
The regularly updated gallery of SiteInspire mainly focuses on interactive websites. If you're planning to build interactive websites to increase website interactions and conversions, this gallery will provide you with all the inspiration you need.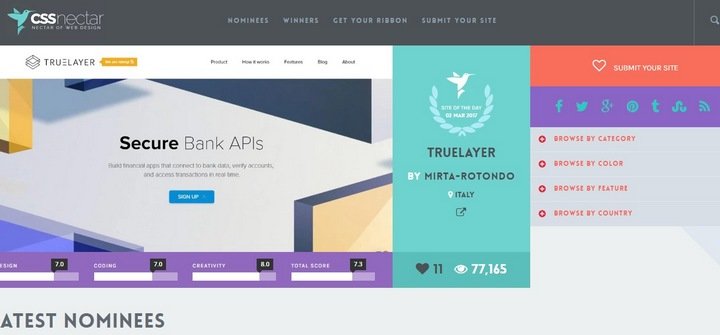 Similar to Awwwards, CSS Nectar also showcases beautiful websites, nominate the best-designed websites, and choose winners to feature on the site every year.
Why You'll Love CSS Nectar
CSS Nectar uses a unique rating system to rank and rate all the websites in the gallery. The final rating for each website is calculated depending on each website's design, coding, and creativity. This rating system will allow you to understand how a website is ranked in this gallery and figure out how to design a website with a balance of the three most important aspects.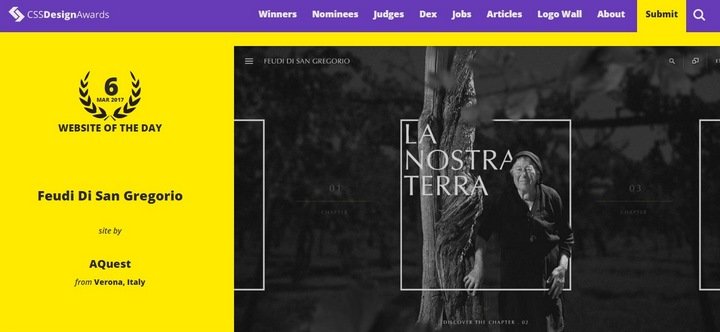 Yet another website that showcases the best CSS websites. The site also features logo designs, articles, and interviews of designers.
Why You'll Love CSS Design Awards
This gallery takes design more seriously than any other website. Each website design submitted to this gallery is rated and approved by a team of international judges that consists of over 100 professional designers from around the world. Rest assured, all the designs and nominated websites you find in this gallery are only the best.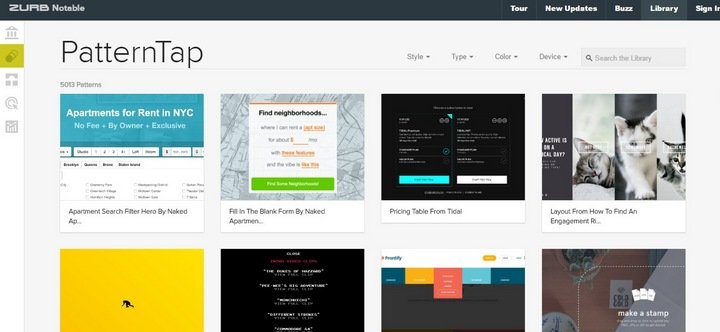 Maintained by Zurb, the developer of the Foundation framework, PatternTap is a curated gallery of beautiful website designs and a site you can use to stay up-to-date with current design trends.
Why You'll Love PatternTap
Understanding different design trends and patterns used in websites is just as important as finding ways to design unique websites. Because consistency in design plays an important role in every effective website design. This massive collection of web design patterns will help you design websites that are both relevant and unique.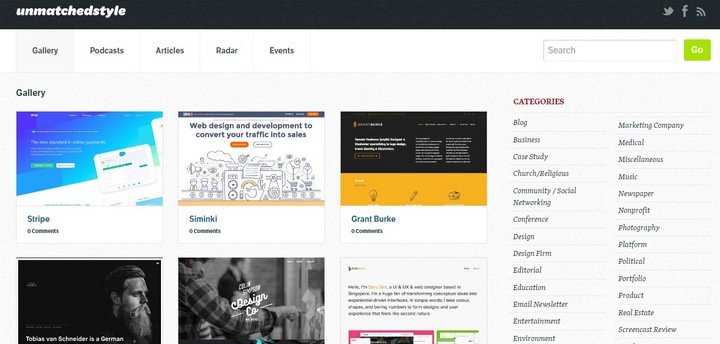 The inspiration gallery of Unmatched Style features hundreds of beautiful websites and it's also organized by over 50 different categories. You can easily browse this site to find inspiration for specific topics you're working on.
Why You'll Love Unmatched Style
Unmatched Style follows a series of guidelines when accepting sites to its gallery. Which is why all the websites you find in this gallery feature near perfect designs. Even when you're looking for inspiration, it's important that you explore sites of high-quality. That why Unmatched Style is a great place for you to find inspiration.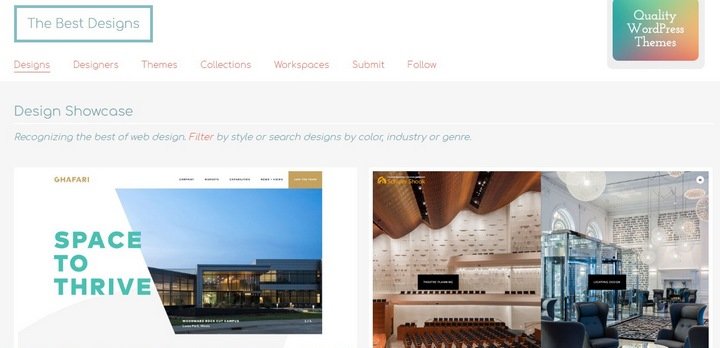 The design gallery of The Best Designs website showcases a handpicked collection of the most beautiful websites, which you can also filter by color, industry, or genre.
Why You'll Love The Best Designs
This is a gallery website that receives over 7 million pageviews each year. As a result of its popularity, the design team behind The Best Designs gallery is always looking for ways to improve the site with great designs.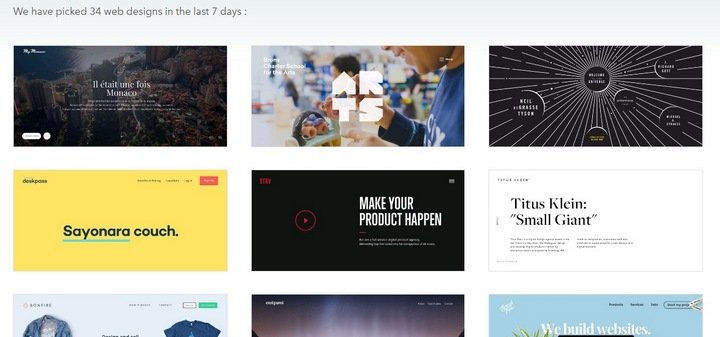 Maintained by a team of web designers, this gallery showcases only the best of the best website designs you can find online. The site features lots of different types of websites from different industries as well.
Why You'll Love Webdesign Inspiration
Since this site is curated by a team of designers just like you, you'll find this gallery to be filled with high-quality websites. It also has a special Editor's Picks section, where the team features their favorite website designs of all.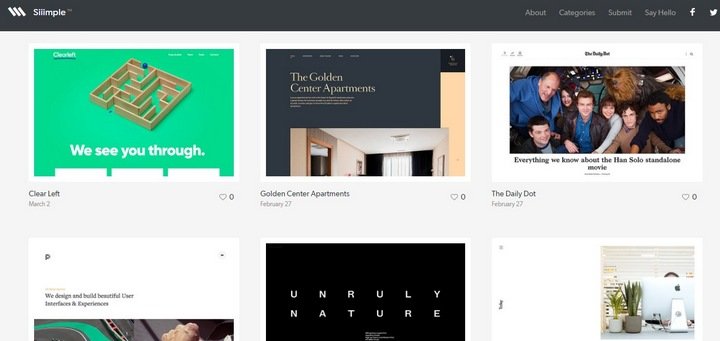 If you're a fan of minimalist website design, this is a gallery that you should add to your bookmarks. Siiimple features a large collection of websites that's been built with minimalist designs.
Why You'll Love Siiimple
The designers and developers behind Siiimple has been maintaining this site since 2008 and they are updating the gallery almost every day. Minimalism is an art all designers should master. And this gallery acts as the best place for you to learn about how to effective use minimalism in your designs by exploring other minimalist website designs.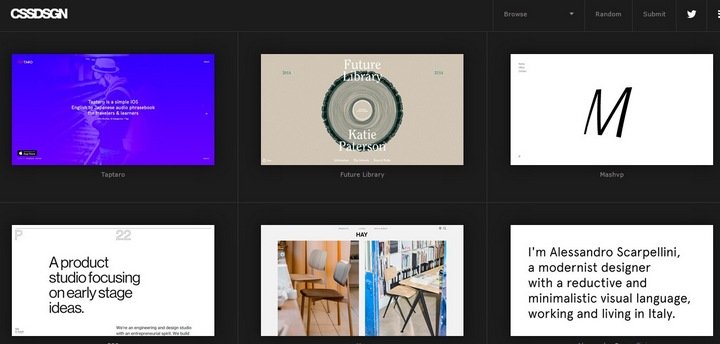 This website has a gallery full of over 3,600 beautiful CSS website examples. All of which you can browse to find inspiration. And you can submit your own websites as well.
Why You'll Love CSSDSGN
The simplicity of this gallery is what makes CSSDSGN special. There's no fancy rating systems, comments, descriptions, or voting systems in this gallery. It's just nothing but website designs for your inspiration. Simply click on a thumbnail to directly visit the website. And you'll be the judge of each design. It's as simple as that.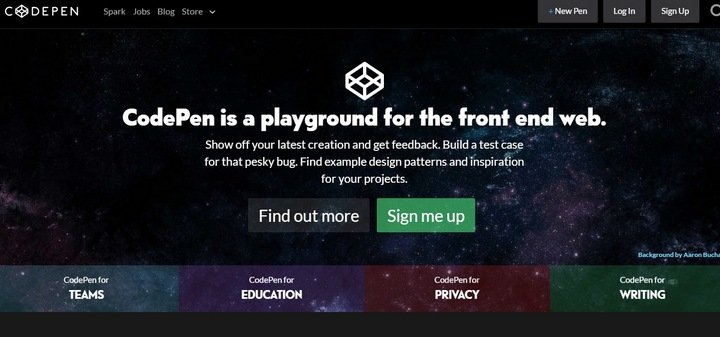 CodePen is one of the largest community websites on the Internet for web designers. It's not a website gallery, but it's a platform that let users share their code snippets and designs with other developers and get feedback from other users on their designs. You'll find plenty of CSS-based design elements on this site.
Summary
And last, but not least, don't forget to check out our own CSS web design gallery.
CSS3, the latest iteration of the stylesheet language is capable of doing so many things. If you're new to web design, you should definitely follow a proper course to learn the best CSS practices before putting your knowledge to test and coding your own web elements.
You May Also Like: