Web designers and developers are constantly looking for ways to decrease the time required to design or to develop a website. This is how they can improve their productivity and get the most out of their work. Here we are showcasing a collection of some useful and excellent CSS tools and generators that will help designers and developers in saving their precious time.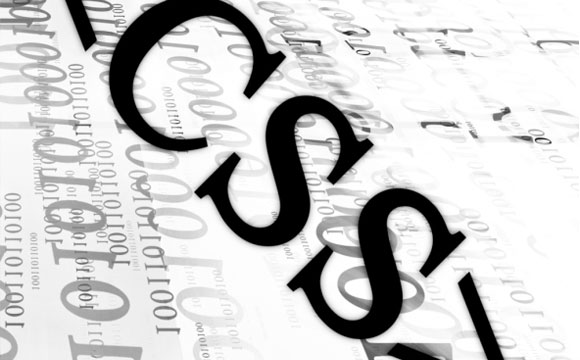 CSS tools are indispensable for web developers as well as for web designers for the reason that they work like a kind of magic lamp that can make the job at hand simpler. Nearly all development tools are time savers and therefore, they help developers and designers in creating elegant, functional and highly optimized websites with just a few shortcuts.
CSS Tools and Generators
Color Scheme Designer
This tool provides colors in the form of a color wheel with different variations such as mono, complement, triad, tetrad, analogic and accented analogic. This tool provides color variations in the percentage ratio and emphasizes the same with the proper scheme selected.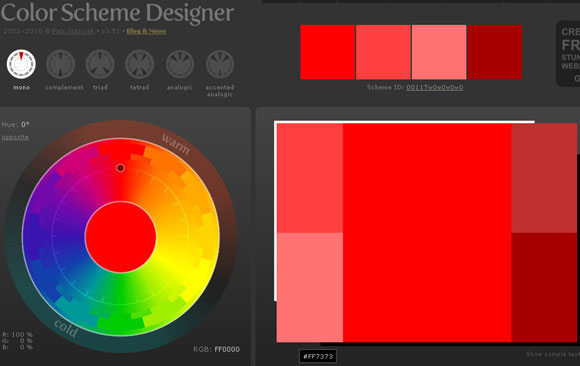 Tabs Generator
Tabs Generator is a CSS Navigation Tab Menu Generator that lets you tweak size, colors, corners and more, create your design, after that download and employ in your CSS style sheet!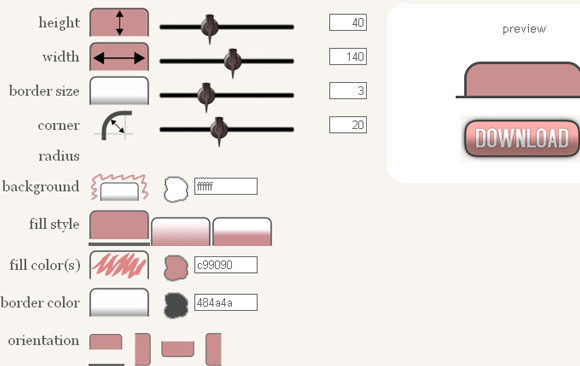 My CSS Menu
My CSS Menu provides webmasters with tools to generate a routine, cross browser compatible CSS menu. Creating web navigation is easy with this tool without knowing all the complicated HTML and CSS.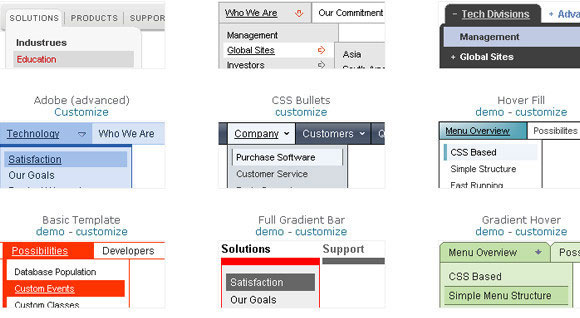 CSS Layout Generator
This CSS Layout Generator by CSS Creator will assist you in producing your personal website's template by means of compelling HTML and CSS. You can generate a fluid or fixed floated column layout, with up to 3 columns and with header and footer.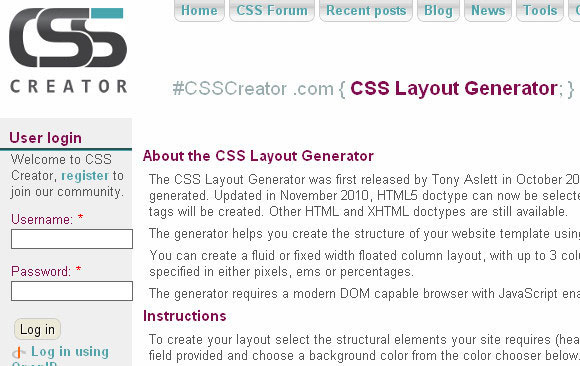 Fonttester
With this tool, you can edit and test a lot of CSS properties from the inline height, font weight, font style and variant, text indent and transform, word and letter spacing.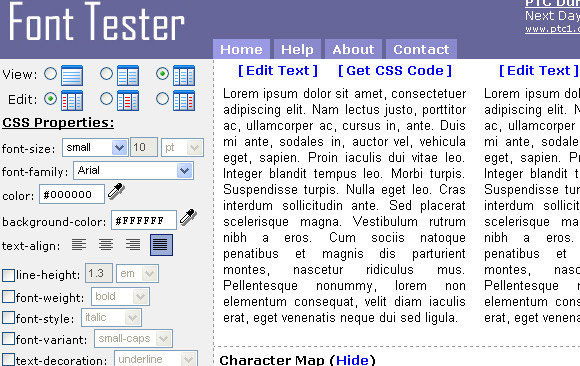 Gradient Image Maker
This tool lets you to simply create a gradient image of 3 types with instant previewing. With this tool, you can generate gradient images that you can use anywhere in your web page design.
CSS Table Wizard
You can use this wizard to try out table border styles and create style source code. This wizard applies dynamic HTML to alter the style of the table in place, without loading another page.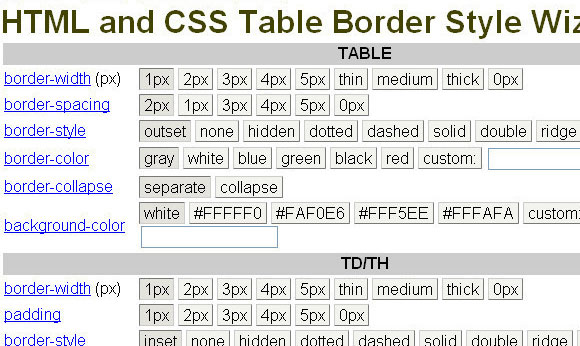 Grid Designer
Grid Designer allows designers to create or design grids with an option to customize Columns, Pixels, Gutters and Margins.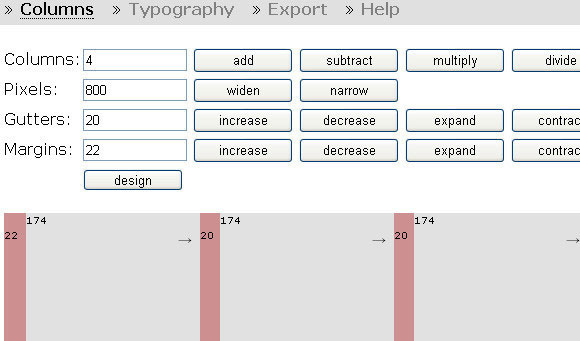 Ultimate CSS Gradient Generator by ColorZilla
This ultimate CSS gradient editor and generator was produced by ColorZilla and it is a great tool to generate CSS gradients having cross-browser support.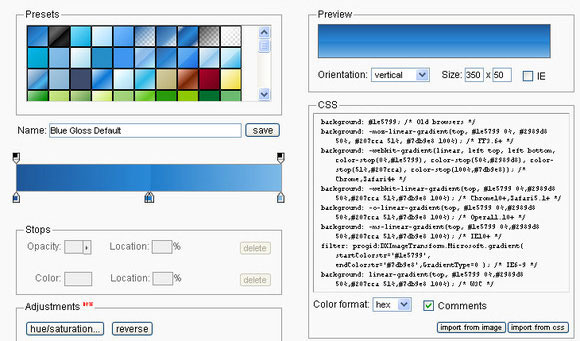 CSS – Sprit.es
With this tool, you can effortlessly produce CSS and HTML code by means of uploading the file you would like to use in your CSS sprite and afterward click the button that brings together all your images into a single file. With this tool, you can also accomplish any rollover effects.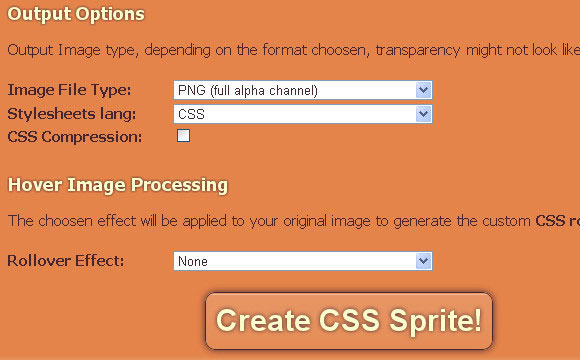 The 1KB CSS Grid
A fresh addition on the CSS grid that can be applied to streamline page templates for content management systems, its job is to be lightweight.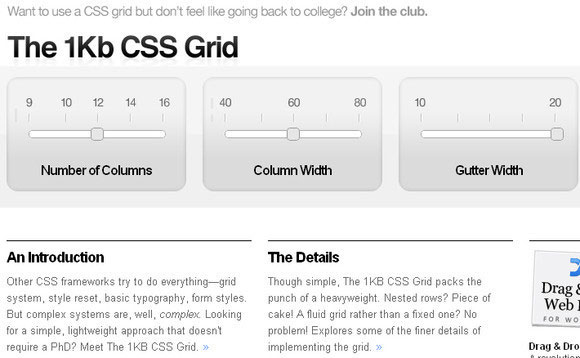 Variable Grid System
You can generate an underlying CSS grid for your website with this tool and get a 960 Grid System based CSS generated file.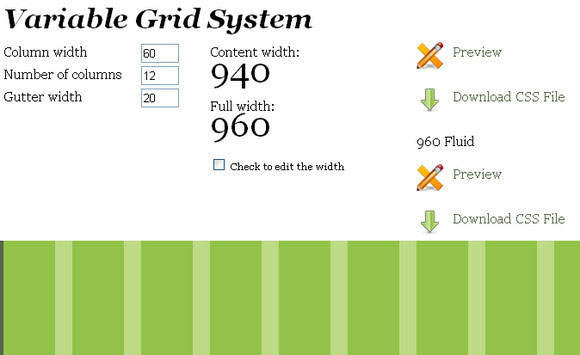 YAML Builder
This YAML Builder is designed to increase the growth of CSS layouts that are based on YAML.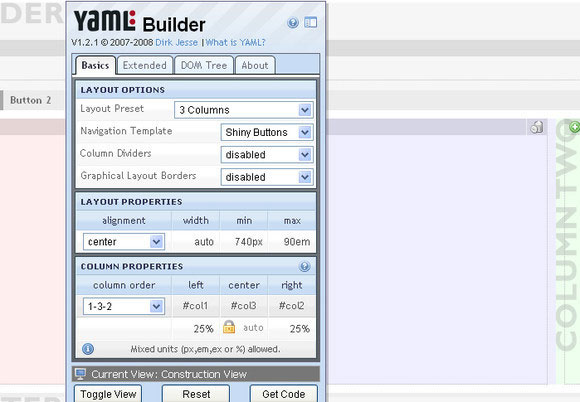 Gridinator
Gridinator lets you generate grids for the 960.gs, Golden Grid, 1KB Grid and you can even create a fundamental generic grid.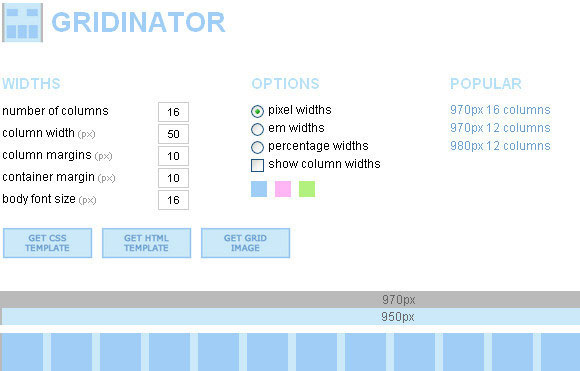 Blueprint Grid CSS Generator
This tool will assist you in generating more flexible forms of Blueprint's grid.css and compressed.css and grid.png files.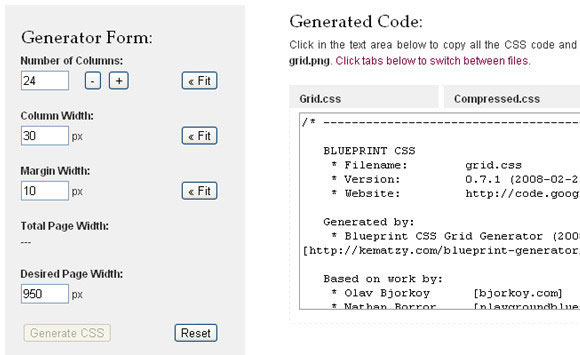 CSS Grid Calculator
You can use the CSS Grid Calculator for the purpose of quickly visualizing page layout and drawing grids in a range of ways. It offers exact visual feedback on how text blocks and page divisions will come into view within a browser window. It also returns style declarations for divisions and text to copy and paste into style sheets.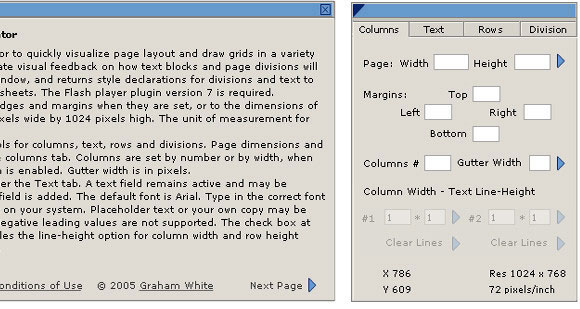 Button Maker Online
With this tool you can now create XHTML applicable micro buttons (80×15). You can also generate larger 88×31 buttons.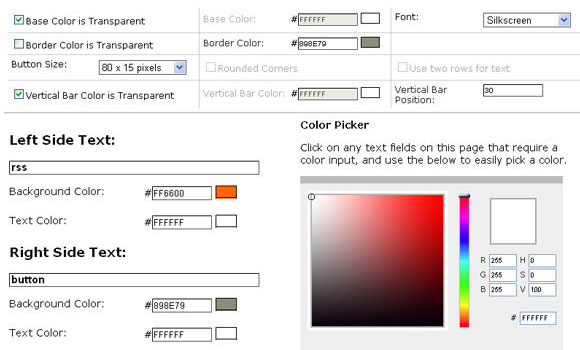 Templatr
This template generator allows you to create a unique design for your Blog or website. No knowledge of HTML or CSS is required.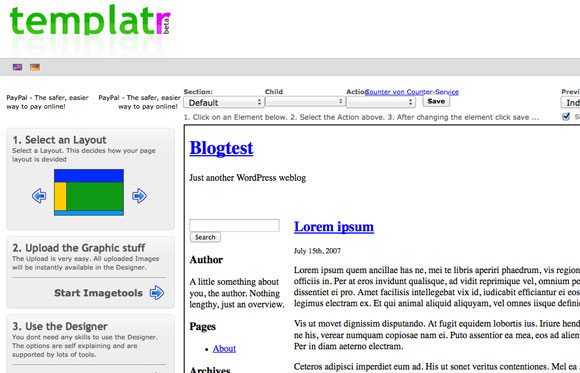 Free CSS Template Code Generator
This is a free HTML and CSS template generator that can give a three column layout with no use of any Tables. A full featured 3 column template is output by this HTML and CSS template generator that gives an instant web page with a customized template so that you can easily customize your template according to your own style.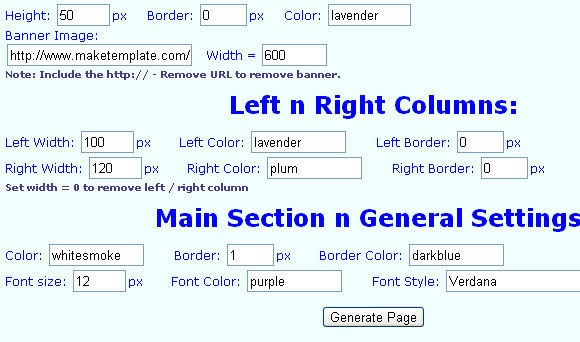 Firdamatic: the Design Tool for the Uninspired Webloggers
This is an online table-less layout generator to create and customize web layouts with no trouble by simply completing an easy form. With this tool, creating skins for your Firdamatic-based layout is a breeze.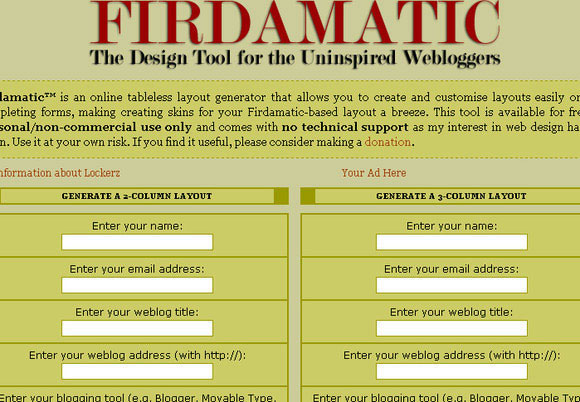 CSS Button & Text Field Generator
This tool is a CSS button and text field generator that allows you to straightforwardly create with just the click of the mouse.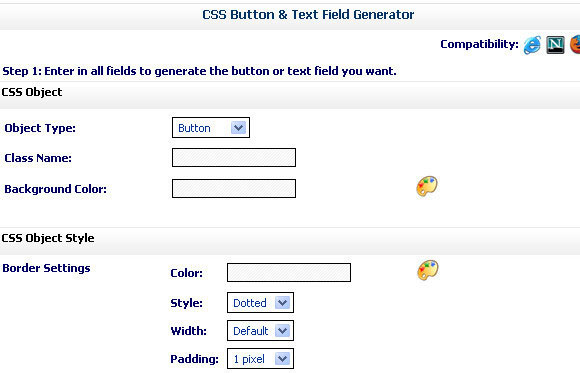 CSS Font and Text Style Wizard
Now you can experiment with different fonts and text styles to create sample CSS style source code. You can get changes done without loading an additional page.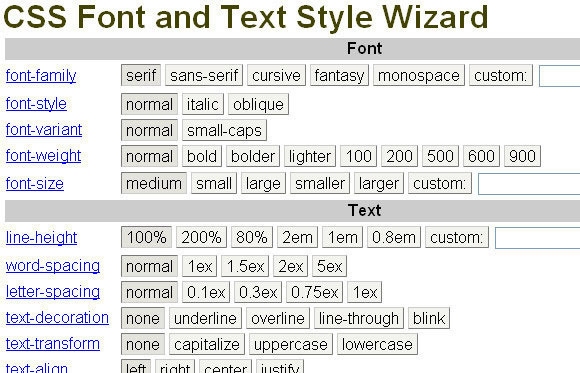 XHTML/CSS Markup Generator
Another simple markup generator for creating XHTML or CSS codes. It eradicates the wearisome work of writing boring frame code at the very beginning of slicing work. Its core function is to expedite your work by yielding XHTML markup and a CSS frame out of very intuitive, reduced syntax so you can jump easily to the elements styling.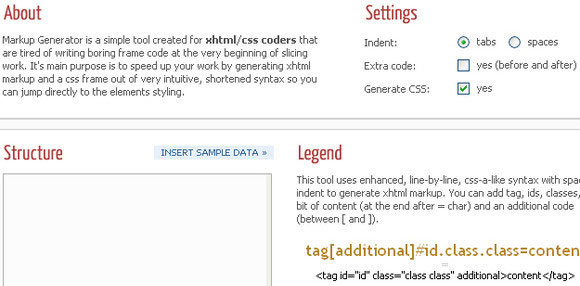 CSS Color Codes
CSS color codes has 2 choices for furnishing the hexadecimal color codes and the RGB color codes as well. Choose a color from the Color picker and copy its hexadecimal value from the bottom field.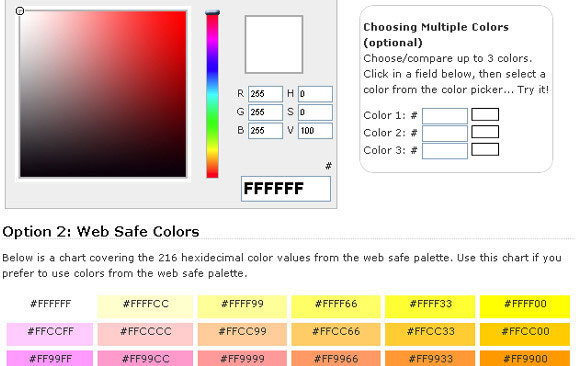 Sky CSS Tool
Sky CSS lets you to generate CSS classes without using manuscript code. A JavaScript attuned browser is required for the appropriate functioning.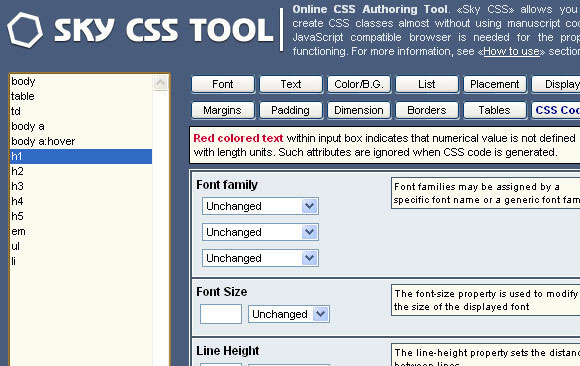 Spiffy Corners – Purely CSS Rounded Corners
Spiffy Corners is an easy method to create the CSS and HTML that you require to generate anti-aliased corners with no use of images or JavaScript.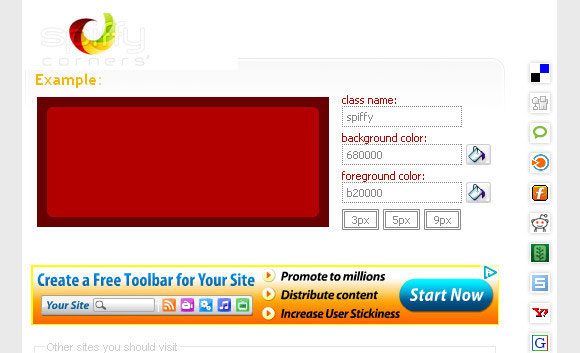 Spritebox
This is a WYSIWYG tool that assists web designers to promptly and effortlessly create CSS classes and IDs from a single sprite image. It was created from jQuery, CSS3 and HTML5 and is absolutely free to use.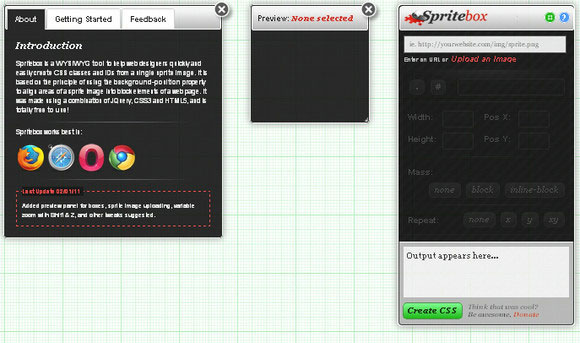 CSS Generator
This tool permits you to decide on a style for your web page. You can opt for different Cascading Style Sheet attributes with live preview. You can also select color, HTML tag, click the field you would like to insert color into and color them.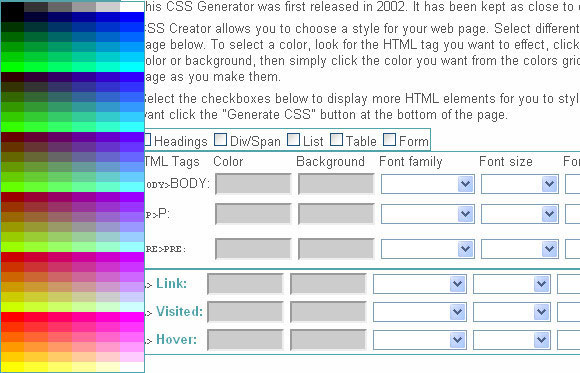 Cascading Style Sheet CSS Generator
This is another free CSS tool for creating cascading style sheets for your web page. You can insert as many style sheets as you want.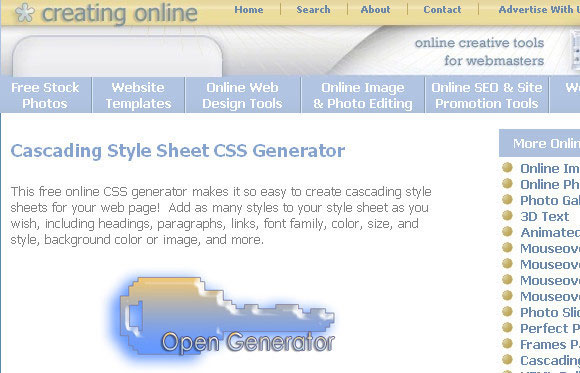 SlickMap CSS
This is another simple and easy stylesheet for exhibiting completed sitemaps straight from an HTML unordered list navigation. It can be used for almost all types of website accommodating up to three levels of page navigation and added utility links. It can be easily customized so that you can easily meet your own personal needs, branding, or style preferences.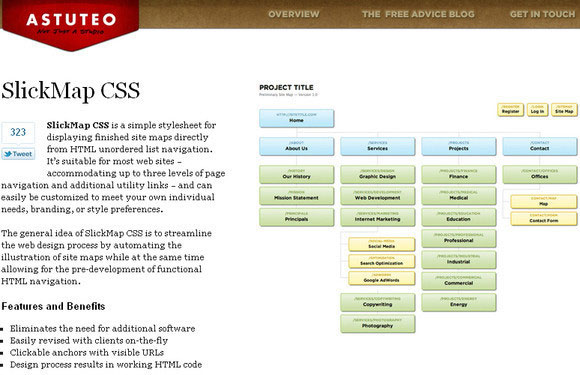 CSS Layout Generator – CSS Portal
With this tool, you can create a fluid or fixed width column layout, with up to 3 columns and with header, footer and menu. You can provide values either in pixels or percentages.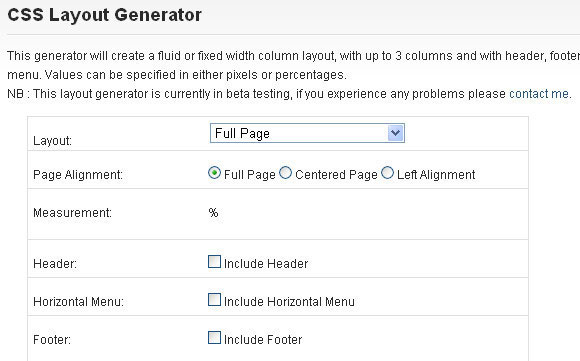 CSS Menu Maker
CSSMenuMaker furnishes the common webmaster with tools to generate custom, cross browser compatible website menus.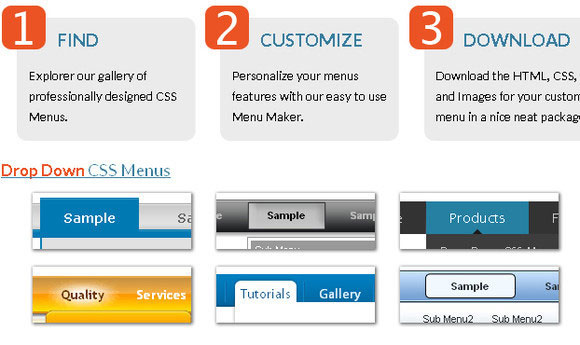 Clean CSS
CleanCSS is a great tool to be used as a CSS optimizer and formatter. Principally, it obtains your CSS code and makes it cleaner and more succinct.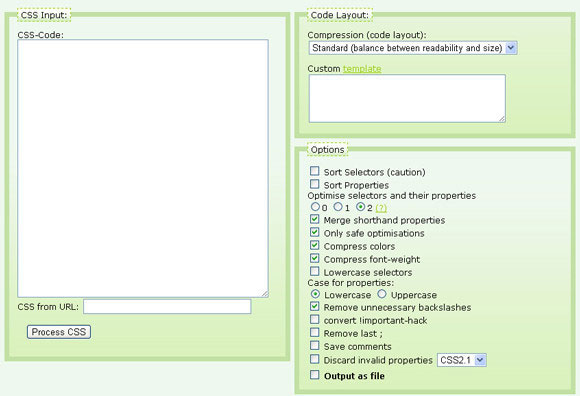 CSS3 Please!
CSS3 Please will show the end product of your code instantaneously, altering the element demonstrated in the image above; it is a very easy but great tool for designers and developers.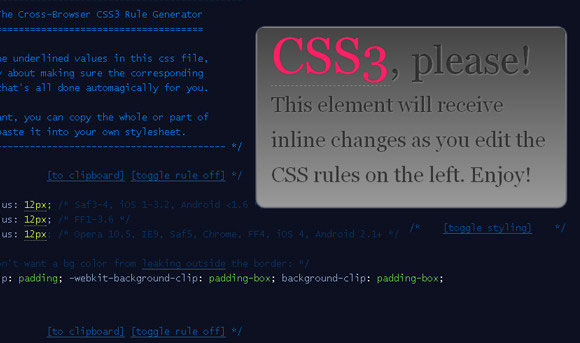 CSS Sorter
This is a free online CSS tool for sorting out CSS files. It categorizes CSS rules alphabetically in order that it will be easier for you to keep your CSS files.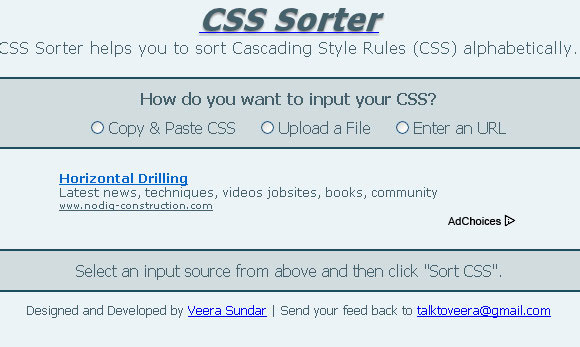 CSS Type Set
CSS Type Set is a practical typography tool that allows designers and developers to synergistically test and learn how to title their web content.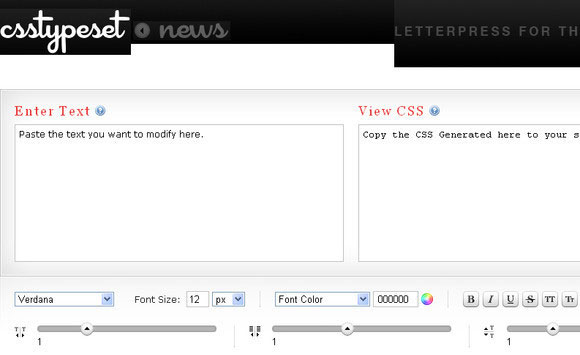 quickCSS – Online-CSS-Generator
With this tool, you can create CSS with just one click.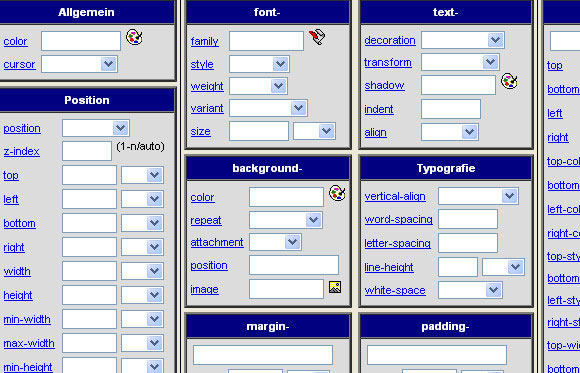 Website Performance (CSS Sprite Generator)
This tool lets you upload your source file so as to generate the sprite image and CSS. This tool functions by dismissing duplications, resizing the source images, determining the sprite and other CSS choices such as horizontal and vertical offset, background color, class prefix, CSS suffix etc.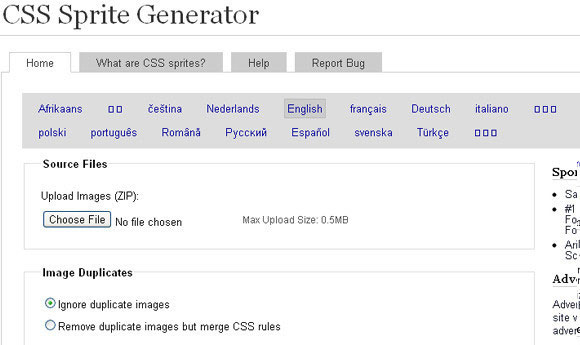 Layout Generator
With this tool, you can generate multi-column and grid layouts with CSS 2.0 techniques using %, px, or em.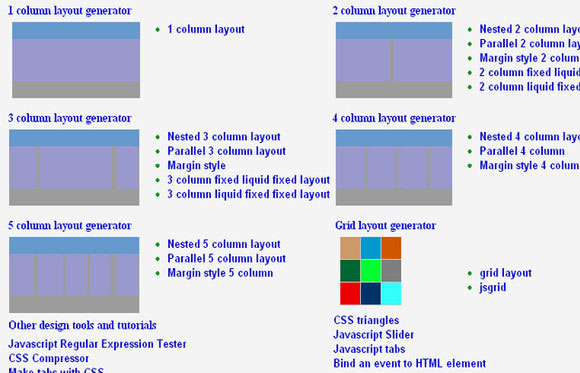 Em Calculator
Em Calculator is a tiny JavaScript tool that aids creating scalable and accessible CSS design. It changes size in pixels to related em units based on a text size.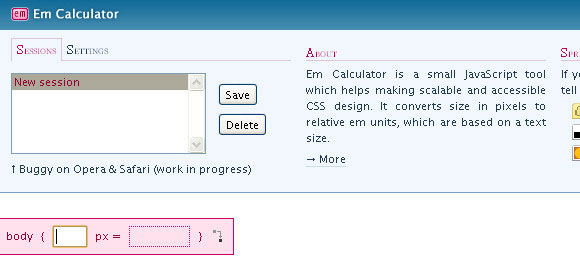 Colors Pallete Generator
Colors Palette Generator is a tool to quickly grab a particular color within an image for inspiration. It also generates Photoshop swatches and CSS styles.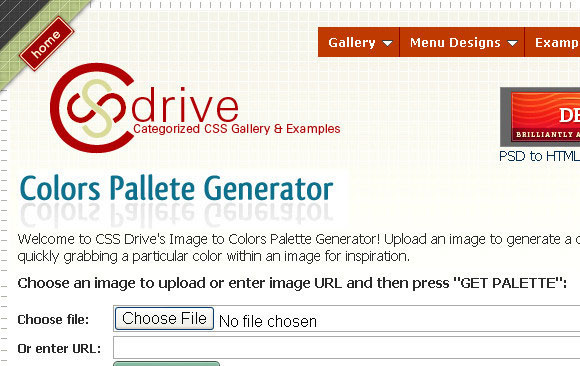 CSS Menu Generator by Webmaster Toolkit
This CSS Menu Generator creates both the CSS and the HTML code mandatory to create a text-based still alluring set of navigation buttons. As text links are promptly getting chosen over images where search engine optimization is required, a CSS menu can provide the usefulness of text links with a more improved look than ordinary text links.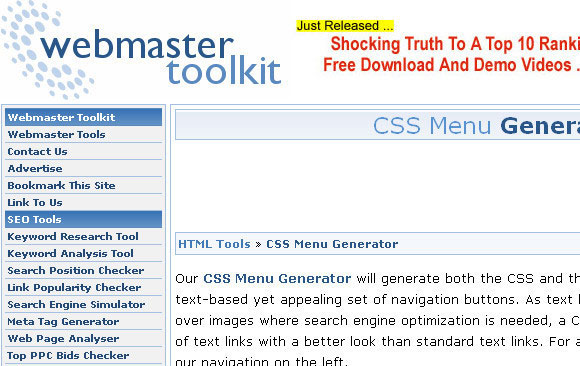 CSS Layout Generator
This tool sets the document category as XHTML or HTML strict or transitional and modifies the header, footer, sidebars, and layout width to perceive the preview in the same page.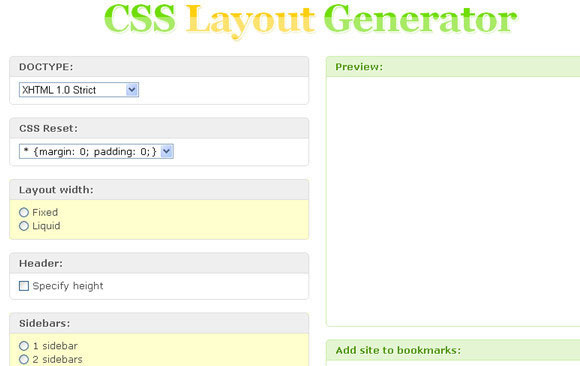 Simple CSS
Simple CSS lets you effortlessly create Cascading Style Sheets from scratch, and/or alter existing ones, by means of a familiar point-and-click interface.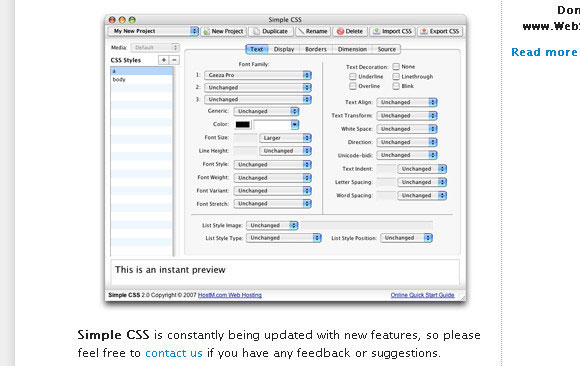 CSS font style
The CSS font-style attribute is used to set up the style of the font to italic or slanted.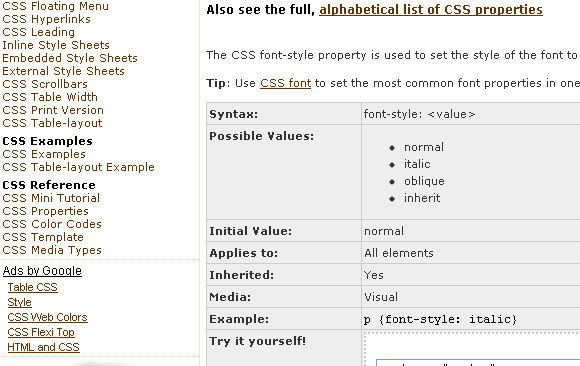 CSS Colors
With this tool, you can easily find the combination of RGB from 0 to 255 giving you a total of more than 16 million colors.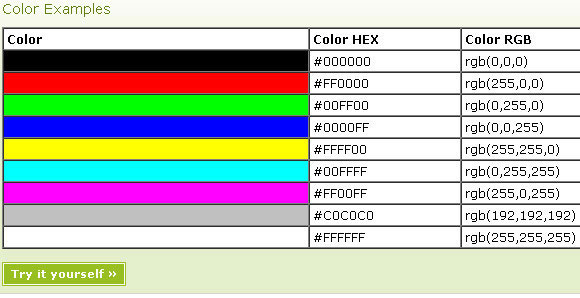 WordPress Theme Generator
Now, you can generate your own custom unique WordPress theme without needing any knowledge of HTML, PHP, CSS or JS. You can change the colors, settings, layout, preview live, click "save" and download your unique WordPress theme zip-file.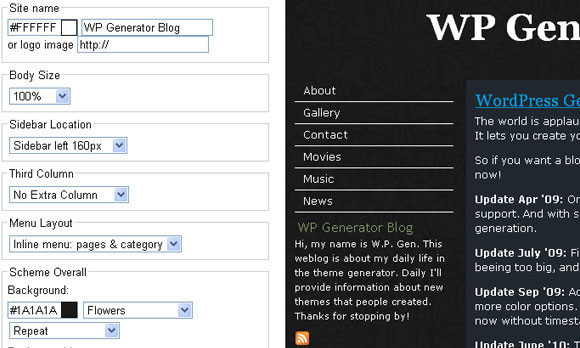 Csstxt
Csstxt is an online tool that offers to exemplify the several ways there are to insert a style to a text with a p or div tag.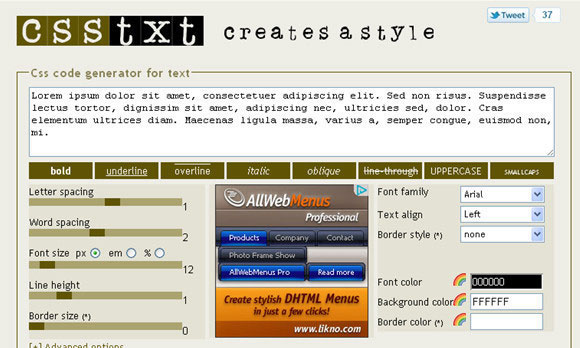 List-O-Matic
The well-known and fresh List-O-Matic allows you select the content, layout and demonstration of your list-based navigation menus.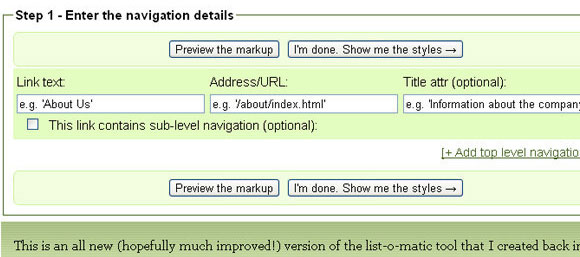 Typetester
The Typetester is another online application for comparability of the fonts for the screen. Its most important role is to make the web designer's life easier. The list of the common fonts will be modified as the new fonts are packaged into operating systems.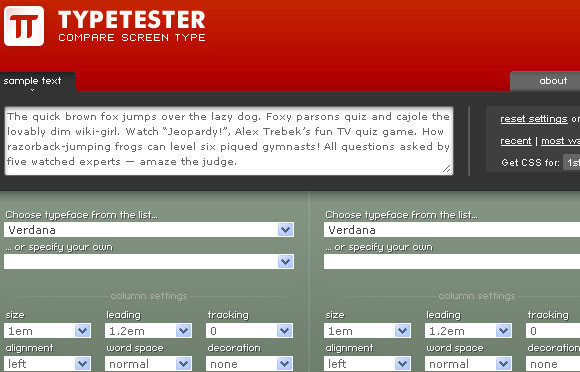 Conclusion
CSS tools and generators are really some of the best time savers ever developed for web developers and designers. These tools provide a sense of simplicity even to the most complicated task. The user-friendliness of these tools and generators always provides a flow to large amounts of coding work.
CSS tools and generators not only make developers work easier and faster but also let them improve their productivity. Almost all developers use some sorts of CSS tools. Do let us know which CSS tool you use that are real time-savers for you. Just drop us a line below letting us know about your favorite CSS tool and generator.