If you're a designer/creative, you probably already know that having an online portfolio is very important. Not only do you need to have something to show your potential clients, but these days it's important to be present online for many reasons. If you leave the address of your portfolio when you're communicating in social media, through blog comments, contests and so on, you'll see that you can even get work from that alone.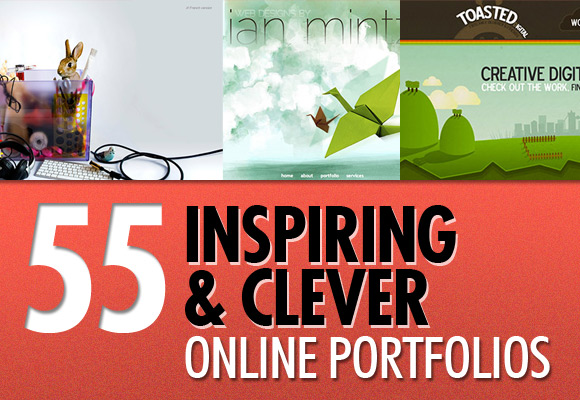 Inspiring and Clever Portfolios
A portfolio can make or break you. It's important to show your best work, your variety and stand out. In this showcase we've put together a collection of 55 portfolios we've found online that we think stand out as clever, creative and inspiring. We hope these can inspire you when you're making your own portfolio, when creating web designs and in other projects. We find these pleasant to look at and invite the visitors to want to learn more about the people behind them.
We hope you've enjoyed these online portfolios and gotten some inspiration for your own one. Remember that if you're not quite ready to make a dedicated portfolio website this way, there are several services where you can show off your work until you have your own website ready.
Did You Get Inspired?
We'd love to hear your comments on these, and feel free to share a link to your own online portfolio if you have one. Which one is your favorite? Remember to share the article if you liked it. Thanks!