WordPress is one of the best (if not the best) platforms to build a website on for SEO purposes. It's so popular that even Google's own Matt Cutts, head of Google's Webspam Team, has recommended WordPress as a "great option" for building a website.
Before we delve into how to optimize WordPress for SEO, let's explore why WordPress is such a powerful platform by analyzing how Google ranks websites.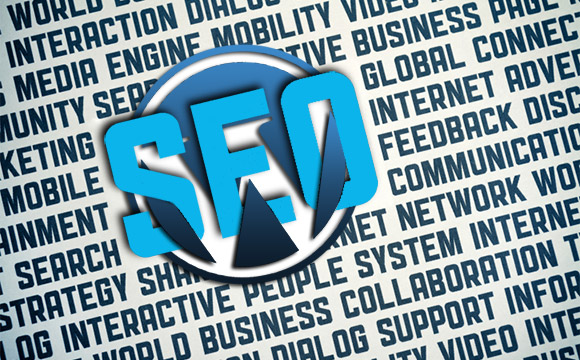 A Complete Guide to WordPress SEO
Relevancy
Google's number one goal is to produce relevant search results for internet users. Because Google can't individually visit every website on the web to determine how "relevant" it is, Google has set algorithms that calculate the relevance of a website.
Here are the major factors that Google takes into consideration:
Keywords and Keyword Density
Title Tags and Meta Descriptions
Frequently Updated Content
Traffic Volume
Relevancy of Inbound Links (Backlinks)
Total Amount of Unique Content
Navigation and Layout of a website
Website Speed
Each one of these 8 factors determines a website's overall relevancy and ranking in search engines. In Google's mind, a well-built, high traffic website with plenty of fresh content, optimized keywords, and solid backlinks is what determines relevancy. It has very little to with any self-perceived sense of value or size in terms of employees.
Optimizing WordPress for SEO
Table of Contents
Basic Set Up

Permalinks
www vs non-www
Site Title and Site Description

Writing Content

Developing a Plan
Keyword Optimization
Re-writing Title Tags and Descriptions
Tags, Categories, and Archives
Image Titles and Alt Tags

Site Architecture

Heading Structure
Having Content "Above the Fold"
Maximizing Widgets
Breadcrumb Navigation
Interlinking Pages and Posts

Streamlining WordPress for Speed

Minifying HTML, JavaScript, and CSS
Utilizing Caching
Compressing Images
Eliminating Unnecessary Features
Serving Scaled Images
CDN and Other Server Related Upgrades
Dedicated Server or Virtual Private Server

Off Page SEO

Backlinking
Building a Following
Social Networking

Tracking Conversions

Google Analytics
RSS Subscribers and Newsletter Subscribers
1. Basic Set Up
When setting up WordPress, there are a few basic settings that are critical for SEO. Be sure to have these settings in place before doing anything else related to your website.
1.1. Permalinks
Permalinks are the end URL associated with a web page. It is important to have permalinks that reflect the content of an individual post or page. To set your permalinks to the proper setting, log into your WordPress Dashboard. Go to Settings > Permalinks to set your website's permalink structure.
Select "Post Name" as your setting for permalinks: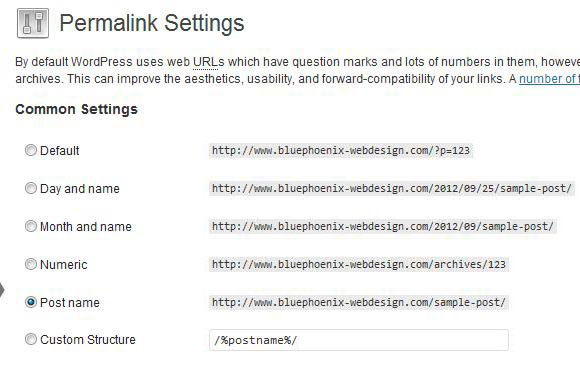 This will result in permalinks that look like the following:

Having major keywords related to a post or page that show up in the URL is a great way to increase the search engine ranking of that individual post or page. Higher rankings on individual pages will result in more click-throughs and more web traffic.
1.2. www vs non-www
Before launching a WordPress-powered website, it is important to decide whether or not you would like to use the www or non-www version of your website. This setting can be set by going to Settings > General and typing in which version of your website you would like displayed:
You will also want to create a Google account and set a preferred domain for your website under Google's Webmaster Tools by going to Configuration > Settings:


1.3. Site Title and Description
The most important keywords on your entire website are the keywords contained in the website's title and description. These keywords determine an overall theme for your website that Google will take into consideration when ranking your website. You will want to make sure that the primary keywords that you would like your website to show up for are contained in the site title and description.
To set the site title and description, go to Settings > General and set your website's title and description:

2. Writing Content
Learning to write effective content is fundamental for building a successful WordPress site. This section will cover how to write SEO friendly content to populate pages and drive web traffic.
2.1. Developing a Plan
One of the most important factors prior to writing content is to develop a plan that answers two important questions:
Who is my target audience?
What does my target audience want to read about?
Determining who your target audience is and what they would like to read about will help create a long term vision for your website. This will prove to be invaluable as these readers begin to come to your website looking for information, products, or services that they might be interested in. Once you've developed a solid plan for your target audience, you can start writing content.
2.2. Keyword Optimization
When thinking about keyword optimization on an individual post or page, one of the major questions that shows up is "What is the proper keyword density for a page?"
Keyword density, however, is largely a search engine myth that has invaded most of the SEO community without any real evidence behind its validity. Google has used keyword density in the past as a means to determine if a website is considered spam, but overall, keyword density on a page has very little impact on its overall ranking.
What does matter is whether or not major keywords show up in page titles and headers within a page. Headers such as your h1, h2, h3, etc. are essentially titles for sections or subsections within a web page or blog post. It is critical that the most important keywords show up in h1 headers.
To format a section title with a header tag, you can highlight the text you would like to convert to a header and then select from a list of options using the drop down menu on your formatting bar: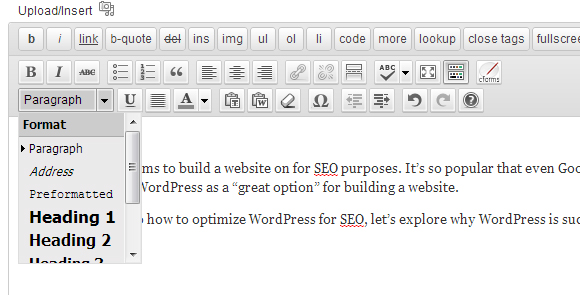 A well-formatted post or page will look something like this (headers identified by red text in brackets):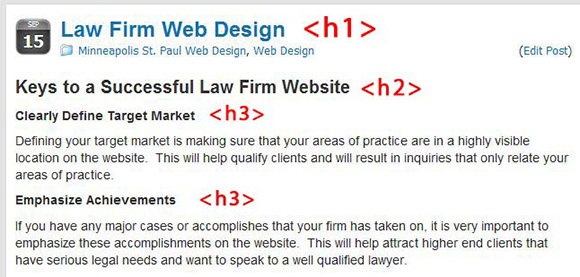 2.3. Re-writing Titles and Descriptions
By default, most WordPress themes generate title tags that also contain the website title in them. For instance, if your website has its title set to "Buy Used Cars – Affordable Prices", a brand new page will have a title tag that looks like this:
New Page | Buy Used Cars – Affordable Prices
An example of this can be seen in the screenshot below: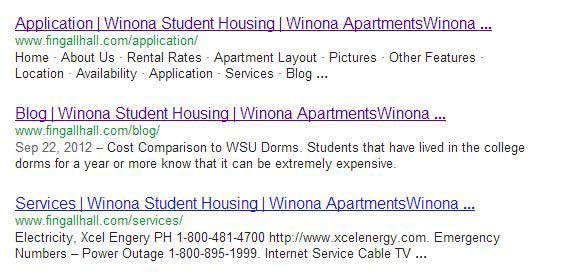 Screenshot from Fingall Hall: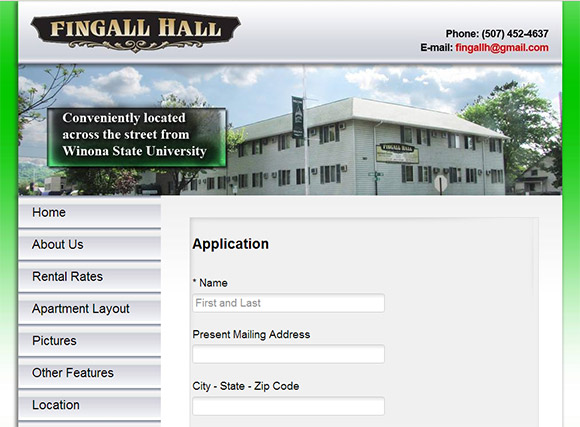 As you can see, new pages on this website have the site title in the title tags. Since title tags are the #1 factor that Google considers when determining what the content of a web page is about, Google may assume that a website like this has duplicate content. This can severely hinder a website's overall ranking in search engines.
The easiest way to fix this issue is to download the WordPress SEO plug-in by Yoast.

This plug-in will allow you to re-write title tags and descriptions, which will eliminate title tag redundancies. Here is what web pages with re-written title tags will look like in search results: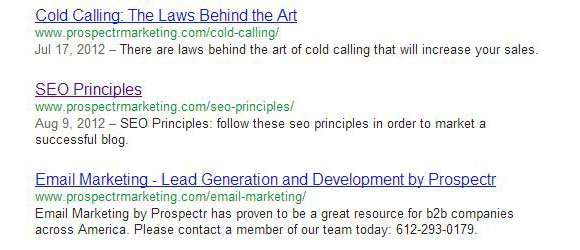 Screenshot of Prospectr Marketing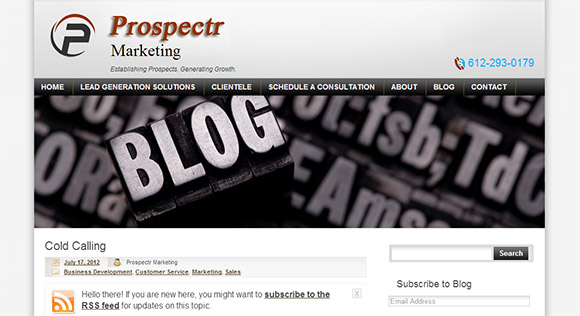 2.4. Tags, Categories, and Archives
Tags, categories, and archives are the primary reason why WordPress is such a powerful tool. One blog post with 5 new tags, a new category, and written in a specific month can generate 8 new pages from one piece of fresh content.
Word of Caution
Be careful when creating new categories and tags. Creating 50 new tags for one blog post may appear like spam to any reasonable search engine. It's best to only create a few new tags and an occasional new category to take advantage of WordPress' ability to rapidly populate pages without getting flagged by search engines.
2.5. Image Titles and Alternate Descriptions
Any images placed on a page or post should have a Title and alternate description defined. Search engines index pictures according to the keywords contained in Titles and Alt tags for images.
Properly optimized Titles and Alt tags can generate hundreds of visitors from image searches by users on the web and can also help increase the search ranking of individual pages.
To edit an image's tile and alternate description, click on the image on your publisher screen and select the button to "edit image". You will then see a screen pop up that will allow you to edit the title and alternate description for your image:

3. Site Architecture
Building your WordPress site with the proper site architecture is extremely important. This section will cover a few important factors regarding coding, navigation, and overall website structure.
3.1. Heading Structure
Some WordPress themes will generate h1 header tags on pages by default. It is important to make sure that multiple h1 header tags do not show up on a post or page as this will take away from the strength of keywords that show up in headers. Pay attention to what type of headers show up in any feeds or jQuery sliders incorporated with your WordPress theme and eliminate any unnecessary headers.
3.2. Having Content "Above the Fold"
One of Google's latest acts of terrorism on the SEO community was the release of an algorithm change called "Panda". The purpose of this cuddly sounding algorithm change was to downgrade low quality websites and reward higher quality websites.
One of the primary criteria Google took into consideration with this update was how far down a page a reader has to go to begin reading content. Websites with no content "above the fold" (visible without scrolling) were downgraded and websites with content located "above the fold" where rewarded. Make sure that your website has a reasonable amount of content visible without scrolling to maximize your search engine ranking.
3.3. Maximizing Widgets
One of the critical factors for SEO is making sure that new web pages actually get crawled by search engines and get crawled deep. When you publish a blog post through WordPress, it can result in 10-20+ new indexed pages by Google after new tags and categories get crawled.
The best way to maximize the number of tags, categories, and dynamically generated pages that get crawled by Google is to utilize widgets to flatten your website's architecture.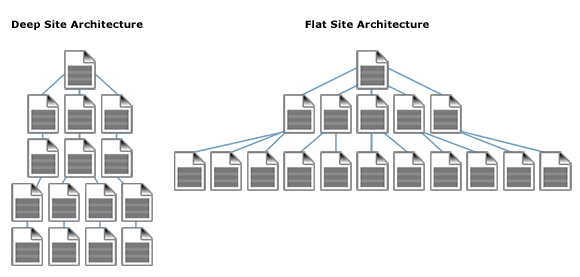 Google prefers flat site architecture over deep site architecture meaning that information close to a website's home page is considered more "relevant". Therefore, we can assume that the closer a blog post is to a website's home page, the deeper a post will get crawled.
One of the easiest ways to ensure that this happens is to place a "Recent Posts" widget on your home page. It can also help out tremendously to find a place on your home page for an "Archives" widget and a "Categories" widget as well. This will help flatten your website's architecture and will help new posts get crawled faster and deeper.
3.4. Breadcrumb Navigation
Breadcrumb navigation can also assist in getting a website crawled deeper by creating additional pathways for search engines to find the same content. This is a great option for websites with tons of content and difficult navigation. Below is an example of breadcrumb navigation:

3.5. Interlinking Pages and Posts
One of the newer aspects of SEO is the concept of internal links between pages and posts on a website. Not only does this provide a great way to keep old articles and pages relevant, but it also provides a significant SEO advantage. If you have old pages or posts on your WordPress website, keep them relevant by posting links in newer pages or posts that link to old content.
4. Streamlining WordPress for Speed
In the world of SEO, most webmasters fail to take advantage of some of the biggest wins that can be achieved by simply streamlining a website for speed. Google considers page load time a critical factor for website usability and has translated this belief to how it ranks websites. Here are a few tips to speed up page load time in WordPress:
4.1. Utilize Caching
Since Google considers page load time to be a major factor in terms of relevancy to end users, having a website that loads quickly is extremely important. One of the easiest (and most manageable) ways to speed up page load time is to utilize caching. Caching essentially refers to taking real time snapshots of pages or files so that they can be easily referenced later. Properly caching resources on your WordPress-powered website can cause an increase in page speed by as much as 50%.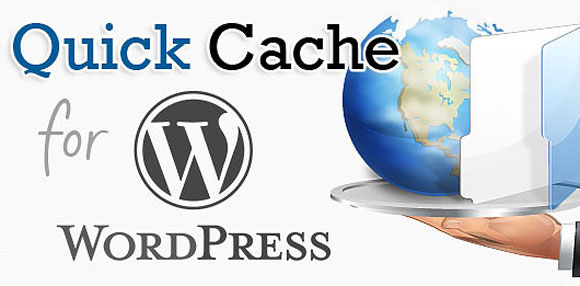 The easiest way to utilize caching on your website will be to use a well-written plug-in such as Quick Cache.
4.2. Losslessly Compress Images
Another way to streamline a website and speed up page load time is to compress images. Images are one of the most common causes of slow page load times and server lag and can make a dramatic impact on overall site speed. To compress images, you will need to find an image compressor that will losslessly compress images. There are a number of WordPress plug-ins that attempt to do this but some are a little tricky to install.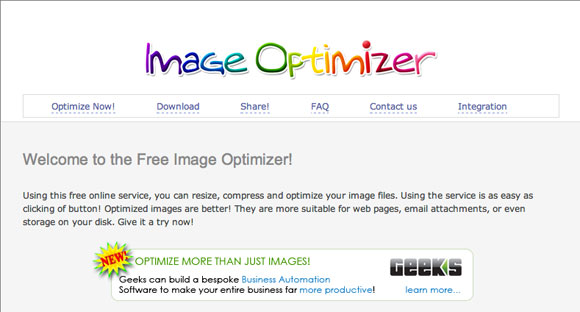 We would recommend using Image Optimizer 3.0 by Geeks, Ltd.
4.3. Minifying JavaScript, CSS, and HTML
Javascript, CSS, and HTML coding can be compressed or "minified" to optimize site performance and page load times. This reduces the number of HTTP requests when a user accesses a site through streamlining coding and eliminating unnecessary data.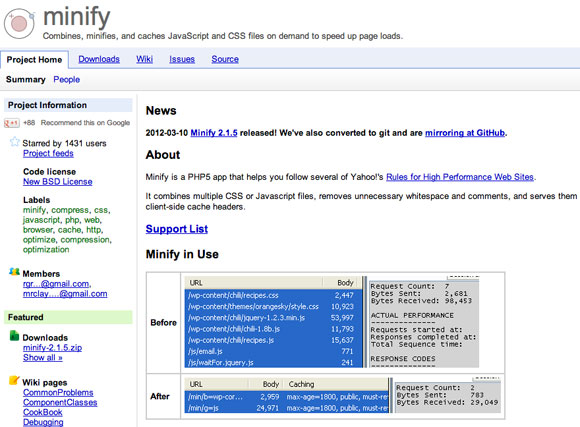 You can download a free minifying tool from Google
4.4. Eliminating Unnecessary Features
Most WordPress themes manage to impress with fancy jQuery and JavaScript functions but fail to consider how these features affect page speed. Eliminate all unnecessary features in your WordPress theme to speed up your website and minimize the number of HTTP requests.
4.5. Serving Scaled Images
WordPress allows images to be shrunk down before being inserted in a page. However, this is a terrible idea when optimizing a website for speed. Images should be uploaded in a size similar to the size they will be on a web page and should require only minimal resizing.
4.6. CDN and Other Server Related Upgrades
WordPress page load times can be sped up tremendously through upgrading to a CDN or dedicated server. CDNs (Content Delivery Networks) are large networks of servers deployed across multiple data centers in the internet. The primary goal of a CDN is to provide high performance and availability of content. This can reduce page load times tremendously and can more than double a website's load time.
4.7 Dedicated Server or Virtual Private Server
Another hosting feature that can speed up website load times tremendously is hosting a website on a dedicated server or virtual private server. Dedicated servers are servers that are dedicated to hosting only one website rather than multiple websites on the same server. This makes content more readily available and can significantly reduce server lag.
Virtual Private Server is a cross betwen a virtual hosting/shared account and a dedicated server. Basically, as the name virtual says, it's not real. It is still a shared hosting account but unlike a normal shared hosting account, each VPS has its own dedicated slice of the CPU, RAM and disk space. So basically, what you do will not affect the other VPS on the machine. You can reboot your VPS anytime you want and you will have root access.
5. Off Page SEO
While a good majority of SEO has to do with work done internally on a website, off page SEO is just as critical for having a high-ranking, SEO friendly website.
5.1. Backlinking
Backlinking continues to be extremely important and relevant for effective search engine rankings. With Google's latest release, Penguin, links in auto-approved directories or tied to link schemes are being severely punished. Instead of pursuing these links, focus your link building efforts on high PR websites with minimal outbound links. These will serve as an invaluable resource in your SEO efforts.
5.2. Building a Following
One of the most effective tools for generating consistent visitors is through building a following of regular readers and subscribers. The 4 most effective ways to do this are:
Write Good Content
Newsletter Subscription
RSS Feed
Comments
Writing good or interesting content is the fundamental key behind building a solid following. If your website is boring, uninteresting, or a waste of people's time, it's going to be very challenging to get visitors to return.
After getting visitors to your website, the next step will be to keep in contact with visitors that visit your website by recommending that they subscribe to a newsletter or RSS feed. Newsletters and RSS feeds are a great way to maintain user engagement.
When users do come to your website and post comments on posts or pages, it's also a good idea to reply to these comments. Doing so will provide an incentive for users to post on your website and will help build an online community.
5.3. Social Networking
You can attract hundreds and sometimes thousands of visitors to your website by taking advantage of social networking. This can be a great way to access arenas where millions of users are browsing and re-posting content and links. It's not uncommon for websites to generate thousands of monthly visitors simply from gaining a popular following through social networking sites.
6. Tracking Conversions
Once you've optimized your website for SEO, it is important to track your progress and find out how customers come to your website. The most basic way to do this is to use Google Analytics:
6.1. Google Analytics
Google Analytics is the most analytical software in the world for tracking website conversions and site statistics. While it doesn't register users that have JavaScript blocked in their browsers, Google Analytics will track valuable information about the vast majority of visitors that visit your website.
A few important features to pay attention to in Google Analytics are:
Unique Visitors
Referrals and Traffic Sources (where traffic comes from)
Traffic Flow (where users are when they leave your website and if they convert)
These few details will provide valuable analytical information to eliminate bottlenecks and maximize effective conversions through your website.
6.2. Newsletter Subscribers and RSS Subscribers
Another benefit to promoting a newsletter or RSS feed is that it can serve as a great tool to generate and analyze conversions. For instance, if your newsletter gains 1 new subscriber for every 100 unique visitors to your site, we can assume that your conversion rate is around one percent.
More Resources
Conclusion
Using the above steps to optimize your WordPress site for SEO will make a tremendous difference in overall search engine rankings. Take your time and learn these principles as they will pay off tremendously as your website gets crawled by Google and starts to rank for competitive terms.
Have I missed out any tips on optimizing SEO for WordPress? What are your tricks and recommendations? Feel free to share with us in the comment.