Guest articles (articles written for a website other than your own) are popping up all over the place. Web design websites are rapidly growing at a rate that would not be possible without the help of guest articles. Many websites are delivering quality articles on a daily basis. It is hard to imagine one person, or even a couple of people, in charge or producing all of this quality content daily. Chances are they are not the only ones and have the help of guest authors.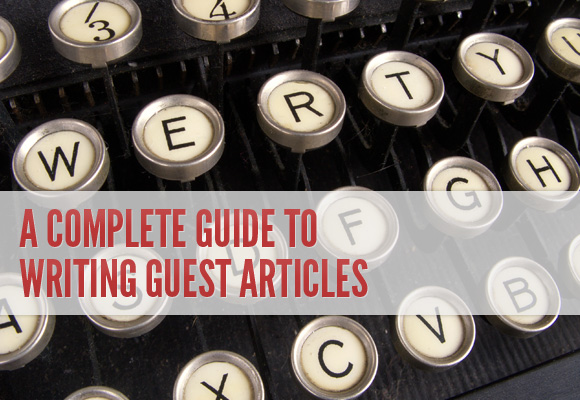 Who are these guest authors? They are any knowledgeable person with passion for web design and development, you included. Writing guest articles can be a great way to gain experience and recognition within the field. However, guest writing is not for everyone. Outlined within this article are some reasons why you may or may not want to write guest articles as well as what to look for and where to get started should you decide to write a guest article.
Why Write Guest Articles?
Why would anyone want to write a guest article? Good question! Depending on who you talk to, there are many different reasons as to why you may want to consider writing a guest article. Perhaps it is for the publicity, or maybe it is for the good of the community and to lend a helping hand. Either way, there is no right or wrong answer. Let's take a look at a few reasons you may want to think about writing a guest article.
Contribute to the Community
One of the biggest reasons for wanting to participate in writing a guest article is to give back to the web design and development community. Think about everything you know about the subject today. Would you be where you are today if it was not for others that were willing to share what they know and have learned over time? Be thankful to the community and embrace the opportunity to give back.

To Help Others
Writing articles take a great deal of time and effort. Time and effort not everyone can always afford. By writing a guest article you allow other authors to focus on something else for a short amount of time. Stepping in and helping them out gives them the time to work on another project or simply take a break. It never hurts to help others out. Perhaps, if you scratch their back, they will scratch yours.
Expand Your Exposure
One of the best ways to reach a new group of readers is to write a guest article. Writing articles for different websites will allow you to get your name out and help build your brand. The more guest articles you write on a wide variety of websites, the more readers you are able to reach and ultimately expand your exposure.

Increase Recognition
Recognition can go a long way and writing a guest article will dramatically help increase your recognition. When you write a guest article, readers understand that the website publishing your article sees you as a professional and trusts your opinion from within the field. This bit of recognition can really help you in the long run by increasing your personal audience. If you continue to write guest articles your recognition will be widened.
Expand Your Network
Being given the opportunity to write a guest article also gives you the opportunity to meet other like-minded authors and readers. Make the most of this opportunity to connect with these individuals whether it is on a personal basis or over a social networking website such as Twitter. The connections you make from guest writing may potentially help you in the future.
Link Building
Typically, when you write a guest article for a website, they allow you to include a small biography and a couple of links along with your article. On top of giving you an expanded exposure and the chance to increase your recognition, guest articles also allow you to build links. Links are great for SEO, especially if they are coming from a well respected website or a website similar to that of your own. Always be sure to include a link or two within your biography whenever you write a guest article.

Potential Reimbursement
Some of the bigger name websites have also begun paying guest authors for their articles. Most paying websites will typically contact you to ask if you would be interested in writing a guest article, upon which you may work out a financial arrangement. Other websites allow you to submit your article with the chance that your article may be selected from a pool of others.
If your article is selected, they will reimburse you accordingly. Getting payment for guest articles is increasingly popular. However, it should never be the deciding factor as to whether you contribute to a website or not.
Why Not Write Guest Articles?
On the opposite side of the table, there are always reasons as to why you should not do something and it would be unfair to not explore them. Take a look at a few reasons that may not interest you about writing guest articles. From here, weigh your options and decide what best fits you.
Time and Effort
Writing a good guest article takes time and effort and some of us just do not have the time. If you do not feel like you can completely dedicate yourself to a guest article, than it is better to decline the offer than to release inferior content.
Missed Opportunities
When you write a guest article, you are advocating another website, not your own. This leads to you missing out on traffic going directly to your website. Furthermore, any SEO benefits received from the article such as links and organic rankings will also be passed to the website from which the article is published, not your own.
Writing Struggles
Many people are just not that into writing. This does not mean that they lack intelligence or that they are dumb. Even the smartest people struggle to put pen to paper. If you are not sure how you feel about writing, give it a try and see how it goes. If you find it enjoyable and the experience is a success, by all means, continue writing. However, do not force yourself to write for the sake of producing content.
Simply Not Interested
Let's face it; some people do not want to write a guest article. It is not that they are rude or do not have the time. Perhaps they are just not interested. There is nothing wrong with this, and I appreciate those with the integrity to turn down a guest writing opportunity. Give the opportunity to someone who is genuinely interested and wants to write a quality guest article.
What to Look for When Writing Guest Articles
If you have decided you are ready to write a guest article, great! Before you start reaching out to all the different types of websites trying to land your guest writing gig, relax and analyze the websites you are looking to write for. Some websites may be better suited to help you reach your ambitions than others. Depending on what you are looking for, here are a few things to take into consideration when looking to write a guest article.
Area for Your Biography
If you are dedicating your time and effort, the least you can be rewarded in return is a prominent space for a short biography on yourself. Before you begin writing, look to see if other guest authors have biographies on their articles. If not, ask to see if it is acceptable that you include one with your article. There is no reason why you should not be able to include your biography. If a website will not allow you to do so you may consider trying to publish your article elsewhere.
Onextrapixel has a great area for an author's biography.

Being Included within an Author Page
On top of having a biography to accompany your article, some websites will also include you on a page with a list of all the contributing authors. From here it is also possible that you may even be given your own page, with listing of all the articles you have written for the website. This does not happen very often. However, when a website does, you know that they truly appreciate and value their guest authors.
UX Booth includes guest authors on their author's page.

Biography Location
Pay attention to where your biography will be placed. The most common and instinctual place for a biography is directly following the article. Make sure your biography is in a decent location allowing you to get the exposure and recognition you deserve.
Freelance Switch places an authors biography directly following the article.

Good Biography Font Size
Unfortunately, I have seen a few websites include a biography for guest authors but they use such a small font size that it was barely recognizable. You deserve better and it may be worth your while to mention it to the website owner. If they are really grateful for your help, they should have no problem increasing the font size for you. Otherwise, they may just be using you as a ploy for more traffic.
PSD Tuts+ uses a decent font size for an authors biography.

Profile Picture
Many websites will even go as far as to allow you to include a picture of yourself along with your article. Including an image is great as it really helps drive your personal branding and recognition. Occasionally, you will find a website that does not include personal pictures with guest articles and that is fine as well. Having a personal picture accompanying your article should not make or break your decision on whether or not to write for a website, but do embrace it when given the chance.
letscounthedays provides authors with a clear profile picture.

Included Links
Look to see what type of links you may include with your biography. Depending on each website, they may automatically link to your personal website along with your blog below your biography. If this is the case, consider linking to your Twitter account, or another website you would typically link to but do not need to since it is already included within your biography. The more links the merrier, however, be polite and limit your links to a fair amount.
Smashing Magazine automatically includes links to an authors website and Twitter profile.

Twitter
One of the biggest things I have seen from writing guest articles is an increase of Twitter followers. Not that this is a big deal, however, it is a part of networking. I personally enjoy connecting with my Twitter followers and seeing what everyone else is doing. You never know what you may be able to learn from them. If you are into Twitter, see if the website promotes your Twitter account for you. If not, consider including it within your biography if you have not already done so.
My Ink Blog displays a prominent Twitter link for each author.

Where to Get Started
The following is a list of websites that encourage guest articles. They are broken down by page rank. Reason being, usually, websites with a higher page rank are more reputable and potentially have more visitors. They are going to be a little more difficult to write for, but they will have a better pay off. It may not be a bad idea to start at the bottom and work your way up as time goes on.
Something to note are websites that are part of the Smashing Magazine Network. As an added bonus, any article you write for any of these websites will also land on the home page of Smashing Magazine.
Last updated: 3rd Feb 2010.
Writing Resources
When you set out writing guest articles, there are considerations you need to take, other than simply using correct grammar and punctuation. You are writing for the web, which is a whole new ball game compared to printed publications and essays. Below is a list of resources to help prepare and educate you on how to get the most out of your writing.
Write for Us Now!
Go out, hit the streets, and write a guest article today. Let us know how it goes. Would you recommend looking for anything besides what is recommended here? Are there any other websites that you would recommend writing a guest article for? We would love to hear from you. Let us know what you think in the comments section below.