This series Anatomy of Colors in Web Design is back! One color at a time, we look at web designs from around the world. Over the past few months, in the series, we've looked at various colors like Green, Blue and Yellow. Our fourth installment of the series will look at the darkest end of the spectrum of colors – Black.
Everyone has played with color paints or crayons when they were a child. Remember experimenting with various color paints only to realize that the more colors you add the darker the color becomes. Eventually, the paint becomes so dark that it resembles a black or dark brown shade of paint. Black; is it a color or is it an absence of color? Or maybe it is an overdose of color? After all, a scientist would say that black absorbs all the colors of the visible spectrum and reflects none of them to one's eyes. Today's exploration of black, the color of space and the universe, will take a look at how the color has impacted our lives.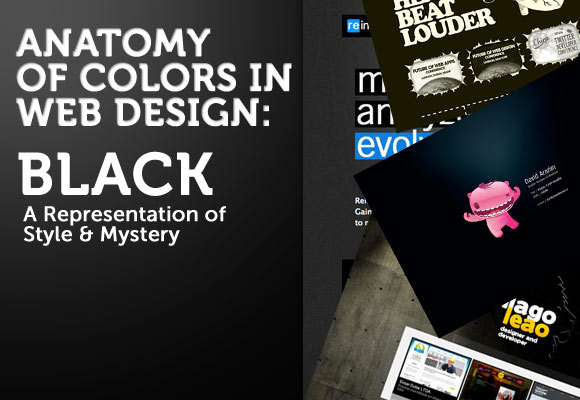 Remember to continue watching this space, as we continue to take a closer look at other colors in upcoming months. Subscribe to our RSS feed or Follow us on Twitter so that you won't miss the full series.
Definition of Black
Black is the color that does not emit or reflect light in any part of the visible spectrum. It absorbs all frequencies of light. Hence black is often considered as the lack of all colors of light, or an exhaustive combination of multiple colors of pigment. Although black is sometimes described as "achromatic" or hue-less, in practice, it can be considered a color.
Black is the visual impression experienced when no visible light reaches the eye. This is in contrast with whiteness which is the impression of any combination of colors of light that equally stimulates all three types of color-sensitive visual receptors.
Pigments that absorb light rather than reflect it back to the eye appears to look black. However, a black pigment can result from a combination of several pigments that collectively absorbs all colors. Like the above mention of the childhood paints experiment, if appropriate proportions of three primary pigments are mixed, the result reflects so little light that it appears to be black. This provides two superficially opposite but actually complementary descriptions of black.


Image credit: Wikimedia Commons
Black is real sensation, even if it is produced by entire absence of light. The sensation of black is distinctly different from the lack of all sensation. – Hermann von Helmholz
The Benefits of Black
Black is stern and formal. It is also authoritative and powerful. It is a color that can evoke strong emotions but it can also be overwhelming when used in excess. Dark colors make a room seem smaller, black being the epitome of darkness is no exception. Even a well lit room would seem dark when a lot of black is used.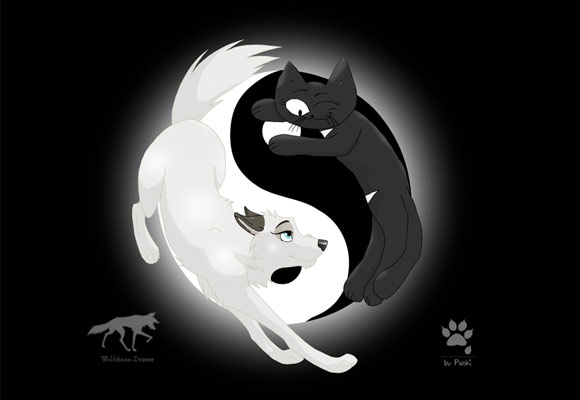 Image credit: Ying-yang
Women love to wear black because of its slimming effect. Wearing black also gives women an air of sophistication and class. Used to convey elegance with a touch of mystery, every woman has a little black dress in her closet when she wants to pull out all the stops. On the other hand, black is also a very easy color to match and because of its sobriety, it is often the color of formality and a classic color for office wear.
Against black, other colors are able to stand out better and seem brighter than it would actually be on its own. On its own, black also affects us both physically and mentally. As with everything, there are positives and negatives. Black can make us feel inconspicuous for days we want to blend in and not stand out. It evokes a sense of mystery and allows us to imagine a world of endless potential and possibility. However, black can also be bleak and dreary. Black really is the absorption of all colors into nothingness and emptiness. This can make us feel fearful and drab because black sucked the color out of our lives. Black indeed is a color that can go both ways; good or bad.
Why Choose Black?
Black is associated with many things. Considered the negation of color, black is conservative and goes well with almost every color. Black is serious, conventional, powerful, and elegant, however, it is also often times seen as the color of solitude and despair. Black creates an impression of distinction and is well suited with high quality products such as perfumes, wines, and expensive luxurious cars, electronics and gadgets. Because of its versatility and its ability to establish contrast, black is a favorite color choice in advertising.
In many cultures, black is the color of mourning. Often seen as a color of death, it is not favored at weddings and wearing black to a wedding is a sign of rebellion and taboo. The world's cultures view black differently; it is the color for little boys in China, and associated with honor and symbol of nobility, age and experience in Japan. Classically viewed as a negative color in the early days of film, the bad guys would often be decked in black and the good guys dressed in white. As seen in the use of the black devil and the white angel in regards to the never-ending battle between good and evil. Because of its association with evil and the dark side, witches are often dressed in black; as such, black is one of the main colors of Halloween along with the color orange.
However, black is not always seen as negative especially in today's modern context. Think of Batman, the dark knight who is decked out all in black, a hero of the night. Observe James Bond's classic black tuxedo that exudes style, sophistication and mystery. In fact, even in the early days, black is a color used by heroes like Spanish defender of the people Zorro who dons a black cape, gaucho hat and cowl mask. Black is a color with attitude.
Different Types of Black in Web Design
Dark colors like charcoal gray and dark brown can sometimes stand in for black. An excellent technical color, black assists in targeting a sophisticated high-end market or a youth market because of its association with style and mystery. Too much black may not be a good thing as it can be quite depressing. Although black backgrounds enhance perspective and depth, it also diminishes the readability of text. Black however is very effective for art and photography websites because it allows the other colors to stand out and display its vibrancy.
One might think that black is just black. However, that isn't the case. Here are various types of black in existence.
Carbon Black
Carbon black is a dull and dirty black.
Charcoal Black
Charcoal black is one of the darkest shades and closest to black itself.
Ivory Black
Ivory black is a black with a touch of ivory shine and feel.
Brown Black
Brown black is a slight mixture of brown with black, which is darker than dark brown.
Using Black with Other Colors
Black goes well with everything! Well, almost everything. Be careful when using black with very dark colors. It can work, but if the colors are too similar, visibility will drop as the colors bleed into each other.
Black with Red
A classic and stylish color scheme is the use of black with red.
Black with White
Another classic color scheme very often used is black and white. These two colors express two mutually exclusive sets of ideas and values elegantly. Think Yin and Yang; good and evil.
Black with Yellow
Black is the darkest color of all the colors in the spectrum. When used with light and bright colors like yellow, the contrast is at its greatest and the lighter colors really pop and stand out.
Black with Light Blue
Despite being a conservative combination, black and light blue produces an interesting and unique look.
Black with Green
Luscious and naturally pleasing green softens the intimidating and harsh black and creates a down to earth and calming feel.
Showcase of Freelancers
These freelancers have chosen to use black as a base for their identity and brand. As you have observed, black goes well with almost every other color. Many of these freelancers have chosen another color to reduce the harshness of black to create a more friendly and personal touch to their site. These are some of the examples of the amazing use of black in web.
Daniel Naranjo Mack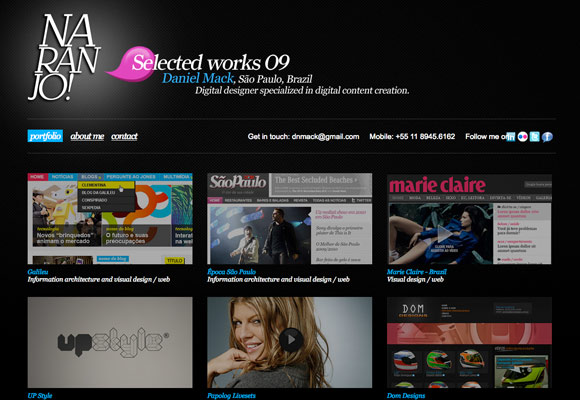 Blake Allen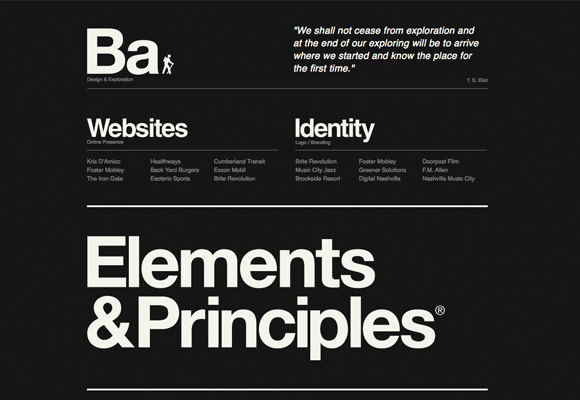 Showcase of Agencies
Creative agencies have also adopted the color black into their themes and color schemes.
Showcase of Black in Web Design
Check out these sleek and cool websites that make use of the essence of the color black into their design.
The Dark Knight of Colors
Black is a color that is unavoidable. It is everywhere. Instead of shunning it, perhaps it is time to embrace it and learn how to view it in a positive light. Make black work for you.
Is black a favorite color of yours? Do you have a fear of using black in design or everyday life? But before you can use black in your site design, you will need to register a domain name first.
If you've come across other websites that use black in a creative manner, share them with us.