This article is the first of our upcoming series, Anatomy of Colors in Web Design. Over the next few months, we'll be covering different colors, featuring web designs from around the world with particular to one specific color theme. We start today with an article about the use of the color Green in Web design and related Environmental Concept. Please stay tuned as we will continue with other colors in upcoming weeks.
Subscribe to our RSS feed or follow us on Twitter in order not to miss the full series.
Everyone has a favorite color and they tend to choose their preferred color when it comes to their work or personal life, e.g. like buying an item or doing an art work. This is almost the same when it's applied to designers. Designers have a propensity to use the same set of colors on their design. Even if they were given an unlimited range of colors, they would rather still stick with their own senses.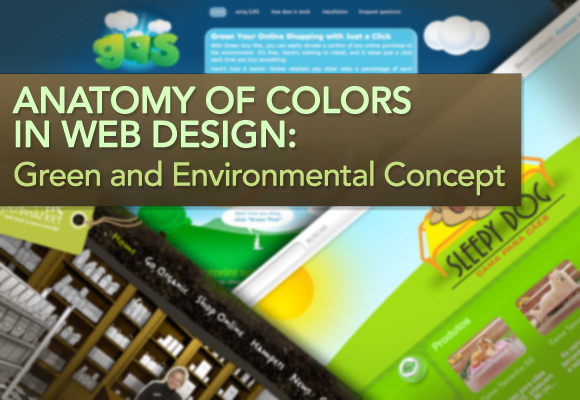 Web design which achieves successful marketing results is sensitive to the cultural, instinctual and iconic meanings of color in relation to the product/service being promoted. Not forgetting to consider the cultural backgrounds and gender of the targeted clientèle too.
Definition of Green
Green is a color, the perception of which is evoked by light having a spectrum dominated by energy with a wavelength of roughly 520–570 nanometers. In the subtractive color system, it is not a primary color, but is created out of a mixture of yellow and blue, or yellow and cyan; it is considered one of the additive primary colors.


Image courtesy from Wikimedia Commons
Green in Web Design
Green is an effective color that is so commonly used in modern web design. It is probably because of the awareness of a global trend of environmentalism. Effectual Green design may integrate simultaneously with other supporting colors to displays a symphonic arrangement of shades, tints, tones and complementary colors to tantalize and maintain interest.
The effect of adding textures too can alter colors. For example, a roughly textured surface makes a color seem darker, while a smooth surface lightens the same color.
Color trends may also defy instinctual, cultural and iconic constraints. As Color Professor J.L. Morton says:
Successful design requires an awareness of how and why colors communicate meaning. Web site designers should treat the symbolism of color as seriously as the design of graphics and layout.
The psychological impact of the color green can be applied to advertising, corporate identity, and electronic media. Industrial manufacturers trying to boost their revenue through Internet sales and marketing may find that implementing green in their Web sites could be helpful.
Many designers reveal that their call to action section/button receives more clicks and attention when they are green in color. This could be an impending trend in the Web Design Industry of focusing on the color green to attract visitors.
Call to Action
WedoXHTML has made use of green to highlight their important information brilliantly. The adoption of the green fonts is comfortable yet obvious to visitor.
Yet another classic example of how Pagelime has made use of the color green to direct visitors to the intended section.
Why Choose Green?
Visual receptors have specific characteristics and limitation that are common to most people and they are most sensitive to middle frequencies such as green.
Green is a complex color with many uses and explicit meanings of which you can draw on to focus a designer's skills. Green makes things appear natural, fresh, and ecologically beneficial. When equipment is painted green in an industrial environment, the illusion of safety and normalcy is fostered. This environment tends to make people feel clean and that their personal health is not at risk.
People often find the color green in relaxing and refreshing imagery. When someone thinks of green, they will usually think of the outdoors and plants. The calming aspects of this color lend itself to relaxation and tranquillity.
Green maximizes readability and minimizes optical fatigue which is a critical factor in web design. It also draws the eye to the most important areas on a small or large screen and sustains visual interest with it.
Green is also the color of money, nature and environment. Most websites that are going green in their design, the imagery and overall style are either corporate sites or deals directly with the environment and nature in some way.
The Benefits of Green
Green has a significant psychological impact on the human mind and is popular in most cultures. It is the most soothing color to the eye and can aid in the healing process. Green lowers blood pressure, relaxes the nervous system, calms and soothes the mind, stimulates creativity, and is an appetite suppressant. Green is easy on the eye and can improve vision. Images set in green backgrounds seem farther away.
Green is also known to have a soothing effect on humans. It is known to reduce the levels of anger and frustration more than any other color. The reason why you feel attracted to grass is because of your body's affinity to its green color. The scientific reasoning behind this superstition may be that the color green usually calms the nerves. Green is the most restful color to the eye, requiring no adjustment of the retina to focus on it. That's why nature is predominantly green.
Green can also reduce stress while it balances and soothes emotions. It helps anyone suffering from anxiety and depression. Green light is considered to have beneficial effects on people with heart ailments and cancer. However be warned, too much green can cause feelings of envy, resentment and possessiveness!
Different Type of Green in Web Design
Green is a useful marketing tool for organic, healthy and natural 'green' products. However, not all type of green fits the same bill. We have to use it sparingly and if used properly, it can be a great ally in website design.
Dark green
Most commonly associated with money and ambition. It is popular with corporate websites. It can also be used to promote concentration and give visitors a sense of prestige, power and substance on the site.
Bright green
This type of green may be used to represent bright green environmentalism and is projected as lively, energetic and daring.
Celadon
Celadon is a pale tint of spring green. It is most commonly used in Chinese, Korean and Japanese art and spread to the other Asian cultures as they are perceived as a quiet elegance that is "beyond description".
Yellow-green/Lime green
This color should be use carefully as it often link with sickness and nausea. It is ideal to use it in health product sites or non-food related sites. However, refrain from using this color for promoting food products as it's an appetite depressant.
Olive green
Generally pleasing to the eyes, it's symbolises peace and can be use liberally. However, it may have military overtones for some people.
Blue greens
It is the most accepted type of green and it's appealing across both gender lines.
Using Green with Other Colors
Green also works well with other complementary colors too. Complementary colors are opposites on the color wheel. Red and green, yellow and violet, blue and orange, are the three common pairs of complementary colors. These colors always go well with each other, hence the term complementary.
Knowing this, when organizing your website, it's always good to keep in mind that darker colors are easier to see than lighter ones. Additionally, be careful when using too many colors on the site. The ideal option, to begin experimenting with what you can do using different shades, is to use two complementary colors first. Now, we'll see how green works with other colors too.
Green with Blue
It produces echoes of nature, water and forest. It also symbolizes freshness, growth and can denote new beginnings.
Green with Brown, Tan, or Beige
The combination says organic or recycled and can be a good color combination for packaging those types of products.
Green with Yellow and Black/White
Tri-color combinations of green with yellow and black or white are sporty, outdoor colors.
Green with Purple or Red
Green with these two colors can be highly contrasting, lively and arousing.
Green with Orange and Yellow
Lime green with orange and yellow is a fresh and fruity palette which appears health conscious..
Showcase of Corporate Identities
Green is common and evident in corporate Web Design.
Showcase of Freelancers
Freelancers have also tapped on the benefits of green in their portfolios.
Showcase of Green Web Designs
Other Web designs that use green perfectly.
Green Color Palettes
Colourlovers: This site boosts some of the best green color inspiration around.
Colorcombos: The Combo Library provides a convenient way to search for green color schemes.
Colorscheme: ColorScheme's Gallery is an online community where users can share and manage green color schemes.
Care for the Environment
It's essential that we care about our environment so that we can continue to enjoy the fruits of mother earth's labor. What do you think of the color green in the Web industry? Are there any "green" sites that haven't been covered? Share and discuss your thoughts.