"123456", "qwerty", "111111", these are among the most common passwords of 2016. Why do people still use these as passwords? Are they really that dumb?
Well, anyone can come up with a strong password by mixing letters, numbers, and special characters. But, who can remember such passwords? As a result, people often end up using easy-to-remember passwords like their name or birthday.
This also makes them easier targets for hackers. You'll never know when you might be a victim of a hack attack, it could even be one of your friends or a rival, and having a strong password is the only defense you can have against them.
It's time for you to start thinking about better passwords and find easier ways to manage those passwords. A solid password manager can be a lifesaver for getting that job done.
What Is A Password Manager?
A password manager is a software that often works as a browser extension or a mobile app that safely store and remember all your passwords in one place.
Once you sign up with a password manager, you can store all passwords of your online accounts in the app and you won't have to remember those passwords ever again. The only password you'll have to remember is the master password you set for the password manager itself.
After that, whenever you want to login to a website, the password manager will automatically fill your account username and password for you. All you have to do is click the sign-in button.
In addition, password managers will also allow you to auto-fill forms, store secret notes, and some will even provide you with encrypted online storage for storing valuable files online.
Simply put, using a password manager is like having your own personal assistant to remember and manage all your passwords.
Why Should You Use One?
With all the news and stories you hear about hackers and government spying, storing all your passwords in one place may seem like a risky step to make given how it allows a hacker to access account information to all your valuable online services in one place.
Would you rather risk storing your passwords in your browser? Or using easy-to-guess dictionary passwords? Or even writing down your passwords in a notepad?
In fact, password managers are practically unhackable as they use military-grade end-to-end encryption systems to protect your passwords. Which means, even the members of the company behind the password manager won't be able to see or read your passwords.
Opting-in for a password manager is the safest thing you can do right now to secure your online accounts.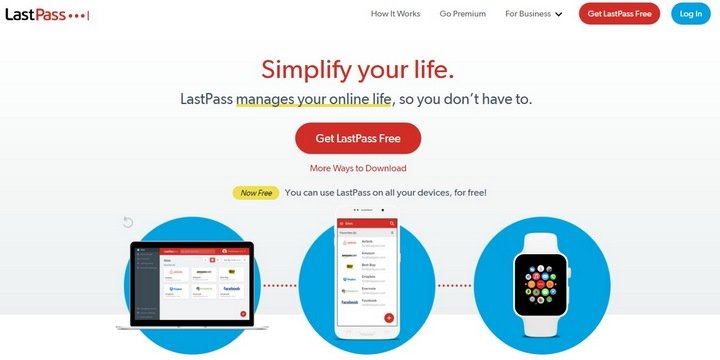 Price: Free
Platform: Windows, Mac, Linux, Android, iOS
When it comes to password managers, LastPass is the most popular of them all. Why? Mostly because it offers premium quality features for free. And its premium plan, which only costs $12 per year, comes with even more great features and 1GB of encrypted file storage.
Best Features
LastPass uses AES-256 bit encryption, salted hashing, and PBKDF2 SHA-256 to encrypt and protect your passwords, which will make sure only you can access your passwords.
In addition to managing all your passwords, LastPass will also help you generate stronger passwords with its passwords generator. You can also sync and use Lastpass across multiple devices for free and protect your account with Two-factor authentication as well.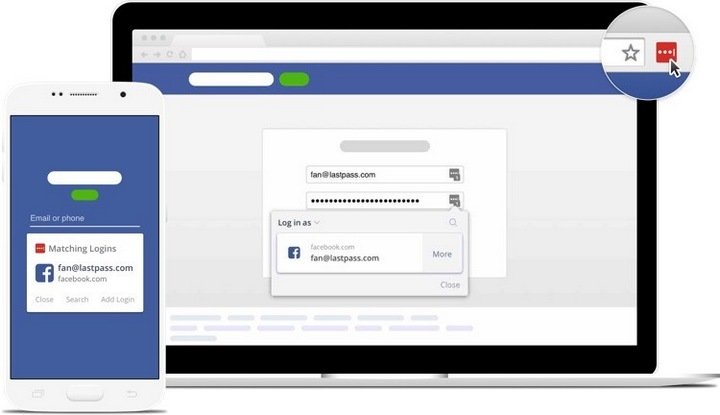 Downsides
Because of its popularity, LastPass came under many hack attempts over the years. But, the company was able to withstand them all. You could even say that it has made their security even stronger than any other.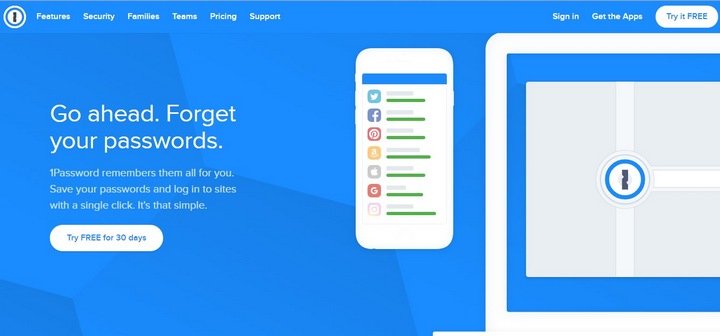 Price: $2.99 per month
Platform: Windows, Mac, Android, iOS
If you can afford the $36 per year price, 1Password can be a solid password manager for keeping your login information safe. It's mostly popular among Mac users as the app seems to work smoothly on the platform.
Best Features
Similar to LastPass, 1Password also uses AES-256 encryption and PBKDF2 key derivation to protect user data. Another great feature that comes with 1Password is the ability to choose between syncing your data offline on your device, sync with Dropbox, iCloud, or use end-to-end encryption with 1Password account syncing.
1Password will also allow you to save and store your credit card info for easier form filling and it has another feature called 1Password Watchtower that sends users security alerts for the services and sites you use.

Downsides
The biggest downside to using 1Password is its price, which is almost twice the cost of LastPass Premium. 1Password also don't support Linux. And of course, 1Password has also been the target of many hack attempts in the past as well.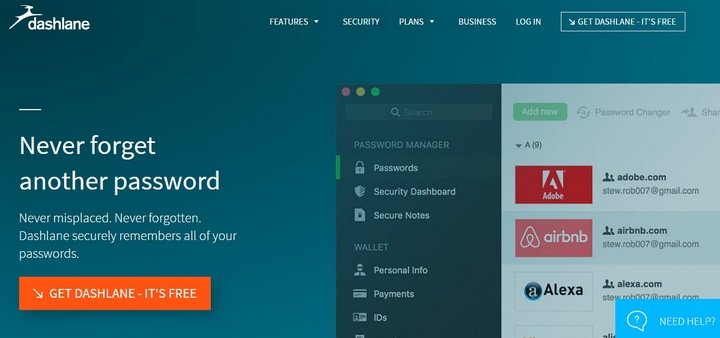 Price: Free
Platform: Windows, Mac, Android, iOS
Dashlane is a fairly new competitor in the password managers game. This also makes it a less likely target for hackers. Even though the service is new, Dashlane already has quite a large user base.
Best Features
One of the unique features of Dashlane is that it uses its own zero-knowledge security structure that uses AES-256 encryption, for which they have been awarded a US patent.
Dashlane also features a password generator, form autofill, security alerts, a password changers, and digital wallet all in one system.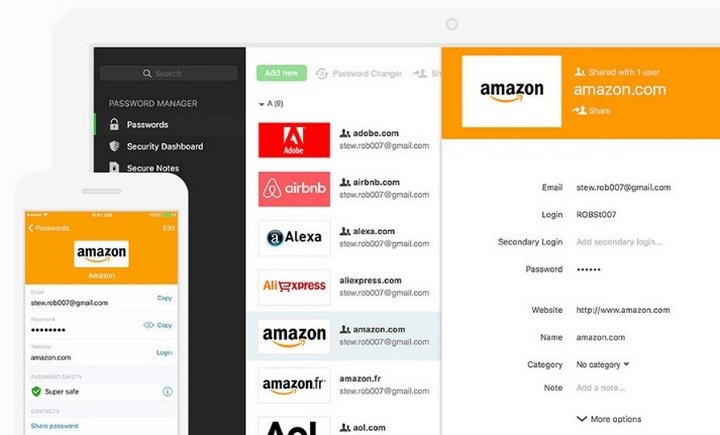 Downsides
The only downside to using Dashlane is that its free plan doesn't support automatic syncing between your devices. You'll have to subscribe to the $39.99 per year Premium plan to get that function.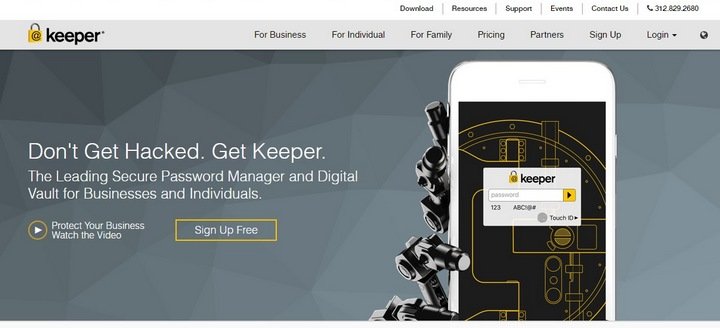 Price: $29.99 per year
Platform: Windows, Mac, Linux, Android, iOS
Keeper is a premium password manager that works across all mobile and desktop platforms, including Linux. Keeper is widely popular among mobile users for its Fingerprint login feature, which allows you to add better security to your password vault.
Best Features
Keeper uses AES 256-bit encryption and PBKDF2 to protect your data and supports multi-factor authentication, biometric login, and Keeper DNA for confirming your identity before logging into your password vault.
Keeper doesn't offer as advanced features as other apps, like creating digital wallets. But, it provides better security features for your password protection.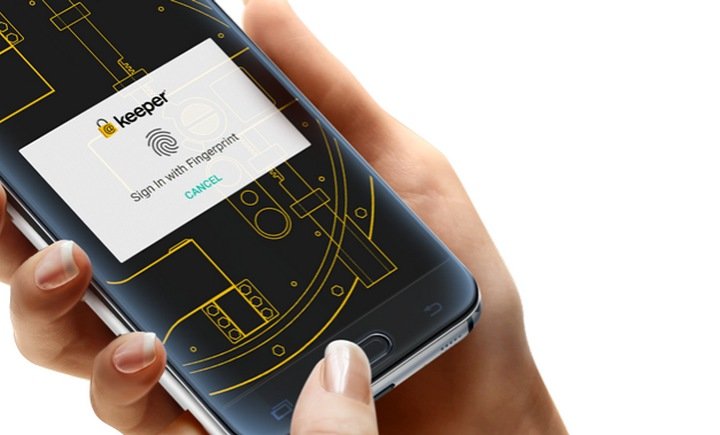 Downsides
In addition to the $30 per year price, Keeper doesn't support other features like form filling, digital wallet, or encrypted storage space for your files. Given its premium price, it's a bit of a letdown.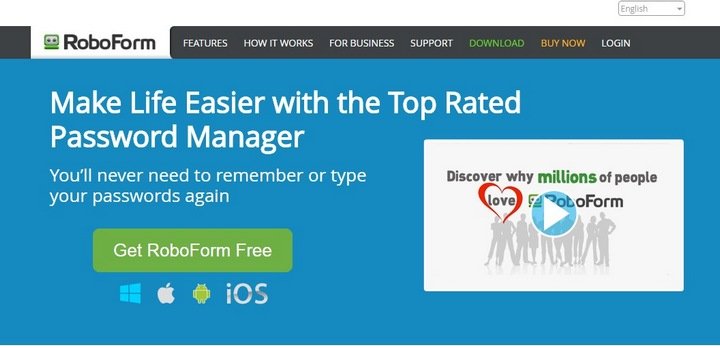 Price: Free
Platform: Windows, Mac, Android, iOS
RoboForm is one of the oldest password managers out there that dates back to 1999. And the service is still alive and strong.
Best Features
RoboForm uses AES256 bit encryption with PBKDF2 SHA256 to protect its user data. Much like many others in our list, RoboForm also decrypts your data only on your device, not on their servers.
RoboForm also features easy one-click logins, a form filler, encrypted text notes, and the ability to import and export your passwords in CSV files.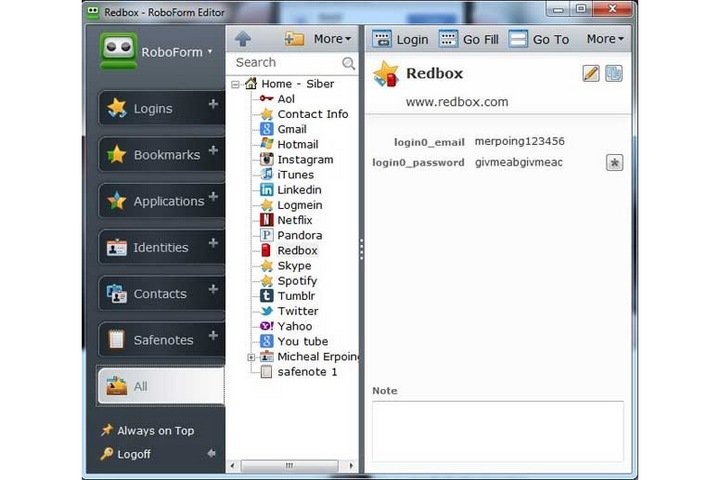 Downsides
You can use RoboForm for free on a single device. To get access and sync your account across multiple devices, you'll have to subscribe to the $19.95 per year Premium plan.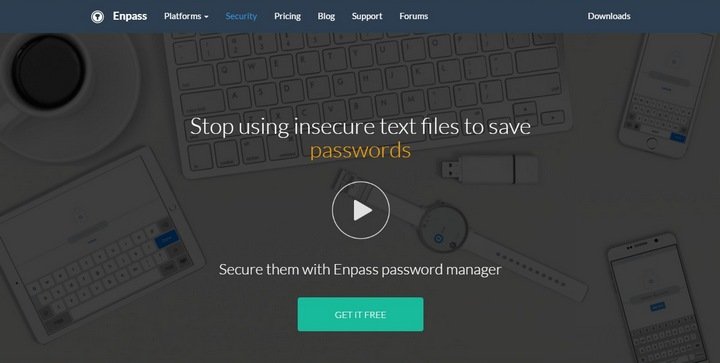 Price: Free
Platform: Windows, Mac, Linux, Android, iOS, Chromebook
Enpass is yet another new password manager that's born in India. Enpass is packed with a ton of features and comes with options for saving your passwords, credit cards, passports, bank account details, and more.
Best Features
Enpass uses 256-bit AES with 24,000 rounds of PBKDF2 and open-source encryption engine SQLCipher to protect its user data.
You can also choose to sync Enpass with your Dropbox, iCloud, Drive, or other cloud storage service if you like. Enpass also supports all modern browsers, Linux PCs, and even Chromebooks.
In terms of features, Enpass supports fingerprint login and comes with a password generator and auto login filling functions.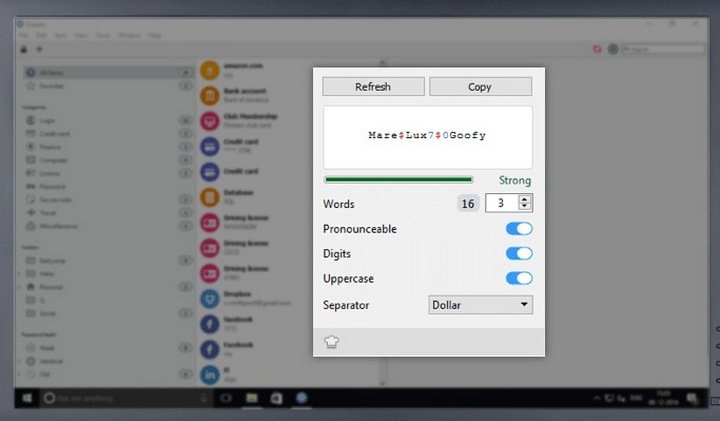 Downsides
Enpass is free to use on desktop devices. For using the mobile app, you'll have to pay $9.99 per platform you use the app. However, for that price, you'll get a lifetime license for the app.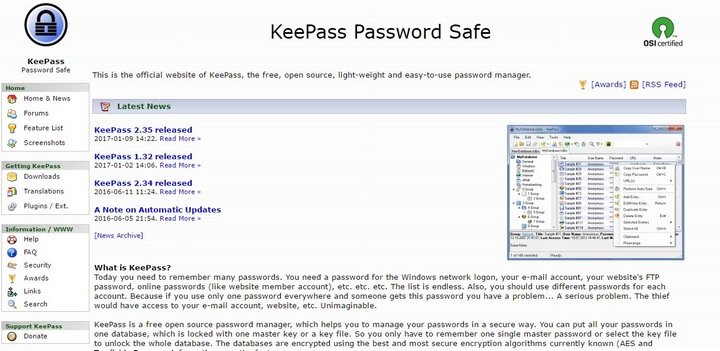 Price: Free
Platform: Windows, Mac, Linux, Android, iOS
KeePass is a stand-alone and an open-source password manager that puts you in charge of your own password management. KeePass is a portable software that you can even store on a USB drive and use on all your devices. The software doesn't store any of your data locally.
Best Features
Security is strong with this one. KeePass uses AES and the Twofish algorithm to encrypt its password databases. It also uses SHA-256 as password hash to protect your master password.
Not having to rely on a third-party company or be afraid of someone hacking such a service to steal your passwords is the main reason why many people choose KeePass as their password manager.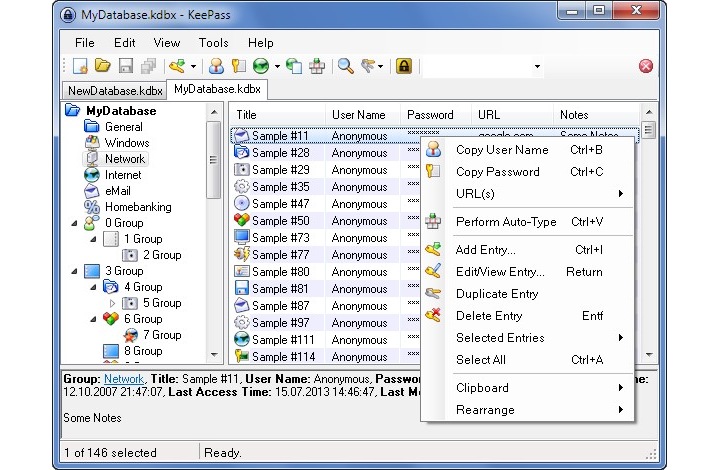 Downsides
Since KeePass is a desktop app and doesn't run on your browser, it won't help you with auto password filling or form fills. Also, KeePass doesn't have a mobile app. The apps it has for Android and iOS are developed by unofficial contributors.
And The Winner Is…
When considering ease-of-use, compatibility, features, and pricing, there's no better password manager than LastPass. Its Free plan gives you all the features that you only get with premium plans on other platforms and LastPass premium also only costs $12 per year.
Keep in mind that these services are not perfect. Even these password managers come under attack plenty of times when hackers find vulnerabilities with the apps. But, to this day, there hasn't been a reported case of hackers stealing passwords from a password manager. So, rest assured, your passwords will be safe.