If you're into Bach, someone else online is too. Luckily the internet has brought together a huge community of Baroque music lovers, allowing them to trade tracks and discuss the music they love so dear. But what about current musicians? Those who play fiddles, trumpets, violins and pianos. Those who sing into the microphone every night in an attempt to make it big.
Some have made it big, while others are just starting out. Regardless, the internet is just as powerful for modern musicians, seeing as how you can grab one of the beautiful WordPress themes for musicians and move on from there. With most music WordPress themes you'll find settings for playing your music online, selling albums and presenting your touring schedule.
So, without further ado, keep reading to learn more about the best WordPress themes for musicians, whether you're a travelling jazz show or a one-woman star.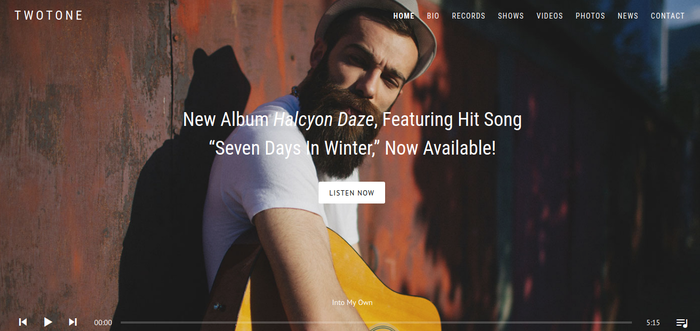 AudioTheme has quite a few music themes on this list, and with good reason. The AudioTheme company has focused solely on making themes and plugins for the music industry, and the Twotone is one of my favorites. To start, the Twotone theme has custom fonts and headers, both of which blend in nicely with the front page template that includes a music player.
The theme shows off your upcoming gigs along with a beautiful email subscription form. Reveal your discography and utilize the video page to post all of your music videos.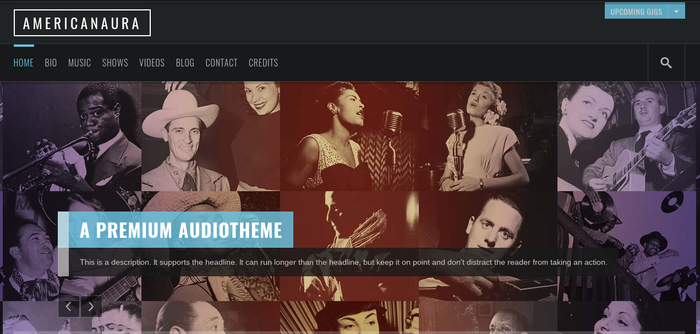 The Americanaura theme has lots of media support, with a button in the header for accessing information about upcoming gigs. The customizable marquee and pinboard combine for aggregating and organizing your best content. The site-wide jukebox can be linked to some of your songs. This way your fans can listen to some of your hottest music without having to click any buttons.
In addition, the theme is completely responsive for viewing on mobile devices. You can go into detail about your shows and biographies, while also including a quick contact form for people to reach out to the band or musician.
3. Lush – $59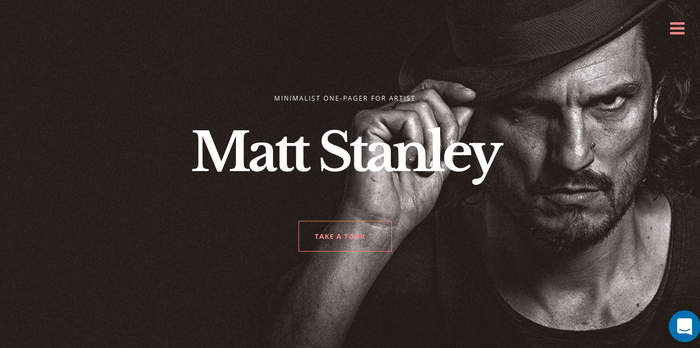 Lush is my personal favorite, with a fullscreen header and overlaying text and buttons. Bands, musicians and DJs can all take advantage of the theme. The main reason I like it is because of the 3D menu and gig countdown. You can show information like location, time, ticket pricing and more. But nothing builds hype like a countdown module.
An audio player comes along with the Lush theme, letting people click on the play button and get a taste of your music. You can also reveal your entire discography and sell the items that aren't available for free on the site. The theme has unlimited colors and fonts, and the page builder is useful for cutting down on the amount of time you spend designing.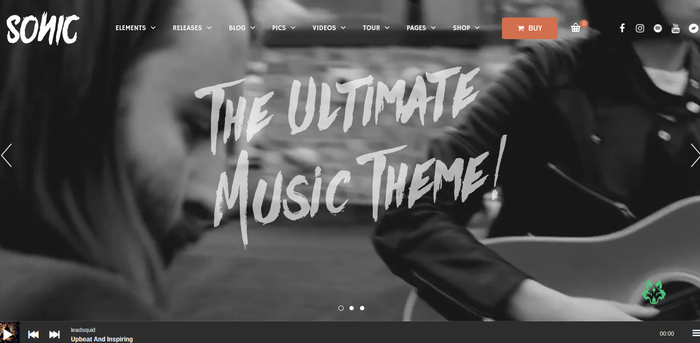 Sonic provides a dynamic homepage player with support for a full video background. Play music along with that background, and use the page builder to include items like discography lists and band biographies. The responsive theme supports both WooCommerce and MailChimp. Therefore, you can sell merchandise on your site and also collect email addresses from fans.
Quite a few demos are packaged in with the Sonic theme. For example, one of them is made for one page sites. Another is great for classical music, while a separate theme is for studios.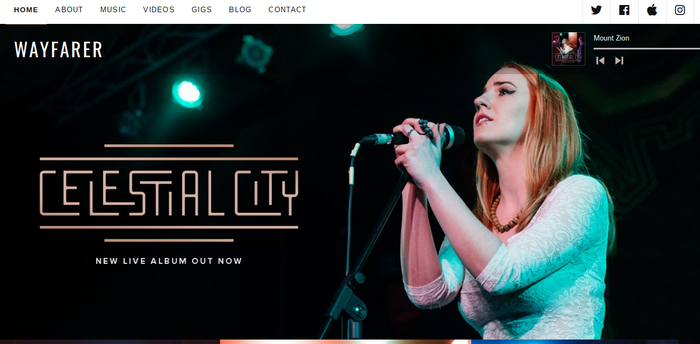 Wayfarer is one of the more popular music themes you'll find online. It's certainly a beautiful theme, but it doesn't belong at the top of any list. I like it for the media-centric bands out there who have a travelling photographer or someone who can take incredible photos for you. The entire homepage is comprised of images, so you need to have high quality stuff.
The homepage player is a nice touch, while the upcoming gigs can be organized by you and accessed by any fan that comes by. Single records and tracks can be played on the site, while videos are compiled in one video gallery. Overall, the Wayfarer theme has potential if you've already gotten to the point where you have videos and photos at your disposal. However, many smaller bands are not at that level.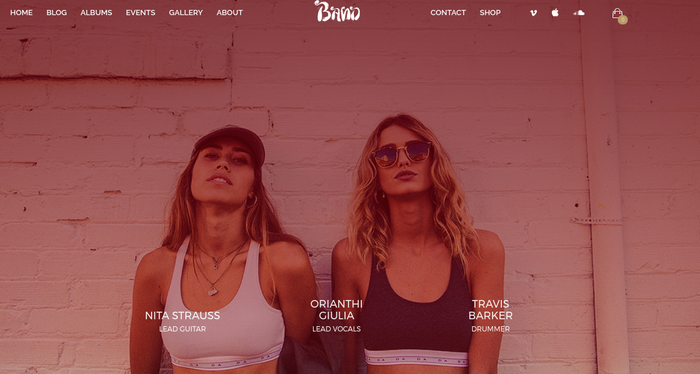 AQURA has a hip design to it, using responsive elements and a beautiful image grid on the homepage. A few demos are included with the theme. For example, you could choose from a home slider demo or one that features a fullscreen video. The blog and portfolio areas are filled with options like social media sync, masonry layout and search integration.
The popular WooCommerce plugin integrates with the theme for the ultimate system for selling your shirts, hats and other band merchandise. The AQURA theme has a BandsInTown widget, which automatically syncs with your BandsInTown website. Along with that, the theme comes with the Visual Composer, a featured player and several photo galleries. It's a good start for any indie band.
The Encore WordPress theme has a unique design with simple, modern and elegant elements. A simple header, image and music module sits in the middle of the homepage. The custom fonts are nice for branding your website. Not only that, but the music player is implemented throughout the entire website, giving users site-wide jams to listen to.
The discography section has several elements you might be interested in. For example, you can upload album artworks, organize the albums in a gallery, and even link to a shopping cart for people to buy the music. A social icon menu is shown on the homepage for building your following, and there's even a widget panel that works wonderfully on mobile interfaces.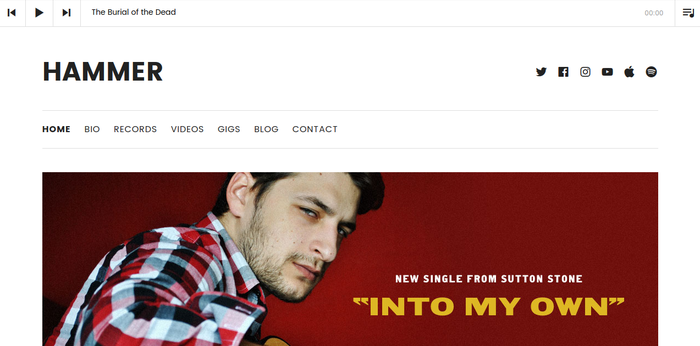 The Hammer music theme has a more clean look to it, utilizing white space and a beautiful header module. The social media buttons are prevalent towards the top. Not to mention, you can find a music player for the tracks you'd like to give out for free. The masonry style blog is one of the more unique aspects of the Hammer theme. It gives you a chance to keep fans updated with information, while also looking clean and organized.
Some of the widgets are handy for bands. For example, you can link to your Instagram account, collect emails through MailChimp and share upcoming events, all with the help of widgets. Along with custom fonts, an upcoming gigs page, WooCommerce support and a beautiful testimonials area, the Hammer theme is one of our favorites. Overall, this is a wonderful WordPress theme for musicians.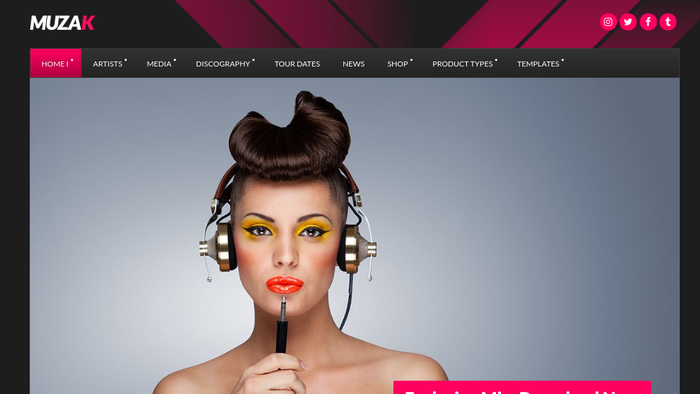 The Muzak theme is a complete music track management system. With this theme you can upload all of your music to be shown to the world. It also has a wonderful event management system, prompting fans to signup for your email list, check-in on when events are coming to their area and follow along with your tour. The track list system organizes your music with ease, while the audio player can start right when someone lands on the page.
The WooCommerce support gives all bands an opportunity to start selling items, while the multiple color schemes are there for branding your site.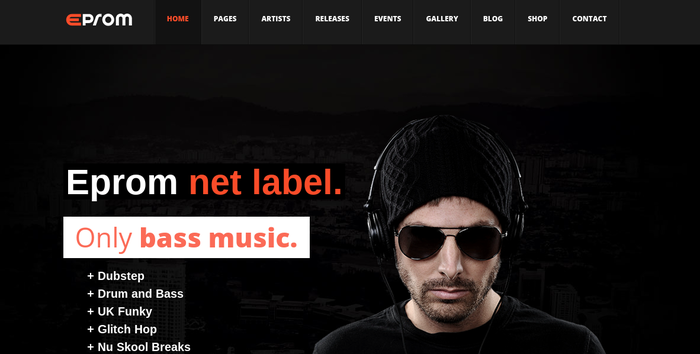 The Emprom music theme is built around WooCommerce, but it also has wonderful support for playing music and presenting your most recent gigs. The theme is completely responsive for viewing and listening on smaller devices. The shortcodes manager is handy for inserting items like buttons and sliders, while the events manager details when and where your next concert or gig is being held.
The full localization means that everyone understands the website, regardless of what language they speak. Finally, the six customer post types include the following: Releases, Gallery, Events Manager, Artists, Nivo Slider and the Tracks Manager.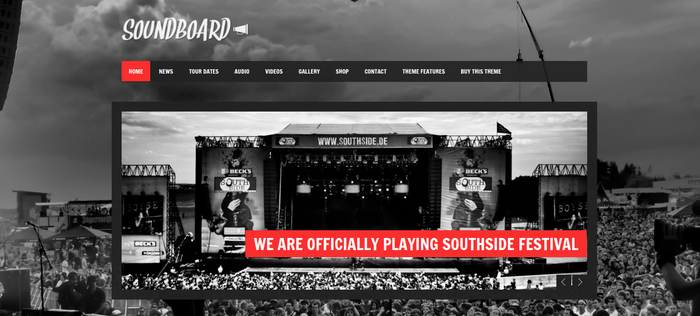 Soundboard is a premium music WordPress theme. The solution lets bands and musicians manage tour dates, post videos and sell merchandise. Both albums and images are supported through the Soundboard theme. In addition, the theme has unlimited colors for branding with your heavy metal, classical or whatever style you're going for.
The theme has over 600 Google Fonts for improving your typography. Not only that, but the Soundboard theme is completely responsive and translation ready.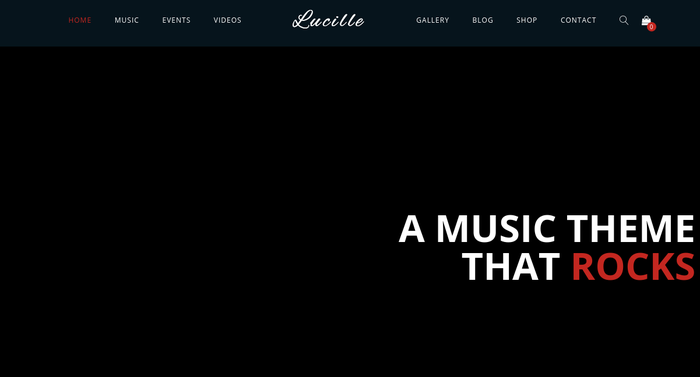 Lucille is a beautifully designed music WordPress theme with a handful of demos for multiple artists. The Visual Composer plugin is included with the theme, improving the way you design your website on the front and backends. Albums and upcoming shows are shown on the homepage if you'd like, and the Slider Revolution plugin is prime real estate for new promotions or tour announcements.
Some of the other features I like about Lucille include the WooCommerce support and the individual page background.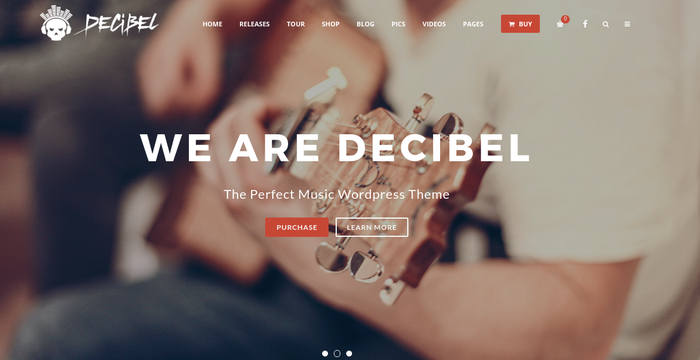 Decibel has a custom music player for professional artists. This is one of the more advanced music players, as it has a full discography section where you sell your music online. Tour dates are part of the setup, and the WooCommerce integration is sure to make it easy for configuring your online store.
The Visual Composer plugin is one of the best page builders on the market. The good news for you is that it comes with the Decibel theme for free. Along with Slider Revolution and some impeccable photo galleries, the Decibel theme feature-set stands out.
WordPress Themes for Musicians: Conclusion
Now that we've had a chance to uncover some of the most beautiful WordPress themes for musicians, let us know in the comments if you find any other ones.