Like the Jedi will always fight against the dark forces, there will always be a tension between Pop and Rock. When it comes to the music industry, the difference between those two directions is pretty evident: while one serenades of sweet melodramatic songs about love, relationships, betrayal and blah-blah-blah; others shout out about life, problems, politics, and hard work, encouraging us to 'party hard'. However, is there any distinction in the web design sphere? Today we are going to sort this out.
We have picked out 10 websites of beloved Pop artists and 10 websites of famous Rock bands. As it turned out, in this struggle of brutal and schmaltzy website designs have things that are in common and things that set groups apart from each other. Take a look at our roundup of user interfaces that skillfully reflect personality, spirit and nature of every musical artist.
Rock vs Pop in Website Design
Pop Stars
Madonna
We begin our collection with the queen of Pop music. Her official website greets online visitors with an impressive photo background taken from a live performance. It is used to convey atmosphere that prevails in the concerts as well as add a dynamic note. The coloring and the typeface are just lovely.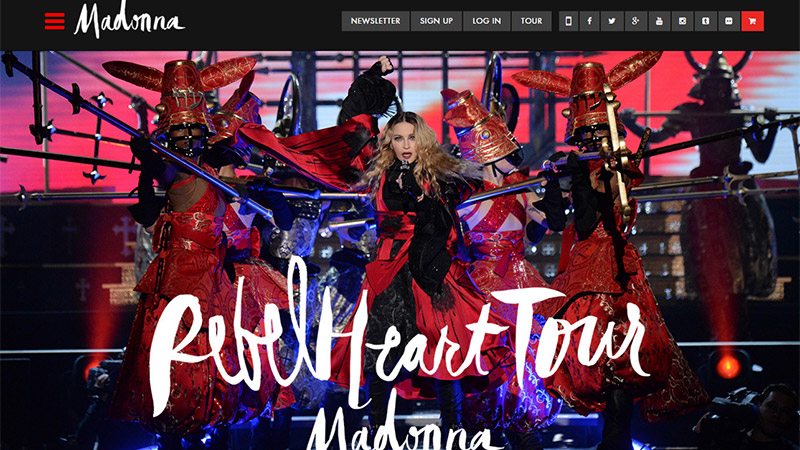 Britney Spears
Much like the previous example Britney Spears' official website adopts the same solution. The homepage is defined by a splendid image that captures a moment from a performance. It expresses emotions and spirit that are inherent to the show. Elegant features such as hamburger menu button give the UI a charming touch.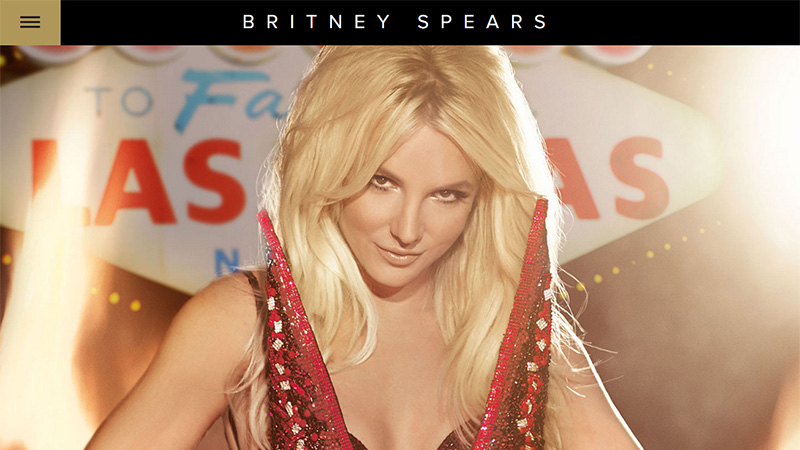 Beyonce
The former Destiny Child's official website has a split screen structure that offers 'Formation Dirty' on the left, and 'Formation Clean' on the right, Formation being her new single. The project is informative and regularly updated. Not only can you contemplate fresh images but also find out about the upcoming events, surf through the e-store and much more.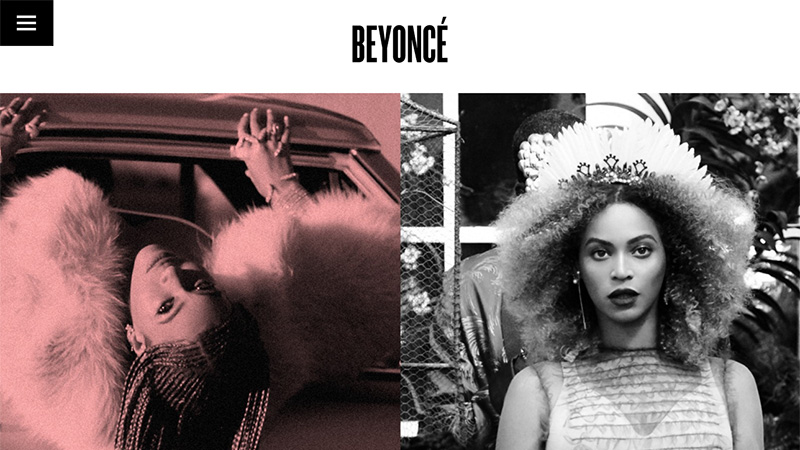 Lady Gaga
Lady Gaga's official website has a 'welcome' screen that is based on a trendy two-column layout. The first column demonstrates a fantastic photo of the artist, whereas the second one features the recent news, awards and interviews. On the whole, the page looks elegant and chic.
Taylor Swift
Taylor Swift's official website is an original variation on an 80s theme that is enriched with a vibrant disco vibe. The UI is a harmonious collaboration of multimedia, copy and some decorative features such as neon-style logotype, hand-drawn arrows and textured backdrop.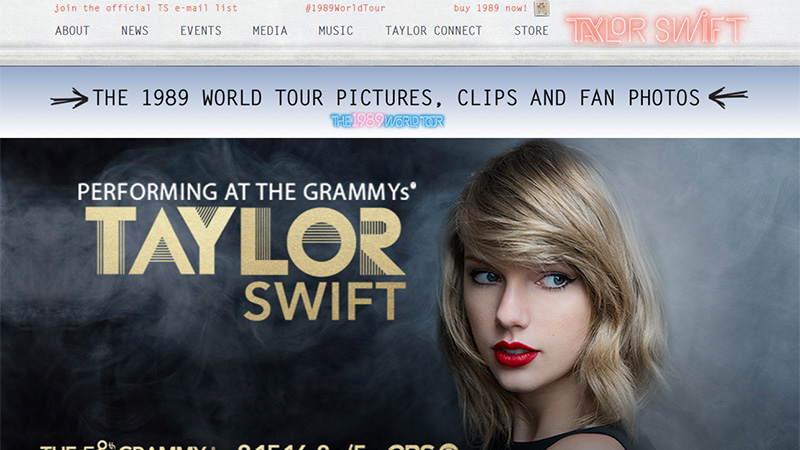 Shakira
The Latin American diva has a content-heavy website that supports various languages, from Spanish to Polish. It utilizes a traditional structure that carefully organizes everything into digestible portions. You can indulge yourself in reading news, exploring galleries of images, watching videos, browsing through the official e-store.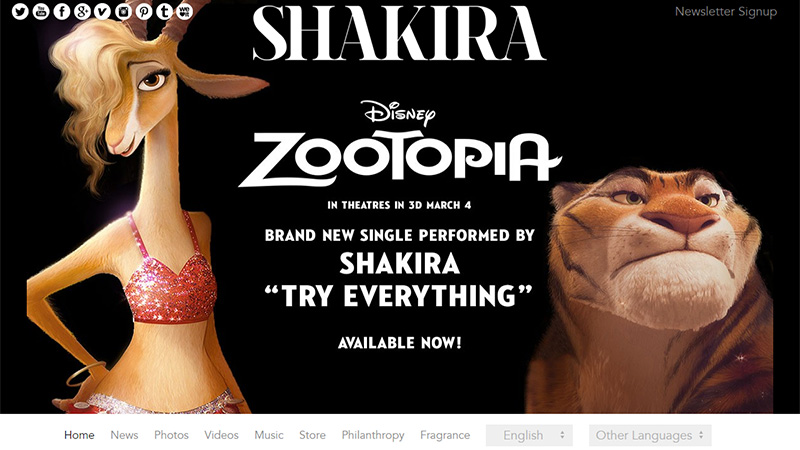 Justin Bieber
Justin Bieber's official website looks just sweet. While the project covers all the important details about the new album, videos, tours and some other aspects, the general atmosphere is well-suited to its targeted juvenile audience.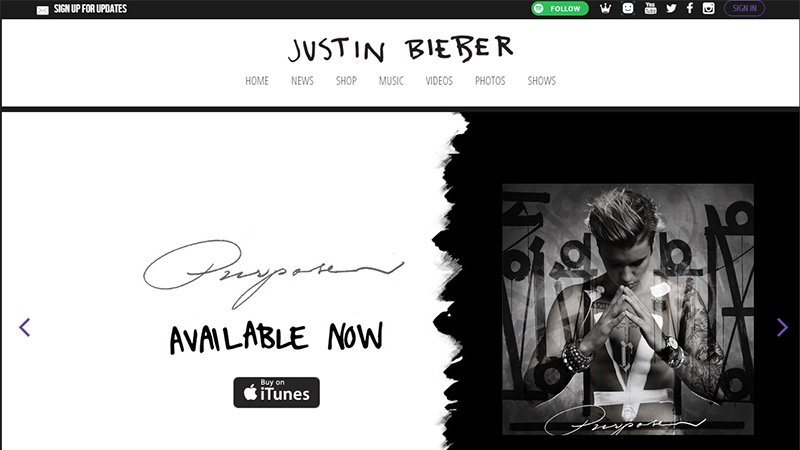 One Direction
The official page of One Direction also has some 'saccharine' in its design. The band greets its youthful fans with a schmaltzy photo and simply charming website, where images of the members take the central stage and mark each section.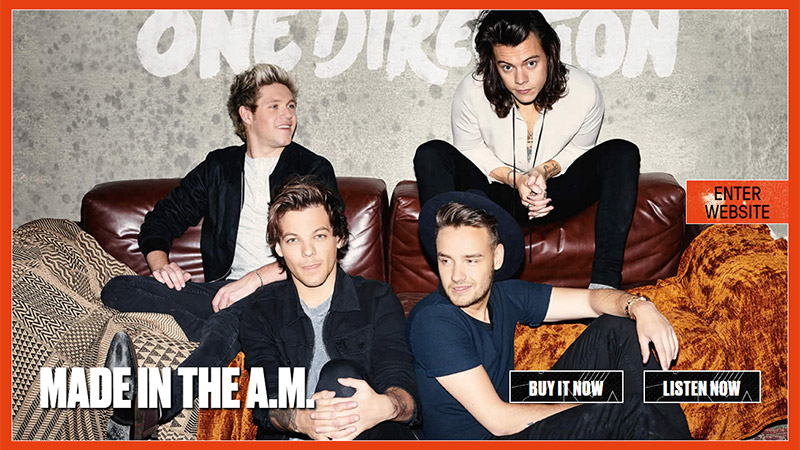 Selena Gomez
The website relies on a time-proven grid system that effectively handles a bulk of data and saves the portal from looking overpowering. There is lots of multimedia content that is broken into neatly outlined and easily-scanned blocks. The project embraces everything aficionados may ever need: Instagram widget, social media profiles, upcoming events, fresh videos and other stuff.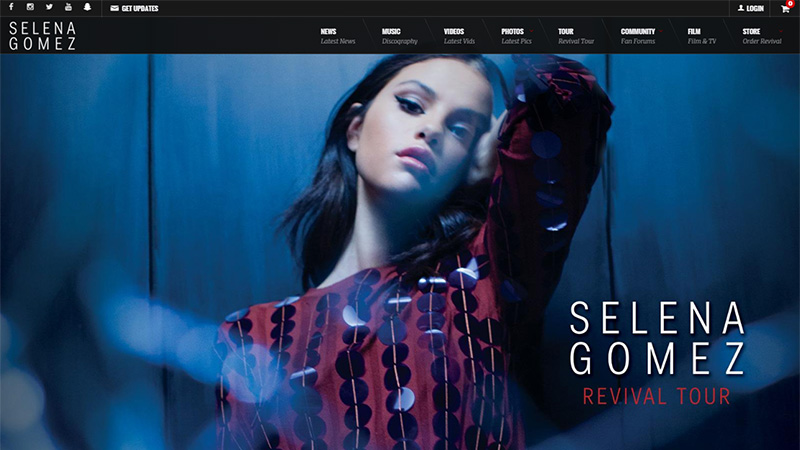 Katy Perry
The author of the popular ' I kissed a girl' hit has a website that looks like the majority listed above. Nevertheless, it is stamped by the strong and magnetic personality of the singer. The UI is enhanced by a lovely geometric appeal that spins the aesthetics creatively.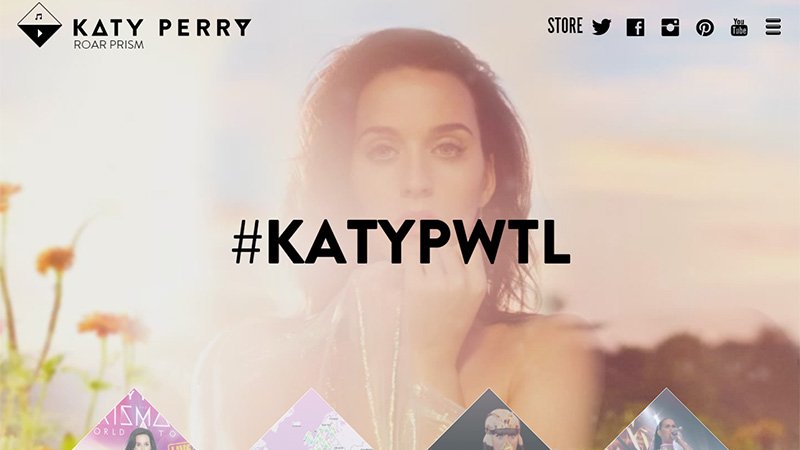 Rock Bands
Marilyn Manson
Marilyn Manson has a website that totally corresponds with his musical creativity. It is dark, brutal and rough. Flat style in tandem with dark coloring and a robust structure are the main bricks that construct the design. It is also marked by an excellent readability that allows visitors to examine the project more thoroughly.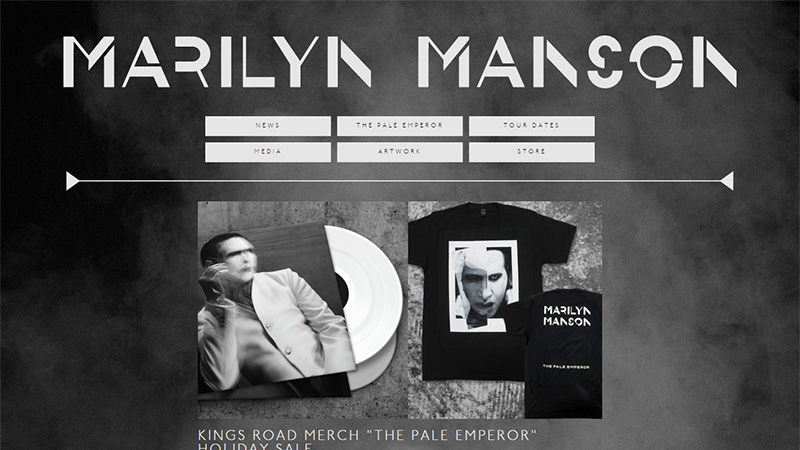 Coldplay
The front-page is marked by a rainbow of colors that on a dark backdrop and roomy layout looks original. It also has a bit of a messy yet eye-catching appearance thanks to the unusual arrangement of the content and chaotically scattered graphics. The website definitely stands out from the crowd.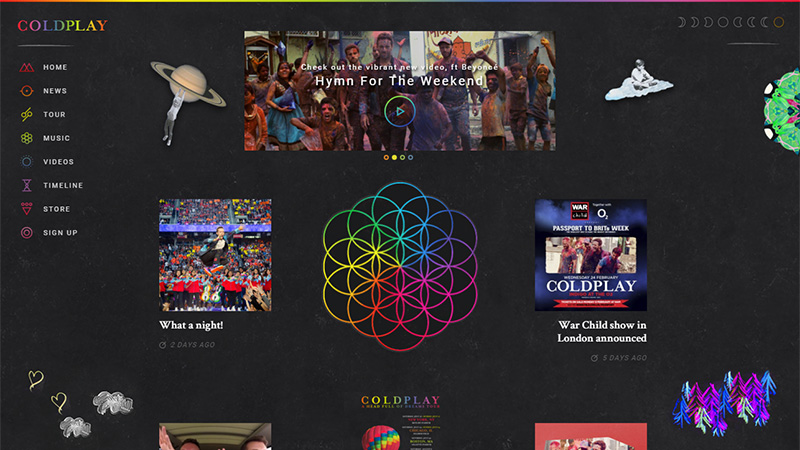 Maroon 5
The 'welcome' screen of the Maroon 5 official website falls into seven sections that provide information about the upcoming tour in a clever and original way. Each cell is dedicated to its geographical area and is personified by a beautiful illustration or image.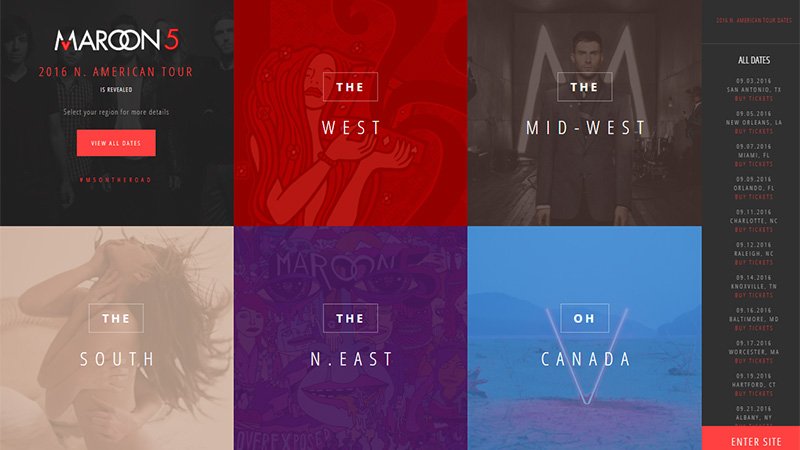 Aerosmith
Aerosmith's official website is just a 'ball of fire'. The homepage bursts with energy because of the full-screen image slider that depicts outstanding and vigorous photos from the live shows. Along with that, the project does not overwhelm visitor, but on the contrary, naturally draws them in.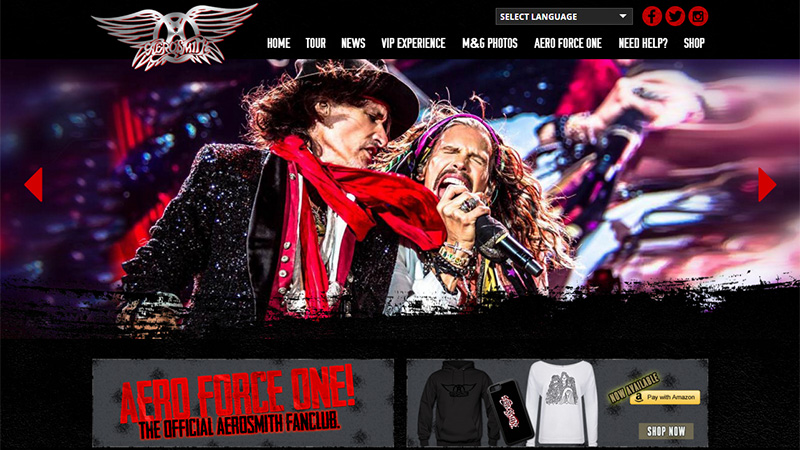 Green Day
Green Day has only a minimalistic one-page website yet it certainly rocks. It briefly yet sufficiently sheds light on the new album as well as gives off artistry and creativity. A splendid fully-illustrated environment brings into focus all the vital details.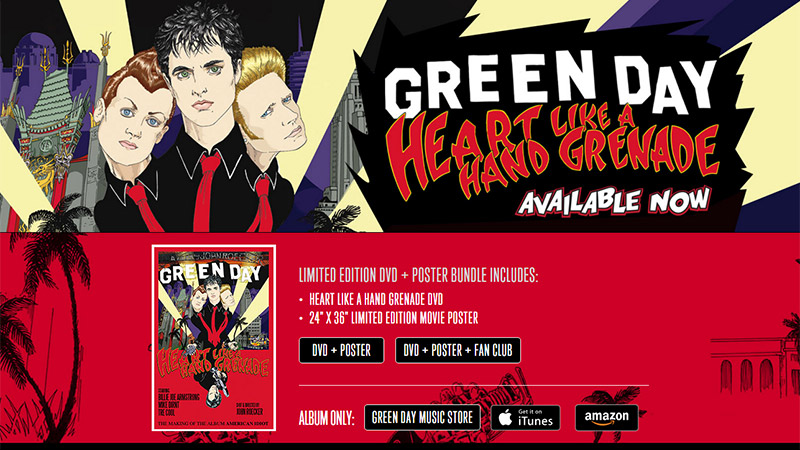 Radiohead
Radiohead sets itself apart from the others not only in the music industry but also in the web sphere. The landing page depicts a bizarre and eye-catching video backdrop. It instills a subtle sense of old-timey feeling. The screen leads to two different places: one that includes regular updates and one that sells merchandise.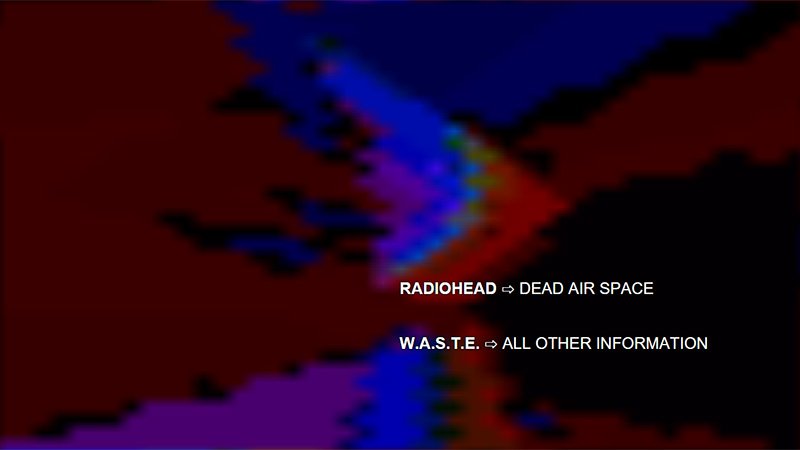 Black Sabbath
Much like the previous example, Black Sabbath pleases its followers with an original and inventive official website. Although at first sight, the front page seems to be a digital variation on a scrapbook style that is just multimedia overloaded; however, give it a shot. This professionally organized mess hides menu options under graphical stuff.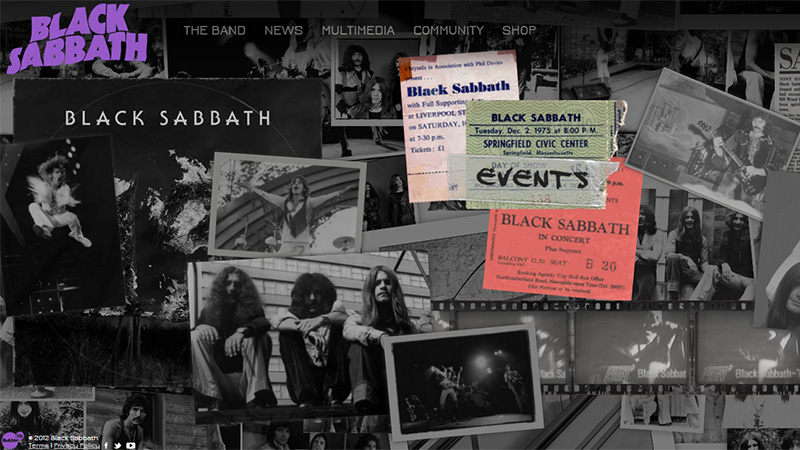 Papa Roach
The Papa Roach official website has a distinct sense of a rock band. Artistic title on the header is a thing to marvel at. It goes well with the dark coloring that never gets old. Asymmetrical two-column layout is a nice zest.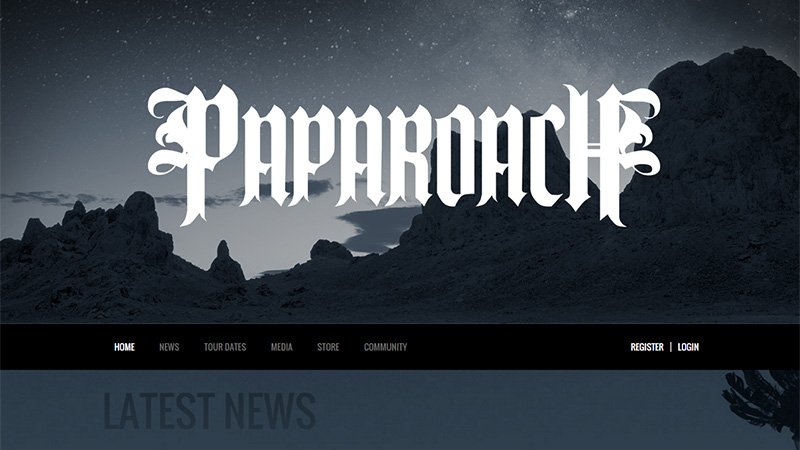 Breaking Benjamin
Here the album cover that is used as a backdrop unifies all the elements together, unobtrusively linking the product and website design. The project covers recent news, tour dates, media as well as lets you explore the featured images and videos.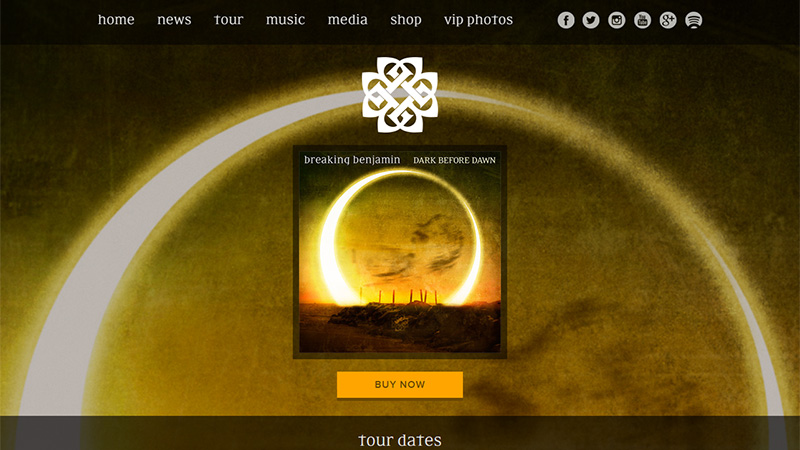 Metallica
Metallica leans more toward a classic website structure that has a common information hierarchy and intuitive homepage. Predictably, the header section is enhanced by a photo from a concert that charges the UI with a rock atmosphere.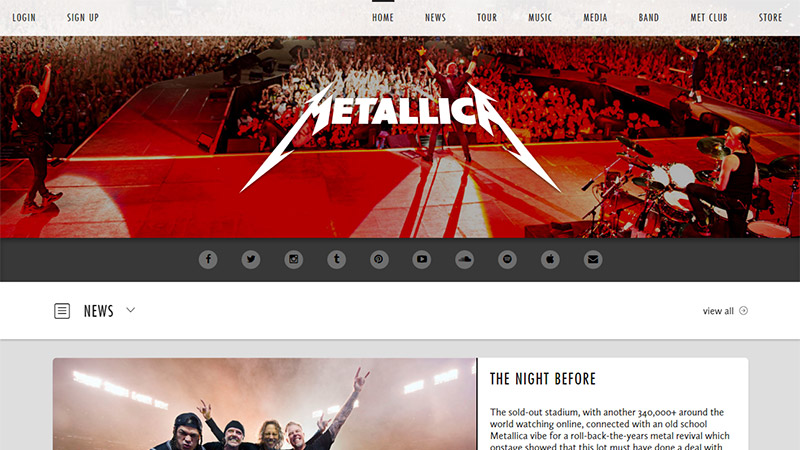 Conclusion
All the examples meet the current trends, and look hip and stylish. Whether it is the sweet interface of Justin Bieber's website or brutal and bizarre of Marilyn Manson's, it is made with the targeted audience in mind, providing all the vital information in a proper manner.
Though, there are some differences. The rock bands prefer a more brutal atmosphere in their websites achieving it with the help of rough textures, robust typefaces and boxy vibe. Whereas the pop stars opt in favor of sweetish details choosing lovely color schemes and charming photos.
So, brutal or schmaltzy? Which example do you find the most impressive and original?