Several years ago, we were introduced to brutalist web design. In that sophisticated era focused on intricate ideas, the use of high-end solutions, and polished realizations, it went like a bolt from the blue sky. It was a rare phenomenon, and therefore, perceived as something extravagant. However, today, the situation has changed cardinally. These raw, unrefined, and constructive interfaces are widespread and pass for a normal thing that still wins over the audience with its eccentric appearance.
There are many reasons for that, and one of the biggest ones is that a wave of nostalgia dominates society these days. Cravings for the '80s and '90s are evident; therefore, brutalist web designs have transformed into a big trend. Not only do small companies and local artists try to embrace it, but also the goliaths of the industry take advantage of it. As an example, consider the website of 24 Hour Ace: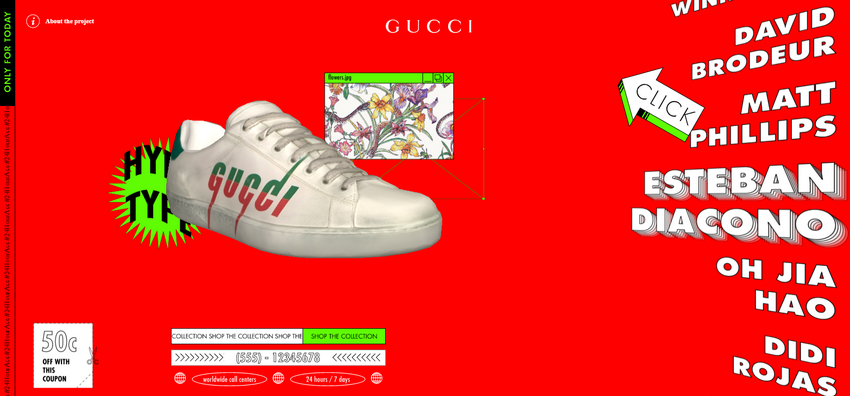 24 Hour Ace is a unique digital product created to tout sneaker designs. It includes an interactive environment enriched with a bunch of videos that bring sneakers to life. What is interesting here is that Gucci can be hardly associated with brutalist design. It is a luxury brand famous for its subtlety and an eye for detail.
However, the team managed to follow the mainstream and create a website that meets the trends and at the same time, has the charisma of the brand. As a result, their UI is a fashion interfusion. You can see drastic neon colors, a big mouse cursor, a modern vertical newsticker, oversimplified blocks, outrageous typography, and some other brutalist elements. Just brilliant.
This is a great example that shows us that this trend can fit the bill in every project and sphere. Let's examine some other outstanding examples of brutalist web design to see it for ourselves.
Collection of Inspiring Brutalist Web Designs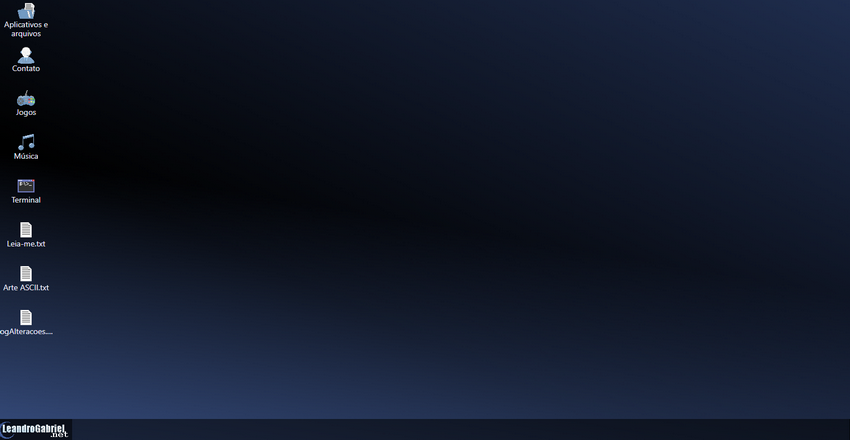 The personal portfolio of Leandro Gabriel has taken its inspiration from old-timey PCs. While the previous example just gives a nod to this approach, this one embraces it to the full extent.
The home screen is nothing more than a computer screen with shortcuts perfectly aligned to the left-hand side. It even welcomes online visitors with a default window that includes not just a content area but also buttons for minimizing, maximizing, and closing the window. Simply awesome.
If you want to dive into the '90s and '00s, and experience computers from that era, this website should be your first stop.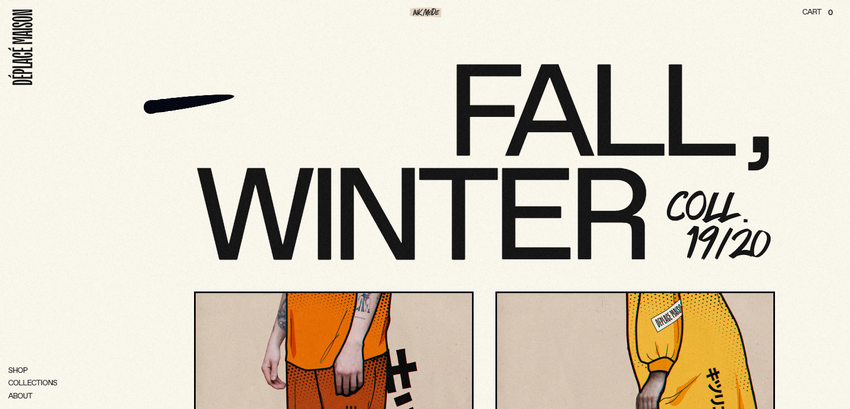 The brutalist web design of Deplace Maison is the place where illustrations from comic books meet scrapbook style. The interface is undoubtedly one of a kind. It is rustic and intricate — a very interesting combination.
What strikes the eye here is that the team managed to gracefully work some high-end details into the interface. For instance, the mouse cursor has an animated trail. On top of that, there is a line with running words that is also a trend these days. As a result, the online portfolio looks brutal and trendy at the same time.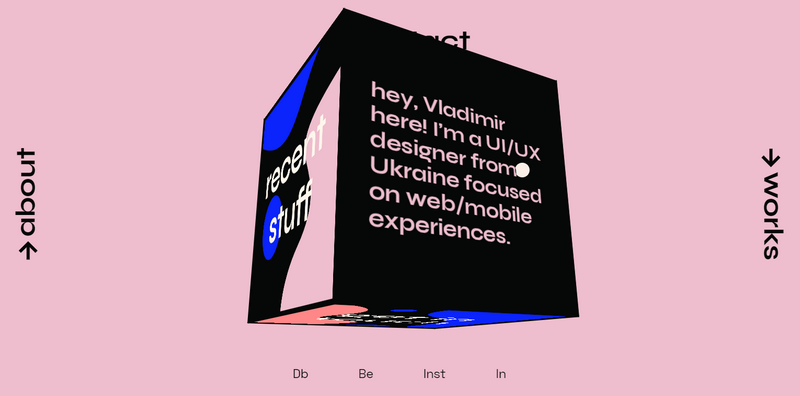 The personal portfolio of Vladimir Gruev is a symbiosis of brutalist web design and pioneering high-end features. For instance, the cube placed right in the heart of the hero area that rotates in various axis is a product of present-day technologies. The cube and its surrounding area have a rustic, almost raw feeling that hints about its constructive nature.
What's more, the website has many small intriguing features that instantly draw you into. It is not just a traditional brutal website — it is a true masterpiece with an ingenious idea and proficient realization. Just move your mouse cursor around, and you will see that every pixel hides something interesting inside.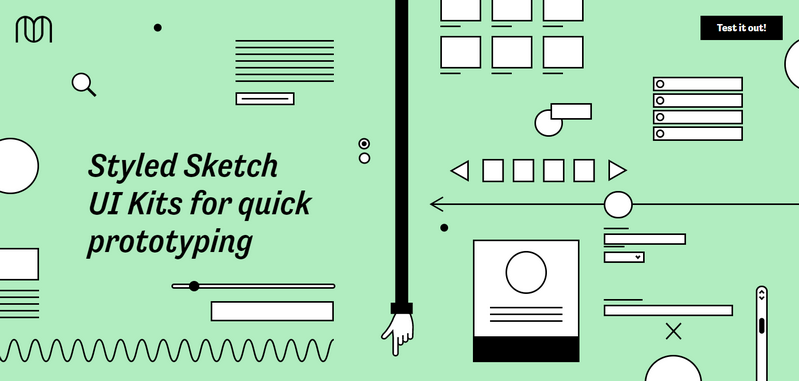 Make UI is an outstanding take on the wireframe style, that brings about a stylish brutalist web design where everything is increasingly oversimplified. However, this simplicity makes the design unique and helps it to meet the idea and purpose of the project.
Here, the line style runs the show. There are numerous outlined blocks, ghost-styled elements, and simple geometric details. You can feel a compositional harmony that makes the user experience exciting.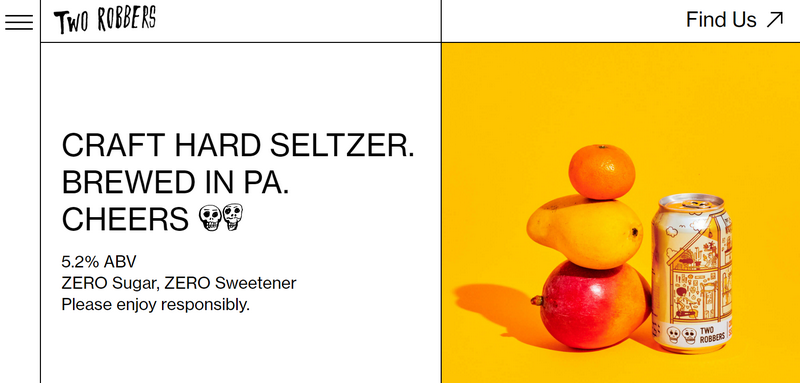 The official website of a company that brews craft hard seltzers gets its beauty from various things — brutalist style is one of them.
Much like in the previous example, here you can see how the wireframe style shapes the entire design, creating the hierarchy for pleasant exploration and setting focal points for productive reading flow. The website also has a distinctive boxy vibe that skillfully balances all the fantastic sketches that are set in motion. Overall, it is an intricate combination of artistic approach and primitive brutalism.
Last but not least
Brutalist web designs are quite diverse. It is here where you can let your imagination run wild and use different tools to come up with something drastically unpolished and, at the same time, exclusive. Fion is an excellent point in case.
Unlike the previous examples, Fion does not go for a time-proven technique. On the contrary, it shows us a new way of making the interface feel brutal and constructive. The team has used an anaglyph 3D image with Jurassic World motifs and glitch effect, bringing about an outstanding outcome. It feels a bit hipster-like as well, don't you think?
Note, this intricate solution is only used in the hero area; the rest of the design exhibits the collection in a clean and neat manner. In such a way, the website creates a powerful first impression and, at the same time, stays true to its roots.
Conclusion
There are many ways to build the brutalist web design. You can opt in favor of the retro appeal, thereby forcing old-school tricks to work for you. Alternatively, you can mix and match constructive details and high-end features to create some kind of interfusion with oversimplified charisma. You can even experiment with dynamic distortion effects or image manipulations and ditch everything lavish and decorative.
The key thing to remember is that brutalist web design is not just a primitive design that feels unfinished and undressed. On the contrary, it is a true masterpiece where the beauty of primitivism is skillfully exposed to the public.