Hotels go to great lengths to provide the perfect ambiance and atmosphere for their customers. However, most hotels overlook the importance of having an accessible website that serves as an alternative gateway to draw customers' interest in staying at their hotel.
Hotels mostly cater to an international crowd. Other than the frequent business executives who practically live in hotels most of the year, majority of their clientele have never stayed at their hotel before. The only thing these hotels can do to attract online customers to make a reservation with them is to ensure that they have offer an online booking experience that differs from the others in a positive way.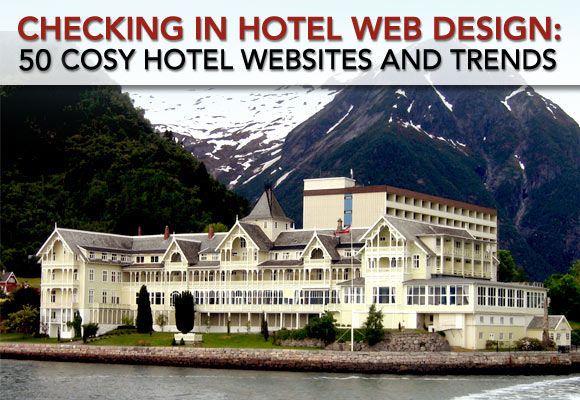 Image credit: Ayla87

In this article, we take a look at some beautiful and innovative hotel websites that are currently floating in cyberspace in the hopes that other web designers can draw inspiration for their next hotel project.
What makes an Excellent Hotel Website?
There are many factors to consider when creating an excellent hotel website. It must not only have an attractive design, but must also maintain simplicity of navigation, provided succinct and relevant information and, above all else, easy functionality. All these work together to help create a pleasant experience for the user which may very well be the deciding factor customers consider when making a reservation.
Visual Attraction
A picture paints a thousand words. Photographs of the hotel grounds, rooms and even location maps will allow customers to get a better idea of what to expect of the hotel. For some customers, appearances are everything and a pretty picture of their vacation lodging can help nudge them into a decision.
Hotel Guarda Golf
Hotel Guarda Golf has a large gallery of photographs that allow customers to look at what they are paying for from various angles. This will help customers to get a sense of security when deciding if it is the right place to spend their money on.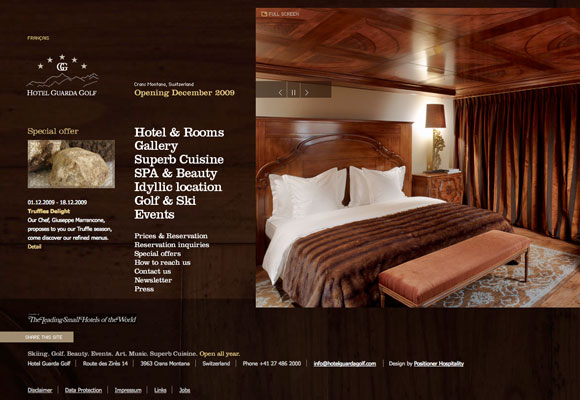 Social, Social, Social
Not everyone you know gets to travel around the world, as such, the best way to get feedback regarding where to stay on your travels is through reviews from satisfied customers. Reviews are the modern day word of mouth recommendation that can be a big factor customers consider before making any hotel reservations. Social media and viral marketing have become so powerful that even the rich and famous rely on them to make a decision on where to stay away from home. Advancement in web technology allows hotel guests to give feedback after their stay with the hotel.
In fact today, guests can even subscribe to hotel RSS feeds or follow the hotel's social networks like Twitter to stay updated with the hotel's latest promotions and events.
MGM Grand
MGM Grand allows their visitors to obtain updates from popular social networks like Twitter, Facebook and Youtube.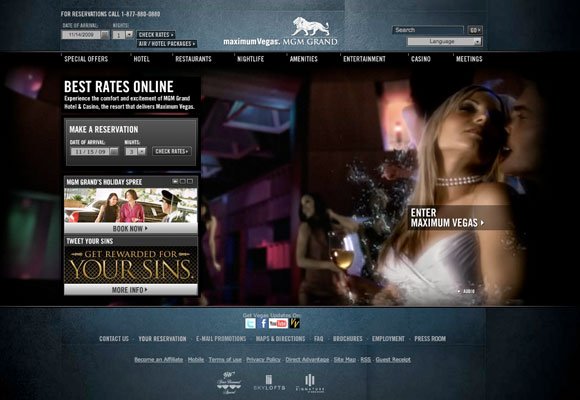 Functionality
The website of a hotel needs to attract customers visually, but also ensure that it is not a hassle to get the basic information they seek while deciding which hotel to make a reservation with.
The loading time of each webpage should be fast if not customers might get frustrated. And appealing to more than one of our senses can help customers get a taste the quality of service the hotel offers. While customers scroll through pretty photographs of the rooms and hotel's grounds and services, they can be treated to pleasant and soothing music as well.
Having an online booking system is important as it allows the busy user to quickly make the necessary reservations without the hassle of waiting for a phone operator to attend to them. A powerful booking system will help ensure that it can handle large numbers of booking traffic without any problems and allow the hotel to enter the next technological era smoothly.
Atlantis The Palm
Beautiful and large scrolling images that don't require any reloading time allows the visitor to enjoy the visual treat on the website. Altantis also has a comprehensive online booking system that makes it very easy for visitors to use.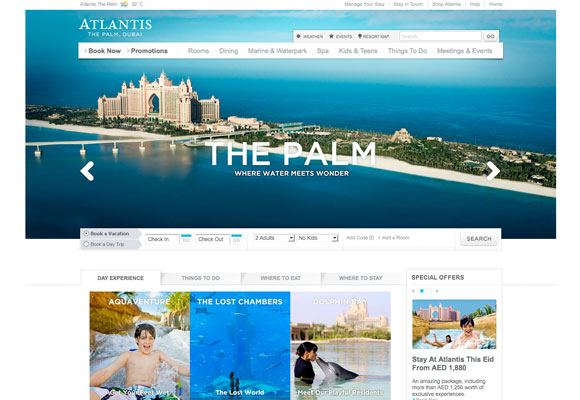 Multilingual Websites
Hotels hope to target the international market and although English is a widely spoken language, hotels should cater to the needs of customers whose first language isn't English. If the same information given to English speaking customers is also provided in other languages like French, Japanese, and German etc without having to exit the website, it will greatly increase the chances of the customer choosing to make a reservation with the hotel.
Albert Hotel Riga
Albert Hotel Riga is one such example in which their website allows the customer to choose between languages like English, Russian and Latvian without having to exit the site.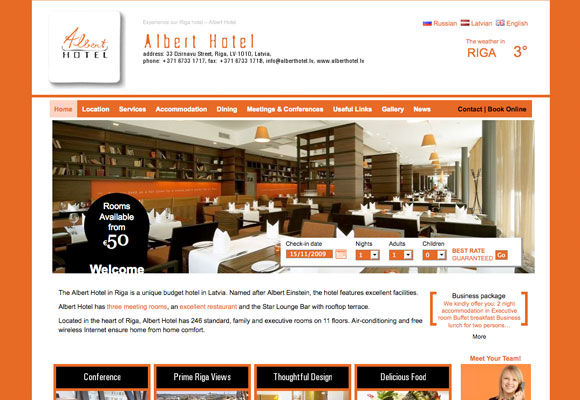 Ease of Use
Clear and simple navigation should be one of the priorities when designing any hotel website. It is one of the push factors for visitors to make the decision to make a reservation with the hotel. Important information like location, contact details, and booking methods, should be easy to find and simple to use. This will ensure that the prospective customer does not get frustrated and leave the site without making a booking.
Grand Hotel Tremezzo
Easy to navigate, the Grand Hotel Tremezzo website allows the visitor to quickly obtain important information as they are listed neatly and prominently on the navigation bar.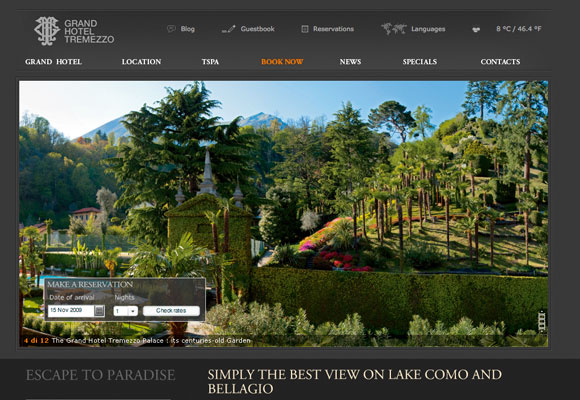 Detailed Service
It is important for customers to know the various services the hotel can offer them during their stay. Knowing more about the hotel and their policies will help customers gain a sense of security and build confidence in the hotel they are considering to book with. Relevant details should be easily accessible and in given in a reasonable font size for customers to read with ease. Information given on the website should be valid and there should not be any misleading or hidden details kept from potential customers.
Capella Singapore
Capella Singapore is a six star hotel with numerous facilities like their spa options and four different dinning venues as well as activities like their signature tours and cruises. These are available for visitors to take a look at on their site, thus giving them an extra edge over other hotels.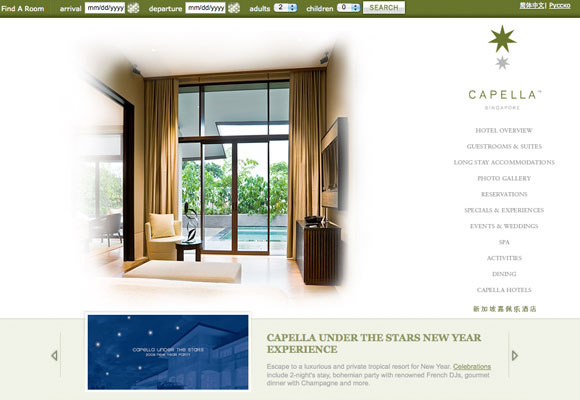 Choice of Colors
Colour schemes used in hotel websites play an important role. Warm and sensual colours are often used as they create a homely and comfortable feeling for their web visitors. After all, a hotel stay is one's home away from home. Hotel websites usually have a colour scheme of white, blue, black or green because of the symbolic connotations of these colours. White is associated with elegance and purity. Blue is calming and sensual. Black adds a sense of mystery and Zen-like feeling. Nature's green helps the busy traveller unwind and refreshes their senses.
Hotel Missoni
Hotel Missoni website design stands out from the others because of its unique concept and excellent use of colours.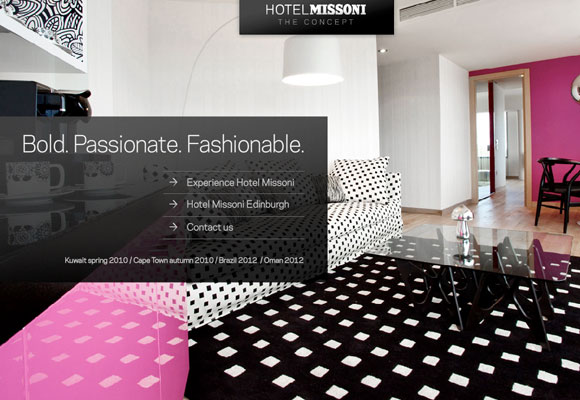 50 Beautifully Designed Hotel and Resort Websites
Shown below are some beautifully designed and current hotel and resort websites, feel free to browse through their websites if you have the time.
Checking In Soon?
I hope these hotel websites were able to whet your appetite for a much needed vacation for yourself or your family. And if you see any other great hotel websites or have something to share about their site designs, do drop us a comment below.