Page builders play an important role when it comes to turning an ordinary WordPress blog into a professional website. And Elementor might just be the ideal page builder you've been looking for to get that job done.
Whether it's to create landing pages to generate leads, design an attractive new homepage for your blog, or even build a portfolio to showcase your work, a great page builder plugin goes a long way to make everything easier for both bloggers and web designers.
Elementor is one of the most flexible and beginner-friendly page builders available today. In this review, we take a closer look at the Pro version of the plugin to see how it's different from the Free version.
What Is Elementor?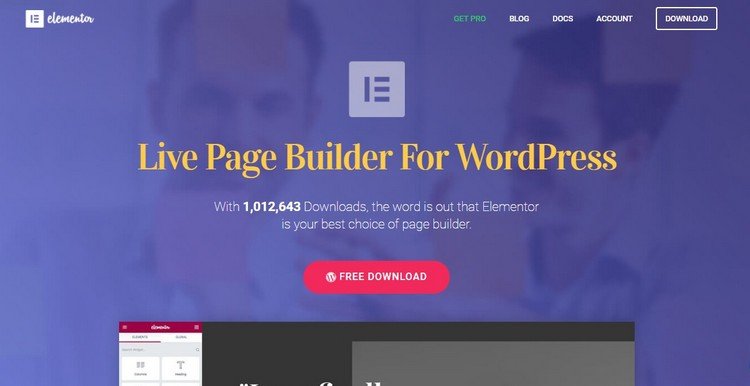 Elementor is a page builder plugin for WordPress that allows you to create different types of landing pages, custom homepage layouts, and lots more using its live front-end editor.
Even though Elementor was launched in 2016, the plugin quickly became popular enough to receive over 1 million downloads within a few months. Mostly because the plugin was initially released for free. The Pro version of the plugin was only introduced in December 2016.
Elementor Pro targets professional bloggers and web designers with a goal of helping them design unique websites and landing pages in WordPress with ease.
Why Use It?
Elementor can be used to create many different types of pages, posts, and layouts. You can design landing pages from scratch or use its many pre-built templates. But, why use the Pro version?
Elementor Pro is more affordable than most other premium page builder plugins. And Elementor Pro is only a one-time purchase. There are no recurring subscriptions involved.
If you plan on selling products on your website, Elementor Pro will come in handy when designing product pages for your shop because the plugin comes with a set of useful WooCommerce widgets for creating better-looking shop layouts.
Another brilliant feature of Elementor Pro is that it allows you to create and embed your templates in your WordPress sidebar or footer as a widget. This will help you add beautifully designed email opt-in forms, registration forms, and more in your sidebar.
The Difference Between Elementor Free and Pro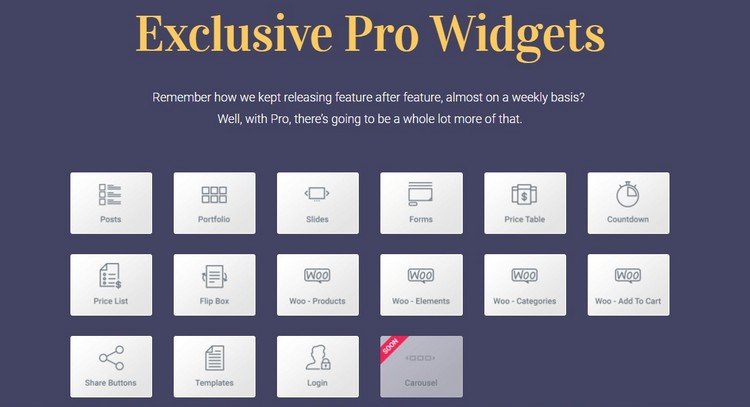 The free version of Elementor is so amazing that you won't even feel the need to buy the Pro version. However, the free version of the plugin limits your capabilities.
For example, you use content blocks to design pages with Elementor. But, if you wanted to customize a content block to use a different style, it can only be done with custom CSS. And custom CSS editing is only available with the Pro version of the plugin.
In addition, here are some of the other features and exclusive widgets you get with Elementor Pro:
Forms
Slides
Portfolio
Global Widget
Pro Templates
Embed Anywhere
Pricing Tables
WooCommerce Widgets
Form Integrations
Share Buttons
Main Features Of Elementor Pro
Elementor free comes with plenty of great features and the Pro version comes with even more amazing features.
Live Front-End Editor
The front-end editor of Elementor packs all the elements and components into once place so you can design your pages while also seeing the changes appear live on your design.
Template Library + Pro Templates
If you're too lazy to design a page from scratch, Elementor comes with a library of templates for easily customizing a design. The Pro version of the plugin comes with an exclusive set of templates as well.
Live Custom CSS
Elementor Pro allows you to edit your page layouts and customize its layouts using custom CSS. Those changes you make with CSS will also appear live in the Elementor editor.
Built-In Slideshows And Forms
You can say goodbye to those resource-heavy slider and form builder plugins because Elementor Pro has a built-in slider and form widgets for creating beautiful slideshows and forms in your landing pages.
Embed Templates Anywhere
You can embed the templates you design with Elementor Pro anywhere on your website by using shortcodes or as a widget.
Support For WooCommerce
Elementor Pro supports WooCommerce extensively. It includes several WooCommerce elements such as products, categories, add to cart, and much more for creating supercharged shop layouts.
Design Different Types Of Content
You can create stylish posts and portfolios using Elementor's Grid, Masonry, List, Blog layouts, and more.
Completely Beginner-Friendly
Elementor is one of the easiest page builders you can learn to use within minutes.
Money Back Guarantee
The Pro version of Elementor comes with a 30-day money back guarantee.
Hands-On Review
Let's take a closer look and see how Elementor Pro works.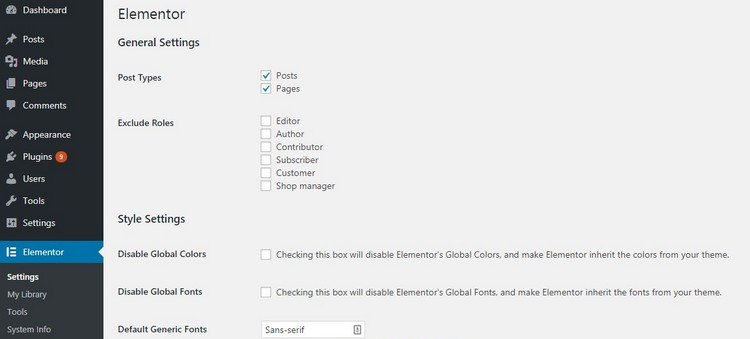 After installing and activating Elementor Pro, the first thing you should do is head over to Elementor settings tab and choose to use Elementor to edit Pages or Posts or both. You can also limit Elementor access to only the admins as well.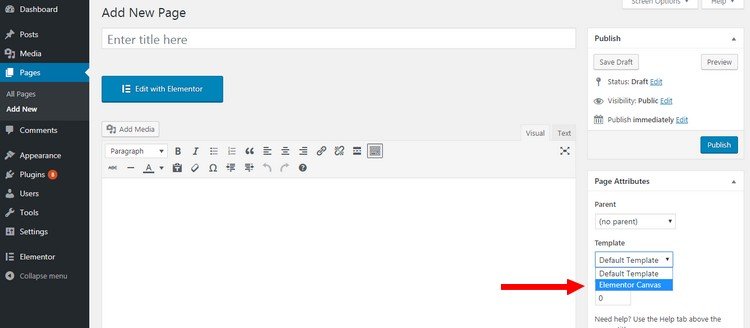 Now, you'll start seeing Elementor from your Page and Posts editors. You can either use your normal page layout to create a new page or use Elementor Canvas to create your landing page.
Elementor Canvas lets you design a page on a completely blank page without menus, sidebars, or any of the elements from your theme files. This feature is ideal for designing effective landing pages.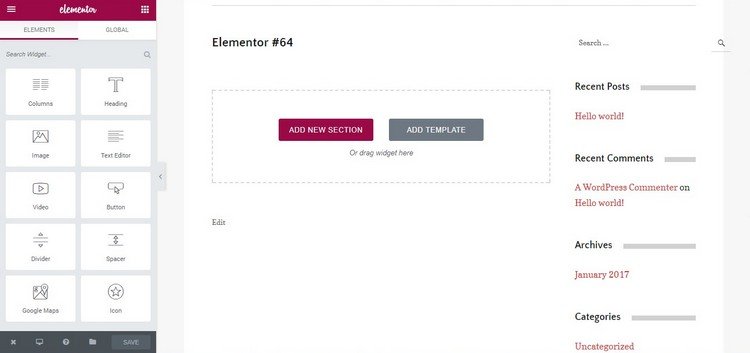 You can get started on creating a new design by simply clicking on the Edit With Elementor button. It will direct you to the Elementor editor, where all the magic happens.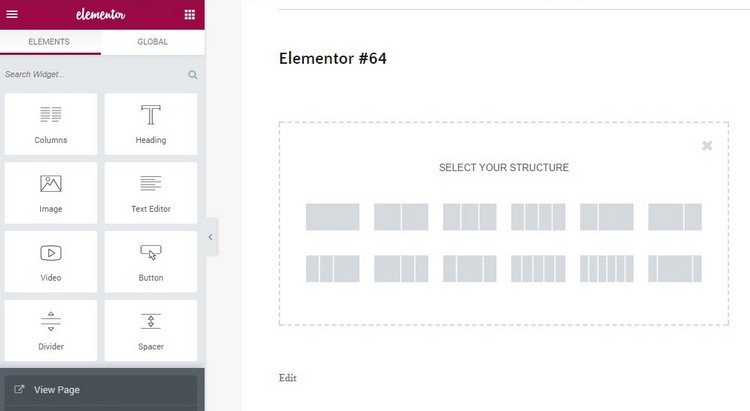 With Elementor, you can structure the page with multiple columns. And you can start adding content to your page by simply dragging and dropping content blocks from the elements tab.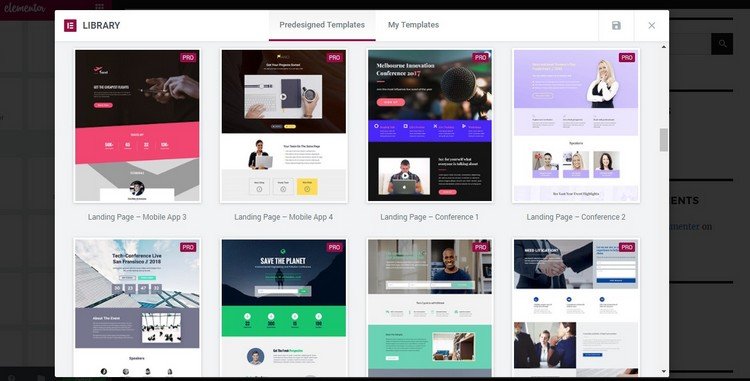 Or you can choose to Add a Template. The Pro version comes with a collection of templates with much better designs than the ones in the free template library.
Although, you won't need those templates because Elementor actually makes it more fun to design without using templates.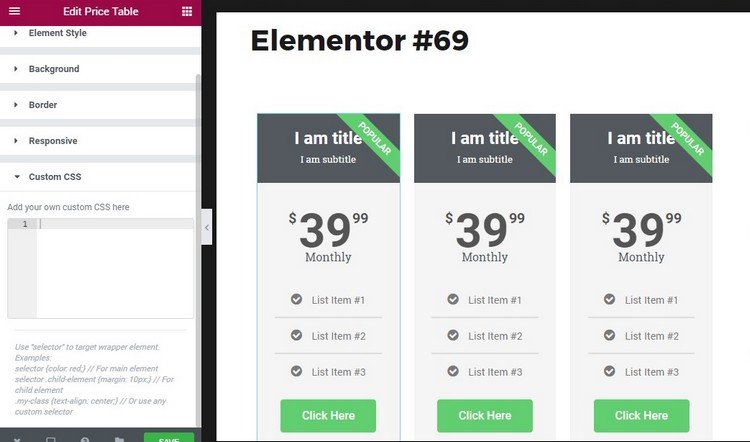 You can simply add content to your design by dragging and dropping elements into the page. And you can customize them from the Style tab to adjust margins and padding.
With Custom CSS, you can take editing to the next level. If you know how to work with CSS, this feature will allow you to add advanced styles to your content blocks. Surely a useful feature for web designers.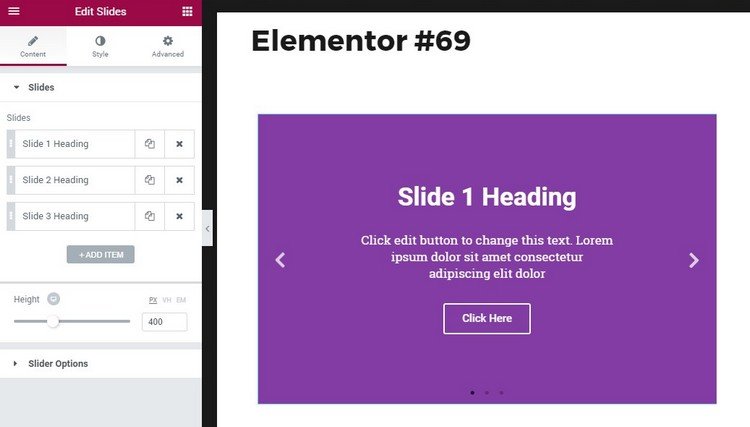 Adding a slideshow to the landing page is much easier thanks to the Slides widget.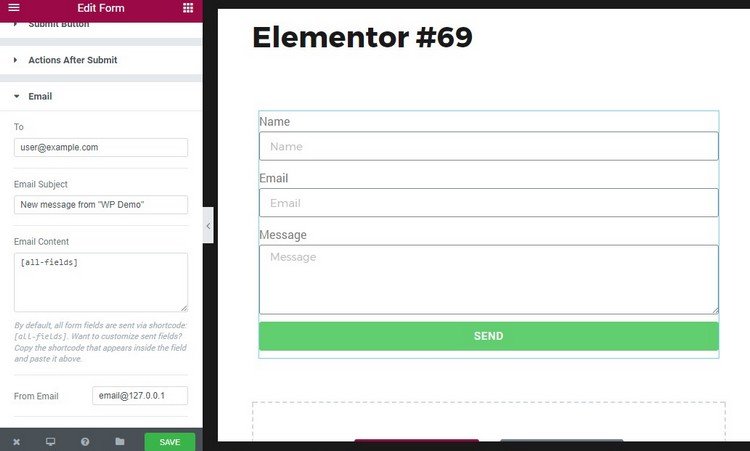 The Forms widget can be used to create beautiful forms such as contact forms.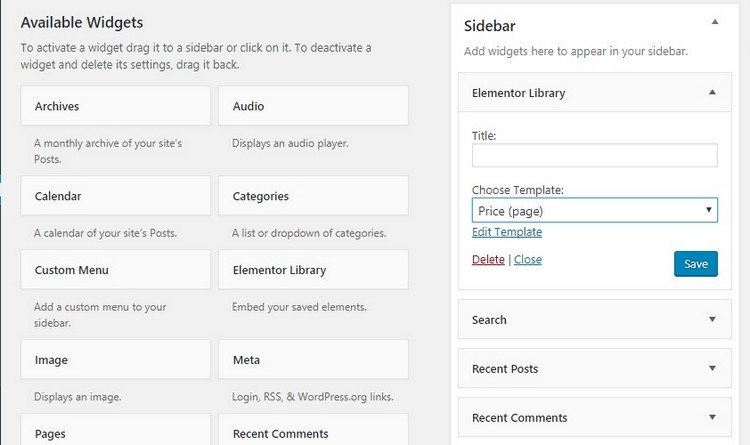 Then you can save the template into your template library and use it as a widget to embed the template anywhere on the website. It can be done using the Elementor Library plugin.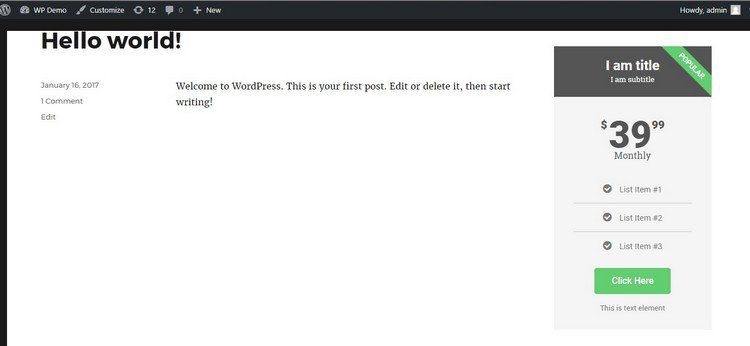 If you'd like to create an Elementor template from scratch to reuse later, you can do so by going over to the Elementor My Library tab and creating a new template. You can even export the templates to share them with others or import templates from another blog.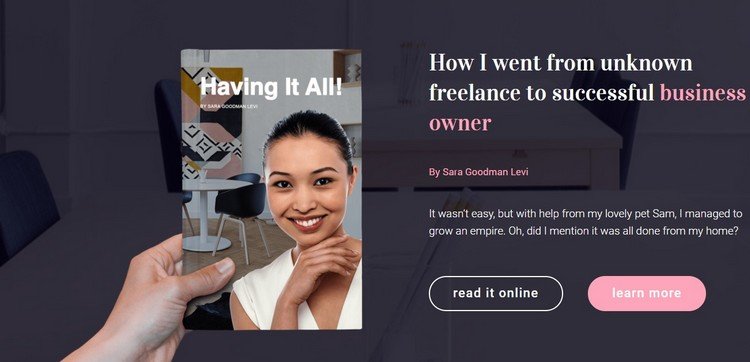 No one will be able to tell the difference once your design goes live (Example: An Elementor Pro template in action).
A great thing about Elementor is it's easier to create landing pages from scratch using the page builder, unlike most other page builder plugins. With Elementor, you can easily dive in and start building pages without even having to watch any tutorial videos.
Pros & Cons
Even the free version of Elementor has features that you usually only get with premium page builder plugins. Which made it a bit difficult for us to find any downsides to using the plugin.
Benefits Of Using Elementor
Ease of use is probably the best feature of Elementor. From installing the plugin to publishing landing pages, Elementor makes the entire process much easier than any other page builder plugin.
Elementor also automatically supports third-party widgets. Which means the widgets that come with other plugins will also be available in Elementor to design templates.
Live forms and slides widgets help you to get rid of additional third-party plugins.
The Global widget also allows you to control and edit several sections on a page at once. It helps you to update shared sections on a page such as website footers and copyright remarks with ease.
You can also save and import your templates designed with Elementor.
Downsides To Using Elementor
The lack of third-party add-on support is the only downside to using Elementor. While the plugin supports WooCommerce, there are no add-ons to integrate other plugins such as Ninja Forms or Easy Digital Downloads.
Elementor Pro Pricing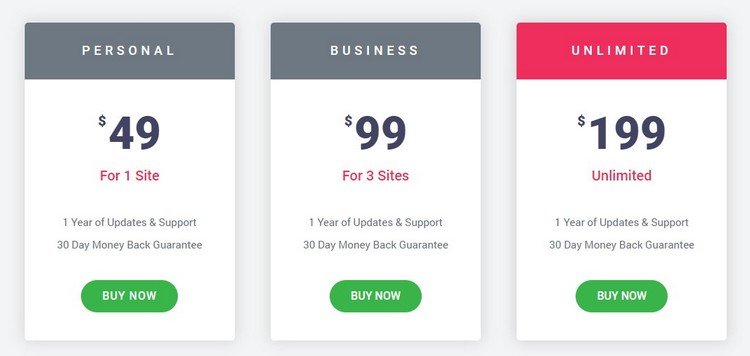 Elementor Pro is available in 3 different pricing plans.
Personal: $49 for use on 1 website, with 1 year of updates and support.
Business: $99 for use on 3 websites, with 1 year of updates and support.
Unlimited: $199 for use on unlimited websites, with 1 year of updates and support.
Elementor Pro can be used as long as you want once you purchase it. However, you'll have to renew your plan yearly to receive updates and support.
Should You Buy Elementor Pro?
Elementor is certainly an innovative page builder that is in fact much more beginner-friendly than other WordPress page builders such as Visual Composer and Beaver Builder.
However, Elementor free version is more than enough for bloggers to create simple landing pages and new theme layouts for small to medium blogs.
Elementor Pro is mainly designed for professionals, businesses, and web designers. The collection of templates and the exclusive widgets includes in the Pro version will prove valuable when designing advanced landing pages, eCommerce websites, and homepage layouts.