Are you tired of using the same old Font Awesome icons in your designs? Are you looking for a fresh set of icons to give your designs a unique look? Then we've got an amazing freebie you're going to love.
This is a set of colorful icons features lots of different musical instruments and other items related to music. It's perfect for any design projects related to music. And you can download it for Free!
If you're working on a design related to music, you're going to love this set of icons. This pack of bright and colorful icons comes with 30 unique music icons with a funky style. The flat design-inspired look of these icons makes them perfect for any modern design, whether it's a website design, graphic design, or even a print design project.
These icons will also look amazing on flyers, website landing pages, logo designs, posters, and much more. The vibrant and colorful design of the icons will definitely make your designs pop.
What's great about this set of icons is that you can even customize them to fit your preference. Each icon comes fully layered, making it easier to edit the files to change their colors to match your own design.
The icons also come in various formats, including AI, EPS, SVG, and PNG, allowing you to edit them using any kind of a vector editor you have. Thanks to these different formats, you'll be able to edit the icons using either Adobe Illustrator, CorelDRAW, or Sketch.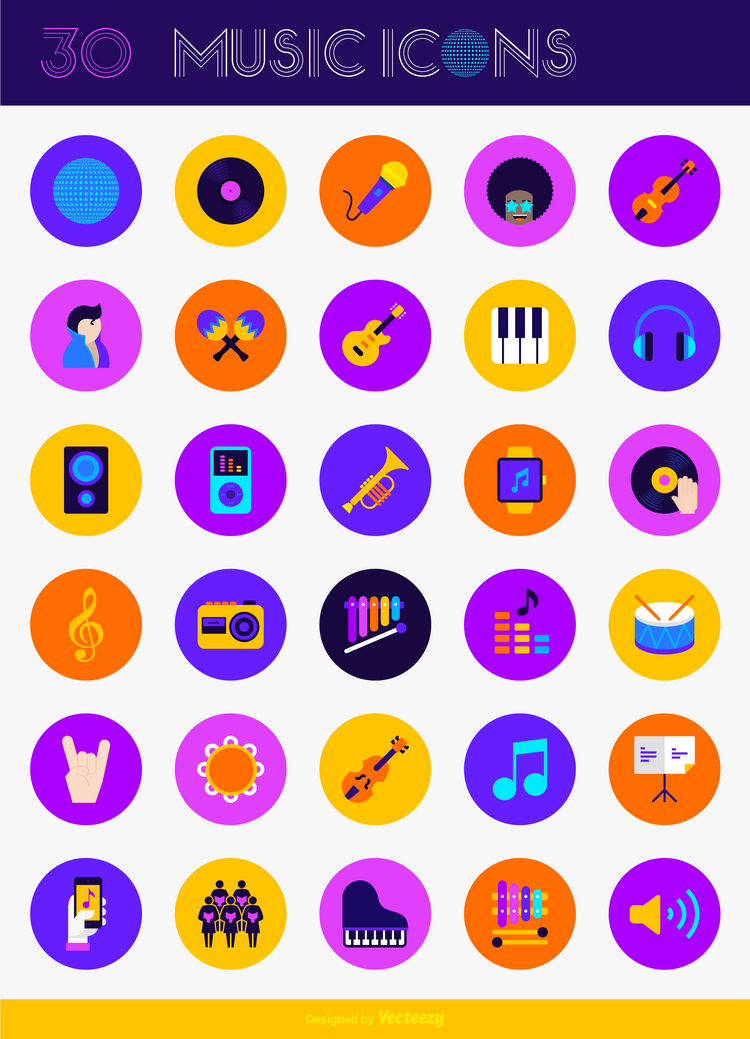 Here's what's included in the freebie:
AI (single file of each icon and all together in one file)
EPS (single file of each icon and all together in one file)
SVG (single file of each icon)
PNG (single file of each icon – 1024 x 1024 px)
PNG preview image including illustrator
The icon set is completely free to download. No strings attached. And you can use them however you like, including both your personal and client projects. Hit the link below to download the icon pack.