Love is the master key that opens the gates of happiness. Love is such a beautiful thing, so today we decided to share our love with everyone with a set of 20 beautiful and elegant glyph icons associated with love and romance.
This elegant icon set has been designed by VisualPharm. VisualPharm was founded by Ivan Boyko in 2002 and they have completed many graphic user interfaces for intranets, complex interactive websites, desktop applications and touch-screen kiosks. Icon design is one of the things they do the best.
These clean and elegant icons are a perfect choice for use on websites or applications related to dating, weddings or love.
About VisualPharm
What's the problem with creating a huge icon pack? When you create the stock icons, you run out of ideas pretty quickly. The first hundred icons are easy, but then you have to think about what users actually need.
a chocolate rabbit?
a superman?
a blade server?
So VisualPharm asked what users need, and gave them a tool to vote for the icons they need most. It's amazing how weird the stuff some people need is. Some of the requests were:
And sometimes people ask for something nice. Hearts, passion and teddy bears. Here we present to you the nicest, purest and sweetest icons ever requested. Till death do us part.
Download Love and Romance Icons Set
Feel free to use this icons set for personal or commercial projects but please do not sell, modify, distribute or host them elsewhere whether online or offline.
If you would like to share this freebie, please help us spread the word by linking back to this original release.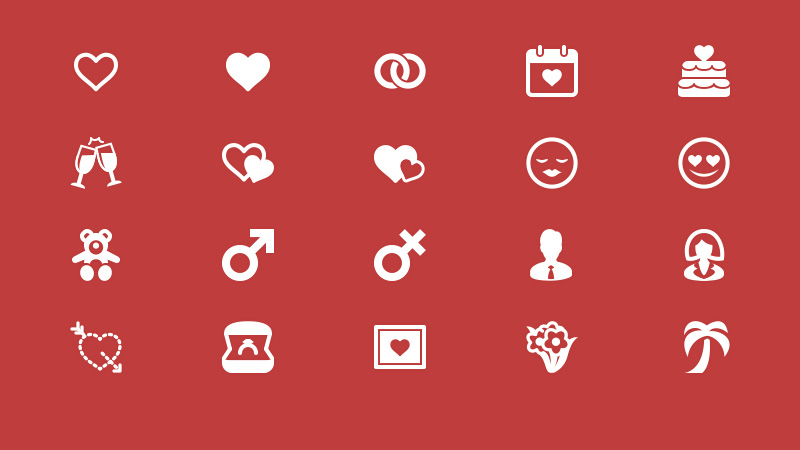 We offer our sincere thanks to VisualPharm for creating this Love and Romance icon set and we really appreciate their efforts.
Our freebies are created especially for our readers at Onextrapixel and the design community. If you'd like to release any freebies on Onextrapixel, feel free to contact us and we will be more than happy to assist you.
[freebiesub download="http://cdn.onextrapixel.com/wp-content/uploads/2013/08/love-glyph-Icons.zip"]