Most of us are already familiar with flat design, as this trend has been largely discussed in recent months. Another trend that has been in the limelight recently, is Long Shadow design. Long Shadow design has emerged from the mainstream flat design trend though more often, they work together hand in hand. The long shadow offers a feel of depth to the object, yet still maintains the flat aesthetic.
Long shadow is usually characterized by a 45 degree angle that extends well beyond the length of a traditional drop shadow and usually has the size of around 2.5 times its object. Some call it long tailed shadow as it looks like an added tail to its object and is more commonly applied in interface elements, icons and logos.
We are unsure if Long Shadow design will succeed its Flat Design predecessor as the popular design trend or maybe evolve into flat design 2.0.
So right now just enjoy this set of Long Shadow mobile icons (20 beautiful icons) designed by Scottish designer – Christopher Behr, exclusively for onextrapixel.com readers.
About Christopher Behr
Christopher Behr is a graphic designer from Edinburgh, Scotland with a passion for all things digital. Growing up in the wild lands of Scotland, he's never been far from sources of inspiration. With a strong background in both digital and print design, he enjoys working on projects of all types. Currently Chris works for travel comparison site – Skyscanner, and enjoys spending his days arguing about fonts over a pint of fine beer with colleagues. You can find out more about him on his website or follow him on twitter @chukle_h0und.
The Idea Behind the Design
Shadow Icons was born from a love of the Squircle, a lovely shape made famous by Meego and (oddly enough) the Microsoft Zune. With so many new mobile operating systems on the horizon, the opportunity to try to encourage companies to move away from the traditional rounded square icon seems apt. Shadow icons may borrow heavily from a range of styles like flat design, but remains unique amongst them.
Download Shadow Mobile Icons Set
Feel free to use this shadow mobile icons set for personal or commercial projects but please do not sell, modify, distribute or host them elsewhere whether online or offline.
If you would like to share this freebie, please help us spread the word by linking back to this original release.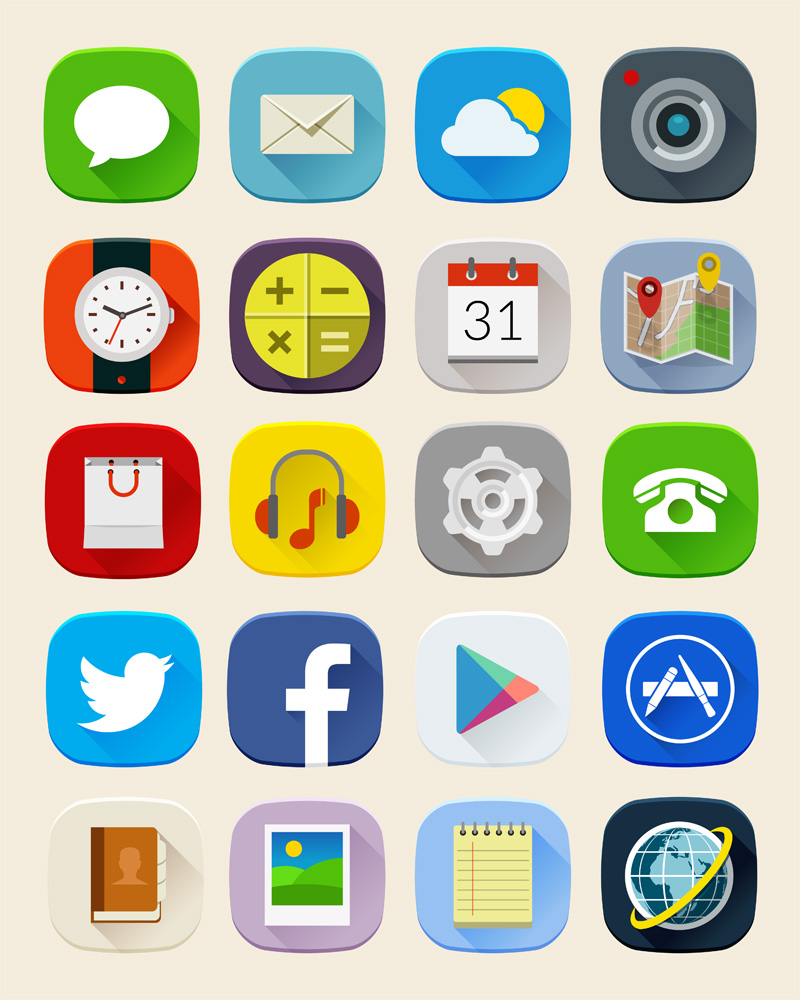 We offer our sincere thanks to Christopher Behr for creating this beautiful shadow mobile icons set and we really appreciate his efforts.
Our freebies are created especially for our readers at Onextrapixel and the design community. If you'd like to release any freebies on Onextrapixel, feel free to contact us and we will be more than happy to assist you.
[freebiesub download="http://cdn.onextrapixel.com/wp-content/uploads/2012/01/long-shadow-mobile-icons.zip"]