Today we are releasing a set of round, flat icons in retro colors. Flat design is a bang up to date trend that has brought with it a touch of retro in terms of color schemes, so we thought you might like some trendy flat icons with a little retro flair in the color. We have also included 'noisy' icons. Noise is really trending at the moment – it seems to be a knock-on effect of mesh transparencies, and is being used on background textures, especially in conjunction with pastel colors.
The icons are presented in one .psd file, and all icons are 128px – they can easily be reduced in size. They come in purple, blue, orange, green, red, gray and black, with plain and noisy versions in each color.
Free Round Flat Icons with Noisy Effect in Retro Colors
This freebie includes 7 sets of 30 social media and application icons such as: YouTube, Flickr, Facebook, Email, Dropbox, Dribbble, Digg, Delicious, DeviantArt, Blogger, Stumbleupon, Reddit, Pinterest, Picasa, Behance, PayPal, MySpace, LinkedIn, Instagram, Google+, Forrst, Yahoo, WordPress, Twitter, Tumblr, Spotify, Vimeo, Skype, SoundCloud and RSS Feed.
Download Round Flat Icons with Noisy Effect in Retro Colors
Feel free to use this icons set for personal or commercial projects but please do not sell, modify, distribute or host them elsewhere whether online or offline.
The following image shows the icons at 50%.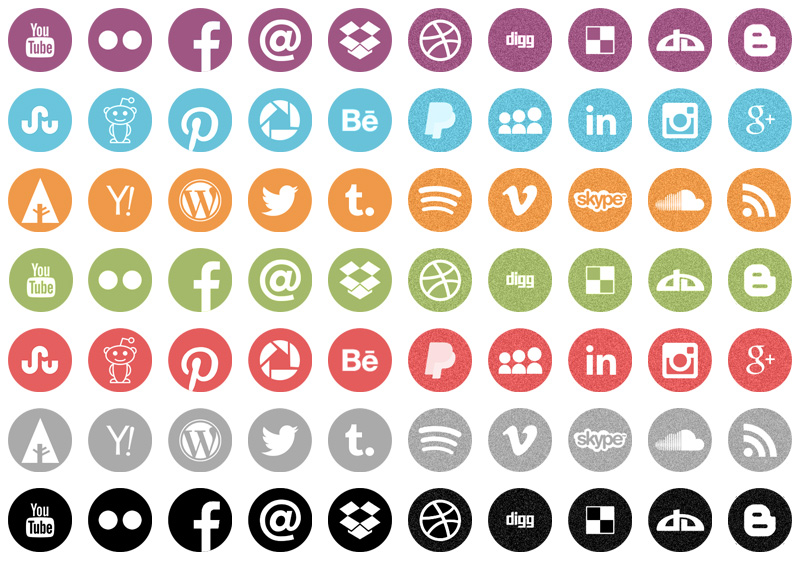 And here are a few of the icons at 100%.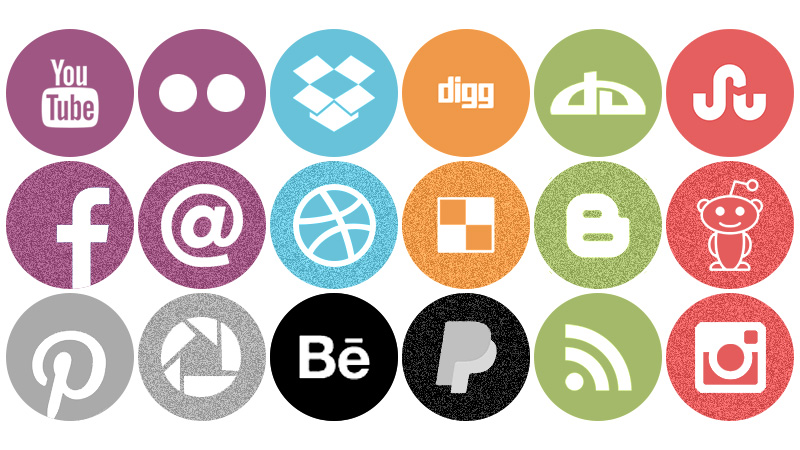 If you would like to share this freebie, please help us spread the word by linking back to this original release.
Our freebies are created especially for our readers at Onextrapixel and the design community. If you'd like to release any freebies on Onextrapixel, feel free to contact us and we will be more than happy to assist you.
[freebiesub download="http://cdn.onextrapixel.com/wp-content/uploads/2014/11/Round-Flat-Icons-with-Noisy-Effect-in-Retro-Colors-OXP.zip"]