Social media icons have been widely used and there are so many different types of social media available today. Today, we are releasing a set of commonly used icons created by Teresa Sposato. It contains your favorite social media like Facebook, Twitter, Google +, YouTube, Dribbble, etc. The theme of this set of icons is "Candy" and the designer has created them specifically to match the social media colours.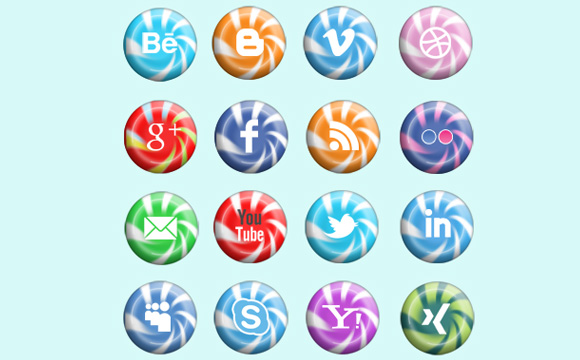 The candy social media icons set is available in three different sizes – 32 x 32 px, 64 x 64px and 128 x 128px.
About the Creator – Teresa Sposato
Teresa Sposato is a 26-year old graphic and web designer. She found her love for graphic and web design while taking a break from her studies in marketing and media management and staying in the US for two years. There she also got her education and first experiences in graphic design.
Back in Austria she finished her bachelor's degree and founded her small business. Her web design and programming skills are self-taught thanks to the numerous tutorials, books and magazines she loves to read.
Besides designing she loves everything handcrafted that's why she decided to start printing her own letterpress cards. You can see selected handcrafted or printed projects on her blog.
Download These Free Icon Sets Now!
These icons are free and we hope you like them as much as we do. Feel free to use them for personal or commercial projects. However, please bear in mind that these icons may not be sold, rented, sub-licensed, transferred, edited, altered, or otherwise. If you'd like to share this set of icons, help us spread the word by linking back to this original release.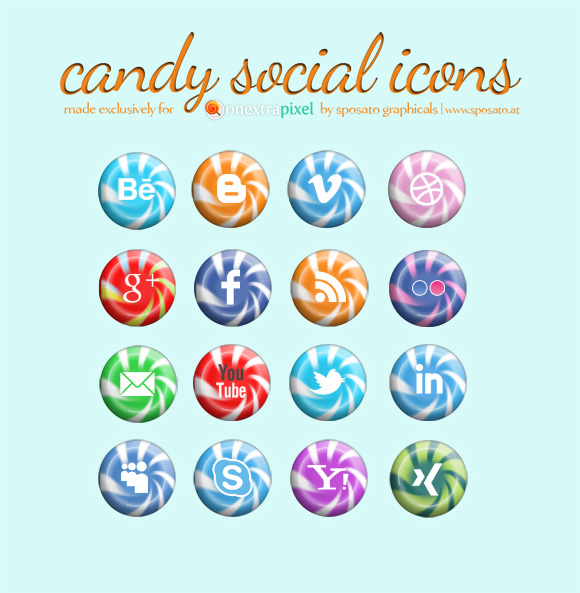 File Type: PNG
File Size: 573 kB
We offer our sincere thanks to Teresa Sposato for creating these icon sets and really appreciate her efforts.
Our freebies are especially for our readers at Onextrapixel and the design community. If you'd like to release icons or any other freebies on Onextrapixel, feel free to contact us and we will be more than happy to assist you with that.
[freebiesub download="http://cdn.onextrapixel.com/wp-content/uploads/2011/11/candy-social-media-icons.zip"]