Euro 2012 is around the corner and what could be better to kick off this amazing football tournament with our readers than offering a set of football social media icons!
Today we are enthusiastic to release a new set of social icons on Onextrapixel. This release is a set of 12 social media icons designed exclusively for Onextrapixel by the designers at Design Article Writers. These social icons were created exclusively for our readers especially those who are football fanatics as well.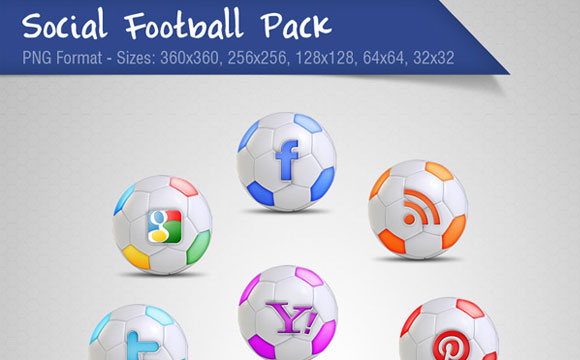 This Football Social Media Icon set comes with 12 popular icons (Google, Facebook, RSS, Yahoo, Twitter, Pinterest, Youtube, Stumbleupon, Delicious, Linkedin, Blogger, Digg) in 5 different sizes (32×32, 64×64, 128×128, 256×256, 360×360).
About Design Article Writers
Design Article Writers is a small group of designers working together to maintain a blog network in the design niche and contributing articles, PSD tutorials, creative freebies, templates to many top class design blogs online. They also own a network of design blogs like 2ExpertsDesign.com, Aext.net, etc…
Download This Free Icon Set Now!
Feel free to use these icons for personal or commercial projects. However, they may not be sold, rented, sub-licensed, transferred, edited, altered, or otherwise. The icons may not be offered for free download from websites other than Onextrapixel.com. If you'd like to share this set of icons, help us spread the word by linking back to this original release. Thank you.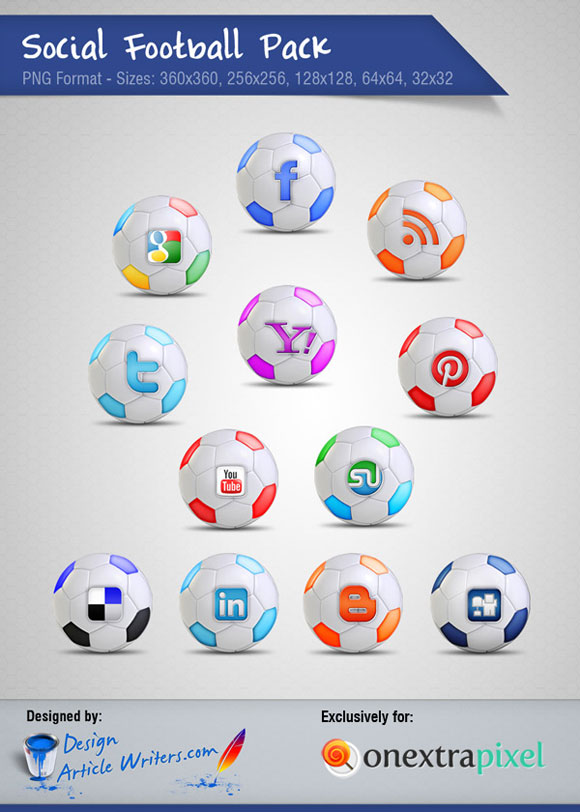 File Type: PNG
File Size: 2.8 MB
We offer our sincere thanks to the designers at Design Article Writers for creating this football social icon set and we really appreciate their efforts.
Our freebies are especially for our readers at Onextrapixel and the design community. If you'd like to release icons or any other freebies on Onextrapixel, feel free to contact us and we will be more than happy to assist you with that.
[freebiesub download="http://cdn.onextrapixel.com/wp-content/uploads/2012/05/football-social-media-icons.zip"]