Graphical User Interfaces, commonly known as GUIs are used by designers to represent information and actions available to a user through visual indicators and graphical icons. Many different variations of GUIs are readily available on the web, as designers always like to try out new GUI sets to suit their projects.
Today, we are glad to release a free web GUI pack 100% handcrafted exclusively for our readers. This web GUI pack consists of basic UI components such as dropdowns, breadcrumbs, checkboxes, buttons, pagination, searchbar, navbar and more.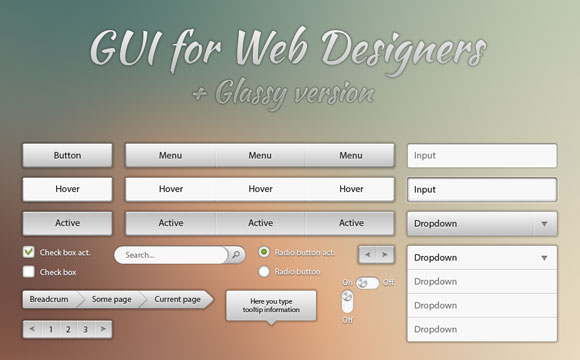 It also comes in two 2 versions: metallic and glassy. All the elements are fully scalable and made with vector paths.
About Edgaras Benediktavicius
Edgaras is a Lithuanian multimedia designer with a passion for graphic and Web design and empathy for detail in his work. Currently, he is studying web development. In his free time Edgaras does sport and sometimes partying as most students do! You can follow him @edgarascom on Twitter and view his work on Dribbble.
Download This Web GUI Pack Now!
Feel free to use this web GUI pack for personal or commercial projects. However, they may not be sold, rented, sub-licensed, transferred, edited, altered, or otherwise. This web GUI pack may not be offered for free download from websites other than Onextrapixel.com. If you'd like to share this web GUI pack, please help us spread the word by linking back to this original release. Thank you.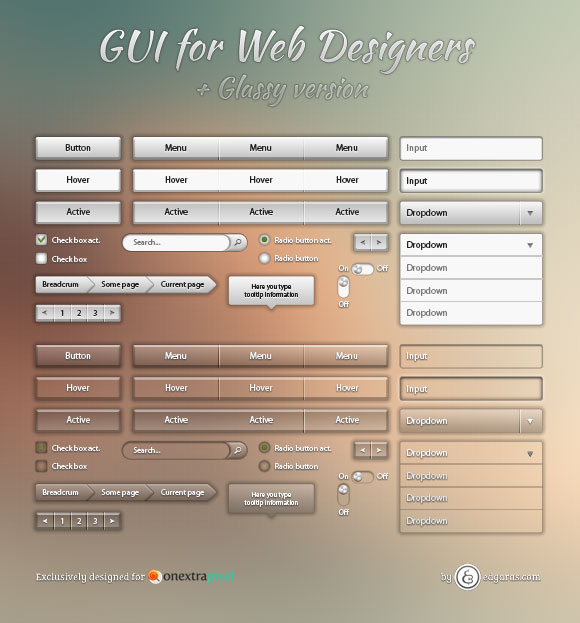 File Type: PNG & PSD
File Size: 1.5 MB
We offer our sincere thanks to the talented designer – Edgaras Benediktavicius for creating this awesome web GUI pack and we really appreciate his efforts.
Our freebies are created especially for our readers at Onextrapixel and the design community. If you'd like to release any freebies on Onextrapixel, feel free to contact us and we will be more than happy to assist you.
[freebiesub download="http://cdn.onextrapixel.com/wp-content/uploads/2012/09/glassy-gui-pack-for-web-designers.zip"]