Today, we are delighted to release a set of 12 high quality E-commerce Icons in 4 sizes, available in .png-format. This set was designed by Helen Gizi with the purpose to be used in e-commerce websites and has been exclusively released for Onextrapixel and its readers.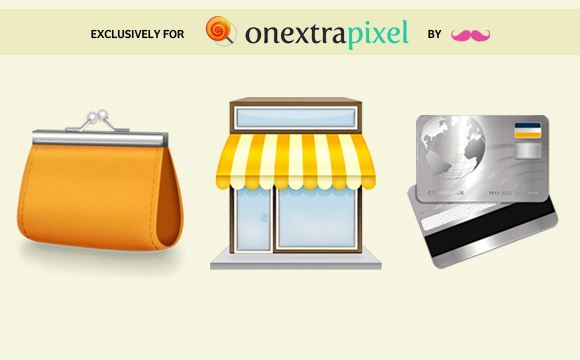 This e-commerce icons set comes with 12 commonly used icons, such as Shopping Bag, Credit Cards, Secure Payment, Discount Tag, Sales Tag, Gift, Shop, Contact, Wallet, Calculator and others, in 4 different sizes (64×64, 128×128, 256×256, 512×512).

About the Creator – Helen Gizi
Helen is a self-taught graphic designer with over 8 years experience in the field. She runs a small blog providing free vector sets called pinkmoustache.net. She has also launched Vector Stories, a site that is dedicated to providing premium logo, icon or graphic design services. If you are in need of such services, Helen will be a great help.
Download This Free Icon Set Now!
Feel free to use this e-commerce icons set for personal or commercial projects. However, they may not be sold, rented, sub-licensed, transferred, edited, altered, or otherwise. The icons may not be offered for free download from websites other than Onextrapixel.com. If you'd like to share this set of icons, help us spread the word by linking back to this original release. Thank you.

File Type: PNG
File Size: 3.7 MB
We offer our sincere thanks to the designer – Helen Gizi for creating this e-commerce icons set and we really appreciate her efforts.
Our freebies are especially for our readers at Onextrapixel and the design community. If you'd like to release icons or any other freebies on Onextrapixel, feel free to contact us and we will be more than happy to assist you with that.
[freebiesub download="http://cdn.onextrapixel.com/wp-content/uploads/2012/08/big-ecommerce-icons-pack.zip"]