Today, we are happy to release a free set of round social media icons that can be easily integrated into any website. The social media icon pack was inspired by the need for simplicity with a little touch of texture. The icons are kept in a neutral grey and the hover state received a dash of color to bring the icons to life.
This round social media icons pack comes with 20 popular social icons in 3 different sizes (64×64, 32×32 and 16×16) and is created by Mona Pfreundner exclusively for Onextrapixel.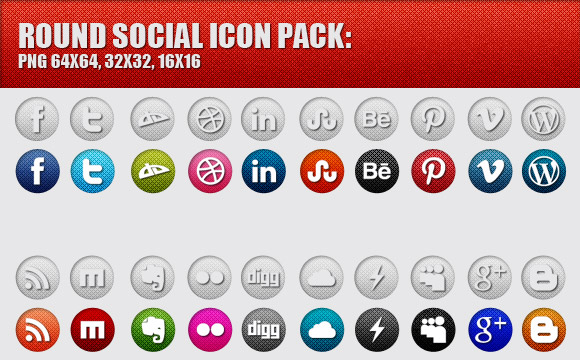 About Monawerks
Monawerks is a human factory of thoughtful designs, filled with a passion for the craft and a desire to produce extraordinary works for people with a need for art.
Monawerks is the brainchild of Mona Pfreundner, a German independent graphic designer and digital artist currently living in Montreal, Canada.
Download This Icons Pack Now!
Feel free to use this icons pack for personal or commercial projects. However, they may not be sold, rented, sub-licensed, transferred, edited, altered, or otherwise. This icons pack may not be offered for free download from websites other than Onextrapixel.com or appointed sites.
If you would like to share this icons pack, please help us spread the word by linking back to this original release.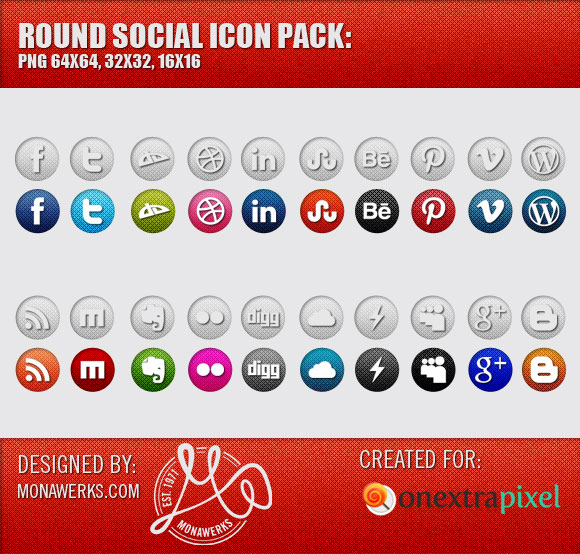 File Type: PNG
File Size: 9.5 MBs
We offer our sincere thanks to Mona Pfreundner for creating this awesome icon set and we really appreciate her efforts.
Our freebies are created especially for our readers at Onextrapixel and the design community. If you'd like to release any freebies on Onextrapixel, feel free to contact us and we will be more than happy to assist you.
[freebiesub download="http://cdn.onextrapixel.com/wp-content/uploads/2012/12/round-social-media-icons-pack.zip"]