"Hear ye, hear ye!" designer developers, designers, agencies and anyone who is furiously interested in web design and development topics and technologies. If you have missed the Future of Web Design conference in the past, here is another opportunity for you to relish this insightful event in the heart of Europe this time round on 27th November 2012.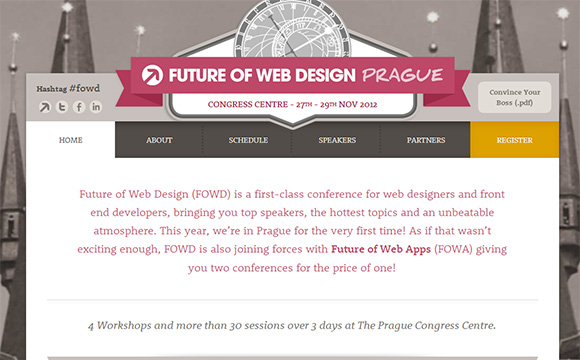 Future of Web Design (FOWD) Prague November 2012
This time Future of Web Design in short FOWD will be held at Prague for the very first time and they are joining forces with Future of Web Apps (FOWA) to bring you two exciting conferences for the price of one.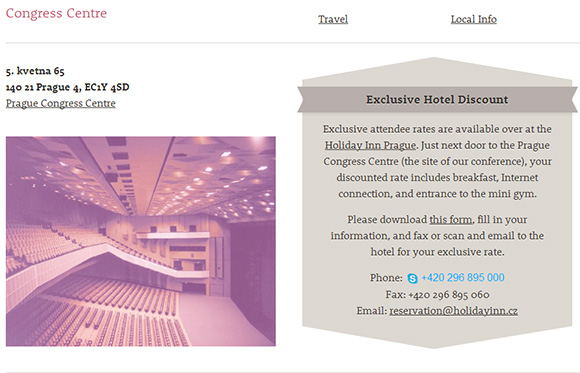 This time, Onextrapixel have the honor again to partner with FOWD to bring our readers yet another good 10% discount offer.
If you have not signed up yet, please use the coupon code: Onextrapixel to enjoy the 10% discount!
Speakers for FOWD Prague 2012
Here's a glimpse of what and who you will be expecting for this interesting event.
Speakers for FOWD Prague 2012 include the following:
Addy Osmani -Google
Bruce Lawson – Opera
Davin Wilfrid – Insights
Herve Mischler – SAP
James Chudley – cxpartners
James Coglan – Songkick
Jon Setzen – Media Temple
Juoza Kaziukėnas – Web Species Ltd
Karolina Szczur – Nodejitsu
Keir Whitaker – Viewport Industries
Konstantin Haase
Lis Hubert
Maciej Matecki – Nodejitsu
Marcin Kulik – Lunar Logic
Mike Kus – Dreaming Everyday About Design
Paolo Fragomeni – The Node Firm
Peter Gasston – Broken-Links.com
Philipp Nagele – Wikitude
Rob Borley – Dootrix
Roy Tomeij – 80beans
Thijs Feryn – Combell
Tim Ahrens – Just Another Foundry
Vitaly Friedman – Smashing Magazine
For more details about the profile of any of the speakers, do visit Future Of Web Design Prague Speaker Class of 2012 to check them out.
The final schedule of the conference is yet to be finalize but expect intriguing and hot discussions and debates on the hottest, most relevant topics and technologies, such as CSS3, HTML5 PHP, JavaScript, Ruby, UX, RWD and more.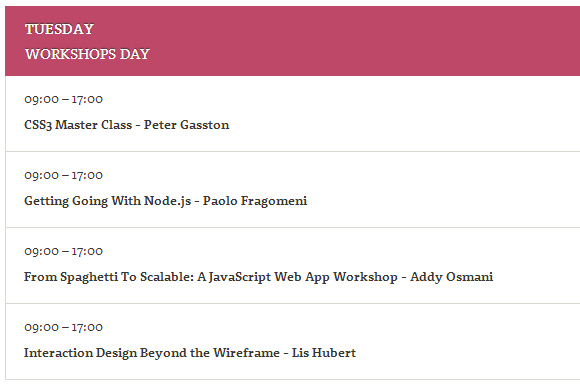 Book Your Place Now!
With 4 Workshops and more than 30 sessions over 3 days at The Prague Congress Centre, there must be something that you can learn.
Tickets are already selling fast and if you want to stay up-to-date with the industry, here's one great opportunity to start.

Reserve your ticket now and enjoyed your 10% discount.