What if one day you decide that it's time to have a change, and want to try for another creative job?
What if you are a student, looking for a design internship?
What if you are a fresh graduate, hoping to apply for your first job at a design agency?
You could be any one of the above.
No matter what your situation is, it is always prudent to have a well crafted resume to call upon when needed. It is your ticket to new job opportunities and clients.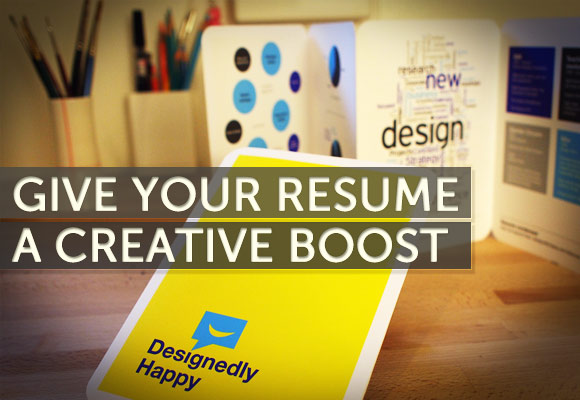 Image credit: hellotkt

Your resume not just a list of achievements and your education history, it is also the first and the most crucial step to opening the door of communication with the company you are applying to. Your resume represents who you are and what you know, but most importantly, it must be able to communicate that effectively. Therefore it is definitely worth investing your time to give special attention to its design and content.
There are plenty of resume writing resources on the web, but I'd like to highlight a few important ones with this post. You will be surprised to see the significant improvements to your resume just by applying these easy fixes below.
Easy Fixes to a Better Resume
Resume Length
Keep your resume to within a page or two. However, this rule of thumb really depends on the individual. If you have had plenty of relevant work experience, don't compromise and compress everything into a page. A two page resume is acceptable. Companies receive plenty of resumes on a daily basis, all of them a few pages long. This is very tedious and time consuming process and keeping it short and to the point is a welcomed plus.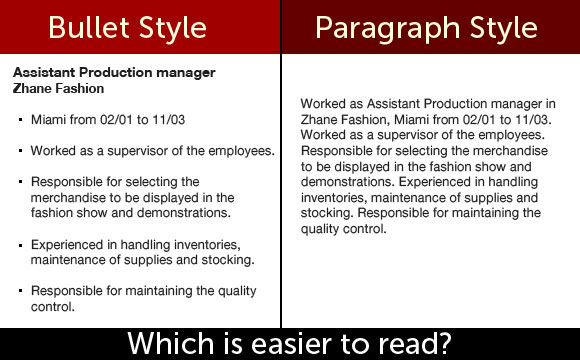 Make it neat, too much information distracts the reader. Using bullet points makes it look neater and is a lot easier to digest than a chunk of words in a paragraph. Spend time crafting succinct and productive sentences. Always remember that the objective of a resume is to communicate your abilities in a clear and concise manner. It is better to have one well-written page than many pages with irrelevant, fanciful details. Don't make the recruiter sift through unimportant details to look for pertinent material.
Go straight to the point; include only significant and relevant experiences. The interviewer does not need to know every small detail of your education or all the courses and seminars you've attended. Leave those as topics of conversation during the job interview. However, you should include any relevant experience you have with reputable companies.
The Design and Presentation of Your Resume
A well written resume is only half the battle won. It's human nature to enjoy looking at and be attracted to something pretty or interesting. Thus, it is very important not to neglect the design and presentation aspect of a resume.
An untidy resume is unacceptable. A cluttered resume is hard to read. A disorganised resume will immediately reflect badly on your personality and attitudes. Regardless of how outstanding your qualifications or experiences are, a poorly presented resume will not only give a bad first impression, but also greatly reduce your chance of getting the job you want. Your resume is for first and possibly even the only chance to create a good impression.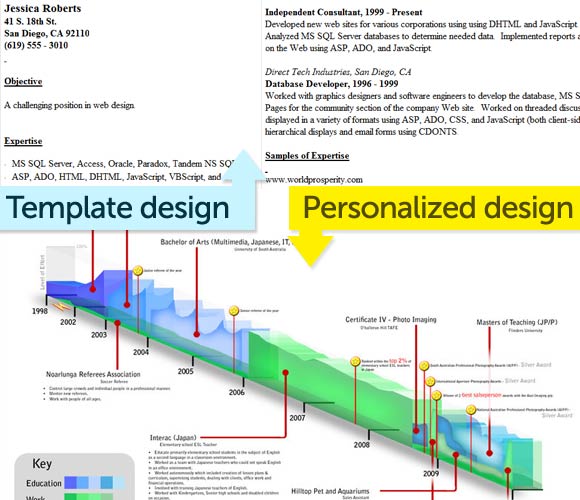 If you are applying for a creative position, what better way to showcase your creativity and design prowess than in your resume? Avoid using templates downloaded off the Internet or those found in Microsoft Word. Add your personal touch and design style in your resume. You want to stand out from the crowd and this is best way to do so. You have mentioned your skill and proficiency in design software, now's the time to prove it where you can. Show, don't just tell.
The use of a unique layout, choice of colours, fonts and the play on typography adds to the presentation of your resume and communicates your design capabilities. The rule of 'simplicity works' still stand. The creative challenge is to make it simple yet stylish.
Few things to note:
Use white space deliberately
Refrain from using Times New Roman
Have good contrast. (Make your headers bold)
Keep your fonts legible
Do not print on both sides of the paper.
Choose an appropriate type of paper to print on.
Include page numbers at the bottom (if your resume exceeds one page – e.g., Page 1 of 2, Page 2 of 2)
Think outside the box.
Add your Personality into your Resume
Ingrain yourself in the recruiter's mind with a resume that reflects your personality. Be honest and bold. Besides providing your accomplishments, elaborate a little on how you benefited the organisation and what you achieved with them. The use of action verbs will catch the recruiter's attention and will clearly communicate your achievements, work ethics and working style. Words like 'directed', 'developed', and 'incorporated' are some examples of action verbs that you can use in your resume. These action verbs will also help the recruiter to have a better understanding of your personality and determine if you are an individualistic worker or a team player.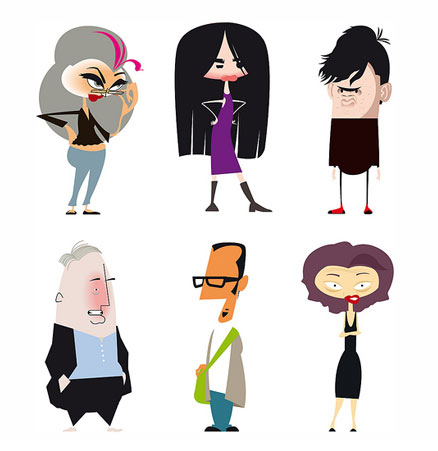 Image credit: Combined Media
Take a look at some of the different types of resumes presented below. Observe the design and the themes used. The aesthetic style of these resumes is an excellent representation of each individual behind it. They each exude the style and personality of the resume's owner.
Be confident; don't be shy to be proud of your abilities and accomplishments.
Funky Resume Inspirations
The influx of info-graphics has greatly influenced the way designers design their portfolio. It takes time and patience to study and understand the use of info-graphics in resumes.
This compilation includes plenty of resumes with exceptional layouts, colourful designs and amazing graphics.
Michael Anderson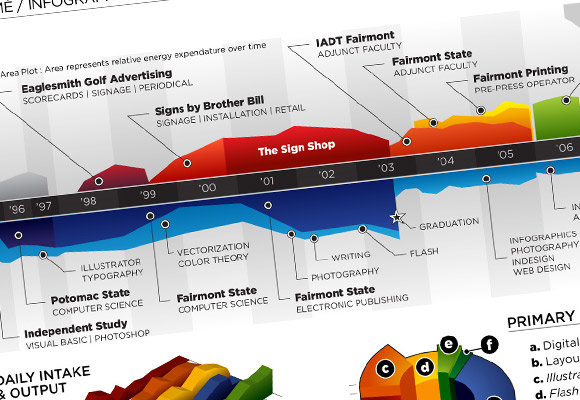 Steve Duncan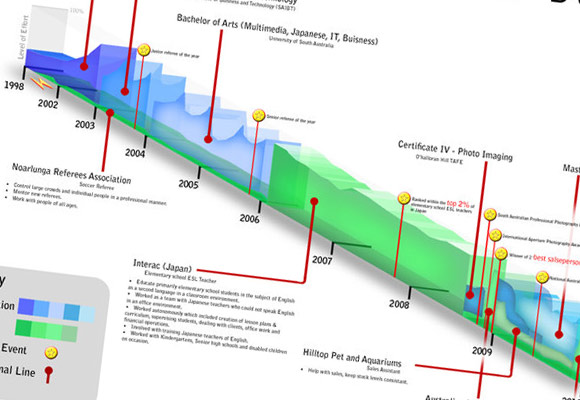 Chester Lau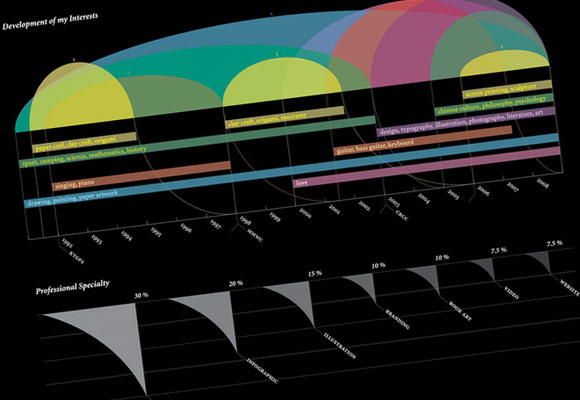 Greg Dizzia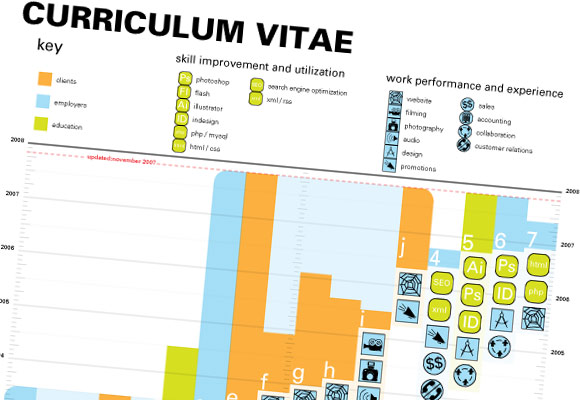 Sofiane Yaya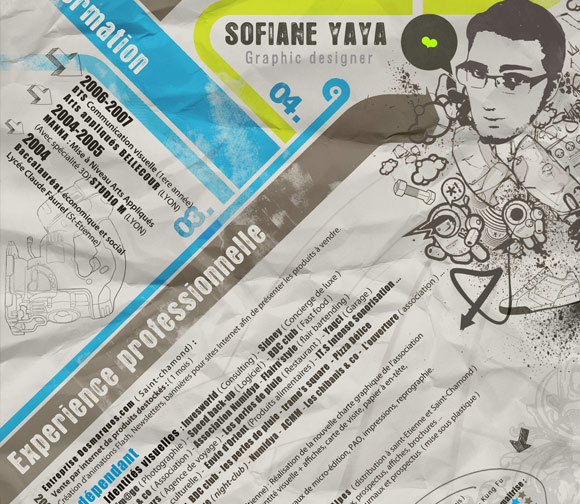 Johnathan Wong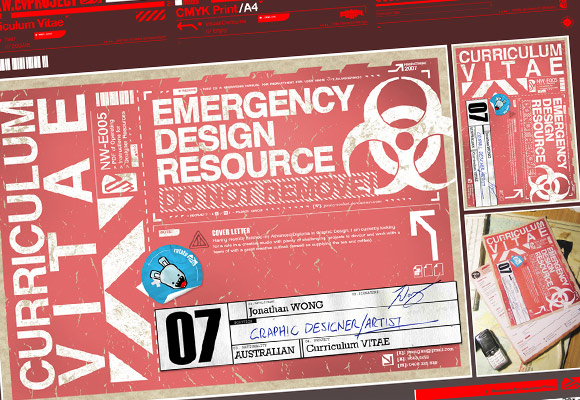 Leon Steward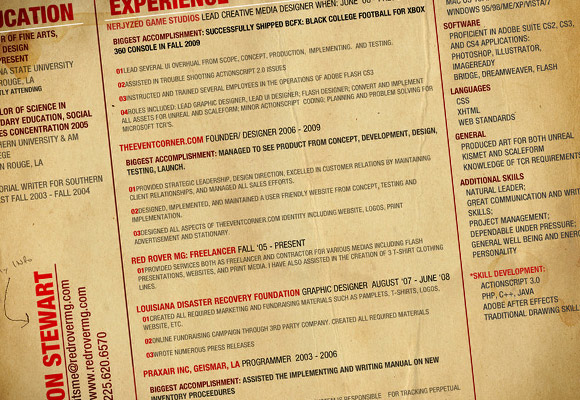 Jason Feng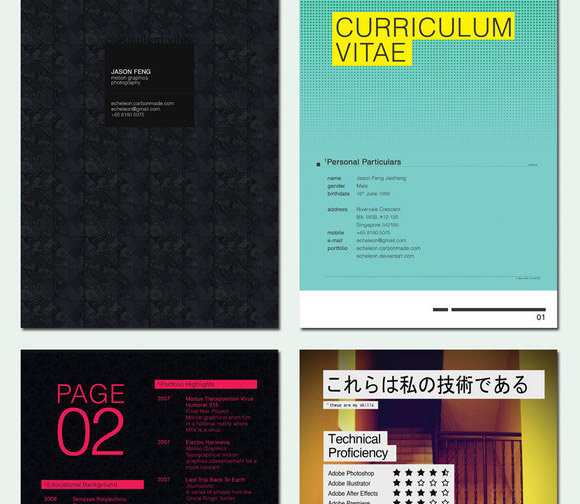 Francis Homo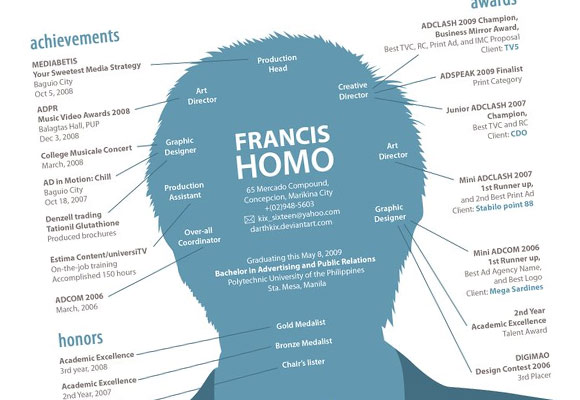 Sidney Gutierrez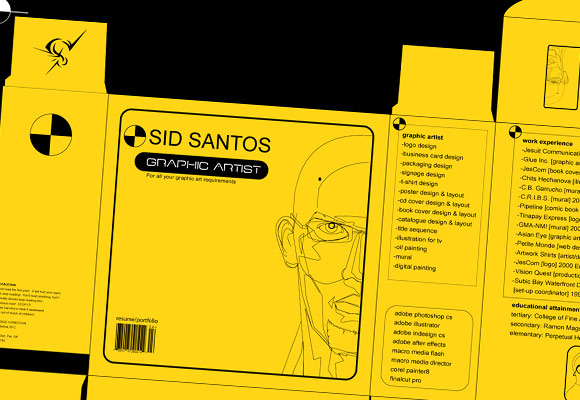 Chuck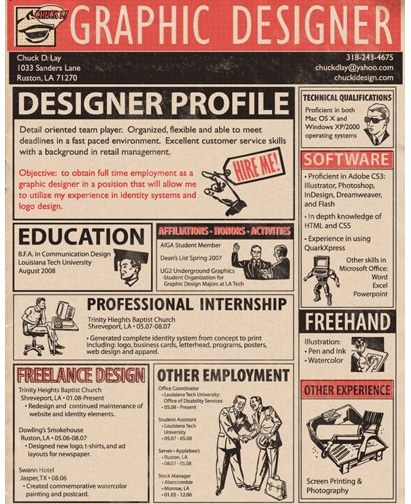 Pau Morgan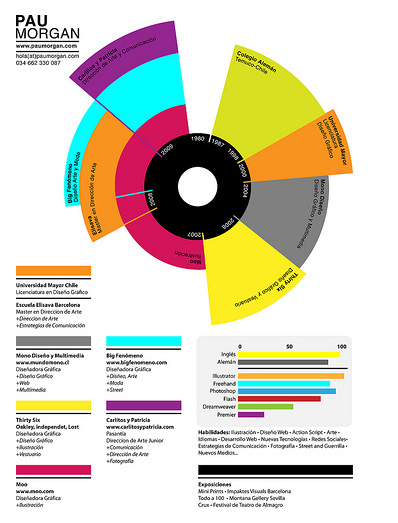 Simple and Clean Resume Inspirations
If you prefer a clean no-nonsense layout, these resumes will give you some inspiration on how to help your resume stand out from the crowd regardless of its simplicity. Look at the techniques applied with these resumes; the intentional use of white space, strong colour contrasts and the choice of classic but classy fonts.
Steve McKinney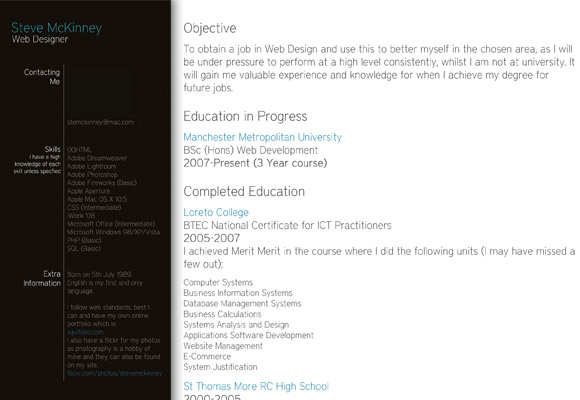 Michael Farrow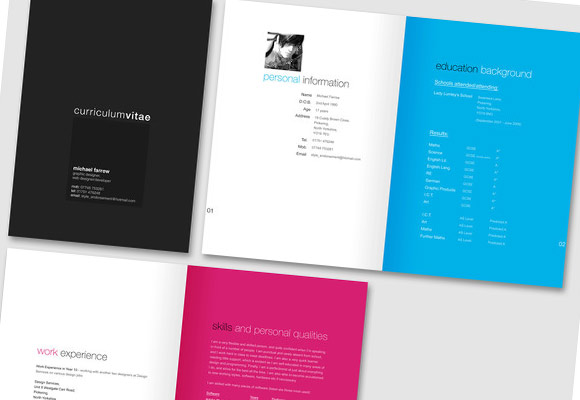 Jen Watson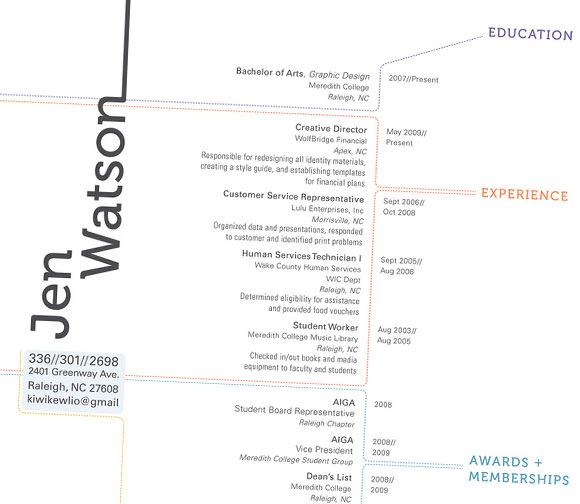 Ren Walker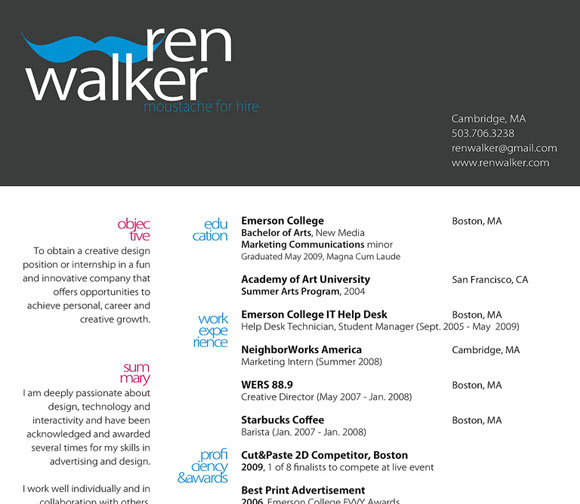 Carol Smyth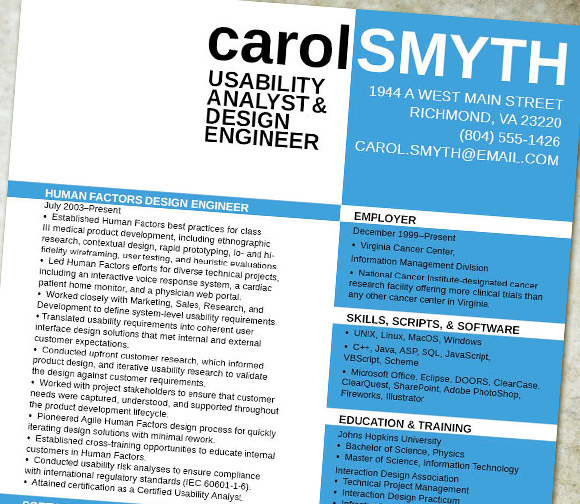 Joe Hickman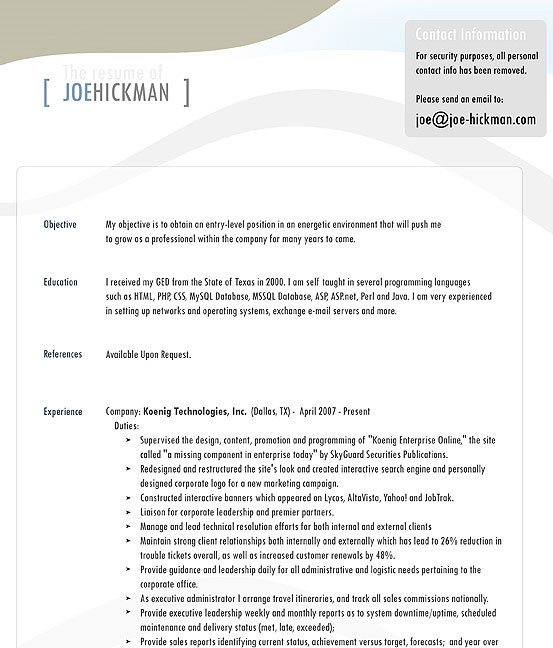 Riccardo


Cara Charlton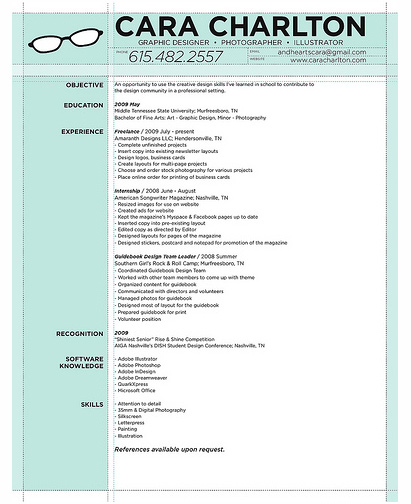 Chris Malmberg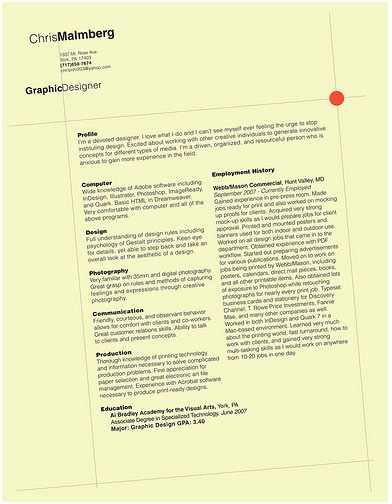 More Resume Resources
Carpe Diem, Seize the Day
Your resume should impress and hold the recruiter's attention. It isn't difficult to make adjustments to your resume. It is worth the time and effort to improve your resume because it is will be your first chance to make an impression. If you don't seize this chance, you might not get another one.
Wait no longer, start this New Year with a newly designed resume and let your creativity do the talking. If you've come across any interesting resume designs that are both effective and creative, feel free to share them with us.