Do you have a fashion website? It can be an eCommerce shop, fashion portfolio, fashion blog or a magazine. Each type of these sites is very popular, so even if you aren't online yet, you may very well consider doing so to grow profits. But we're sure that since you're here you have decided to build a fashion website already.
Let's get to the design part. Here you'll find some tips on how to create a fashion website. We have to say there is little information available concerning fashion web development. So this guide will definitely be useful for you – read it to get more info to think about. We were trying to complete the subject and now you're welcome to see the tips in proper perspective.

Tips for Creating a Fashion Website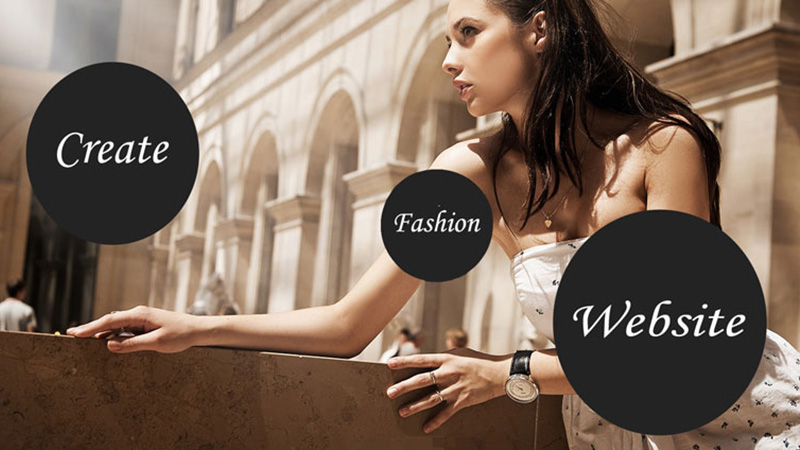 1. Choose a Website Development Platform
Are you capable of designing and coding a website from scratch? If the answer is 'yes' then do you have proper software such as Dreamwaver, Photoshop, WebEasy, Web Creator, etc? In case you're not a fluent web developer (which we assume you are not) you may need a site builder with CMS (MotoCMS, WordPress, Squarespace, LightCMS to name a few).You may also hire a web designer or even a whole team of professionals. This last solution will save you time but get ready to spend a hefty amount of money.
If deciding to work with a site builder you need to know exactly what you get with your chosen CMS. Some content management systems need additional plugins (free or paid), some work with a monthly fee (SaaS model), but there are also those that give you full lifetime access to the whole platform.
2. Choose a Fashionable Design for Your Website
It doesn't matter whether you use website templates, CMS or hire web designers to create a website. Either way you'll need to choose the stylish solutions that are capable of completing your main aim and will satisfy your audience interests.
You can choose a black and white or single-page web design that are considered to be classic solutions. However they won't fit a lot of fashion styles, so make sure that you take into account your project peculiarities as well.
There are some things to pay attention to when choosing a fashion website design:
Color palette
Fonts' readability
An ability to zoom-in on your images
Image galleries
Website background
On-page animation and transition effects
3. Research Your Market
Fashion is one of the most competitive industries on the web, so it does make sense to find a niche for your business. We'll assume you do know your niche already, in this case just go ahead and research the web segment of your market. There is demand for all fashion products and services you can imagine, but you need to know how and where to find your customers.
Market research will simplify and clarify your future activity by providing you with different types of information such as:
Market saturation
Correlation between demand, supply and price
Main competitors and their tactics
Keywords to use on your website
Potential clients' interests, needs and behavior
Potential traffic sources
4. Hire a Professional Online Marketer
If you're going to earn some money with your fashion website you need a marketing professional. Such people know a lot about general marketing, web marketing, social media, SEO, etc.
What does it have to do with building a website – you may ask? Well, it's a good idea if this person participates in the website creation process. He/she can suggest timely and effective solutions to optimize your fashion website before it's launched. Otherwise you may need to spend resources on making the necessary marketing-related changes to your website. A marketer will also help you to do market research well.
So beforehand make sure you know how to promote your future site and, of course, that you have money for that. These may be online or offline promos.
5. Take Care with Pictures
It doesn't take a rocket scientist to figure out that the fashion website industry is more visual than any other industry. I mean come on – it's fashion! Attractive photos can and will make your site more appealing to visitors. So choose high quality pictures that will look good on desktop screens as well as on mobile devices. The more eye-catching pictures you choose the more chances you have to grab visitors' attention.
You can use separate images or arrange them in galleries. Both options will work well, however if you want to make a presentation, a photo gallery is preferable. Depending on the features of your website's platform you can go with different types of photo galleries:
Carousel Image Gallery
Carousel is that kind of photo gallery that creates a gorgeous look. It brings interactive experience to any web project by displaying more than one image/piece of content at a time.
In a carousel view several thumbnails are visible at the same time. This slider can be used on the home page of a fashion website to draw attention to other important pages. Sometimes this is a simple but stylish showcase and all photos are linked to the same page, or it could be that every picture leads to separate page or popup.
Sliding Image Gallery
Some people may think that a sliding image gallery is a kind of carousel. It is implemented as a slider with a strip of thumbnails. Several preview images are displayed on the same page and that's why we can call it a 'carousel' of some sort. However sliding galleries can also showcase pieces of content one by one. It can be done automatically or with arrow buttons. Most likely the image slider you choose will allow you to adjust these settings.
Background Image Gallery
This type of gallery is good for splash pages of fashion websites. It's better to choose photos featuring large objects without small details. Background galleries attract attention and give a clear understanding of what to expect from web pages. This type of gallery automatically stretches pictures to fill the screen that a viewer uses. A ratio of length to width is constant. Thus all the images look proportional. Here we have some examples of background galleries in fashion websites.
Grid Gallery
This is actually the most popular type of gallery applied by online shops. It allows displaying image thumbnails in a grid. You can also add descriptions and custom URLs. When a visitor clicks a thumbnail he can view a larger version of the image in a popup view or on its 'Products' page with captions.
Whatever style of photo gallery you choose, when used right it will increase visitors' interest and engagement. When you display large photos of things that people want to have, you grab their attention and stand a better chance at converting a casual visitor into a regular customer.
Conclusion
Remember, when creating a fashion website don't rely on your taste only. Invest time in asking other people for their opinions on things that you'd like to promote. Even if you are a super awesome clothing designer it doesn't mean you can create and maintain a website by yourself – websites are a whole different design entity.
So do you want your site visitors to fall in love with your project? We bet you do! Here is a final secret for you: if you know how to treat your website visitors the right way they will pay money for your goods and services. That's a painfully obvious yet often ignored rule of thumb. That's all!
Good luck friends! We'll be happy to see your fashion website designs – share them with us via the comments section here!