A quick explanation for those of you who don't know what a twitter avatar is. It's the small picture in the top left corner of your profile. Let me start by saying that if you don't have any avatar at all, many users won't even consider the possibility of following you. That means you are doomed from the get go. Therefore, the most important feature of a twitter avatar is: its existence itself.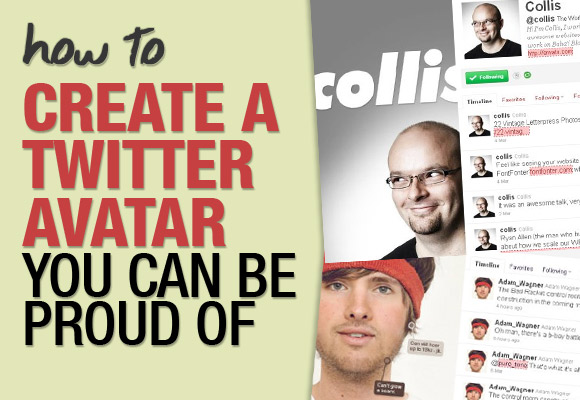 Nevertheless, a proper twitter avatar can bring you more benefits: It helps you to define your brand and spread it around the internet. Whenever you're participating in some social activity online (e.g. commenting on blogs, tweeting, sharing a link on Facebook) you want to be recognizable. Having a constant avatar that gets shown every single time along with your input helps a lot.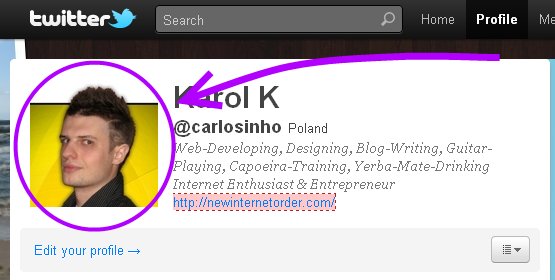 People can identify your entry in next to no time just by looking at the avatar. Furthermore, a well designed avatar gives you a certificate of professionalism, so to speak. When a random person looks at your avatar and they can clearly see that you've spent some time to get this thing created, they tend to subconsciously reach a conclusion that you mean business.
On the flip side, a poor, blurry, low quality avatar can have an opposite effect. You can also use your avatar to convey a short message of what you do. You can do it either by a one or two word text phrase, or by a characteristic graphic element. For example, a photographer might want to have an avatar created from a picture of him holding a camera (I know, it smells like a cliché, but I'm just getting my point across). Now the difficult part… The most challenging thing to deal with while creating an avatar is the fact that the thing is just so damn small. Here's what we have to work with.
What's the Size of Twitter Avatars?
Twitter avatars are displayed in four different sizes:
48×48 px – The smallest version. Displayed along with the tweets shown on your twitter home page when you're logged in (this one: http://twitter.com). This makes it the most important version of the avatar because it's the one that gets shown the most. Whenever you tweet something your followers see this version of your avatar.
73×73 px – Displayed on your profile page (http://twitter.com/USERNAME) when viewed by someone who's NOT logged in. This is probably the least displayed version.
128×128 px – Displayed on your profile page (http://twitter.com/USERNAME), but this time when viewed by someone who is LOGGED IN. This makes it the second most important version.
The original size – This version is displayed when you click on your own, or someone else's picture while visiting their profile. Twitter limits your picture to 700kB (at the time of writing this post). But I can see no point of using a picture bigger than 250×250 px here anyway.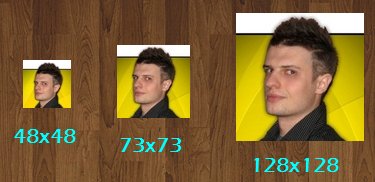 Of course all of this means only one thing: You need to create a 250×250 pixel avatar that looks equally nice as a 48×48 thumbnail.
What a Good Twitter Avatar Contains
The most important rule: show them your face
There are two ways of doing this. The first one – go with a cartoon. But please, don't use a lame WeeMee character from Skype. Here's better examples:


The second one – use a photo of you. Make sure that you are clearly visible and recognizable. Smiling is not necessary if you want to get a more artistic look, but looking sad is a big no no. Having a blank, one color background is a good idea. That way it will be easier to perform some Photoshop magic on it later in the process. You don't have to make your whole face visible. You can be creative and come up with something like this, e.g.:


Don't use logos or any other branding elements all by themselves. You can use a logo along with a photo of you (just like Arron is doing in the example above, or Josh in the example below), but never a lone logo. You are a person, not a logo – that's why.

One more thing is to try to avoid plain, ordinary elements and schemes. For example, a guy wearing a suit is not a good avatar. I mean, he looks slick and professional, but there's nothing unique about such a picture. If you display a thousand of them next to each other they all look the same, and you simply don't want that.
Use Very Few Elements
The smallest version of the avatar is 48×48 px. This is not a lot of landscape. You have to make sure that everything is clearly visible even on the smallest version. Therefore, creating a good avatar is the art of less not the art of more.
Use Unique Elements
Frankly, the most important characteristic of a great twitter avatar is its uniqueness. You want it to be unique and as recognizable as possible. Everything unique gets noticed… sometimes it's hated, sometimes it's adored, but it gets noticed every time. Uniqueness can be achieved in many different ways. One of which is to show some strange, unusual, or simply characteristic elements. Here're some possibilities: all kinds of hats, shades, bands, gadgets, hairstyles and colors. For example, if you wear a pair of glasses with thick white frames that will get noticed.





The Presentation
Make it somewhat consistent with your twitter background.
Use similar colors, or similar style, or both. You want your background and your avatar to create one consistent design. But still, you want your avatar to be visible, and not to get lost in your design as a whole. Examples: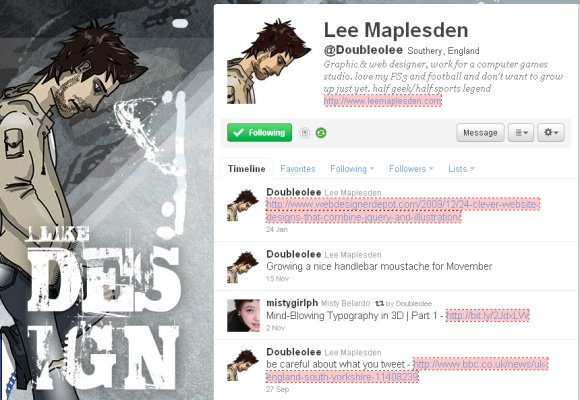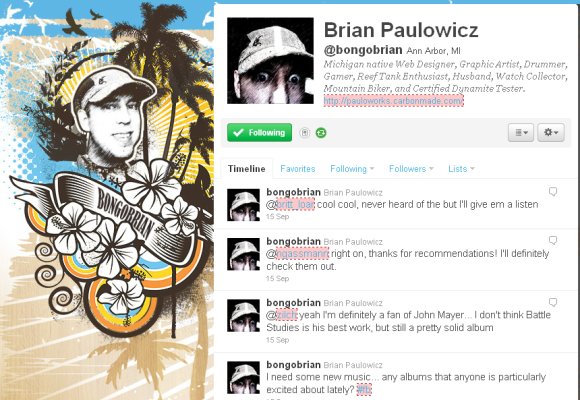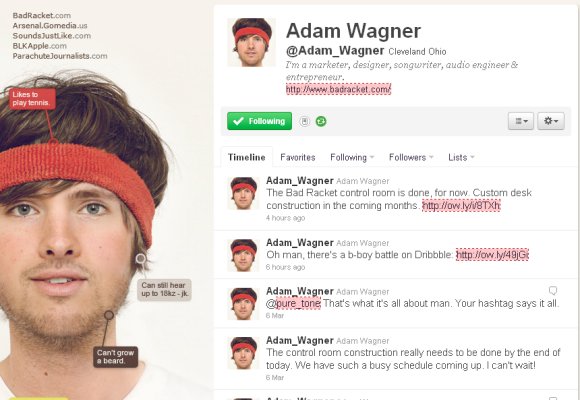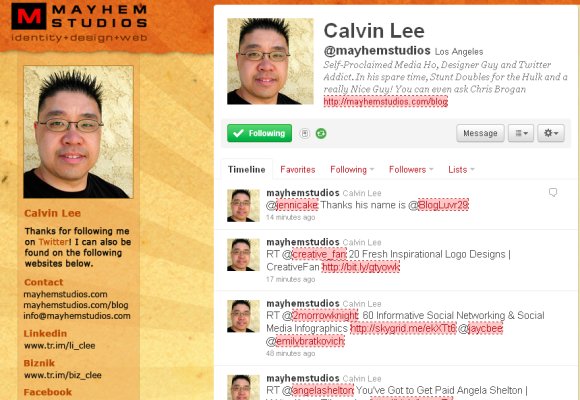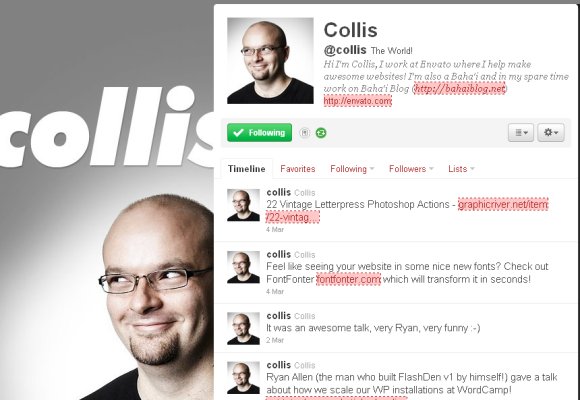 Use Unusual Colors
Colors that are not the most popular ones are the best when it comes to attracting attention. You can either wear something colorful. Or improve the background in Photoshop (colorizing your face is probably not the best idea though). Bright colors work well, as they attract much attention, and that's what the game is ultimately about. Colors like: yellow, violet, magenta, red, orange, green. Remember, no pastel or desaturated colors, you want bright ones only. Try to avoid black and white pictures unless you have something really stunning. There are just so many of them that they tend to get lost in the twitter stream.





Big Contrast Between You and The Background
The visibility issue yet again. If the contrast between you and the background is too poor, you are not visible enough. Improving the contrast is the easiest way of making your avatar so much better.



Don't have any ideas? Steal them!
Good designers copy, great designers steal. Just find some inspiration, or a profile you want to mimic, and create something similar. Here are some further examples for your inspiration: (Hint: Celebrities' profiles are always great sources of inspiration. That's because their avatars are usually created by professionals).







Conclusion
That pretty much concludes the topic. Tell me what are your favorite strategies and techniques when it comes to creating a proper twitter avatar. If you have some examples of your own shoot me a comment as well, I'll be glad to update this post with your input.