Pinterest is currently one of the hottest sites on the internet, exploding in users and fans since its inception in March 2010. With over 6 million active users, Pinterest drives more referral traffic than Google Plus, YouTube and LinkedIn put together, growing to become one of the largest social networking platforms. Given this explosion, it is highly likely that you've heard the word "Pinterest" tossed around.
But for those of you that haven't, it's never too let to get started on the latest craze. Regardless of whether you're a newbie or a seasoned 'pinner', the following tips can help you quickly get right in the midst of Pinterest.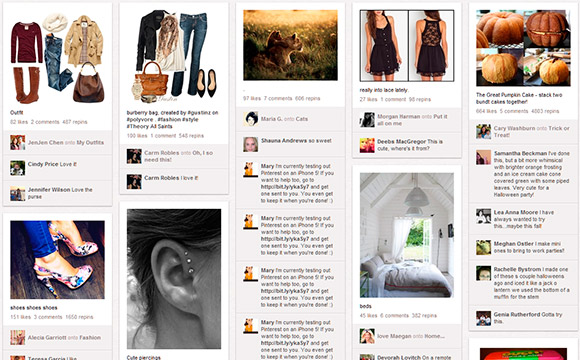 How to Get Started with Pinterest
What is Pinterest?
Pinterest is a short-form blogging site, allowing individuals to take images, called Pins, and place them on customized boards. Users can create boards on nearly any topic, ranging from food, humor, animals, and so on. These images are shared with followers and friends, giving them the option to repin, like, or comment on the Pin. In short, Pinterest is a quick way to share interesting images with others, on nearly any topic or category.
Why Should You Use Pinterest?
At first glance, Pinterest is a site driven by images, as users collect their favorite pictures on boards. However, Pinterest can be used for more than sharing pretty pictures. Many users have devised clever ways to use Pinterest as a tool for project management and brainstorming. The following are a few examples of the unique uses of Pinterest:
Wedding Planning:
Instead of relying on wedding planners and stacks of magazines, many new brides have created a Pinterest account to create their ideal wedding. Using boards to organize dresses, cakes, and decorations are a few of the ways in which brides organize their exciting day.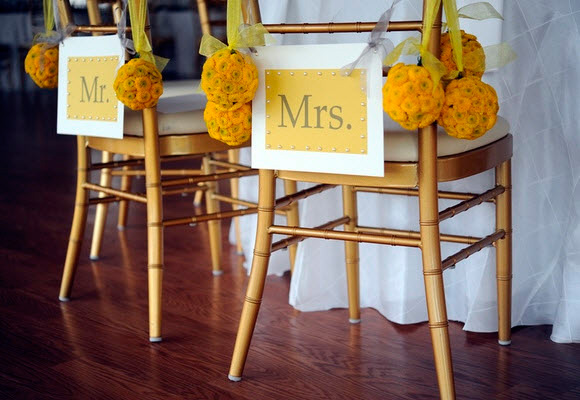 Cooking and DIY Projects:
Some of the most popular images on Pinterest involves food, drinks, and DIY projects. By creating a separate board for each category, budding cooks can create a board for interesting recipes, while crafters can store ideas for new projects.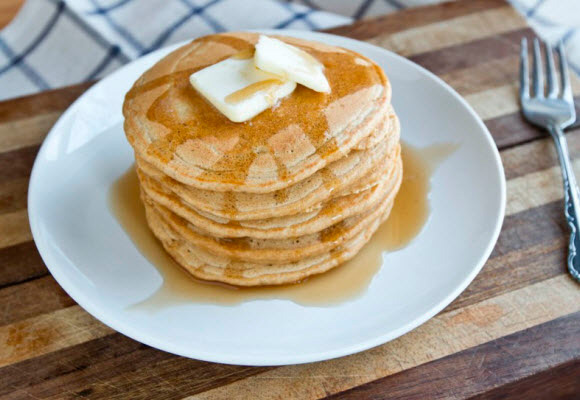 Interior Decorating:
One creative way to use Pinterest is to collect ideas and insight into the user's ideal home. Users can organize rooms by theme, color, or a certain layout. Creating a board with different layouts and designs can provide interior decorators with inspiration.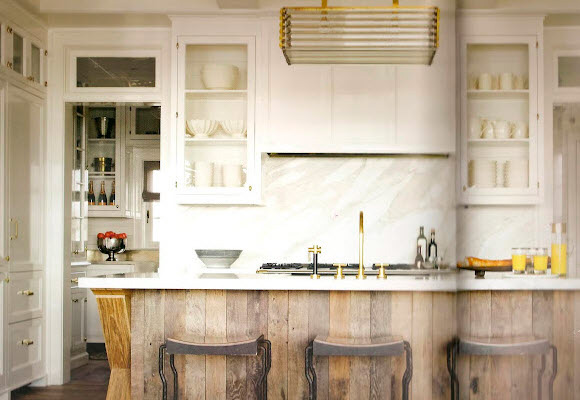 Getting Started with Pinterest
Currently, users can only join Pinterest through invite only, whether through requesting an invitation from the main site or through a friend. However, once the invite is sent through, users can quickly go through the process of setting up an account.
New users can choose to login either through Facebook or Twitter, which allow them to quickly connect with their friends or followers. However, if you want to stay away from connecting your social media sites together, the option of logging in with email is also available.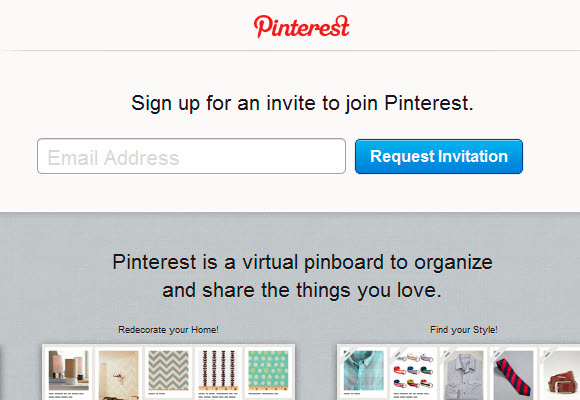 Once an account is set up on Pinterest, the user is sent to their main profile, filled with default boards. Boards are a set of pins that fall under a theme, according to the user's interests and imagination. Users can choose whether they want to keep the default boards, or customize and create their own boards. Before delving into board creation, it is advised that users first take some time browsing Pinterest, in order to get an idea of how to organize their pins.
Browsing Pinterest
Browsing Pinterest for the first time can be overwhelming, as the user sifts through a never-ending page of pictures. However, there are a number of tips that can help users find interesting images and content. The most common way to browse Pinterest is to use the drop-down menu, titled "Everything".
Here, users can choose from a variety of categories and view pages with images that fall within that specific grouping. The search bar is also an effective tool, allowing users to directly find the images they're looking for. Finally, users can follow other Pinners that share their interests and style, creating a home page that is directly populated with specific content.
How to Use Pins
Once the user has an idea of what Boards to create and interests to highlight, the next step is to populate their Boards with Pins. A Pin is an image added on Pinterest, which can be of virtually anything.
There are a number of different ways to attach a Pin to a Board, including uploading an image or repining one from another user's board. Another way to upload Pins is through Pinterest's "Pin It" button, a browser bookmark that allows users to grab an image from virtually any site.
Following on Pinterest
One of the main features of Pinterest is that the user is able to follow others, getting updates on their activity and recent Pins. When setting up an account, users are able to find their friends on Facebook, Twitter, and email accounts, directly connecting them with their contacts. However, given the sheer amount of users on Pinterest, finding new Pinners can be a challenge.
A common way that users find who to follow is to browse their favorite categories. A number of brands and celebrities have accounts on Pinterest; however, there are a number of unique users that are on the forefront of each category. In general, the Pinterest users you choose to follow will depend greatly on your likes and interests. If you find a user whose activity closely matches yours, then feel free to add them to your list.
Who to Follow on Pinterest?
You've set up an account, created boards, and started to fill your account with Pins. But without adding and connecting with other users, Pinterest is a lonely field. The following users can help you find more inspiration and further get you involved in Pinterest:
Enid Hwang
Community Manager at Pinterest; her account constantly evolves and tests the boundaries of Pinterest.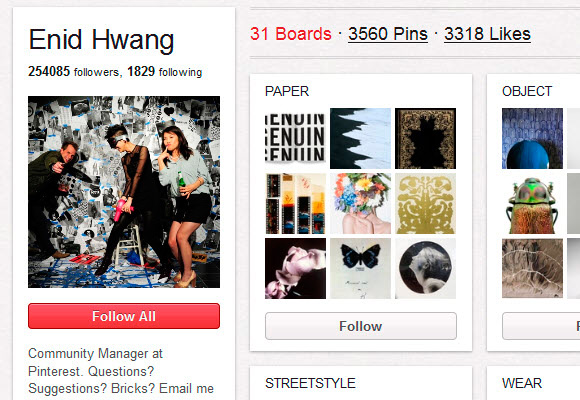 Perfect Palette
Wedding blog, features boards focused on a particular color theme.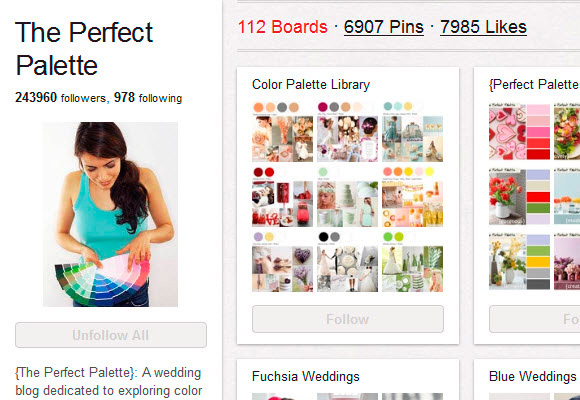 Whole Foods
This large market chain features boards on organic living, healthy cooking, and easy recipes.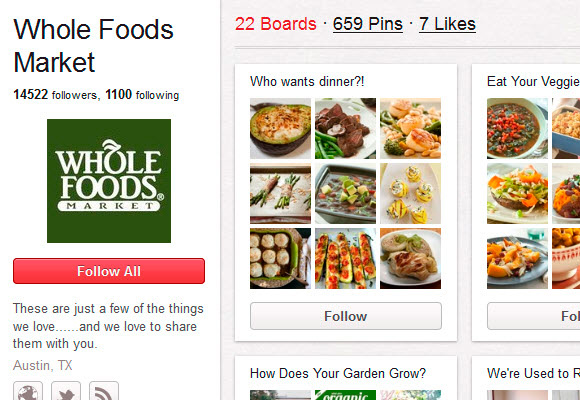 Ccil G
France-based photographer, boards focus on a variety of topics and subject matters.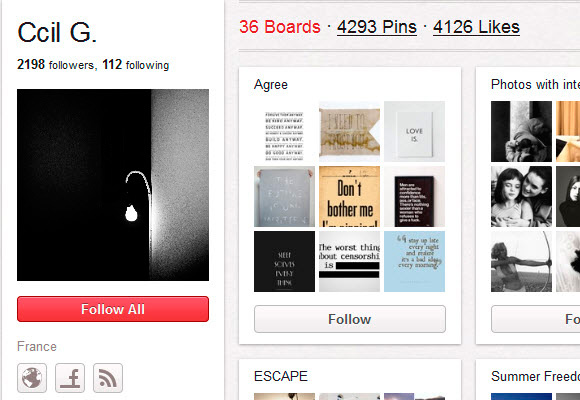 Travel Channel
In addition to photos around the world, this account also features exclusive pictures from Travel Channel shows.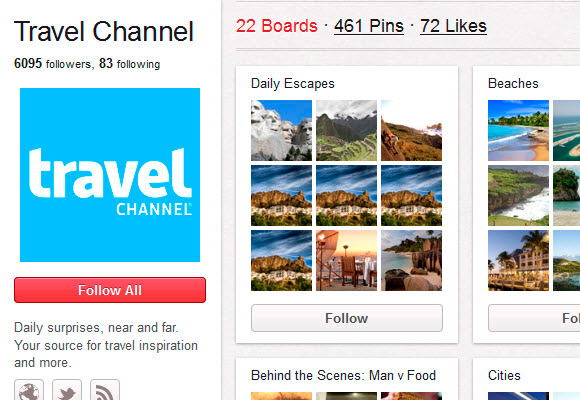 fitsugar
Dedicated to healthy living, fitsugar has boards on weight loss, yoga, and health snacks.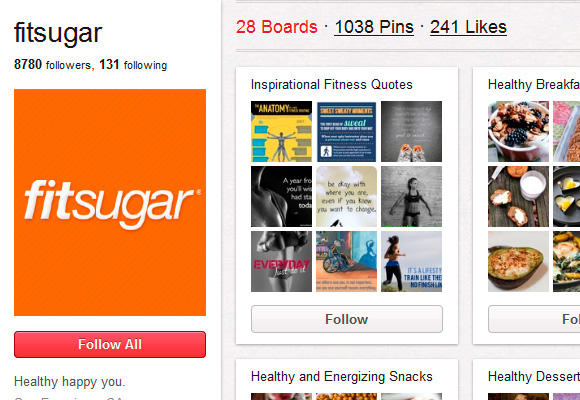 Mashable
A well-known social media and web news site, Mashable possesses boards on infographics and web humor.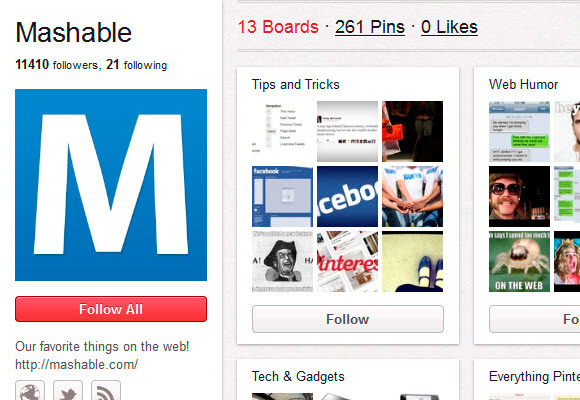 Real Simple
The popular lifestyle magazine fills its boards with recipes, hairstyles and living spaces.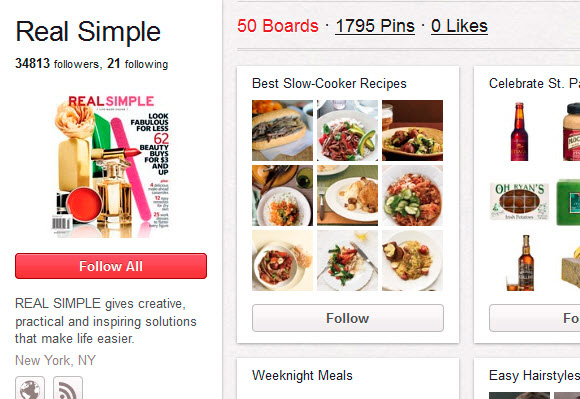 Joy Cho
Popular blogger with boards on a wide range of topics, from color to clothing, graphic design to photography.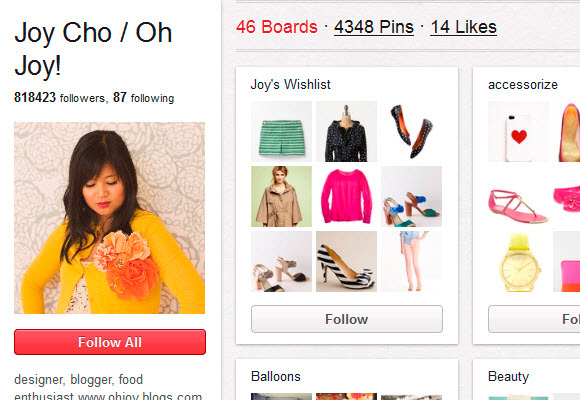 Synapse
Portugal based designer with boards covering everything related to interior design.
Conclusion
I hope this article has given you a head start in how to create and run your Pinterest account, and inspired you with the examples given.
Do you have a Pinterest account? If so, do you keep on top of updating it, and do you find it useful for your work? If you don't have an account, are you thinking of joining in with the trend?
Please share your comments and opinions with us in the section below.