Nowadays, if you have a product, service, or brand that you want to "get out there" one of the best ways to do that is through influencers. But how can you find the perfect influencer? How do you know they can be trusted to market your product or service as required?
Intellifluence does all the hard work for you. It can match you with peer-level influencers to ensure your products or service gets seen and by the right audience. Plus, you won't solely work with one influencer, you can connect with multiple influencers, giving you the best chance of visibility.
In this review, we'll go over what Intellifluence is and how it works, as well as its pros, cons, and pricing.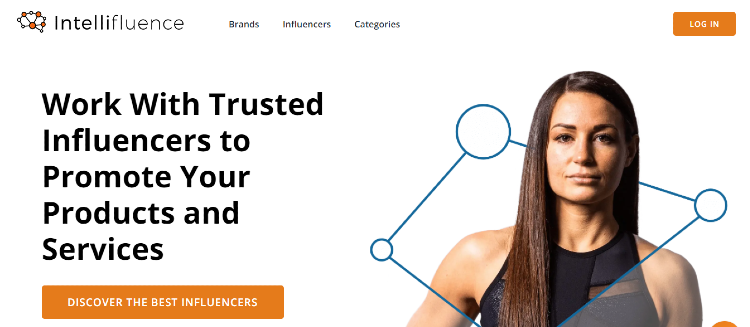 WHAT IS AN INFLUENCER?
An influencer is basically someone that is able to influence other people's purchasing decisions. Think of a shopping channel and how they promote the products — it doesn't matter what the product is, the presenter will try to persuade watchers to buy the product.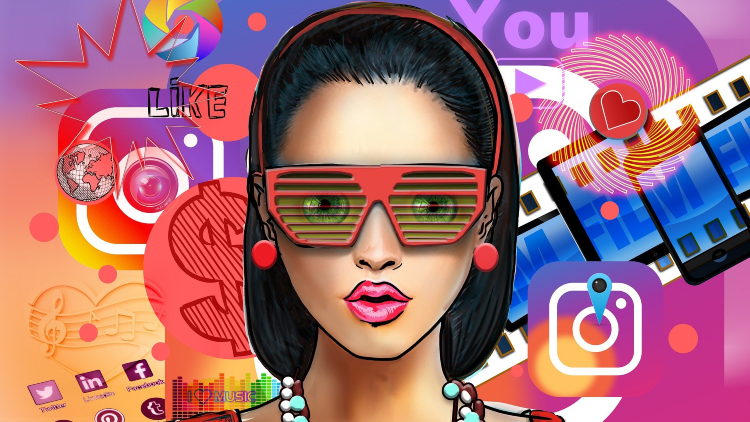 However, some of the most powerful influencers are those on social media. These people often have thousands, if not millions, of followers. They have built a substantial relationship with their followers, allowing those followers to feel connected in some way. With such a relationship, an element of trust is formed, and that is why influencer promotions are successful.
As an example, let's say you want to promote makeup. With Intellifluence, you could find a cosmetics influencer to market the makeup to their followers. Being a beauty influencer, their followers will already be interested in the type of product they're promoting.
Plus, unlike a shopping channel, the influencer may actually use the makeup, showing their followers how good it is, how easy it is to apply, and how long it lasts, thus influencing the followers to buy it themselves.
WHAT IS INTELLIFLUENCE?
Intellifluence is an influencer marketing platform. It makes it possible for any brand to connect with multiple influencers, taking away the painstaking task of contacting every influencer you think would be a good fit for your product or service by yourself. It saves you a ton of time and also ensures that you are matched with a trustworthy influencer and a suitable audience.
Also, Intellifluence doesn't just cold contact the influencer, all of the influencers in the platform have joined by themselves, so you know they want to promote products and services.
Whatever it is you want to promote, Intellifluence makes the whole process much easier. Its streamlined approach means you only have to worry about your actual promotions. You can have multiple campaigns active with multiple influencers, and you won't be left tearing your hair out. In-app messaging and reporting are included to take all the hassle away.
INTELLIFLUENCE'S KEY FEATURES
Intellifluence helps you promote your brand in the best and most streamlined way. We'll list all of its features here so you can see just how good it is.
Real influencers, no cold-contacting involved
Thousands of influencer profiles
Filtering options
Pricing guide for influencers
No-long term contracts or minimum spend
Everything is in one place — influencer discovery, messaging, payment
Control everything in your dashboard, including a campaign builder
In-app messaging and reports
Internal payments
Full campaign management — pitch, customize, and duplicate
Run multiple campaigns
Lots of categories — from animals to baby, automotive, art & photography, and many more
Handy knowledgebase
WHO CAN USE INTELLIFLUENCE?
Brands and businesses, small or large. Basically, anyone who wants to promote a product via an influencer. Also, any influencers who want to work with brands can join Intellifluence to get noticed.
WHICH SOCIAL MEDIA NETWORKS ARE SUPPORTED?
Intellifluence supports a wide range of social media networks, including:
Facebook
Instagram
Twitter
Pinterest
Twitch
YouTube
LinkedIn
TikTok
Reddit
Intellifluence also supports blogs, Amazon reviews, app stores, Podcasts, and SoundCloud.
PROS
Access thousands of influencers in one place
Access your target audience easier
Great value for money
In-app messaging
Easy to use
No long-term contracts or minimum spends
Have multiple campaigns active
Pay through Intellifluence
CONS
A payout can take a while
Reports would benefit from more detail
INTELLIFLUENCE — GHOSTBED CASE STUDY

GhostBed already had a good reputation for providing high-quality mattresses and other sleep goods at a fair price, but when a new line of products were released, they struggled against the competition.
Rich Bernstein, Director of Digital Marketing at GhostBed, knew a traditional approach to marketing their products wasn't going to work. He noticed that other companies offering similar products were gaining a lot of attention through social media, so he turned his attention to that.
However, Rich wasn't sure how to approach it or how to contact the influencers that would help to market the products. So, he made the decision to work with Intellifluence, with the understanding that it would save a lot of time and ensure that he was hitting the right audience with a trustworthy influencer.
After working with the company and its team, Rich managed to gain multiple influencer reviews, projecting the GhostBed products to the right consumers. Intellifluence manages the campaigns to ensure that Rich is free to focus on other important areas of the GhostBed marketing team. You can read the full case study here.
INTELLIFLUENCE'S PRICING
For brands, Intellifluence offers 3 plans; 2 of which are self-service and another that is 100% managed. Self-service plans allow you to be in complete control, allowing you to create and manage your influencer campaigns. With the managed plan, all you need to do is create your campaigns, then Intellifluence will manage the rest for you.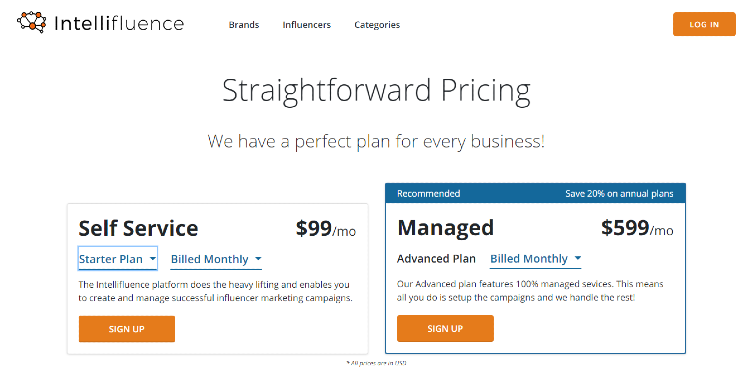 All Intellifluence plans include access to all influencers on the platform, campaign creation, in-app messaging and payments, knowledgebase, and support.
Here's a run-down of each plan:
Starter Plan, $99 per month or $950 per year: 1 user, 3 campaigns, 50 influencer applications, 50 influencer pitches.
Regular Plan, $249 per month or $2,390 per year: 3 users, 10 campaigns, 100 influencer applications, 500 influencer pitches. Also includes enhanced specialty targeting and enhanced influencer targeting.
Advanced Plan (Managed), $599 per month or $5,750 per year: Unlimited users, unlimited campaigns, unlimited influencer campaigns, and pitches. Also includes enhanced specialty targeting, enhanced influencer targeting, assisted campaign setup and management, multi-brand support, external client support, and enhanced customer support.
You can upgrade or downgrade to a different plan, or cancel your account at any time.
Influencers are able to join Intellifluence for free, and Intellifluence will not take any of your earnings. All you need to do is create a profile detailing your interests, and then brands can reach out if they feel you're a good fit.
CONCLUSION
Intellifluence is a great way to get your brand, product, or service marketed to your target audience. You can access thousands of influencers, create your campaigns, check progress, and much more, all in one place. Intellifluence takes all the hassle away from cold-contacting potential influencers and keeping an eye on multiple campaigns, too.
If you're not completely satisfied that Intellifluence is the right service for you, you can make use of the self-guided brand demo to see how the platform works from start to finish. The demo allows you to create a campaign, find influencers and fund the campaign so the influencers can get paid securely.
Give it a try, we're sure you'll like it. Thanks for reading.